Analysis
Colorado Rockies Trade Deadline Outlook
The Rockies want to compete in 2022, but don't have the greatest chance in a loaded National League. Who could they sell off at the deadline?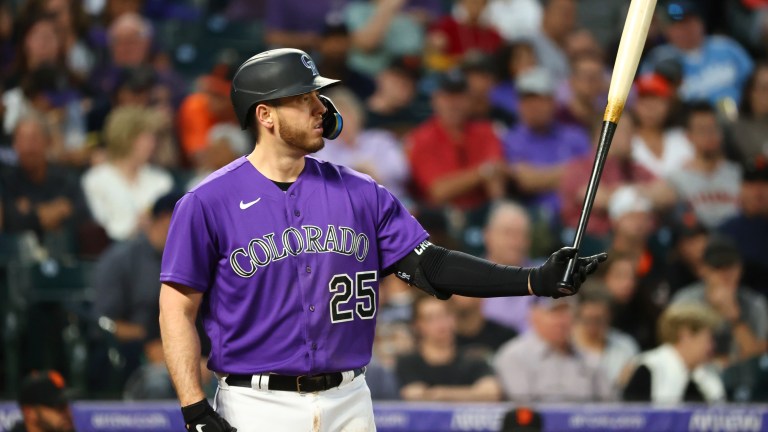 The Rockies made the most unexpected offseason splash by signing Kris Bryant to a seven-year deal. The roster was rounded out with a few veterans and on paper looked like a team ready to trend towards "contender." At 43-49 and six back in the Wild Card, the Rockies are still in the mix. If their hot streak continues (8-2 in last 10) a few of these names might be harder to move.
Colorado's farm system is on the rise but could still add to it's depth. Flipping a couple expiring contracts could help the Rockies down the line, even if it hurts them this season.
Daniel Bard – RP
2022 Stats: 3-3, 2.02 ERA, 1.01 WHIP, 20 SV, 35.2 IP, 42 SO
Potential Fits: White Sox, Twins, Red Sox, Blue Jays, Phillies, Astros
Just Baseball's No. 20 top trade target is having a fantastic year in Colorado. After a seven-year absence from the show, Bard was given an opportunity to join Colorado in 2020 and is currently having his best season since his Boston days. His 98 MPH fastball and 88 MPH slider has lead to fantastic numbers for the 37-year-old, making him one of the top bullpen pieces available.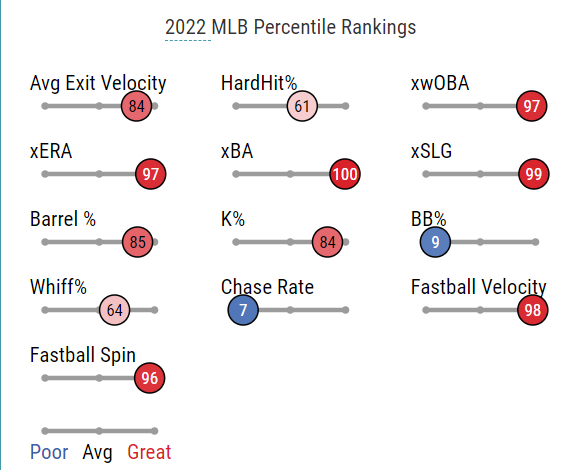 Bard will likely be viewed as a rental. However, he's pitching well enough to potentially earn another year with an organization. Most contenders have a legit closer but could see Bard as the eighth inning guy and insurance for their current closer. Earning only $4.4 million for 2022, most interested teams will not be scared away by his contract.
Colorado fans might not be happy with trading Bard, but the return will be worth it. A 37-year-old closer does not factor into their future and trading him makes too much sense. Getting two top 20/30 prospects with the possibility of one being in or near the top 10 should make it difficult to turn down.
Jose Iglesias – SS
2022 Stats: .301/.341/.405, 3 HR, 33 RBI, 98 wRC+
Potential Fits: Rays, Braves, Cardinals
The once slick fielding shortstop has seen his defense slip over the past few seasons. Now graded as a poor fielder (13th percentile in OAA), Iglesias has provided more value with his bat. He only draws walks at a 4.1% clip but has a low strikeout rate at 11.5%. His ability to put the ball in play has resulted in a .301 batting average but does not offer much power.
Most probably assume hitting in Coors Field has inflated his stats, but it's actually the opposite. Iglesias is slashing .363/.394/.467 on the road compared to .243/.292/.347 at home. His bat-to-ball profile and expiring contract will make him attractive to teams needing a spot starter or reliable back up.
With the Rockies technically still in the Postseason picture, they could value having Iglesias more than the return he would bring. Iglesias is not exactly blocking a high-level prospect as Kyle Holder and Alan Trejo both have limited ceilings. If the Rockies find a trade partner, the return will likely net a lower-end prospect or two. Maybe one near the back end of a top 30.
Chad Kuhl – SP
2022 Stats: 6-5, 4.11 ERA, 1.40 WHIP, 92 IP, 65 SO
Potential Fits: Twins, Cardinals, Rays, Blue Jays, Giants, Rangers
None expected much from Chad Kuhl coming into the season. After a fantastic April where he posted a 1.90 ERA, Kuhl has trended toward his pedestrian career numbers. He does not offer much upside but could eat some innings and help a contender who needs a fifth starter or injury replacement.
Kuhl is on a $3 million expiring contract. There's no doubt he has outperformed his salary, but his up and down performances will limit teams aggressiveness to acquire him. Unlike most pitchers, Kuhl has performed better in Coors Field than on the road. His 3.52 home ERA is more than a point better than his 4.70 ERA in the exact same amount of innings.
Like Iglesias, Kuhl might stick around if the return is underwhelming. Starting pitching, especially at Kuhl's cost, is tough to come by. I expect his return to be better than Iglesias, but is it enough to convince the Rockies to fully sell at the deadline?
Garrett Hampson – UTL
2022 Stats: .241/.320/.366, 2 HR, 12 RBI, 82 wRC+
Potential Fits: Mariners, Marlins, Phillies
Garrett Hampson was once a top 100 prospect but has not lived up to the hype. His 2022 wRC+ of 82 is his highest since his rookie season (2018) where he only logged 48 plate appearances. His 10.2% walk rate is a career-high and Hampson's ability to play multiple positions makes him interesting to other teams.
Hampson is only 27 years old and under team control through 2024. However, the Rockies will look to improve their roster next year and Hampson has simply not shown enough to be considered a lock. If a contender needs a utility player with plus speed, Hampson could be an answer.
It is hard to say what the return would look like. I am not sure if his years of team control matter much as he will get a pay bump from his $1.8 million salary in 2022. Rather a team sees him as a non-tender candidate after the season or not, his skill-set is attractive enough to find a trade partner.
Possible, but Unlikely
C.J. Cron – 1B
2022 Stats: .295/.348/.550, 21 HR, 69 RBI, 134 wRC+
Potential Fits: Red Sox, Guardians, Brewers, Mets, Mariners
Cron finally found a home in Colorado after bouncing around the league. He signed a two-year, $14 million contract taking him through 2023, his 33-year-old season. I do not think Cron will be moved, but if the Rockies think they should capitalize on Cron's production and contract he would be their top trade candidate.
Several contenders would be interested in adding a slugging first basemen/Designated hitter and the return could really help position the Rockies well for the remainder of Bryant's contract. Again, I think the Rockies want to hold onto Cron but his name remains in rumors.
Colorado wants to build a winning team. The days of tanking are behind them which puts the front office in a difficult spot at the deadline.
Will they stand pat and see what happens or will they retool and focus on 2023 and beyond?
With few legitimate trade assets, I could see them going either way. The next few games could play a factor in determining their direction.