Analysis
Colorado Rockies Offseason Outlook
After playing only 42 games this year, the Rockies will try and build around last offseason's big addition of Kris Bryant.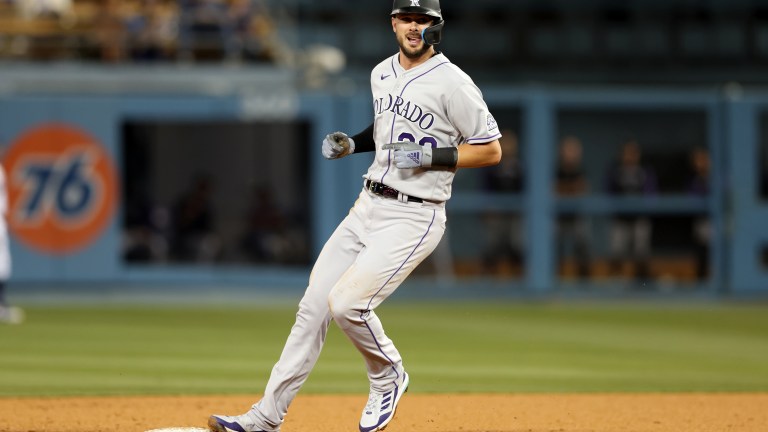 Coming off a 68-94 regular season and a last-place finish in the NL West, the Rockies seem to be a long way from contending for a postseason berth.
They came into the 2022 season on a high note, signing top free agent Kris Bryant to a seven-year $182 million contract. Bryant, however, only appeared in 42 games due to injuries.
Getting the 2016 NL MVP back on the field will likely be the biggest addition the Rockies make in 2023, but that should be a big enough boon for a team that ranked in the bottom five in wRC+ and fWAR this past season.
Only Chad Kuhl, Jose Ureña, José Iglesias, Alex Colomé and Carlos Estévez entered the offseason as free agents and the team already signed Ureña to a one-year $3 million deal with a $4 million team option for 2024. 
What is the Direction?
The Rockies have made moves in the past few years in both directions. Trading Nolan Arenado and letting Trevor Story walk signaled a potential rebuild, but the team signed Bryant to his deal and extended Daniel Bard instead of trading him — the moves of a club that's trying to win.
While the team hasn't made the playoffs since 2018, they continuously play the middle.
It seems like they plan to continue the push for contention, Patrick Saunders of the Denver Post reported the team is looking at a Brandon Nimmo push.
If they do plan on trying to make the playoffs sooner rather than later, there is a lot of work to be done in Colorado.
Where is the Pitching Going to Come From?
Getting free agents to sign in Colorado has been and will continue to be a difficult proposition.
Betting on internal bounce backs may be what the Rockies have to turn to in '23 and no name fits that bill like Germán Márquez.
The 27-year-old starter was an All-Star in 2021 but struggled mightily last year. He finished the year with a 5.00 ERA and a career-worst 4.71 FIP. 
Outside of Márquez, there aren't a lot of internal options that scream 'bounceback.' However, if the Rockies decide to tender a contract to Dinelson Lamet, he could offer a high upside starter to insert in the rotation.
In 12 starts in 2020, Lamet posted a 2.09 ERA with a 34.7% strikeout rate and a career-best 7.5% walk rate. While the control has not returned to those levels and the 30-year-old has faced injuries and operated primarily out of the bullpen since 2020, he look solid in his first 17 outings with Colorado — a 3.00 ERA 32.5% strikeout rate and 9.1% walk rate.
The Rockies have also extended Kyle Freeland and Antonio Senzatela in recent seasons but both have not returned the strongest of forms since. 
The best way for Colorado to improve it's rotation/bullpen may be through the trade market. While the club doesn't have the deepest of farm systems, they could potentially enter the conversation for starters like Chris Flexen and Marco Gonzales of the Seattle Mariners who Ken Rosenthal reported teams have been calling about.
Adding Bats
Putting potential trades aside, the infield looks like it might more or less locked in with C.J. Cron, Brendan Rogers, Ezequiel Tovar and Ryan McMahon slated to start '23 across the diamond. Elehuris Montero, Garrett Hampson, Michael Toglia and Alan Trejo all provide depth options.
While pitching should likely be the main focus of any offseason plans, the Rockies may look to add outfielders. The Nimmo report mentioned earlier shows the intentions to add to its outfield which currently consists of Bryant, Yonathan Daza, Charlie Blackmon, Randal Grichuk and Connor Joe. 
Essentially adding Bryant to this team plus the addition of one of the top-tier free agent outfielders could go a long way towards Colorado improving its bottom-of-the-league offence.
Outside of Nimmo, the Rockies could look at free agents like Andrew Benintendi, Mitch Haniger and Kevin Kiermaier. 
Side note: It's probably safe to say Aaron Judge won't be signing in Colorado but according to Baseball Savant's expected home runs by park, Judge would have hit 73 blasts in 2022 at Coors Field.
Another position the Rockies could look to improve upon this offseason is behind the plate.
Elias Díaz is currently slated to start the season as Colorado's catcher and he posted a 67 wRC+ and -7.8 defensive WAR in 2022.
Willson Contreras is available as a free agent, but once again it seems unlikely he would pick the Rockies.
Looking at the trade market, Colorado could look at the Blue Jays and their trio of MLB level backstops. One of Alejandro Kirk, Danny Jansen and Gabriel Moreno could be moving teams this offseason and the Rockies and Jays have recent trade history, swapping Grichuk and Ramiel Tapia last season.