News
Cardinals to Promote Top Prospects Nolan Gorman, Matthew Liberatore
The St. Louis Cardinals have reached into the minors for reinforcements, calling up two of their top prospects.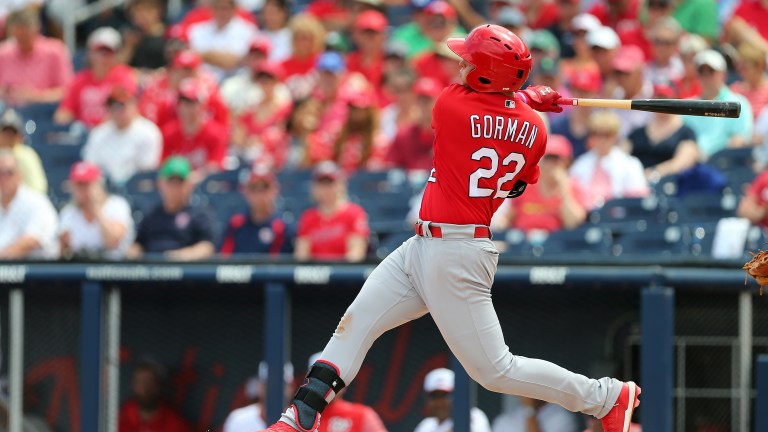 The Cardinals announced Thursday evening that they have promoted top prospects Nolan Gorman and Matthew Liberatore to the big league club. Gorman ranks as Just Baseball's 64th prospect and Liberatore checks in at 77.
They will be active for this weekend's series against the Pittsburgh Pirates. In a corresponding move, outfielder Tyler O'Neill will head to the injured list with a right shoulder impingement.
Gorman, 22, has been one of the hottest hitters in the Minor Leagues. Through 34 games at Triple-A Memphis, Gorman owns a 1.044 OPS with 15 home runs. The only blemish is his strikeout rate which sits around 34 percent. The 2018 first-round selection has consistently been an impact player coming through St. Louis' system. As his definite role is not yet known, Gorman will start at second base tomorrow, reports Katie Woo of The Athletic.
Another first-round selection, St. Louis acquired Liberatore from Tampa Bay in a deal that sent rookie of the year Randy Arozarena to the Rays. The 6'4″ southpaw will start on Saturday for the Cardinals, facing the Pirates and Jose Quintana.
Liberatore features four quality pitches, a fastball, changeup, slider, and curveball. Through seven Triple-A starts, the Arizona native holds a 3.83 ERA and 3.84 FIP in 40 innings.
Both of these debuts are long-awaited for the Cardinals, who tend to fill their big league needs through the farm system rather than trades.
Both 22 year old's will look to give a much-needed boost to the lineup and pitching staff. Many believe that St. Louis will slot Tommy Edman at shortstop, giving Gorman everyday playing time. Liberatore and Gorman have played together since their Little League days and will now try to give the Cardinals an edge in the NL Central.
Scouting Reports
This news means the graduation of two more prospects off our top 100 list. Here is Aram Leighton's breakdown of the two top prospects.
64. Nolan Gorman – 2B/3B – St. Louis Cardinals
Age: 21 | Height/Weight: 6'1, 210 | Bat/Throw: R/R | 1st Round (19), 2018 (STL) | ETA: 2022
| | | | | | |
| --- | --- | --- | --- | --- | --- |
| HIT | RAW POWER | GAME POWER | RUN | FIELD | FV |
| 40/45 | 60/70 | 50/60 | 45/50 | 40/50 | 55 |
A competitor who doesn't get cheated, Gorman boasts big-time raw power. Despite some kinks in his approach, Gorman has been able to survive extremely aggressive assignments from the Cardinals thus far.
2021 Stats (AA/AAA): .279/.333/.481, 25 HR, 46 XBH, 115 wRC+, 22 K%, 7.3 BB%
Offense
Long lauded for his prodigious left-handed power, Gorman mashed his way to Triple-A in 2021 at just 21 years of age. Power like Gorman's from the left side is not easy to find, as he has foul pole-to-foul pole power with the ability to hit bombs even when he's off the barrel. He has simplified his lower half this year by slowing down his leg kick, which has allowed him to consistently get into good positions to do damage. He features nearly elite bat speed and combines it with big time strength, specifically in his lower half.
The lower half adjustments have also had a positive impact on his strikeout rate that peaked at 29% in 2019 and decreased to a very manageable 22% in 2021. Gorman features an aggressive approach at the plate that will need to be honed in once he reaches the big club. He has a tendency to swing at pitcher's pitches early in counts when he should be looking for pitches to drive.
The only major red flag in Gorman's offensive profile is his drastic splits against lefties that features a .589 OPS compared to .917 against right handers. Gorman's power will play in the big leagues, but his ability to control the strike zone and hitting left handers will need to improve if he's to make a significant impact.
Speed/Defense
While Gorman came up as a third baseman, he has seen the bulk of his playing time in 2021 at second base thanks to the presence of Nolan Arenado in St. Louis. He isn't especially quick on the defensive side of the ball, but he does possess good hands and a rocket for an arm that should allow him to move effectively around the diamond. He's a below-average runner, but thanks to his arm, a corner outfield spot isn't out of the question either.
For now, the Cardinals continue to deploy him at second base in preparation for a 2022 call-up. I was pleasantly surprised at how well he moves on the right side of the infield, and his actions are strong. Gorman has an easier time than most second baseman going to his right because of his massive arm for the position. The same rings true for rushed double play turns where he may have to take the throw flat footed–the plus arm strength really shines through.
Outlook
Gorman's huge raw power will always be his calling card, and the pre-swing adjustments he has made have allowed him to get to it with more consistency. Further work needs to be done regarding his plate discipline as well as his ability to hit left-handers if he's to be an impact big leaguer. With that being said, left-handed power like this in the infield is hard to find. Gorman has All-Star upside, and the strides he has made in 2021 has gotten him a step closer to reaching his big-time ceiling. 
77. Matthew Liberatore – LHP – St. Louis Cardinals
Age: 22 | Height/Weight: 6'4, 200 | Bat/Throw: L/L | 1st Round (16), 2018 (TB) | ETA: 2022
| | | | | | |
| --- | --- | --- | --- | --- | --- |
| FASTBALL | SLIDER | CURVEBALL | CHANGEUP | COMMAND | FV |
| 45/50 | 60/60 | 45/55 | 40/50 | 40/50 | 50+ |
Traded over from Tampa Bay in the Randy Arozarena deal, Liberatore has been able to get outs at every level in the minors, but his stuff profiles more as that of a middle-of-the-rotation starter at best.
2021 Stats (AAA): 124.2 IP, 4.04 ERA, 4.26 FIP, 1.25 WHIP, 23.7 K%, 6.3 BB%
Arsenal
There's a lot to like with a 6-foot-4, 22-year-old southpaw like Liberatore–especially when you consider the fact that he is athletic and repeats his mechanics very well for a pitcher of his profile. Originally a first-round pick by the Rays in 2018, Liberatore was dealt to the Cardinals as part of the Randy Arozarena deal in early 2020.
Liberatore entered the 2021 season having never pitched above Low-A due to 2020's cancellation, but his ability to throw strikes with his four-pitch mix gave the Cardinals enough confidence to start the southpaw in Triple-A.
Liberatore was effective in 2021, however he did give up quite a bit of loud contact, especially on his fastball. The lefty's heater sits around 91-94 MPH, but is low spin and lacks life. Libby surrendered an OPS above .900 when throwing his fastball last year. It was a bit more of the same for Liberatore in big league spring training as veteran hitters ambushed the heater.
While many regard Liberatore's curveball as his best offering, it is actually his slider that is most effective. The offering sits in the upper 80s with late horizontal break, giving hitters difficulty because of how much it looks like his fastball out of the hand. Liberatore also commands the pitch really well, using it like a cutter in on the hands of right-handed hitters, while also showing an ability to back door them as well. The southpaw uses his slider to sweep away from lefties, showcasing his strong glove-side command.
Liberatore's slider vs. his curveball is an excellent example of how we can at times be a bit too fixated with the movement profile of a pitch to the point where we ignore its effectiveness. The curve is still a great change of pace offering in the mid 70s that he can use to steal strikes or as a get-me-over, but it is just not a strikeout pitch. It grades out as above-average because of the massive vertical break, however the offering is loopy and easier to read out of Liberatore's hand.
Liberatore realized this as the season endured at Triple-A Memphis, throwing the slider nearly twice as much as his curveball by season's end. The 22-year-old's slider garnered a 24% swinging strike rate, tripling that of his curveball at 8%.
Currently, Liberatore is more comfortable using his curveball as a third pitch and third speed than his changeup. There is still some above-average potential on his changeup when it sits more in the low 80s thanks to the arm-side fade he is able to generate. At times, the change can get firm on him in the upper 80s and will be straighter.
Outlook
Matthew Liberatore entered 2021 with a little over 100 innings pitched in his entire professional career–that is nothing for an arm drafted out of high school. It wasn't until the second half of the season that Liberatore started to figure out the most effective use of his arsenal against upper level hitting.
By season's end, Liberatore was going to his slider more than his curveball and utilizing his two-seam fastball more. As a result, the southpaw enjoyed his best stretch to end the year over his final 55 innings, pitching to a 2.83 ERA and a much improved K-BB ratio.
While he could probably survive in the big leagues right now, Liberatore could use a bit more experience in the Minor Leagues before heading to St. Louis. If he continues in the direction I think he will with his pitch usage, Liberatore has a relatively high probability outcome of a middle rotation starter. If Liberatore pushes his above-average command to potentially plus command–which is not totally out of the realm of possibility given his athleticism and clean mechanics–No. 2 upside is not out of the question.