Analysis
Bryce Harper's Early Return Would Make a World of Difference
Bryce Harper's rehab from Tommy John surgery is going well, and his return can't come soon enough for a scuffling Phillies team.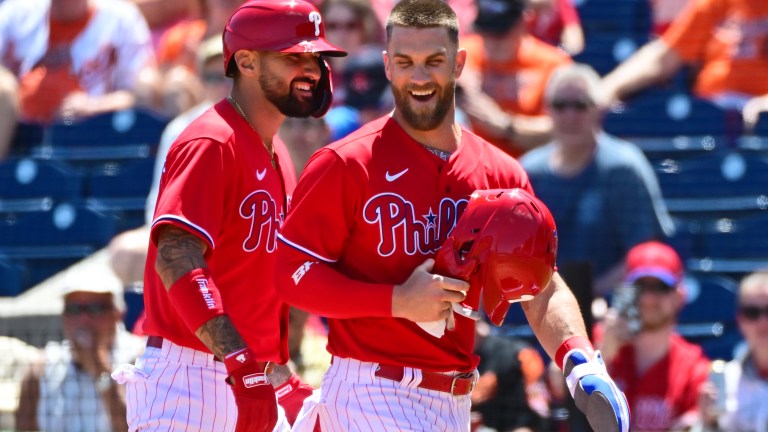 The Philadelphia Phillies need help. They're off to a 4-8 start, which puts them 4.5 games back in the NL East and 2.5 back of the final Wild Card berth. They have scored an average of 4.25 runs per game, which already sounds discouraging before you learn they've allowed an average of 5.5 runs per game. Their -15 run differential is the fourth-worst in the National League, putting them in the company of bottom feeders like the Washington Nationals and Colorado Rockies.
It seemed like the Phillies might be turning a corner on Monday, when they destroyed the Miami Marlins 15-3 in their home opener at Citizens Bank Park. Unfortunately, Philadelphia dropped the next two games, including a heartbreaking extra-inning loss on Wednesday afternoon.
Thankfully, this floundering Phillies squad has help on the way. Indeed, they might receive the biggest midseason upgrade any team gets all year. The man who carried the Phillies to the World Series last October is nearing his return. And it could come sooner than we thought.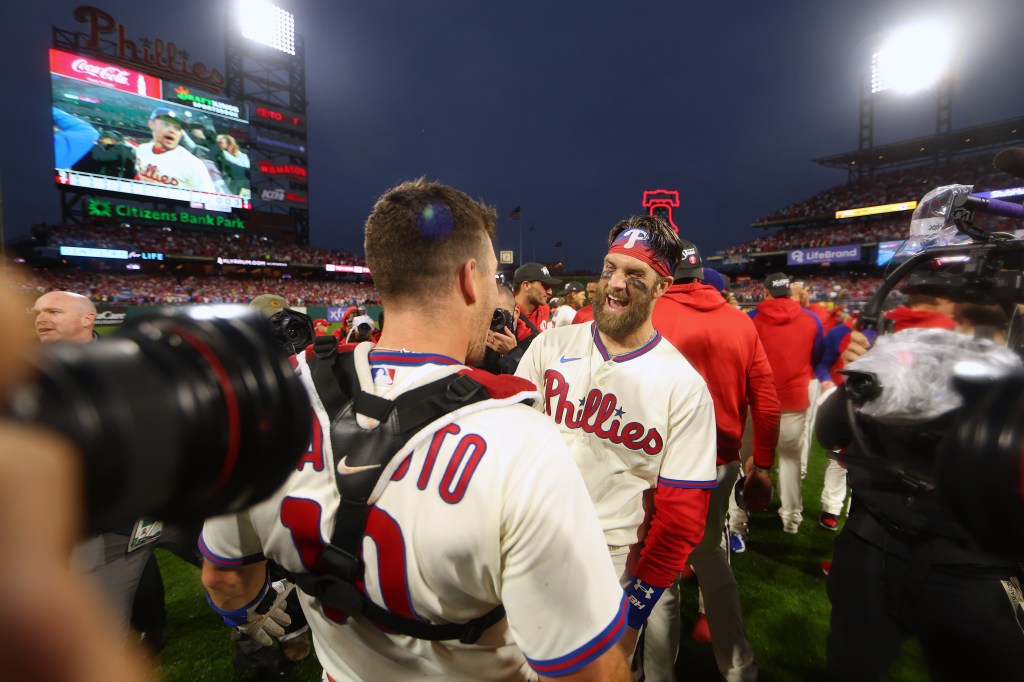 Two-time NL MVP Bryce Harper went under the knife to repair his torn UCL last November. The recovery time for Tommy John surgery isn't as lengthy for hitters as it is for pitchers, but it's still an extensive rehab process. At the time, the Phillies suggested Harper could rejoin the team sometime around the 2023 All-Star Break in mid-July. It was possible he wouldn't come back until August.
However, fans were optimistic the superstar could return even sooner. Shohei Ohtani underwent Tommy John on October 1, 2018, and was back in the lineup on May 7, 2019. That's 218 days later. If Harper were to progress along the same timeline, he would be back with the Phillies on June 29. That's a couple of weeks earlier than the estimate the team provided.
Jim Salisbury of NBC Sports Philadelphia provided an even more optimistic timeline. He suggested Harper could be "hitting competitively" by mid-May. If that were the case, he could return even sooner than the end of June. Salisbury didn't speculate about when that might be, but Todd Zolecki of MLB.com theorized that if Harper was ready to start hitting on May 15, he could get back in the lineup by June 9. That would mean an extra 28 games with Harper in the lineup compared to the team's initial estimate. An additional 28 games with Harper is enough to alter the course of the season. He's that good.
Fast forward a few months, and there was even more reason for optimism. The Phillies declined to place Harper on the 60-day IL heading into the season. Had they done so, they could have temporarily freed up a spot on 40-man roster, but Harper would not have been eligible to return until May 29. Many took this as an indication that he could come back before then, even if it were unlikely. As president of baseball operations Dave Dombrowski explained, "We're going to keep our options open that hopefully he comes back."
It's not so often fans get this many positive injury updates in a row. Typically, a player either progresses along the expected rehab timeline or faces a setback. But Bryce Harper isn't your typical player.
Earlier this week, Phillies manager Rob Thomson revealed that Harper is already capable of taking competitive swings:
In other words, Harper is ready to do what he does best: hit the ever-loving crap out of a baseball. This doesn't mean his return is imminent – he still needs to be able to play without any risk of re-injuring his UCL – but it's a huge step in the right direction. From what we knew before, Harper wasn't going to be swinging with full effort until May.
On top of that, Thomson disclosed that he already has a date in mind for Harper's 2023 debut. He wouldn't reveal when exactly (perhaps to avoid baseless speculation), but it's encouraging he has a specific date in mind. Specificity is a sign of progress; a few months ago, Thomson certainly couldn't have known – or even guessed – the precise date his superstar would return.
The final bit of information we have (as of right now) is that Harper is scheduled to follow up with his surgeon when the Phillies visit the Dodgers in early May. For that reason, it's unlikely he'll return to game action before then. However, that appointment could be the final step before he is medically cleared to play. Perhaps his rehab stint will begin sometime after the Phillies return home on May 5. I can't say it's likely, but it's possible. (For what it's worth, Harper is also practicing to play first base these days. It doesn't really affect his timeline, but it shows how desperate he is to get back and contribute as much as possible.)
If Bryce Harper can, in fact, come back sooner than expected, his return would have substantial consequences for the NL postseason race. The Phillies have seen their postseason odds plummet over the first two weeks of the season. On Opening Day, FanGraphs gave them a 50% chance to make the playoffs and a 10.5% chance to win the NL East. Twelve games in, and their postseason odds have fallen from 50% to 34.6%. Their division odds have been sliced in half. No NL team has seen their odds drop so precipitously.
The PECOTA projections from Baseball Prospectus were always higher on the Phillies, so they aren't quite as bleak after Philadelphia's 4-8 start. Still, PECOTA had the Phillies as the clear favorites for the final NL Wild Card spot on Opening Day. Now, they're neck and neck with the Cardinals in the projected standings.
Philadephia still has 150 games to right the ship, and this team's hopes certainly aren't dead after just two weeks. Heck, they got off to a 4-8 start last year, and things turned out pretty well. The losses piled up in April and May, but the Phillies got a midseason shot in the arm when manager Joe Girardi was fired on June 3. From then on, they went 65-46, earning a postseason berth for the first time in a decade. We all know what happened after that.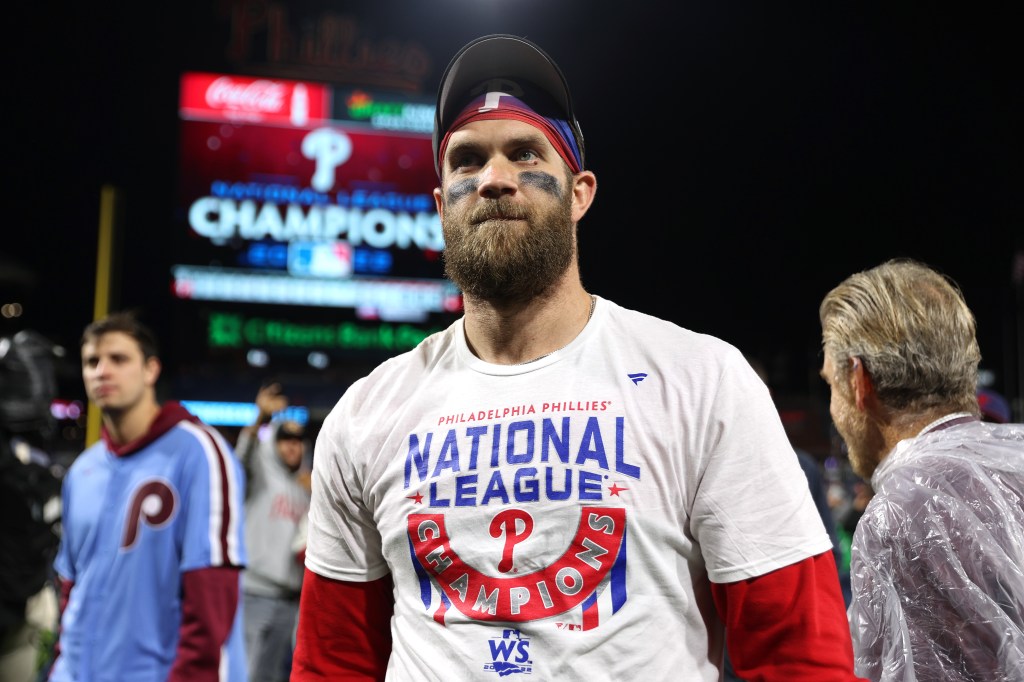 This year, the Phillies could use another shot in the arm, and Harper's early return would be just the pick-me-up they need. After all, it's not every day a team adds such a prolific slugger to the middle of its lineup. When Bryce Harper returns, he'll transform the Phillies' offense. If he comes back in May, he'll make a world of difference for the Phillies and their postseason dreams.