Analysis
Blue Jays Are Starting To Get the Best From Vladimir Guerrero Jr.
On the heels of an MVP worthy 2021 campaign, Blue Jays slugger Vladimir Guerrero Jr. got off to a slow start this season, but is starting to come around now.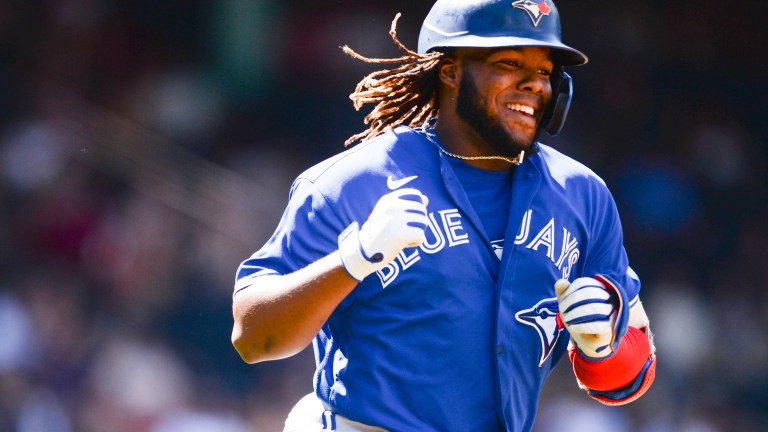 Heading into the 2022 season, the Toronto Blue Jays were one team that was heavily-favored to contend for the World Series. Even after losing Marcus Semien, Robbie Ray, and Steven Matz to free agency, the club added some new faces in Kevin Gausman, Yusei Kikuchi, Yimi Garcia, and Matt Chapman, creating one of the deepest rotations and lineups in the league.
The club was also going to have Alek Manoah and Jose Berrios for a full season and the club's young core of Bo Bichette, Vladimir Guerrero Jr., and Teoscar Hernandez mixed in with a healthy George Springer set expectations sky-high for Canada's only MLB team.
Fast forward to today, and it is safe to say that sitting third in the AL East is not where the Blue Jays and their fans hoped they would be. Granted that the Yankees are having a fantastic season and running away with the division early, the Jays have squandered a few games over the course of the season as well as some pitching woes, which has them sitting with 41-32 record.
After such a strong season last year, expectations were high for Vladimir Guerrero Jr. as well, exemplified by his comments in Spring Training regarding seeing the "trailer" last season and that 2022 would be the "movie". Bold comments for a team looking to contend in one of the strongest divisions in all of baseball.
Vladimir Guerrero Jr. prior to 2022
By Guerrero's standards, this season is a step back from the MVP-type campaign he put up last year but he is currently keeping up with his rookie and sophomore stats.
Last year, he led the league in runs and tied Salvador Perez for home runs at 48 dingers. He was also the top hitter in the American League when it came to OBP, SLG, OPS, and OPS+, trailing only Yuli Gurriel on the Astros in batting average (while also tying fellow Astro Michael Brantley at .311).
Had it not been for dual-threat Shohei Ohtani being one the greatest stars in all of baseball, the MVP award would have surely gone to Guerrero Jr., who instead settled for an All-Star appearance, Silver Slugger, and Hank Aaron Award.
This season, he started off strong but fell into a rough patch towards mid-to-late May, struggling to put the ball in play and seeing his average dip towards the .250 mark. From May 2nd to May 18th, the Blue Jays first baseman had a 15-game hit streak going but was not hitting for extra bases, adding in just two doubles and one home run during that span. He then would go hitless in his next four games with just one walk and his OPS dropped to .775, the lowest it had been all season.
The month of June has seen Guerrero Jr. start to return to his 2021 form, as the right-handed batter owns a .300/.391/.620 through 100 at-bats with nine home runs, 21 RBI, and a 1.011 OPS. He also took home AL Player of the Week honors last week.
Things are looking up for Blue Jays star
Things are starting to trend in the right direction for the Dominican star now, as he is currently riding a six-game hit streak and added a home run last night against the Boston Red Sox. His average is now back to the .268 mark and he currently leads the Blue Jays squad in multiple offensive categories such as home runs (18), RBI (45), and walks (36), owning a 1.8 fWAR on the campaign.
One area he has struggled in is cashing in runs when runners are in scoring position, sporting a .242 average on the year with two home runs, 22 RBI, and 15 strikeouts. This is relevant to most Blue Jays batters, as scoring with RISP has been an issue for most of the season for this club.
While he is chasing the ball more compared to last season, Guerrero Jr. sits high in regards to average exit velocity (98th percentile) and HardHit% (99th percentile) while also sitting above the 80 percentile mark for Barrel % (83rd), BB% (84th), xSLG (89th), xBA (90th), and xwOBA (93rd).
Overall, while he did hit a rough patch, like almost every player does at some point in the season, Guerrero Jr. is starting to find a rhythm at the plate and is putting up strong numbers that will help this team try to contend for a postseason spot later this year.
They're going to need it this week, especially since both the Boston Red Sox and Tampa Bay Rays are in town, with Wild Card implications in play if the Blue Jays struggle to take either series throughout the week.