Analysis
Best Performers in the AL East | State of the Division
On the latest State of the Division podcast, we take a look into the top hitters and pitchers from the AL East last week.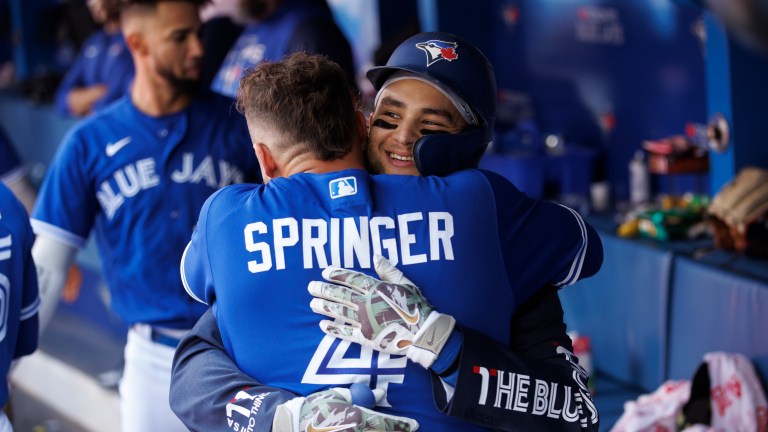 Another entertaining week in the AL East has passed. As currently constructed, four of the five teams in this division would make the playoffs if they started today. It's been as competitive as ever throughout the first 60 games, as the drama continues to build to its ultimate climax.
The Yankees continue to soar with the best record in baseball. Toronto is finally getting production out of the likes of Jose Berrios and Bo Bichette. Tampa Bay's offensive struggles continue, but ace Shane Mclanahan is one of the best in the sport. Boston continues to surge, winning eight of their last 10. And Baltimore continues to be the punching back for the best division in baseball.
On this week's State of the Division for the American League East, Peter Appel and I highlighted one hitter and one pitcher that performed at an elite level for their ballclub last week.
Let's run through our selections and focus on the best players in this division over the past seven days.
New York Yankees
Hitter of the week: Aaron Judge, Right Fielder
Who else? Aaron Judge continues to dominate the early season MVP ranks, as he's been one of the best players in baseball in his contract year. Judge has been one of the best hitters in baseball this season, and some may believe he's on top of the pile.
His elite slash line of .360/.452/.760 over his past six games is one of the best in the entire sport. At this point, it's incredibly surprising if Judge doesn't hit a home run every day. He smacked three this past week, including a two-homer night against the Cubs in an 8-0 win on Saturday. His 219 wRC+ is slightly above his full season total of 199.
As he continues to demand the spotlight with these otherworldly performances, a huge pay day is in order for the 30-year-old. An MVP award is calling Aaron Judge's name, and he's elevating his performances week in and week out.
Pitcher of the week: Jordan Montgomery, Starting Pitcher
With one of the most dominant pitching staffs in the game, the Yankees offer a plethora of elite arms to choose for with this award. However, this week we've selected possibly the most underrated Yankees starter, Jordan Montgomery.
Montgomery's ERA has dipped to the 16th lowest mark in all of baseball after a scoreless seven innings against Chicago on Saturday. He's quietly been one of the most elite starters in the game in 2022. Over his seven innings pitched on Saturday, Montgomery allowed five hits, struck out five, and didn't walk a single batter.
With the likes of Nestor Cortes Jr. and Gerrit Cole struggling this week, Montgomery shoved in his lone start. He might be the most underrated starting pitcher in the game. Nonetheless, he's been a massive part of this Yankees rotation during this campaign.
Toronto Blue Jays
Hitter of the week: Bo Bichette, Shortstop
He has arisen! After an incredibly slow start, shortstop Bo Bichette is finally mashing once more. One of the hottest hitters on the planet, Bichette has contributed extensively to the Blue Jays dominance over the past few weeks.
Bichette slashed .400/.464/.680 with a 225 wRC+ in his 28 plate appearances last week. He also mashed two home runs and drove in five RBIs during this six-game stretch. His season total of a 115 wRC+ is slowly climbing the Blue Jays ranks, as multiple hitters on this roster are finally beginning to heat up. An instrumental piece to their 92-win season last year, Bichette needed to get rolling before it was too late.
Out of a great group of hitters this week from the Blue Jays, Bichette shined the most. This young core has to continue to rake if they want to give themselves any chance of catching the first place Yankees. And over their past six games, they're beginning to show their worth.
Pitcher of the week: Jose Berrios, Starting Pitcher
Another slow starter from this Blue Jays team has been Jose Berrios. His overall season ERA of 4.73 isn't a testament to how great he's been over the past week however, as he's finally beginning to shove again. Following his trade to Toronto at the deadline last season, Berrios was one of the scariest pitchers to face. His early starts in 2022 weren't indicating a repeat of those performances, but he's finally arrived.
The 28-year-old threw eight innings of five-hit ball against Detroit on Friday, by far his best outing of the season. Through his last two starts, Berrios has thrown fifteen innings, struck out 18 hitters and only allowed a grand total of two earned runs. Slowly but surely, Jose Berrios is returning to his peak form.
With both Kevin Gausman and Alek Manoah performing at an incredible rate, Berrios only adds more productivity to that dynamic duo. If all three are firing on all cylinders, the sky could be the limit for this Toronto team.
Tampa Bay Rays
Hitter of the week: Ji-Man Choi, First Base
Ji-Man Choi has continued his promising start to the season, upping his wRC+ to 150 after another stellar week. Choi spent some time on the IL at the beginning of the season after a hot start. But since coming back to this Rays lineup, he's mashed baseballs. Tampa Bay has experienced a lack of offensive production as compared to previous years, but Choi's been a vital bat to a rather lackluster offense.
The six-year MLB veteran slashed .400/.429/.700 in his 21 plate appearances last week. Tallying one home run and five runs batted in, he added 0.3 WAR to this Rays team over his last five games. In a lineup that has struggled to produce, Choi has been one of the bright spots. Should we expect this kind of production from the first baseman for the rest of the season? Only time will tell.
With star shortstop Wander Franco and second baseman Brandon Lowe ramping up rehabs for their respective injuries, reinforcements will soon come for this Rays offense. Yandy Diaz, Manuel Margot and Randy Arozarena are all putting in solid shifts every night as well. Success will come for this Tampa Bay team, it's only a matter of when, not if.
Pitcher of the week: Shane McClanahan
The young Rays starter continues to impress all of us with his insane skill on the bump. Shane McClanahan has fully taken the reigns as the Tampa Bay ace in 2022. He's pitched to the tune of a 1.87 ERA this season, the fourth-lowest in all of baseball. Without these stellar performances from the 25-year-old, it's hard to see who the best pitcher on this staff would be.
McClanahan had a stellar outing against the Cardinals last Thursday, tossing eight innings of two-hit ball. Striking out nine and only walking one hitter, he was dominant against a potent St. Louis offense. He did allow one run during this start, but it was marked down as unearned, and he received the win.
Shane Baz is finally coming back to this rotation, which is a huge plus. There is also still the possibility of a Tyler Glasnow return, after the starting pitcher underwent Tommy John surgery in August of last year. Having Baz, Glasnow, and McClanahan in a playoff series together has a massive amount of potential. These three could combine for one of the best rotations in the entire sport.
Boston Red Sox
Hitter of the week: Bobby Dalbec, First Baseman
Never in a million years did I consider the possibility of Bobby Dalbec being the best hitter on the Boston Red Sox. Welp, here we are. Dalbec posted a 204 wRC+ last week, the highest tally in this potent Boston lineup. To go along with that, he mashed two home runs and drove in six more. Dalbec is a player that has struggled early on this year, but is he finally figuring it out?
The Red Sox first baseman has never truly shown consistency while in the big leagues. He'll go on these spurts where he finally figures out how to hit a baseball, while there are other times when he won't produce whatsoever. But right now, he's seeing success with the bat. With a well below league average wRC+ at 71, he's been bad. Maybe this past week could be a change in the tide however, only adding to the Red Sox offense.
The front four of Story, Devers, Martinez and Bogaerts is one of the scariest in all of baseball. With Dalbec producing, it only made this lineup deeper. I dont expect Bobby D. to keep up this level of productivity, but he was immense for this team last week.
Pitcher of the week: Michael Wacha, Starting Pitcher
Wacha was roughed up in his last start on Saturday night against the Mariners, allowing three runs through 4.1 innings. However, the start I want to focus on was his performance last Monday against the Los Angeles Angels.
Los Angeles, in the midst of their 14-game losing streak, welcomed Wacha and the Red Sox to LA last week. He shoved, throwing a complete game shutout only allowing three hits and striking out six. The clip of Wacha gassing up international superstar Shohei Ohtani was incredible. His 2.33 ERA would rank as the 10th-lowest in MLB if he qualified. He's been impressive.
Red Sox starting pitching has been a huge strength for them this year. After such a slow start, they've won eight of their last 10, and the pitching has been a vital part of that. With Chris Sale on the way back soon enough, this team could do serious damage for the rest of the season.
Baltimore Orioles
Hitter of the week: Anthony Santander, Right Fielder
While this Orioles team doesn't bolster an incredible amount of talent, there are some decent bats on this roster. Anthony Santander is a guy who is known to perform well during certain stretches, and he did just that last week.
Santander slashed .353/.421/.706 with a 219 wRC+ in his four games last week. The team only played four games during the last seven days due to rainouts, but he provided during his ties. The right fielder is a name who could possibly be dealt at the trade deadline, as his bat alone could provide immense value to a contender.
Going back to the possibility of Baltimore shipping off pieces, there are numerous bats who could be out of there come mid-summer. Santander, Austin Hays, and Cedric Mullins are all names who could be out the door. With an incredible young crop of prospects set to debut in the coming years, it could be time to force all of their chips into a young core.
Pitcher of the week: Tyler Wells, Starting Pitcher
Orioles' pitchers didn't' see a ton of success this week, but the best start of the bunch was from Tyler Wells last Saturday. There are some decent pieces on this staff, they just had a poor week.
Wells had a decent outing against the Royals last week, throwing six innings, allowing three earned runs over five hits, and striking out four. Not the best start by any means, but it sort of wins by default.