Analysis
Atlanta Braves Offseason Outlook for 2023-2024 Free Agency
The Atlanta Braves won 104 games in 2023, but they still fell short of their ultimate goal: another World Series title.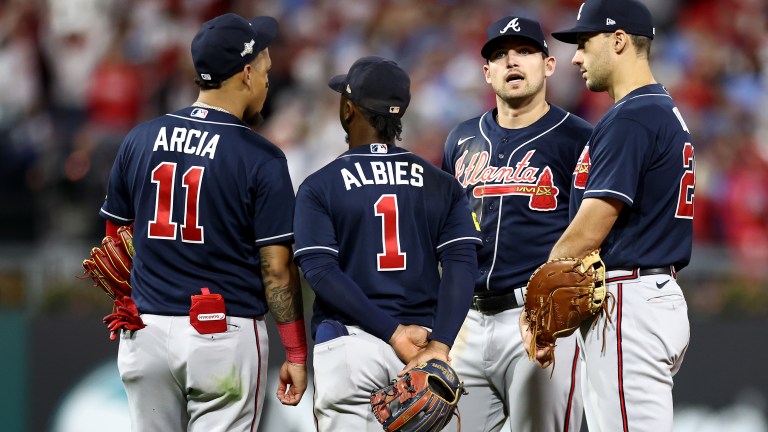 The Atlanta Braves don't have many holes. After all, they won 104 games this past year for a reason. Their offense is a force to be reckoned with, and all the key players are coming back in 2024. The most important arms will also return next season, namely Spencer Strider, Max Fried, and Raisel Iglesias.
There is no question the Braves will be contenders once again. Indeed, it's hard to imagine they won't be the favorites in the National League. Still, they need to fill out the back of the roster with role players who can provide enough depth to get Atlanta through the 162-game slog and help them survive in October.
Starting Pitching
Impending Free Agents: None
Contract Decisions: Charlie Morton (Club Option), Max Fried (Arbitration), Kyle Wright (Arbitration), Yonny Chirinos (Arbitration), Michael Soroka (Arbitration), Huascar Ynoa (Arbitration), Kolby Allard (Arbitration)
Potential Rotation
Pitcher
Spencer Strider (RHP)
Max Fried (LHP)
Charlie Morton (RHP)
Bryce Elder (RHP)
AJ Smith-Shawver (RHP)
Spencer Strider and Max Fried make for a potent combination atop the rotation. Indeed, with a healthy Fried, the Braves could have the best one-two punch in the game.
After Strider and Fried, the team needs a No. 3, and Charlie Morton is the most likely candidate. He has a club option on his contract for $20MM, which is a fair price to pay if he can repeat his performance from this past season (30 starts, 3.64 ERA, 2.7 fWAR).
However, at 40 years old, Morton will come with his fair share of risk. He has been one of the most durable and reliable starters in baseball throughout his mid-to-late thirties, but the wheels could fall off at any time. Thus, the Braves might prefer a younger (and therefore safer) option next season, especially considering the uncertainty at the back end of their rotation.
Someone like Sonny Gray or Seth Lugo might cost a little more, but they would also provide the Braves with added security (and a bit more upside) in the middle of the rotation.
Alternatively, the Braves could pursue a major trade, like they have in each of the past two offseasons. Trade candidates include Shane Bieber of the Guardians and Tyler Glasnow of the Rays.
There's also the possibility that Morton will retire this offseason, choosing to end his career on a high note. In that case, the Braves will certainly be in the market for a veteran mid-rotation arm.
The Back of the Rotation
As for the final two spots on the starting staff, the Braves are likely to go with in-house options. Former top prospect Bryce Elder proved himself capable of a full-time role last season, and AJ Smith-Shawver is an electrifying talent, even if he struggled last year in a few big league cups of coffee. In addition, 2023 first-round pick Hurston Waldrep could be an option late in the season.
The Braves are fortunate to have so much promising pitching talent on the roster, but relying so heavily on a couple of young arms is just as risky as counting on a 40-year-old veteran. Elder could be in for a rude awakening in his second full season (his underlying metrics aren't nearly as impressive as his ERA), and Smith-Shawver still has adjustments to make at the big league level. Waldrep, meanwhile, has only pitched 14.1 innings above High-A.
Rotation Depth
Atlanta has guys like Michael Soroka, Huascar Ynoa, Yonny Chirinos, Jared Shuster, and Kolby Allard as potential depth pieces, plus the rookies Dylan Dodd, Allan Winans, and Darius Vines. Still, don't be surprised to see Alex Anthopoulos shopping for starting pitching at the deadline if one of their young arms is struggling in the first half.
Bullpen
Impending Free Agents: Joe Jiménez, Jesse Chavez
Contract Decisions: Brad Hand (Mutual Option), Collin McHugh (Club Option), Kirby Yates (Club Option), A.J. Minter (Arbitration), Michael Tonkin (Arbitration), Nick Anderson (Arbitration), Ben Heller (Arbitration)
Potential Bullpen
Pitcher
Raisel Iglesias (RHP)
A.J. Minter (LHP)
Pierce Johnson (RHP)
Nick Anderson (RHP)
Tyler Matzek (LHP)
Kirby Yates (RHP)
Dylan Lee (LHP)
Michael Tonkin (RHP)
Raisel Iglesias, A.J. Minter, and Pierce Johnson are locks for the bullpen in 2024. Nick Anderson should be a lock, too, as long as he's healthy. Those four combined to pitch 179.1 innings for the Braves in 2023, with a 2.91 ERA and a 30.2% strikeout rate.
Minter is arbitration-eligible for one more season, while Iglesias, Anderson, and Johnson are all under team control through 2025. Iglesias has two seasons remaining on his contract, Anderson has two years left of arbitration, and Johnson recently signed a two-year, $14.25MM extension.
The Question Marks
The back half of the 'pen, however, has more questions than answers. Brad Hand is all but certain to reach free agency; he has a $7MM mutual option for 2024, and the Braves will surely reject their end of the deal. The team is equally unlikely to pick up Collin McHugh's $6MM club option after he posted a 4.30 ERA in 41 games and ended the season on the injured list.
Kirby Yates will make for a more interesting decision. He made 61 appearances last season, pitching to a 7-2 record with a 3.28 ERA. The underlying metrics weren't quite as impressive, but $4.5MM (a $5.75MM salary minus a $1.25MM buyout) isn't a bad price for a veteran arm with big strikeout stuff.
Tyler Matzek sat out the 2023 season after undergoing Tommy John surgery, but he pitched well from Atlanta over the previous three seasons (132 games, 2.92 ERA), and he is on a guaranteed contract in 2024 with a $5.5MM team option for 2025. The Braves will certainly give him a chance to prove he can regain his form, but his $1.9MM salary is low enough that they won't hesitate to eat it if he isn't up for the task.
Dylan Lee was excellent in 2022, pitching to a 2.13 ERA in 46 games, and he looked good in 2023 before a shoulder injury started to cause him problems. The lefty won't be eligible for arbitration until 2026, and barring another setback with his shoulder, he should pitch for the Braves in 2024. The only thing working against his case for the Opening Day roster is that he still has minor league options, so the club could stash him in the minors until an injury inevitably pops up.
Bullpen Depth
Michael Tonkin was a solid long reliever for Atlanta in 2023, pitching 80 innings with a 4.28 ERA. However, he showed signs of fatigue down the stretch, and the Braves won't be afraid to cut him if they think they can find a better option for his 40-man roster spot.
More options on the 40-man include Daysbel Hernández, Ben Heller, and Jackson Stephens, in addition to starting pitchers like Yonny Chirinos and Kolby Allard. Those arms make for fine depth, but the Braves will surely make at least one significant addition to the bullpen this winter. That could mean a reunion with 40-year-old Jesse Chavez, or the team could pursue some of the many middle relievers available on the open market.
Offense/Defense
Impending Free Agents: Kevin Pillar
Contract Decisions: Eddie Rosario (Club Option), Nicky Lopez (Arbitration), Sam Hilliard (Arbitration), Andrew Velazquez (Arbitration)
Potential Lineup
Player
Ronald Acuña Jr. (RF)
Ozzie Albies (2B)
Austin Riley (3B)
Matt Olson (1B)
Marcel Ozuna (DH)
Michael Harris II (CF)
Sean Murphy (C)
Eddie Rosario (LF)
Orlando Arcia (SS)
The heart of the lineup is the heart of the Braves, and it will remain intact in 2024. However, with Kevin Pillar hitting free agency and a club option for Eddie Rosario, the Braves could choose to upgrade the bottom of the order.
What To Do in Left Field?
The Rosario-Pillar platoon combined for a 92 wRC+ last season, struggling against both righties and southpaws. The lefty-batting Rosario was little more than a league-average hitter against opposite-handed pitching, while the righty-batting Pillar produced a 90 wRC+ even when he had the platoon advantage.
Meanwhile, Pillar was at least a good baserunner and a strong defender, while Rosario didn't contribute much on the bases or in the field.
None of that is so bad coming from your left fielder and the eight-hole hitter in your lineup, but all the same, it's a place where the Braves could upgrade. Outfielders available will include former Brave Adam Duvall, as well as Lourdes Gurriel Jr., Mark Canha, Michael Brantley, and Teoscar Hernández.
Then again, Rosario's $9MM option is a reasonable salary for a veteran outfielder who can provide league-average offense and a competent glove in left field. The Braves might be happy sticking with what's familiar in Rosario and simply finding a new right-handed backup outfielder to replace Pillar. Randal Grichuk could be a good fit.
The Shortstop Question
Atlanta might also look to upgrade the nine-hole, where Orlando Arcia finished with a 99 wRC+ despite a red-hot start to the season. Arcia plays terrific defense at shortstop, but he could still help with his glove in a utility role off the bench.
There aren't many middle infield options on the free agent market, but if nothing else, the Braves will have to give the 22-year-old Vaughn Grissom another chance to earn the shortstop job after his strong 2023 season at Triple-A. Moreover, if any team could pull off a shocking trade for Brewers' shortstop Willy Adames (and then sign him to an equally shocking long-term extension), it's the Braves.
The Braves and manager Brian Snitker seem happy with Arcia as the starting shortstop, but if they want to improve the lineup next season, they have to consider all possibilities.
As for the bench, the club is set with Travis d'Arnaud as the backup catcher, Nicky Lopez as a utility infielder, and Sam Hilliard and Forrest Wall to provide outfield depth.
Payroll
Estimated Luxury Tax Payroll in 2023: $245.9MM (per Roster Resource)
Estimated Luxury Tax Payroll in 2024: $204.4MM (per Roster Resource)
If the Braves are planning to run a similar payroll in 2024 as they did in 2023, that gives them about $41MM to spend this winter. If they pick up their options on Morton, Rosario, and Yates, that would leave them with about $8MM to spend on additions, including any moves at next year's deadline.
That said, there's no reason to believe the team won't loosen the pursestrings for the right upgrades. The second luxury tax penalty threshold will rise to $257MM next year, and the Braves could use that figure as a soft cap.
Conclusion
Any upgrades this team makes will be at the margins. Simply put, the Braves are already an excellent ballclub.
Still, they have a few places to upgrade the roster, and the right upgrades will bolster the team for next season. The Braves looked unstoppable this year – until someone stopped them. If they address some small weaknesses, perhaps they really will be unstoppable in 2024.