Analysis
Astros Even World Series With Game 2 Win
Not quite a "must win" but the Astros get a much needed win in Game 2 of the World Series before heading to Atlanta.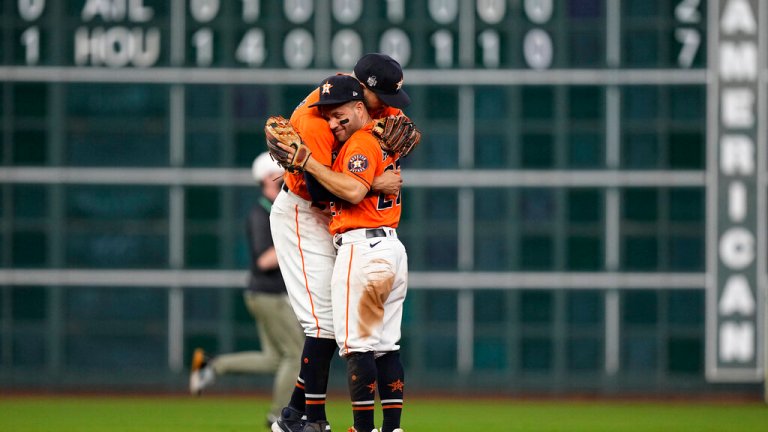 The Astros evened up the World Series with a resounding 7-2 win in Game 2.
José Altuve's lead-off double set the tone for the Astros as the offense came out hot. After scoring just two runs in Game 1, Houston jumped all over the Braves in Game 2.
A big second inning gave the Astros the lead and the Braves barely gave them a scare. Alutve was the star of the night as he got things started then put a bow on it late. His home run in the seventh inning put the game out of reach and felt like a statement.
Neither game has been particularly close in the series with both teams having offensive breakouts that put the other to bed early.
The Braves did have a few chances to begin chipping away, but the Astros pitching staff did a great job of shutting down any rallies.
Defining Moment
It all happened for the Astros in their four-run second inning. Houston got out to a 1-0 lead in the first before Atlanta tied it up in the second.
The Astros responded with three straight singles to start their half that gave them a 2-1 lead. With two on and one out, Martin Maldnado ripped a single through the left side to make it 3-1.
Things got worse for the Braves when Eddie Rosario rushed a throw into third with nobody standing on the base. The ball got away and allowed José Siri to score and make it 4-1.
Michael Brantley brought in Maldonado with a two-out single to make it 5-1 and Houston never looked back. It was a very similar story to Game 1, but it went in favor of the Astros in Game 2.
Urquidy Comes Through
The Astros badly needed a big pitching performance after last night and José Urquidy delivered. He struck out seven in five innings of work, allowing just two runs on six hits.
Houston used six pitchers in Game 1 so five innings probably like seven to manager Dusty Baker.
Urquidy had appeared just once this Postseason before tonight, allowing six runs on five hits in 1.2 innings. He made a statement that Game 2 would be different right away by striking out the first four batters he faced.
After Travis d'Arnaud homered in the second, it looked like things were getting away from Urquidy. However, he would settle in and finish strongly. After a single by Dansby Swanson following the homer, Urquidy retired ten of the final twelve batters he faced and allowed just one more run.
He was not dominant in any sense, but he gave the Astros exactly what they needed.
Play Of The Game
There was not a whole lot of defense that stood out tonight, so how about a cool tidbit instead? When Max Fried faced Alex Bregman in the first inning, it was the first time two Jewish players had faced off in a World Series game.
Sandy Koufax famously refused to pitch in a World Series game because it fell on the Jewish holiday Yom Kippur. Yet Koufax pitched in eight World Series games and somehow never faced a fellow Jewish player.
In a sport where Jewish representation has been high, for the first matchup of this kind to happen in 2021 seems odd. It may not show up in the headlines, but as a proud Jewish man I found it pretty cool.
The at bat turned out to be important as Bregman drove in the first run of the game with a sac-fly.
Looking Ahead
Both teams have relied on their bullpen early in this series, so the off day tomorrow is much-needed.
Fried settled in following the rough second and came through for his team with five innings. After the Braves had to use their pen for six-plus innings last night, him battling that long was massive.
Both teams have used their big names in the bullpen after the Astros used Pressly and Graveman in Game 2. The Braves big names all got the night off, so they will have a small freshness advantage.
The series now shifts to Atlanta for three games starting Friday. Atlanta is scheduled to have Ian Anderson on the mound on Friday, while the Astros will go with Luis García.
With the two aces in the series—Charlie Morton and Lance McCullers—out, both teams will be looking for big starts in the next couple of games. They will also begin to rely heavily on their bullpens the longer this series goes.
How much of a weight the starters in this series can take off the bullpens will go a long way in determining the final outcome.
Game 3 is Friday at 8:09 PM.