Analysis
2021 World Series Game 1: By The Numbers
Important numbers from the first game of the World Series.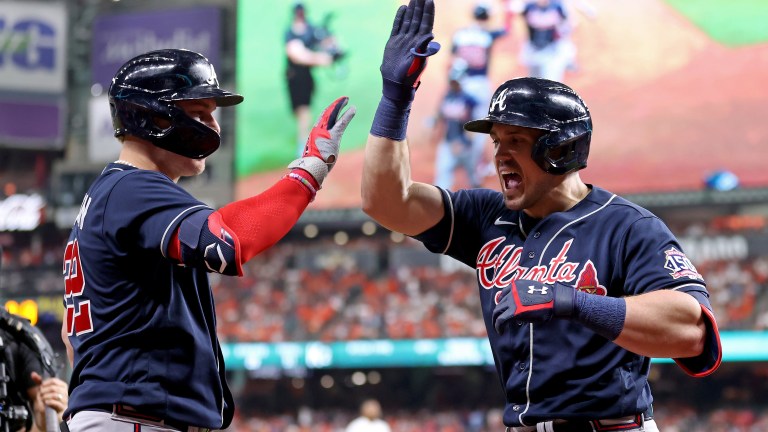 Not the most thrilling of games, but they can't all be barn burners. Let's look at the numbers behind Game 1 of the 2021 World Series.
Adrenaline Rush
Want a quick fix that will help you gain 1-2 miles per hour in velocity? Just play in the World Series! Six of 11 pitchers that entered the game tonight averaged over a mile per hour more on their primary fastball than their season average. Framber Valdez, who did not have his best command tonight en route to yielding five earned runs over two innings of work, was averaging 2.4 MPH more velocity than average on his sinker. Pitching in the World Series just means more and regardless of performance, these players are putting everything on the line.
Brantley Barrels Baseballs
Say this one ten times fast for me. Brantley barrels baseballs! Simple, short and through the zone, Brantley exhibits everything that any coach wants in a hitter. Each of his five batted balls tonight were hit over 92 MPH off the bat and four of five were considered barrels, meaning hit above a certain exit velocity threshold and within a certain launch angle threshold. Barrels often turn into hits. He finished the night 3-5, but the rest of the Astros offense was cold and could only muster five other hits.
Brantley said after the game, "It's just one game…we look forward to playing better tomorrow night". These often sound like auto-generated answers, but there is a lot of credence to his words. One game at a time.
Death, Taxes and Ozzie Albies Crushing Lefties
I wrote yesterday in an article outlining seven facts you need to know before (or during) the World Series that Ozzie Albies is considerably worse as a left handed hitter. So much so in fact, that I recommended that he consider switching to the right side fully in 2022. Low and behold, Albies went 2-5 tonight with two singles against lefty Framber Valdez and his lone hard hit ball coming off of another lefty, Brooks Raley. It's clear that Albies is a superior hitter from the right side and it will be interesting if the Astros decide to attack him with Raley later in the series.
Big Night for Exit Velos
18 balls were hit at least 100 MPH last night, including nine rockets off the bat at at least 107 MPH. Many of those came at the expense of Framber Valdez, who surrendered a 115.8 MPH double to Austin Riley and a 111.7 MPH line drive homer to Adam Duvall.
Pitch of the Night
There may have been filthier pitches thrown tonight, but none more gutsy than the 80 MPH curveball Charlie Morton threw to Jose Altuve to strike him out in the top of third. Morton winced in pain and grabbed his leg after the swing and miss.
Morton would need to exit the game and later we would learn that he suffered a broken leg, which will sideline him for the rest of the World Series. Joel Sherman of the New York Post adds that Morton took an x-ray in between the second and third inning, revealing no break, and was cleared to go back out for the third, where it is assumed he broke it on the pitch to Altuve. Not every 3000 RPM curveball is created equal. Well wishes and a speedy recovery to Charlie Morton.
Hit of the Night
Who isn't a sucker for a nice swinging bunt? At first glance, I expected this batted ball from Jorge Soler to have an expected batting average close to zero, but apparently based off of other batted balls with this exit velocity and launch angle, the expected batting average is .230. It was definitely not a purposeful swing, but hard to blame Ryne Stanek for not being able to make that play. If there is one takeaway, it's that pitcher fielding practice, no matter how monotonous, has some importance in a small sample environment like the playoffs.