Analysis
The Giants Have Flipped the Switch in the Arm Barn
The San Francisco Giants have quietly transformed their bullpen from a glaring weakness into a singular strength.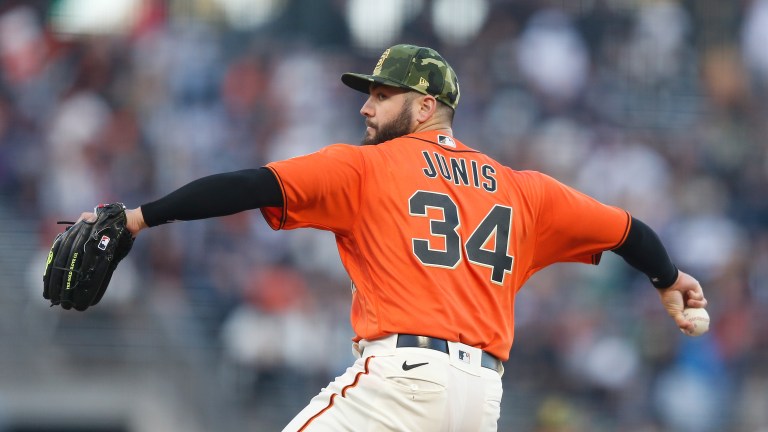 When the San Francisco Giants shocked the baseball world in 2021, winning 107 games en route to an NL West title, their bullpen was arguably the best in the National League. They were the only relief corps with an ERA below 3.00, and they tied for the league lead in saves. San Francisco's ten most-used relievers all finished with an ERA of 3.00 or below.
The Giants finished second to the Dodgers in bullpen fWAR and second in Win Probability Added (WPA). By WPA, their bullpen was the most important part of the team (9.72 WPA), outperforming the offense (9.42) and rotation (6.86). They were especially lethal down the stretch, leading the majors with 4.5 WAR and 7.58 WPA from July to September.
Things didn't go so well the following year – for the Giants or their bullpen. San Francisco finished with a 4.08 bullpen ERA (20th in MLB) and 2.8 fWAR (18th) in 2022. Their WPA was in the negatives, ranking 24th in the game. Camilo Doval excelled as the closer, and Tyler Rogers and John Brebbia were solid in the seventh and eighth. However, the team lacked depth and needed too many innings from ineffective arms like Yunior Marte and Zack Littell.
Thus, over the winter, president of baseball operations Farhan Zaidi worked to shore up the 'pen, signing veterans Luke Jackson and Taylor Rogers to multi-year deals. He also added veteran starters Sean Manaea and Ross Stripling, whom manager Gabe Kapler has used as hybrid starter-relievers in 2023. The bullpen may not have looked like a true strength heading into the season, but at least it wouldn't be a weakness. Or, that was the plan, anyway…
Stumbling Out of the (Golden) Gate
Unfortunately, the early-season returns in 2023 weren't pretty. In March and April, San Francisco had the worst bullpen ERA and fWAR in the National League. By WPA, the relief corps cost the Giants more than two wins. Five of their relievers had a negative fWAR, eight had a negative WPA, and only two had an ERA below 6.00.
Doval was still reliable, while Tyler Rogers and Brebbia were still solid behind him (despite Brebbia's inflated ERA). The rest of the 'pen, however, wasn't providing much support.
Jackson sat on the IL, still recovering from his Tommy John surgery, while Taylor Rogers was uncharacteristically wild. The lefty scuffled through his first five outings, walking six, striking out only one, and allowing seven runs. Stripling and Manaea had trouble adjusting to their new roles, giving up a combined ten runs in their first five appearances out of the bullpen.
Despite pitching in mostly low-leverage spots, Sean Hjelle walked too many batters and gave up too much hard contact. Meanwhile, Scott Alexander's inability to strike batters out led to a couple of disastrous outings.
The biggest liability of all was Jakob Junis. He led the bullpen with 16.1 IP over the first month of the season but struggled to get outs, giving up 24 hits and six walks. The version of Junis who posted a 3.21 ERA and 2.29 FIP in 28 relief innings last season was nowhere to be found.
The Giants finished April with an 11-16 record, fourth-worst in the NL. Their league-worst bullpen was the primary reason why.
Relievers are fickle, and one month is a tiny sample size for a bullpen. All the same, the games in April matter just as much as the games in September. If the Giants were going to contend for a Wild Card berth, they needed their relievers to turn things around.
April Showers Bring May Flowers
Stats and rankings as of June 8, 2023.
Slowly but surely, the Giants have changed the narrative in May and June. May 1 was another disaster, when Hjelle gave up five runs on three hits, three walks, and a wild pitch, unable to escape the seventh inning. The Giants lost 7-3. Hjelle was optioned shortly thereafter.
The following day was the start of something new. Anthony DeSclafani gave most of the bullpen a day off, twirling eight scoreless innings, and Doval pitched a perfect ninth. From that game on, almost every member of San Francisco's arm barn has had more success.
Since May 2, their bullpen ranks first in the majors with 15 saves, a 2.17 ERA, and a 3.12 FIP. They're second, behind the Marlins, in reliever fWAR.
Over the past two weeks, they've been especially dominant. They have given up just eight earned runs in 53.1 IP (1.35 ERA). They've struck out 61 and issued only five unintentional walks. That's more than 12 strikeouts for every unintentional base on balls. Unsurprisingly, they lead all bullpens in fWAR and WPA in that time.
Leading the charge, Doval has reached another level of dominance. In 16 games, he has a 1.15 ERA, 2.07 FIP, and 25 strikeouts. By WPA, he's been the fourth-most valuable reliever in the National League. As per usual, Brebbia and Tyler Rogers have been solid to help him out.
Taylor Rogers has snapped out of his early-season funk and has only given up one run since April 15. Since May 2, he has a 0.84 ERA and 2.25 FIP in 10.2 IP. Meanwhile, Jackson is finally back from the injured list; he has recorded three strikeouts in three outings and has yet to allow an earned run.
Manaea has been much more comfortable out of the bullpen as of late. He is filling an unusual role – sometimes a starter, sometimes a piggyback partner, sometimes a long reliever, etc. – but he's finding his niche. His last five appearances have come in relief, and he has struck out 21 batters in 15.1 IP. He has a 2.93 ERA and 2.17 FIP in those five games.
Perhaps the most pleasant development has been Junis, who has really settled in after a rough start to the season. He took a long break after a terrible outing in late April, avoiding the mound for over a week. The time off seems to have done him some good because the righty has a 1.65 ERA and 3.22 FIP in his last 16.1 IP. His ability to pitch multiple innings has been a particular asset; Junis has recorded an average of five and a half outs per appearance in May.
Finally, the bullpen has gotten a huge boost from a pair of rookies, neither of whom made the Opening Day roster. Tristan Beck earned a promotion in late April, while Ryan Walker debuted in late May. Beck leads the 'pen in innings pitched since his call-up, while Walker has been lights-out in his first seven contests. Since May 2, the two have combined for a 25:2 strikeout-to-walk ratio. That's phenomenal stuff for a couple of freshmen.
---
The Giants have taken a unique approach to bullpen management this season, using a combination of openers and piggyback starters alongside a more conventional closer and set-up man. The results were uninspiring at first, but things have improved considerably with time. That's what happens when your best arms are performing at the top of their game, young guns are stepping up, and guys who aren't getting the job done are taken out of the picture.
This bullpen may not be quite so dominant for much longer (that would be next to impossible), but the Giants will need their relievers to stay sharp as they fight tooth and nail for a postseason berth.