The 2021 MLB Alternative Awards
The MLB Awards you didn't know you needed!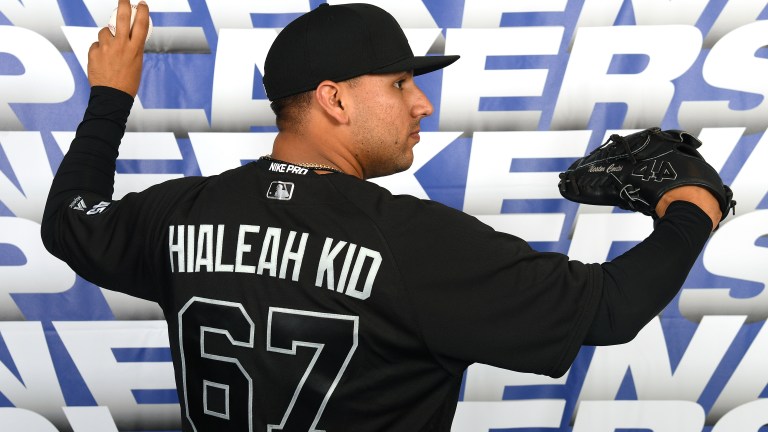 I love awards season. It's a mish-mosh of overreactions, trolls, and people not grasping the idea of players that are really, really great, but not necessarily equating to MVP status (e.g. Willy Adames, Max Scherzer). We make all-encompassing takes about who the MVP is despite there being a month and a half of the season left. People aren't just prisoners of the moment, they're on literal death row for the moment. Remember when, just two weeks ago, we (and I literally mean we) had anointed Bryce Harper the NL MVP? Oftentimes, I think baseball discourse can be frustrating because it's practically impossible to have any takes in the moment given how long the season is; it's basically a kill zone for pundits begging to be exposed on Freezing Cold Takes.
So, instead of breaking down the more traditional awards, let's get into some weird alternate awards — to which I promise there will be more of in the future (playoffs edition, anyone?), assuming I haven't been fired — concocted by yours truly! Also, be aware that these awards are mostly unscientific; I literally came up with half of these while I was watching Palm Springs on a Saturday night. Similar to my gripes addressed above, there's still time left in the season so it's possible new nominees will emerge, but I need to get out content every week and this was what I was in the mood for. If you have an issue with that you can reach out to my lawyer.
The Who the Hell is that? Award
The Nominees: Cedric Mullins, Darin Ruf, Nestor Cortes
Look, it's literally my job to pay attention to all the developments going on in the baseball world, so this award may just be me telling on myself. That being said, it's an award dedicated to a player that broke out this season who, unless you're Aram Leighton, you probably never heard of before. As far as I'm concerned, this award is going to be named after Cedric Mullins from here on out. The Orioles outfielder currently has the 8th highest WAR (4.8) among qualified hitters, the 12th best wRC+ (146), and is about as randomly good as Kyle Lewis last season. If anything, people would've expected Ryan Mountcastle to be the O's team's major breakout, not for this Mullins fellow to perform like he's Charlie Blackmon circa 2016.
While the other nominees certainly make a case, Mullins gets an edge here given how horrid of a team the O's are. McClanahan and Ruff are both from great franchises, so it's almost like we should be used to players we've never heard of becoming household names for them, while Cortes hasn't quite pitched enough to be considered here. If someone had simply shown you the Orioles record, you'd never guess that they'd have one of the best outfielders in baseball.
Winner: Cedric Mullins
The Biff Tannen Award for Most Inexplicable Performance You Wouldn't Have Predicted Unless You Were from the Future
The Nominees: Robbie Ray, Brandon Crawford, Joey Votto, Adam Wainwright
This is basically my convoluted way of saying "biggest surprise" because sometimes creativity is hard! But (here comes the transition!) you know what isn't hard? Giving this award to Brandon Crawford, Giants shortstop who dared to ask the question "What if I just figured out how to hit at 36-years-old?" and answer it with a resounding "Yes." Sure, the comeback season from Joey Votto has been great — and, frankly, adorable — and Adam Wainwright, at 39 years of age, being 2nd in the league in innings pitched are both surprising, but they're both borderline hall-of-famers.
Robbie Ray comes close, especially considering he might be a greater American League Cy Young possibility if not for Gerrit Cole. But even Robbie Ray has had his moments (finished top-7 in Cy Young voting in 2017), while Brandon Crawford hasn't been anything REMOTELY as productive as this 2021 season. He's slugging .531, at 34-years-old, when his previous high in a non-COVID season was .462!! It's like the end of The Matrix when Neo discovers how to actually battle against the agents. Baseball remains a stupidly beautiful sport.
Winner: Brandon Crawford
The Rule-Breaker Award
The Nominees: Javier Báez vs Amir Garrett, Fernando Tatis Jr. vs Trevor Bauer, Nick Castellanos flexing at home plate, Yermín Mercedes 3-0 swing
Despite being a well-documented Padres fan, I think the slight edge goes to Javier Baez here. Humor me for a second while I go galaxy brain on you with the reasoning:
There's a genuine history of beef between the two.
It was on the first pitch.
Javier Báez isn't a great player (what's more unlikely? Báez earning a walk or Aram Leighton paying me back on our wager we made 4 months ago?), and I'm a big fan of non-superstars violating the unwritten rules, too.
This ended up being one of the last games in a Cubs uniform for Báez, which makes it all the more iconic.
He's literally chirping at Garrett the ENTIRE way to first base on a ball that BARELY wasn't just a simple pop up. He's even beginning to TAKE OFF HIS UNIFORM as he reaches first! It's so bombastic, so over-the-top, that it makes Face/Off look timid by comparison.
Here at Just Baseball, we support breaking the unwritten rules of baseball in ALL forms. Is it always reserved for great players that deserve it? No! The thing about having fun is, oftentimes, it's not going to look cool, but that's what comes with the territory. Not everything has the superstar, Brad Pitt in Once Upon a Time…in Hollywood look; sometimes you need a beautiful disaster.
Winner: Javier Báez vs Amir Garrett
The Fan-Base Legend Award
The Nominees: Ha-Seong Kim, Jasson Dominguez, Andrew Velasquez, Isiah Kiner-Falefa, Lewis Brinson
This prestigious award is given to a player who is valued so much higher by their team's fanbase than the rest of the league. I want to give this to Andrew Velasquez, a Puerto Rican legend from the Bronx (since my mom grew up there, let's just say Reyes clan has been HAPPY lately), but the sample size isn't quite big enough. Jasson Dominguez is easily the winner here, as he's become one of the most over-hyped prospects I've ever seen. On our Just Baseball show, we had Eric Hubbs — in a moment that can only be described as a lapse in sanity — declare that the only player, in all of baseball, he'd trade Dominguez for is Shohei Ohtani.
Fans are unhinged when it comes to, well, everything, but especially when it comes to young players; we're obsessed with the potential of something rather than acknowledging what we already have. In this case, it's an 18-year old who has barely played above a-ball and plays for one of the most notoriously obnoxious fanbases in sports.
Winner: Jasson Dominguez
The Remedial Chaos Theory Award for Darkest Timeline
The Nominees: Braves season going to hell, Jacob deGrom's health, Dodgers acquiring Max Scherzer and Trea Turner, Everything Tony La Russa
The award is fairly straightforward, but the winner is tricky. On the one hand, Atlanta sports fans have been chewed up by a Hydra, dipped into molten lava, and sprayed across the street while a steam roller runs over them…and the Braves have only helped contribute to this season with a slew of star players being lost due to a variety of issues. However, the Braves have been en fuego as of late, with a 4.5 game lead in the NL East, so it doesn't seem like it's the darkest timeline anymore. Then, the antics of Tony La Russa have been covered ad nausea, but the White Sox are still a good team so he's more of an annoyance than a genuine burden.
So now, it all depends on where you come from. While it can be debated whether or not super teams are good for a sport in the ratings sense, it's a lot less debatable that they impact the overall fun for fans. Who the heck wants to root for a team spending $800 million more than everyone else? The Dodgers are evil! But on other hand, Jacob deGrom is one of the more innocuously good superstar athletes we have; there's nothing controversial about him, you simply can't help but acknowledge his greatness. Remember that stretch of time when he had literally driven in more runs as a batter than he had allowed as a pitcher? That was fun! Seeing that being derailed by injuries is most definitely not.
It's close, but I can't sit here and pretend any longer that the Dodgers don't irk me beyond belief. After losing Trevor Bauer, the baseball gods somehow thought it'd be fair to reward them with not just a better pitcher, but a superstar shortstop as some sort of throw-in. They didn't even have to give up a Major League player! That's insane! What the heck, baseball?!?!
Winner: The Dodgers trading for Max Scherzer and Trea Turner
The Weirdo Award
The Nominees: Cat running onto the field, Eloy Jiménez jersey tribute, Gerrit Cole's sticky stuff press conference, Nick Castellanos homering after a tragedy
Full disclosure: I'm fairly certain that I've forgotten some other nominees, as the baseball season has actually felt particularly weird this year, so feel free to yell at me on Twitter about it. We've had a cat run onto the field (as well as, perhaps, evidence that their appearance cursed some teams to oblivion), a player's injury resulting in a tribute that made it seem like he actually died, a Gerrit Cole press conference answering sounding like a 7th-grader presenting a science project they never actually finished, and a player who seems hellbent on hitting home runs at the most awkward of times. Basically, we've got quite the motley crew of nominees to choose from!
You could genuinely pick any of these to win. Cole's press conference was impactful given that it essentially made him the poster boy for the sticky stuff fiasco we all lost our minds over just a few months ago; Nick Castellanos' home runs have become one of the most eternal baseball memes we've seen in a while; cats are impossible to not be memorable; the Jiménez tribute is just hilarious. After much deliberation (me talking to myself for 15 minutes while I went for a walk), the sheer fact that Castellano continues to do this on multiple occasions, literally a year later after the original incident, makes it the winner. Do you know how hard it is for a baseball bit to become recognized by people even beyond baseball twitter?
Winner: Nick Castellanos homering after a tragedy
The Golden Peanut Award for Most Memorable Just Baseball Staff Take
The Nominees: "Danny Duffy is an emerging ace" – Peter Appel, "I'm not a believer in Kevin Gausman" – Peter Appel, Practically everyone on staff ranking Jarred Kelenic in the top-15 in an unreleased "Top-25 Players Under 25" list despite having not played a single MLB game
Why a peanut? Because it's, like, meant to symbolize that it's a take makes you think the person is nuts, haha! It's not necessarily that the take is wrong (most of the time, at least), but that it was uniquely out there; it raises your eyebrows, some might say. The best part about this award is that I, being the ever-so-enlightened fellow, can sit back and relax since I've never had a bad take (except for the times I did, but we don't talk about those times). Peter Appel has had so many insane takes in our group chat that it's hard to name just two, but alas
But the winner here, by my approximation, has to be the Danny Duffy take. It's not terrible, really, it's just funny — the idea of a 32-year-old being some sort of new breakout despite years of evidence suggesting otherwise. It was also one of the first takes that the entire Just Baseball staff had the pleasure of hearing, so for that reason, it deserves credit. There's something to be said for the one that started it all.
Winner: "Danny Duffy is an emerging ace" – Peter Appel.