Analysis
2023 Free Agent Profile: Craig Kimbrel
Craig Kimbrel enters free agency at age 34, coming off an up-and-down season for the Los Angeles Dodgers.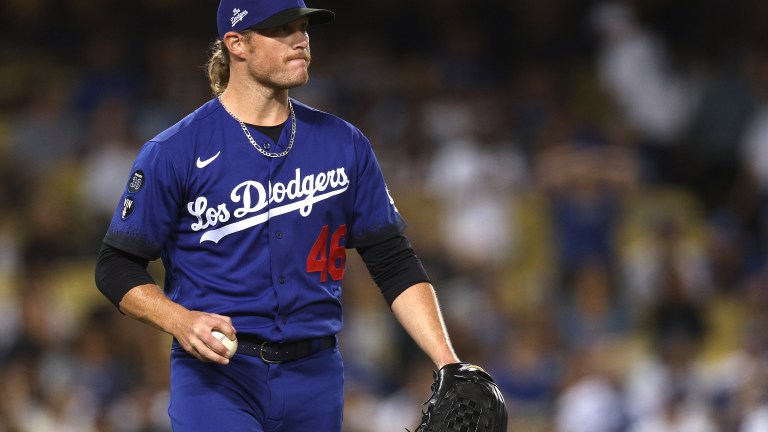 Position: RP
Throws: R
Age: May 28th, 1985 (34 years old)
2022 Stats: 60 IP, 3.75 ERA, 22 SV, 72 K, 3.23 FIP, 3.51 xERA, 10.80 K/9, 4.20 BB/9, 0.9 fWAR
Craig Kimbrel had another up-and-down season in 2022. He started his Dodgers career off well, earning five saves in his first nine games and allowing just one earned run in 8.2 innings of work.
Then, over the next three months, he allowed 24 runs in 32.2 innings, blowing four saves and losing five games in the process. He seemed to find his footing again over the final seven weeks of the year, making 19 more appearances with a 1.93 ERA.
The underlying numbers, however, told a slightly more complicated story. Kimbrel's strikeout rate plummeted as the year went on, and so his FIP was worse in September and October than at any other point throughout the year.
The biggest problem seemed to be that Kimbrel was having trouble getting opposing hitters to swing and miss at pitches outside the strike zone, something that used to be one of his specialties. Instead of whiffing, batters were hitting a ton of Kimbrel's pitches into play. Thus, the Dodgers made the slightly surprising decision to leave the eight-time All-Star and 2018 World Series Champion off their postseason roster.
Kimbrel will attempt to use his strong performance over the final weeks of the season to earn another big payday in free agency. Most big league front offices, however, will see right through that facade. The 34-year-old righty should still be able to command a solid chunk of change, but he won't be making closer money anymore – at least not this winter.
Craig Kimbrel's Path to Free Agency
Craig Kimbrel: The Glory Years
Kimbrel has already switched teams five times since he debuted in 2010. He spent the first five seasons of his career in Atlanta, where he made four All-Star Games and won Rookie of the Year in 2011. Kimbrel also finished top-10 in Cy Young voting four times during his tenure with the Braves.
Ahead of the 2014 season, he signed a four-year, $42 extension, keeping him under contract through the 2017 season (with a team option for 2018 as well). A year later, however, the Braves traded him to San Diego. Kimbrel pitched well for the Padres, but his time on the West Coast didn't last long. He was dealt to the Red Sox seven months later.
Kimbrel continued his excellent work in Boston, and it was no surprise when the team picked up his option for the 2018 season. The move worked out quite well for the Red Sox, who were crowned World Series Champions that October.
Craig Kimbrel's Post-30 Decline
At 30 years old, Kimbrel hit free agency for the first time. Somewhat surprisingly, he didn't find the offers he was looking for, so he remained on the market well into the 2019 season. In mid-June – once he was no longer burdened by the qualifying offer – the closer finally inked a three-year, $43 million deal with the Cubs.
He made 23 appearances that season and struggled quite a bit, giving up far too many walks and home runs. At the time, most fans wrote off his struggles to his late start. Unfortunately, the 2020 season got off to a late start too, and, once again, Kimbrel floundered. He walked 12 batters in 15.1 innings of work and finished with a 5.28 ERA.
Then, in 2021, it looked like Kimbrel had finally turned a corner. His season started right on time, and through his first 39 games, he allowed only two earned runs. After a trade across town to the White Sox, however, Kimbrel fell apart again. He gave up 13 runs in 23 innings of work. The White Sox sent him to the Dodgers the following April.
The 2022 season was another mixed bag for Kimbrel. At times, he looked like the Kimbrel of old, but just as often he looked completely hittable. He'll have plenty to prove in 2023 if he wants to retain his reputation as one of the top relievers in the sport.
Craig Kimbrel Contract Projection
While Kimbrel won't sign for nearly as much money as the last time he was a free agent, he should at least have an easier time finding a new team. He won't have a qualifying offer attached to him, and he'll probably be looking for a one-year deal to re-establish his value as an elite reliever.
Kimbrel should draw plenty of interest from teams looking to add a high-upside reliever to the backend of their bullpen. Some good comps from recent years include the $10.5 million deal Brad Hand signed with the Nationals for 2021, and the $10 million pact Corey Knebel signed with the Phillies for 2022. A one-year deal worth $10-$12 million sounds about right considering Kimbrel's age, his recent performance, and the other relievers available on the market.
Top Five Landing Spots for Craig Kimbrel
Los Angeles Angels
The Angels want to compete, the Angels have money to spend, and the Angels need bullpen help. Thus, the Angels can give Kimbrel an outside shot at contention and a decent shot at a closing job as long he pitches well. It's a good match.
New York Yankees
Never count out the New York Yankees on a big-name free agent. Their bullpen could do with a veteran addition or two this winter, and the Yankees can afford to take a risk on Kimbrel. In exchange, Kimbrel gets to pitch for one of the best teams in baseball.
New York Mets
If Edwin Díaz signs elsewhere, the Mets will be scrambling to replace him. No other free-agent reliever offers anywhere close to as much value as Díaz, but at least Kimbrel has that potential.
Philadelphia Phillies
The Phillies have been burned time and time again by signing veteran relievers, but that hasn't stopped them from trying. Corey Knebel and Brad Hand are free agents, opening up $16 million in payroll and a spot for a new veteran arm in Philadelphia's bullpen.
St. Louis Cardinals
The Cardinals have one of the best closers in baseball in Ryan Helsley, but he could use some help at the back of a bullpen filled mostly with younger, less experienced arms. St. Louis has plenty of pitching depth, so they can afford to take a bit of a gamble on an arm like Kimbrel.
Final Prediction for Craig Kimbrel
Craig Kimbrel signs a one-year, $10 million deal with the Los Angeles Angels.
The Los Angeles Angels haven't been truly competitive for years, but that never seems to stop them from trying on the free agent market. Kimbrel is a good fit for the Angels, and the Angels are a good fit for him.