Analysis
There's No Excuse for the Cleveland Guardians Not to Contend
Featuring a former Cy Young and a perennial MVP candidate, the Cleveland Guardians can compete for the AL Central with just a few additions this offseason.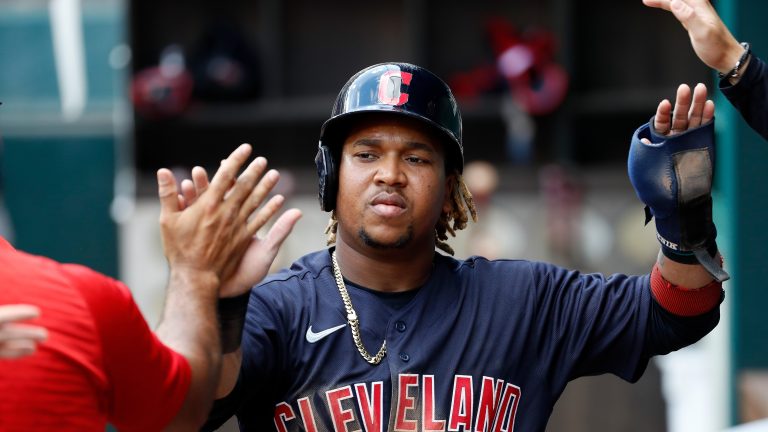 People have already started firing up the trade machine, imagining blockbuster deals for Guardians superstar third baseman Jose Ramirez. Not because Ramirez is a free agent next year or that the Guardians have even given any indication that they want to deal their best player with two years of control left.
The driving force behind the trade speculation is simply Cleveland's track record of not spending much to retain their guy as well as bring in free agents. Cleveland hasn't given out a substantial contract since the team inked Edwin Encarnacion to a franchise record three-year, $60 million deal in 2016.
Cleveland made a savvy move by signing Jose Ramirez to a four-year, $26 million pact prior to the 2017 season, including two team-friendly club option's on the back-end of the deal which brings the deal to $50 million. The contract seems like a head-scratcher in hindsight, but it allowed Ramirez to bypass three years of arbitration–providing some financial security–while the Guardians earned three extra affordable years of control.
Cleveland has been competitive since signing the deal with Ramirez, making the playoffs three out of the last five seasons and finishing under .500 for the first time since 2012 last season, when they went 80-82. Despite seemingly getting no-hit every week, Cleveland finished right at their expected win total, depending on which sportsbook you ask.
Endless Arms
The Guardians have an enviable amount of pitching from the big league level all the way down to the High-A Great Lake Loons. Starting with one of baseball's best pitchers, Shane Bieber is an ideal anchor to any rotation and is under control for three more years.
On top of bounce back candidate Zach Plesac, Cal Quantrill and Triston McKenzie showed plenty of promise for next season and beyond. After tinkering with his slider, Quantrill pitched to a dazzling 1.94 ERA in the second half across 14 starts.
McKenzie's numbers on the season may not be as sparkling, but the 24-year-old right-hander has fantastic stuff and his command improved mightily after returning from injury. In his first 11 starts, McKenzie walked 39 batters; in his final 14 starts, McKenzie only gave up 19 free passes. The 6-foot-5 pitcher is among the top-third in baseball in strikeout and whiff rates, making his improvement in the command department a huge reason for optimism heading into 2022.
Aaron Civale adds another solid arm to the fold for a rotation that is well-balanced with both proven talent and upside. Most of the Guardians top pitching prospects probably will not have a big league impact next season, however the team does have some interesting 40-man arms who should see some MLB time if needed.
Recently acquired Konnor Pilkington (Cesar Hernandez trade) and Tobias Myers (Junior Camiero trade) both showed plenty in the upper minors to earn an opportunity in a big league rotation if the Guardians need. While the rotation is pretty set at the moment, the duo of recently added 40-man arms offer great depth in the starting pitching department–something a baseball team can never have enough of.
Cleveland's intrigue doesn't end at the rotation. The team's bullpen ranked in the top-10 in virtually every category despite struggles from the team's best reliever entering the season in James Karinchak. Emmanuel Clase has emerged as not only the team's best reliever, but one of the the most electric closers in baseball. The 23-year-old pitched to a 1.39 ERA last season on his way to 24 saves after taking over closer role. Clase is under team control until 2026 and won't even be arbitration eligible until after next season.
James Karinchak–the team's breakout bullpen arm in 2020–hit a wall in the second half of the season, seeing his ERA balloon from 2.52 before the All-Star break to 7.88 after. There's plenty of speculation as to what contributed to Karinchak's 2021 downfall, especially given the timing of it all.
After MLB began to crack down on sticky substances, Karinchak's ERA multiplied while his spin rates plummeted. No matter how much stock we put into all that, it is impossible to deny Karinchak's arm talent. After striking out nearly half of the batters he faced in 2020's shortened season, Karinchak still punched out more than 33% of hitters in his rough 2021 season, good for the top 6% in baseball, per Savant.
The Guardians already have their 2022 breakout candidate in the form of the reinvented Anthony Gose. The former second round pick and top-100 prospect as an outfielder made the move to the mound in 2017, after struggling to stick at the MLB level with a .656 OPS in nearly 400 MLB games.
A massive arm from the outfield was what helped encourage Gose to move to the mound, but he just couldn't quite turn himself into a pitcher rather than a thrower prior to signing with the Guardians. In a couple seasons with the Guardian organization, Gose has developed as a lefty bullpen arm, consistently humming a triple digit heater. In fact, between Triple-A and MLB last year, Gose hit 100 MPH or higher on 46 occasions.
Given Bryan Shaw's departure via free agency and Nick Wittgren's 2020 struggles, I would expect the Guardians to add an solid bullpen arm or two in a pretty deep free agent market for that department.
Offensive Reinforcements
It's no secret that the biggest need for improvement is on the offensive side with the Guardians. Jose Ramirez and Franmil Reyes were the only players with an OPS above .800 last year, with Amed Rosario not far behind after a fantastic second half where he hit .309/.339/.457. Defensively, however, Rosario struggled at shortstop, posting -9 Defensive Runs Saved.
Perhaps a spot where the Guardians may have even more depth than their arms is the middle infield. Beyond last year's starting shortstop Amed Rosario, the Guardians have: Andres Gimenez, Gabriel Arias, Tyler Freeman, Richie Palacios, and Brayan Rocchio all either MLB ready or close to it. Freeman and Arias could break camp with the Guardians as soon as next season, with both offering more defensive upside than Rosario while Arias offers much more in the power department.
One corner of the infield is set, while the other is a big question mark. Ramirez is an MVP candidate at third, but Bobby Bradley has yet to show that he can hit enough to be an everyday first baseman. The power hitting 25-year-old launched 16 homers in 74 games, however he got on base at just a .294 mark while striking out more than 35% of the time.
The outfield is probably the Guardians biggest weakness heading into 2022. The team did acquire centerfielder Myles Straw from the Astros at the deadline in return for Phil Maton, but given the team's lack of production from the outfield, a glove-first center fielder may not be the ideal everyday candidate. Josh Naylor's brutal injury last season makes it difficult to rely on him being ready for the start of 2022, though fortunately reports are positive in regards to his recovery progress.
It could make sense to trade for an established outfield bat with the surplus of arms and middle infield pieces that the Guardians have. Before we get there, some internal options in the outfield include Steven Kwan, Nolan Jones and potentially George Valera by midseason.
Kwan was the offensive breakout prospect for the Guardians last season, hitting a ridiculous .328/.407/.527 with 12 home runs and more walks than strikeouts between Double-A and Triple-A. The 24-year-old has hit since he arrived in professional baseball, however it took him doing it consistently in the upper minors for the baseball world to begin putting him on notice.
Cleveland put him on notice by making him one of the 11 players they added to their 40-man roster in order to protect him from the Rule 5 Draft. Though just an average runner, Kwan gets great jumps and reads in center field and can stick at the position at the highest level.
Even though Jones is a third baseman primarily, the Guardians have been getting the big left-handed hitter reps in the outfield in anticipation of a call-up. After a rough start to the season, Jones finished strong hitting .258/.370/.481 over his last 75 games in Triple-A. The most important improvement for Jones was his ability to hit southpaws. After posting sub .200 batting averages against LHP the last two Minor League seasons, Jones hit .259/.371/.420 left on left, reinforcing belief that he can be an everyday player.
With Ramirez anchoring third, Jones can play corner outfield and potentially first base, though he would need to get the reps there during Spring Training after only making one start at first base last season.
Last but not least is the catching position. Though Austin Hedges leaves a lot to be desired offensively, he is a great defender who handles the staff well. After losing Roberto Perez and Wilson Ramos to free agency, the Guardians may be looking for another catcher to add to the mix. The free agent market is thin and it could make sense to just bring Ramos back or move forward with Bryan Lavastida, who offers much more offensive ability.
Potential Upgrades
To this point it is pretty clear that the Guardians have some exciting aspects to their team, however also have some deficiencies that would presumably hold them back a bit if not addressed. Corner outfield and first base should be a main priority moving forward and that may be an easier spot to improve than others.
Kyle Schwarber immediately comes to mind as a big-time power bat who could play corner outfield as well as first base if needed. Schwarber is reportedly asking for something in the 3 years, $60 million range, which would match the largest deal in franchise history for the Guardians. Here's the thing though: their entire team is cheap and under control.
The Guardians only have $29 million committed to next season, the least in baseball. The bidding war may intensify for Schwarber on the other side of the lockout, but the Middletown, Ohio native may warm up to the idea of playing close to home.
After adding 11 prospects to the 40-man roster last month, the Guardians will likely have a bit of a roster crunch which they could trade away from to make room for new acquisitions. With Arias and Freeman looking like pieces for the future, Andres Gimenez, Richie Palacios, Jose Tena, or Bryan Rocchio could be expendable in the right deal. 40-man arms Tobias Myers, Konnor Pilkington, Eli Morgan, and the elder Logan Allen (there's two of them) could be trade pieces as well.
An interesting trade partner could be the St. Louis Cardinals, a team still in need for not only middle infield help, but also pitching depth. A deal of Andres Gimenez, Konnor Pilkington, and Eli Morgan for Lars Nootbaar and Juan Yepez could make sense for both sides. If you don't love the deal, plenty or the Guardians arms and middle infielders are interchangeable, so if the Cardinals were okay with trading Nootbaar and Yepez, there is a way to make the deal work.
Nootbaar and Yepez are bat-first prospects, who could be of value to the Guardians arguably as much as any team in baseball. Nootbaar had a great offensive season last year between Triple-A, MLB and the Arizona Fall League and could slot right into the corner outfield for Cleveland.
Juan Yepez had a break-out offensive campaign last year as well, launching 27 homers while maintaining a 19% K-rate between Double-A and Triple-A. The issue for Yepez is that he is limited to first base or below-average corner outfield, making it difficult to envision where he could fit in with a Cardinals team that is set in the outfield and at both corner infield spots. If the universal DH is implemented, Yepez could presumably DH, but it seems like that is not the ideal plan for the Cardinals at the moment.
Another trade partner could the the Arizona Diamondbacks, a team that has outfield prospects on the way and some pieces that they would likely be okay parting with. A deal for David Peralta and Pavin Smith would not be the most exciting in the world, however the Guardians could attain the two relatively cheap and add some offense to the fold immediately.
Despite Smith's down year last season, I still believe in the bat and it could be an interesting buy-low opportunity on a guy who has a great feel to hit and can play first base and outfield. Peralta is still a great defender in the corner outfield and is a proven left-handed bat who could see his production reignite after several non-competitive seasons in the desert.
Both deals are not the sexiest in the world, but if the Guardians make either of those moves on top of my dream Schwarber scenario, I would have my attention on Cleveland. It's a big if, but the Guardians would still own one of the cheapest payrolls in baseball even after all of those moves.
CEO Paul Dolan, President Chris Antonetti and GM Mike Chernoff have a decision to make and some time to think about it during the lockout. With one of baseball's best pitchers and best position players both under contract for the next two years, Cleveland's front office needs to decide if they want to move the needle next year or stay stuck in the middle. In what is a rather weak AL Central outside of the White Sox, there really is no excuse for Cleveland not to go for it next year.