Analysis
2022 Cy Young Race Update
A look into the updated Cy Young Futures odds through a quarter of the season.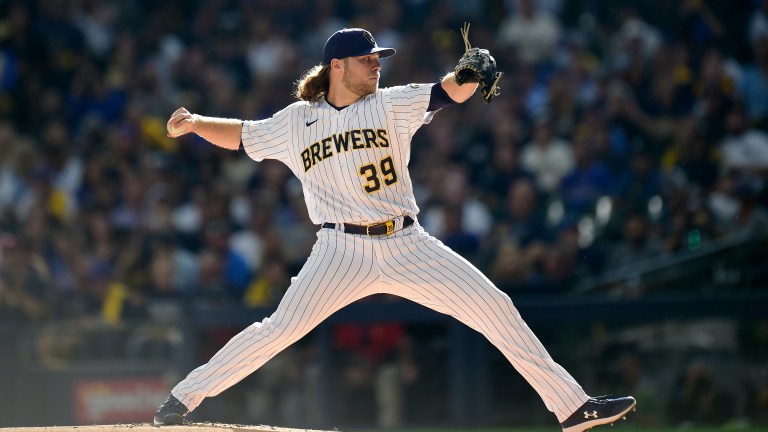 By Matthew Adelman
With the MLB season at the first quarter mark, the Cy Young race is starting to heat up.
We're just about a quarter of the way through the 2022 MLB season, and with that we can start looking at the award races and expected outcomes. Offense was down through the first month of the season, but is starting to rebound to normal levels over the last few weeks. Through this point in the season though, MLB teams are only scoring an average of 4.17 runs per game, which is the lowest since 2014 and tied for the second-lowest since 1992. That makes for some awfully impressive pitching performances.
National League Cy Young
Let's take a look at the odds. In the National League, Corbin Burnes leads the way at +350 followed by: Carlos Rodon +750, Pablo Lopez +1100, Joe Musgrove +1100, Walker Buehler +1200, Max Fried +1500, Zack Wheeler +2000, Sandy Alcantara +2000, Zac Gallen +2000, Brandon Woodruff +2500. That is the current top 10 and Corbin Burnes is a pretty big favorite in comparison to the rest of the field. However, that offers a lot of value to other players vying for the award.
Unfortunately, there is no concrete stat to award the Cy Young to the most deserving player. Instead, 30 writers from the Baseball Writers Association of America (or BBWAA) vote on the players based on their own criteria for what makes a pitcher the best in their respective league. Over the past decade, it is clear that the main factors are ERA, FIP, WHIP, WAR, wins, and innings pitched.
With that in mind, let's dive into the top three contenders from the National League.
Corbin Burnes +350
First up is the +350 favorite, Corbin Burnes. Based on the assumed criteria used by the BBWAA, Burnes has been stellar with a 2.18 ERA, which ranks fifth in the NL, and a 0.87 WHIP, which is the lowest in NL.
If this was the end of the season, it is unlikely that he would come away with the award, but it's a strong resume and one that Burnes should be able to sustain.
Since 2020, he holds a 2.31 ERA and 2.06 FIP. Burnes has the second highest K-BB% with a whopping 27.4% K-BB%, only behind his teammate Eric Lauer. Burnes had a similar start last year, a year in which he heated up in the second half and posted a 1.64 ERA in the month of August. As a result, it is impossible to count Burnes out of this race.
Carlos Rodon +750
Next up is Carlos Rodon. Rodon has had an incredible start to the 2022 season with his new team, the San Francisco Giants. He owns a lackluster 3.43 ERA, but that is mostly inflated by a singular outing against the Cardinals in which he gave up eight earned runs in 3.2 IP. Rodon has not given up more than two runs in any of his other seven starts and owns a 2.13 FIP, which is the third-lowest in baseball.
Rodon is currently tied for first in WAR in the NL with Zack Wheeler of the Phillies. It is important to note that the Cy Young winner from both leagues is typically within the top-3 in WAR. Last year Corbin Burnes was an outlier placing 6th in WAR. However, it is still safe to assume that this is the most important stat in the eyes of the BBWAA. If Rodon can sustain his current pace and eclipse his career-high innings total of 165 IP in a season then he offers strong value at +750.
Pablo Lopez +1100
Rounding out the NL, we have Pablo Lopez. Lopez has had a surprisingly incredible start to the 2022 season. Through the first quarter, he is second in ERA, fifth in FIP, fifth in WHIP, and third in WAR among NL pitchers with at least 20 innings pitched. This is far and away the best Lopez has ever pitched. Through 19 innings pitched on the road, he has only allowed one run.
Through eight starts, he has only had one bad outing. Even as the third favorite at +1100, he is heavily undervalued. I think he is the best bet to win the Cy Young in the NL. The major concern for Lopez's chances for winning the award will be sustained longevity. He's never eclipsed 111 IP in a season and will need to push toward 170+ IP to have a shot at the award. However, that is a bet I am willing to take at +1100.
American League Cy Young
Now the American League. Let's first take a look at the current top 10 in terms of odds: Justin Verlander +450 followed by: Kevin Gausman +500, Shane McClanahan +750, Shohei Ohtani +900, Gerrit Cole +900, Alek Manoah +1100, Dylan Cease +1600, Nestor Cortes +1600, Shane Bieber +2500, Lucas Giolito +2500. This is a much tighter race in terms of odds than the National League.
Justin Verlander +450
Let's take a deep dive into the top-3 favorites and analyze how they have been playing up to this point in the season starting with the current favorite and long-time ace, Justin Verlander.
Verlander already has a storied Hall of Fame level career, but he has shown this year he has plenty more fuel in his tank. He has been absolutely dominant through this point in the season, ranking first in ERA, 12th in FIP, first in WHIP and third in WAR in the American League. At age 39, many wondered if Verlander would return from Tommy John as the same pitcher, but with two full seasons to recover, he appears to still be in his prime.
Through 51.2 innings pitched this season, he has only allowed seven earned runs. The craziest part though, is that he hasn't allowed a single run over his last three starts, rocking a 19 shut out inning streak. One of Verlander's best traits is his ability to limit runners on base from scoring. It sounds obvious, but since 2018, Verlander's left on base percentage of 87.9% is far and away the best and so far in 2022, Verlander has left 95.7% of runners on base.
Verlander has proven through his lengthy career that not only is he consistent, he is a second half pitcher. He has a career 3.19 ERA in the second half as opposed to a 3.37 ERA in the first half. If Verlander can stay consistent throughout the year and finish with an ERA in the low 2's, they may as well hand the award to him now.
Kevin Gausman +500
Even with Verlander's outstanding numbers, Kevin Gausman is going to give Verlander a run for his money. An unreal first quarter has made him a close second place underdog in terms of the odds at +500. Based on the numbers he ranks: 11th in ERA, 1st in FIP, 16th in WHIP, first in WAR, eighth in wins, and second in innings pitched.
What is so mind-boggling about Gausman is the value he brings to his team. Not only does Gausman rank first in WAR in the entire MLB, he is a full win above replacement over second place Tarik Skubal. Through just 56 innings pitched, Gausman already has a 2.7 WAR, just an obscene number this early in the season. Hitters can't touch him right now as he has been striking out nearly 30% of batters, rarely issuing a walk. Gausman seems to have no weaknesses, and if it weren't for Verlander's dominance, he would be running away with this race.
Shane McClanahan +750
Rounding out the top three is Shane McClanahan of the Tampa Bay Rays. At +750 to win the Cy Young, the second-year ascending ace finds himself sneaking into the top-3 after not even cracking the top-20 in the pre-season odds. Our own Colby Olson dove into his early success and believes McClanahan has made major improvements to his pitching approach that make his current success sustainable.
In just his second season at the major league level, he is approaching a sub 2.00 ERA and has the highest strikeout percentage in baseball at 37%.
What has propelled McClanahan to the top this season is an increased ability to get ground balls and limit hard contact. He has the third-highest ground ball percentage to this point behind only Framber Valdez and Logan Webb. His hard contact rate last year was one of the highest in the league at 45%, but he's shaved that down to 35% this year.
Some might be concerned that this is only his second season. Last year, while very inconsistent in the first half, he turned it on in the second half of the season. If McClanahan can stay consistent through the rest of this season, he offers a lot of value at +750.
Overall, it is hard to believe anyone other than Verlander will win the award. With his Hall of Fame resume and strong start to the season, I find it hard to believe that he will be surpassed. Sure, any player in the AL can break through and post fantastic numbers through the rest of the season, but if Verlander continues down this path, the award should be his.