Feature
Justin Verlander Looks As Good As Ever
At 39 years old, Justin Verlander seems primed to contend for this third Cy Young Award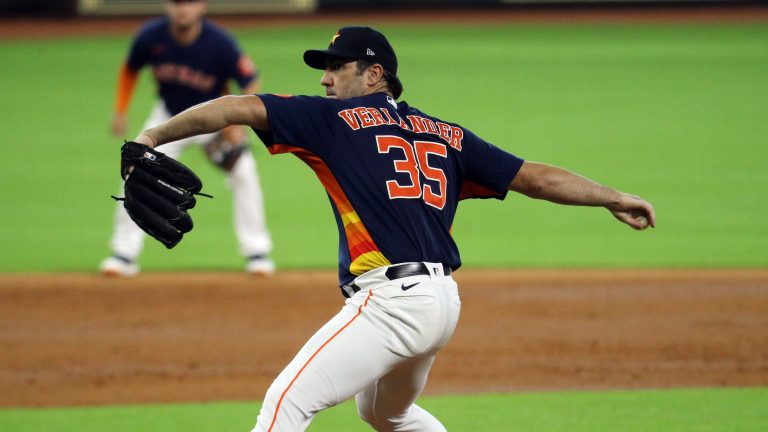 Nearly five years ago, a 34-year-old Justin Verlander "struggled" to a 3.82 ERA over his final 28 starts with the Detroit Tigers, leading many to believe that the 12-year veteran's best days may be behind him. The then-last place Detroit Tigers had little use for their presumably-aging ace and shipped him out to Houston for prospects Franklin Perez, Daz Cameron, and Jake Rogers.
Perez was a top-50 prospect and Cameron was believed to still have plenty of upside at the time, but the Tigers had to eat $16 million of Verlander's remaining salary over the final two seasons of his contract to maximize their return. Not only did the Tigers trade a future Hall-of-Famer to the eventual World Champions, but they took on a large chunk of his salary in the process.
I am not telling you this to beat Tigers fans while they're down. In fact, I am trying to demonstrate what the perception of Verlander's value was at the time. Any team could have jumped in and beaten the Astros' offer. How about two top-100 prospects, and you don't even need to kick in the $16 million?
If teams had any idea that Verlander was still capable of what he has done in Houston–even with Tommy John surgery in between–there would have been a long list of potential suitors willing to part with two impact prospects with no financial relief in a heartbeat.
The Astros deserve a lot of credit in this as well. It's fair to wonder if Verlander would have unlocked some of the things that he discovered with the Astros had he been dealt to another team. The Astros organization helped take Charlie Morton and Gerrit Cole to the next level with the information they provided to them, and Verlander considered himself no different when discussing his arrival to Houston.
"When I first got to the organization, they kind of showed me some of the stuff that they can do, and try to do," Verlander said in a USA Today piece from 2018. "When you get older, every competitive advantage is an advantage, and I wanted that."
Give one of the greatest pitchers of the modern era more information, and he is going to run with it; that is exactly what we have seen from Verlander in the second act of his career. After helping lead the Astros to a World Series title in 2017, Verlander re-solidified himself as one of the best pitchers in the game, finishing second in Cy Young voting the next season and then winning the award in 2019.
Tommy John surgery wiped out Verlander's last two seasons, and as the 39-year-old entered the 2022 season, most of the baseball world was not totally sure what to expect. The former MVP and two-time Cy Young winner has pitched to a 1.38 ERA through his first seven starts this season and is pacing all starters with a 0.68 WHIP. Once again, Verlander has reminded us that we should always know what to expect from him.
Aging Like Fine Wine
Watching Verlander's career arc has been both absolutely fascinating and wildly impressive. In the early goings of his career, Verlander was known for his electric stuff, showing off a triple-digits fastball back when it was a novelty.
With ridiculous stuff came some inconsistency with command. In 2008, Verlander walked 87 batters in 201 innings. For reference, Verlander has walked 89 batters over his last 488 2/3 innings. After his shaky 2008 season, Verlander never really looked back. His command was never elite, but was always good enough to keep hitters at bay with his ungodly stuff.
As Verlander said himself, the Astros spared no information after his arrival in Houston in 2017. Tweaks in pitch usage were evident, but it was likely a small mechanical tweak that really took Verlander to the next level. After posting a 15.3 K-BB% in his parts of 12 seasons in Detroit, Verlander has nearly doubled that figure to 30% as an Astro.
Since 2018, no pitcher in Major League Baseball with at least 400 innings pitched has posted a better K-BB% than Verlander, who even edges out Jacob deGrom by 0.1%.
The recipe for Verlander has been simple: throw the baseball wherever you want it. The right-hander is throwing his heater for a strike 74% of the time and has been surgical with the pitch since he starting calling Minute Maid Park home.
In terms of Baseball Savant's run value, Verlander's fastball is the second-best pitch in baseball with a -10 run value, despite only a 16% whiff rate on the pitch thanks to his ability to induce weak contact by spotting up. Verlander's fastball sets the tone for his pair of breaking balls, which have been dynamite this season as well. Between his curveball and slider, Verlander has punched out hitters at a 40% clip while allowing just a .475 OPS.
Even though we can't expect Verlander to pitch to a sub 2.00 ERA all season, his xERA of 2.65 tells us that this small seven-start sample size is no fluke. Houston can look at Verlander the same way as they did when he was sharing a rotation with Cole back in 2019: as a workhorse who is capable of leading this team on a deep October run.
The more interesting question when it comes to Verlander though is how much does he have left in the tank after this season?
Pitching with a brand-new UCL, Verlander is still averaging 94.6 MPH on his fastball with no signs of slowing down any time soon.
Modern Day Nolan Ryan
Similar to Justin Verlander, Nolan Ryan spent his age-39 season pitching for the Houston Astros. In 1986, Ryan pitched to a 3.34 ERA with 194 strikeouts in 178 innings pitched. The following season, Ryan had to prove he could continue to pitch well, now that he was in his 40s.
He went on to lead the league with 270 strikeouts in 1987, while also winning his second ERA title by pitching to a 2.76 ERA. This was the first of four-consecutive seasons where Ryan would lead the league in strikeouts while pitching in his 40s.
Ryan kept pitching until his arm literally gave out, tearing a ligament at the end of his age-46 season. The all-time strikeout king finished his career having played in an MLB-record 27 seasons. Verlander is pitching in his 17th season right now and has every chance to pitch well into his 40s with a torn ligament already behind him.
Much like we are seeing with Verlander, Ryan extended his career by improving his command as his career went on. Through his first 14 seasons, Ryan walked nearly 14% of batters while never recording a season with a walk rate below 10%. Ryan posted single-digit walk rates in five of his final 12 seasons and improved his K-BB% from 11.1% over his initial 14 seasons to 15.5% across his final dozen campaigns.
Verlander said back in 2018 that he would like to pitch until he is 45 years old, and it would probably be safe to say that his feelings haven't changed. In a game where shelf-lives are presumably shorter for players of all positions, but especially pitchers, Verlander is a reminder that certain star players will still emerge and break the mold of what we have become accustomed to in our game.