Analysis
Fantasy Baseball: Best Waiver Wire Pickups and Streamers for Week 14
Ramon Laureno headlines this week's list of waiver wire pickups that you should be looking to scoop up in fantasy baseball for Week 14.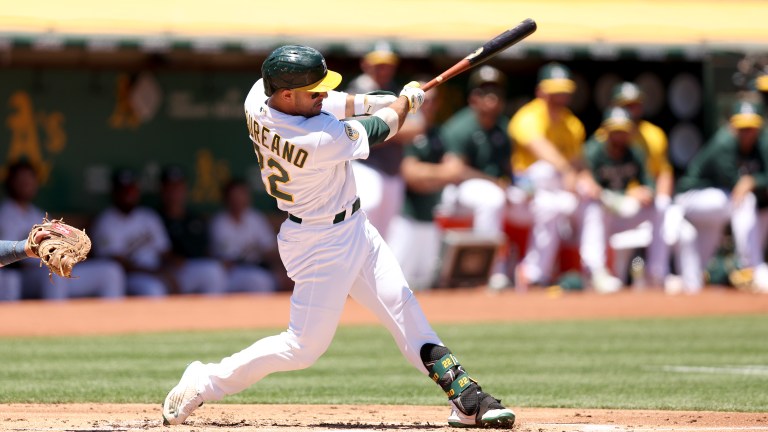 The waiver wire has some great options this week. A few hot bats that are getting scooped up, a bullpen option that is severely underrated, and a prospect to keep a close eye on. This week we have three streamer options thanks to Peter Appel and Colby Olson providing their expertise. Let's dive right in.
*Stats morning of July 10th*
Ramon Laureano – OF – Oakland Athletics (11.3% ESPN)
2022 Stats: .242/.338/.397, 6 HR, 8 SB, 118 wRC+
Ramon Laureano missed the start of 2021 due to a suspension but recently looks to have found his groove. Over the past two weeks, Laureano is slashing .256/.373/.558 with four home runs. The RBI and runs might not be plentiful playing with Oakland, but that could change soon.
Laureano's name has been swirled around in trade rumors for a while now. After Oakland started their rebuild this offseason, I am sure the front office will continue to make moves at the deadline. Moving to a competitor will likely put him in more opportunities to help with category stats. Power and speed with a good on-base percentage is a must-add.
Nick Senzel – OF – Cincinnati Reds (5.3% ESPN)
2022 Stats: .262/.318/.337, 3 HR, 5 SB, 82 wRC+
The Nick Senzel breakout is long overdue. Could we be seeing it now?
For a more in-depth look on Senzel you can read this article from last week. To summarize, Senzel is making more hard contact and the results are coming in.
Over the past month, Senzel has slashed .325/.387/.422 with three stolen bases and two home runs. The power looks concerning, but the batted ball profile points towards more extra-base hits. I'd take the chance and roster the former number two overall pick.
Nolan Jones – 3B – Cleveland Guardians (2.5% ESPN)
2022 AAA Stats: .311/.417/.500, 3 HR, 146 wRC+
Nolan Jones first made a name for himself across top 100 lists as a prospect. While his prospect ranking has fallen, Jones is looking to prove the experts wrong. In Triple-A Jones posted a 15.7% walk percentage and 26.9% strike-out percentage.
He's only been up for two games, but has a home run, four RBIs, and a .571/.667/1.143 slash line. In those two games, he's played right field which means positional flexibility is a strong possibility. I am not sure if Jones will stick, but a former top prospect with good minor league numbers is worth of a shot if you need third base, and eventually outfield depth.
Andres Munoz – RP – Seattle Mariners (2.5% ESPN)
2022 Stats: 3.21 ERA, 1.07 WHIP, 33 IP, 53 SO
The 23-year-old has done nothing but impress this season. A 14 K/9 combined with a 2.41 BB/9 and 2.24 xERA give you a hint of how dominant Munoz has been. A fastball and slider pitcher, Munoz combines 100 MPH with 87 MPH to fool hitters.
The Mariners do not have a set closer. Paul Sewald has the most saves with nine, but five different pitchers have earned a save. Munoz will likely surpass Castillo as closer "B" and could be in line to take over if Sewald struggles. Even as a setup man, Munoz strikeout numbers will help your club.
DL Hall – SP- Baltimore Orioles (AAA) (0.6% ESPN)
2022 AAA Stats– 4.29 ERA, 3.53 FIP, 15 K/9
I want to be clear. Hall is a watch list or deep leaguer add only at the moment. The Orioles have been playing well, but the rotation is not set in stone. Hall has been impressive in Triple-A and a call-up could be in order before the end of the season.
Streamers
Dylan Bundy – SP – Minnesota Twins (24.6% ESPN)
July 16th vs Chicago White Sox
2022 Stats: 4.50 ERA, 1.26 WHIP, 70 IP, 53 SO
I'm sure most of you have rostered Bundy at some point in his career. No, he's not a high-end arm but he's pitching well recently. Over his past four starts, he has a 1.88 ERA with 16 strikeouts to four walks. Do me a favor and don't check his savant page.
I like the way he's pitched recently, but I really like the matchup. His last outing was against these White Sox and Bundy went five innings of one-run ball with six strikeouts. The only other time he faced the White Sox this season was five innings of no-run ball.
Peter Appel's Pick: Braxton Garret – July 14th vs Pittsburgh
Colby Olson's Pick: Brayan Bello – July 11th vs Rays
For a deep dive into the streaming picks, along with waiver wire players, check out the "Not Gambling Advice" podcast on the Just Baseball YouTube page.