Rankings
Top 10 Left-Handed Pitchers in College Baseball
As college baseball season quickly approaches, let's take a look at the top 10 southpaws in the country.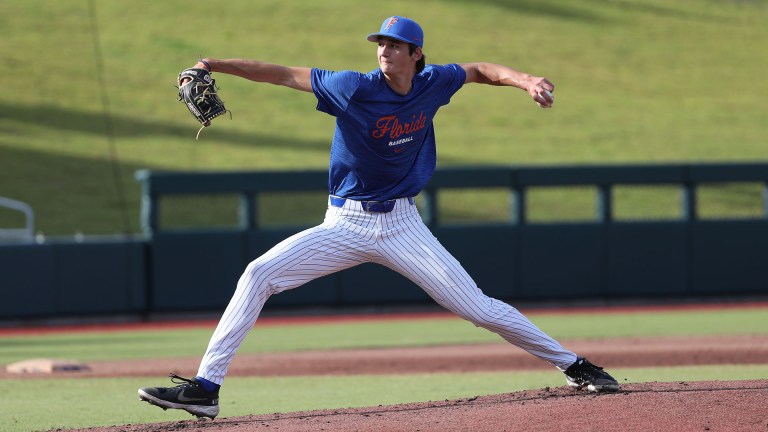 College baseball season is quickly approaching, which means it's time to kick off our positional top tens. The SEC has a strong presence on this list, showcasing how talented Tennessee and Florida, among others, will be in 2023 for that conference. While some are more experienced draft prospects, most are just getting started. Let"s take a look at the top left-handed pitchers in the country.
Honorable Mentions
Hunter Hollan – Arkansas: Hollan's fastball can reach 97 mph and is very effective when paired with his ability to throw strikes. With three interesting secondaries, Hollan is a name to watch this spring.
Tristan Smith – Clemson: A top prep arm in the 2022 Draft, Smith made it to campus, hoping to develop himself into a top-end first-round arm. His fastball can get into the mid-90s, along with a slider with elite pitch data. Fastball command will be a focal point in his development.
Wyatt Crowell – Florida State: Crowell was a big part of a very talented Florida State pitching staff in 2022. He proved to be one of the most effective relievers in college baseball, throwing to a 2.12 ERA and 12.7 K/9 in 51 innings. With a fastball that gets to 98 and a good slider, Crowell has a chance to start for the Seminoles in 2023.
10. Matthew Becker – South Carolina
Ht: 6-3 | Wt: 200 lbs. | Class: Sophomore | Draft Yr: 2024
Becker's curveball was one of the more interesting offerings by pitch metrics in all of college baseball. His fastball can get up into the mid-90s and it's effective when he can throw it for strikes. Becker logged a decent amount of outings as a freshman, primarily working out of the bullpen. Despite a 5.21 ERA, Becker struck out 68 hitters over 48 1/3 innings. In his first career start, the 6-foot-3 lefty struck out 11 Texas Longhorn batters over 6 innings of one-hit ball. Becker will have to get the walks under control to be effective, but evaluators believe that he has the stuff to be an up-arrow draft arm this spring.
9. Liam Sullivan – Georgia
Ht: 6-6 | Wt: 245 lbs. | Class: Junior | Draft Yr: 2023
Sullivan was one of the best pitchers this summer in the Cape Cod League, striking out 45 in 29 innings with a 2.17 ERA. At school, Sullivan has looked promising, owning a 4.34 ERA over his first two seasons at Georgia. The big lefty doesn't have a lot of projectability left, with a fastball living in the low-to-mid 90s and two average secondaries.
The Georgia-born southpaw offers a vertical 12-6 curveball and a change-up that some feel is his best pitch. Outside of his freshman season, Sullivan has thrown a lot of strikes and has limited walks at a good rate. He will make regular weekend starts for the Bulldogs in 2023.
8. Jonathan Santucci – Duke
Ht: 6-2 | Wt: 195 lbs. | Class: Sophomore | Draft Yr: 2024
The first of a couple of two-way prospects on this list, Santucci may be a better fit on the mound long-term. His fastball can reach 95 mph and his slider works well off of the pitch. It's a developing change-up with room to grow but a ton of promise.
As a freshman, Santucci impressed with a 4.17 ERA over 41 innings, striking out 58. The Massachusetts native had more of the same success last summer in the Cape Cod League, making five starts with a 3.65 ERA. Santucci is in the conversation to lead the Blue Devils on Friday nights.
7. Wyatt Evans – Tennessee
Ht: 6-6 | Wt: 235 lbs. | Class: Sophomore | Draft Yr: 2024
Despite lower velocities, Evans was effective this summer in the Cape Cod League, striking out 20 in 18 1/3 innings. The 6-foot-6 southpaw was very successful out of the bullpen for the Volunteers last spring.
Over 16 innings, the South Carolina product struck out 22 and owned a 2.25 ERA. Evans' curveball is his best pitch, showcasing a ton of depth and producing swings and misses. He also has a decent feel for a change-up, leading many to believe that he will be a starter at the next level. Due to a stacked Tennessee pitching staff, Evans' role is unknown, but some believe that he will accumulate starts in 2023.
6. Jac Caglianone – Florida
Ht: 6-5 | Wt: 217 lbs. | Class: Sophomore | Draft Yr: 2024
Cagianone may be the best two-way prospect in college baseball. After getting Tommy John surgery before last season, Cagianone turned in a productive spring with the bat, slashing .289/.339/.548 with seven homers.
The Tampa native may be more impressive on the mound, with a fastball that reaches the high-90s and a good mix of secondaries. Caglianone's slider is very good, providing a floor as a two-pitch reliever. Due to his injury, the Gators may opt for him to build up innings coming out of the bullpen, at least to start.
5. Grayson Hitt – Alabama
Ht: 6-3 | Wt: 195 lbs. | Class: Junior | Draft Yr: 2023
The most improved player in all of college baseball this fall may be Grayson Hitt, who impressed evaluators during his fall outings. Hitt noticed his stuff tick up after a productive summer in the Cape Cod League, with his fastball getting up to 97 mph consistently. His slider has firmed up into a cutter and he throws his 12-6 curveball for strikes. Hitt is a popular breakout performer pick and will look to lead the Crimson Tide pitching staff in 2023.
4. Ross Dunn – Arizona State
Ht: 6-3 | Wt: 215 lbs. | Class: Sophomore | Draft Yr: 2024
After two years at Florida State, Dunn transferred to Arizona State this summer, looking to lead a young Sun Devils team on Friday nights. Dunn may be the best left-hander in a light 2023 draft class and has a chance to move into the back end of the first round. He was able to start 11 games for a talented Florida State staff last spring, owning a 4.88 ERA and striking out 77 hitters in 48 innings. The Utah native relies more on his effective slider and average change-up. Dunn's fastball sits in the low-90s and his funky delivery helps the pitch play up.
3. Hagen Smith – Arkansas
Ht: 6-3 | Wt: 215 lbs. | Class: Sophomore | Draft Yr: 2024
Hagen Smith is very similar to our number two-ranked lefty Hunter Elliott. With a deceptive delivery and deep repertoire, Smith is yet another young, surgical left-hander. Successful as a freshman, Smith struck out 90 hitters over 77 1/3 innings for the Razorbacks. The Texas-born southpaw's best pitch is his change-up, a legit weapon against left-handed hitters. He also offers a low-90s four-seam fastball, a sinker, and two breaking balls.
2. Hunter Elliott – Ole Miss
Ht: 6-3 | Wt: 205 lbs. | Class: Sophomore | Draft Yr: 2024
As a 19-year-old freshman, Elliott broke out on the mound for the National Champion Rebels. Over 12 starts (20 games), Elliott owned a 2.70 ERA and 11.5 K/9 in 80 innings. The Tupelo native is a crafty southpaw with a feel for a tremendous change-up. His fastball lives in the low-90s, but a deceptive delivery and good secondaries allow it to play up. Elliott offers two breaking balls, with his loopy curveball being the best. If you're a fan of pitch ability lefties, Elliott may be the best in college baseball.
1. Pierce Coppola – Florida
Ht: 6-8 | Wt: 215 lbs. | Class: Sophomore | Draft Yr: 2024
It didn't take evaluators long to realize how talented Coppola is after just one start for the Gators in his freshman season. Coppola comes from a unique angle and a huge frame, creating a tough task for hitters against his swing-and-miss breaking ball. The New Jersey-born sophomore has a fastball that rests in the mid-90s but has gotten higher over spurts. He also throws a developing change-up, with many evaluators believing it will be a weapon in the future.