Sponsored
Hottest Cards To Target In 2022 Bowman Baseball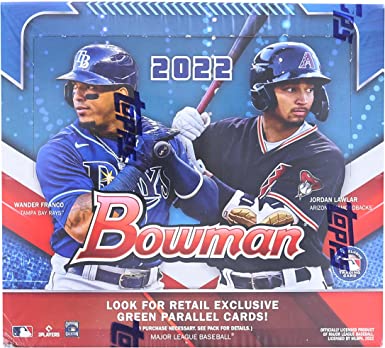 Bowman Baseball's 2022 product is loaded with some of MLB's most exciting young prospects. After 2020's covid cancelled Minor League season, there has been a push by a lot of exciting prospects to make up for lost time, resulting in a lot of breakout youngsters over the last season and a half.
With so many talented prospects making waves, there's no shortage of intriguing prospects for Topps to pack into its 2022 Bowman product.
There's no better place to hunt these top prospects than on Whatnot, a community marketplace where you can safely buy, sell, or go live with collectors and other like-minded people. We will have our own breakers at Wild Cards Trading ripping 2022 Bowman Baseball on Whatnot July 31st.
If you use this link, you will receive a $10 credit to spend on Whatnot for our break, or any other breakers. Just Baseball will be hosting a 2022 Bowman Baseball break on Whatnot on Sunday at 7pm EST. Click here to RSVP!
Here's the top five prospect autographs you should hope to pull either on our break on Whatnot or from any of the many sellers every day.
5. Curtis Mead – 3B – Tampa Bay Rays
An under-the-radar prospect coming into this year, Mead has done nothing but hit over the last couple seasons and has solidified himself as a consensus top 100 prospect in baseball.
Mead impressed with an OPS of .911 across three levels last season and has picked up right where he left off this year. Between Double-A and Triple-A, the 21-year-old has mashed to a .920 OPS with 13 homers.
An impressive feel to hit has helped Mead keep his strikeout rate well below 20% for his entire professional career and as his power continues to develop, there is some upside to parlay with his high floor.
4. Colson Montgomery – SS – Chicago White Sox
The White Sox first round pick in 2021, Montgomery was left off of Bowman's 2021 Draft checklist making his 2022 Bowman Baseball card his first. Montgomery has quickly started to looked like one of the steals of last year's draft, demolishing Low-A pitching and earning a promotion to High-A in June.
The 20-year-old has not slowed against better competition, slashing .318/.422/.485 on the season with 8 homers and a 19% strikeout rate. At 6-foot-4, 205 pounds, Montgomery has more room to fill out and tap into potentially plus power.
Montgomery has proven to be a much more advanced of a hitter than many expected for a player drafted out of high school and his K-rate continues to dwindle as the season has gone on. If you pull a Montgomery card on Whatnot, it may be a good idea to hold onto it.
3. James Wood – OF – San Diego Padres
Drafted as a high-risk, high-reward prospect in the second round of the 2021 Draft, the 6-foot-7, 240 pound Wood has proven to be not nearly as high-risk as many teams may have thought after scouting him at IMG Academy in Florida.
Still 19 years old, Wood has pulverized Low-A pitching to the tune of .323/.446/.555 with 7 homers and 14 stolen bases. Most impressively, the big power hitter has walked (33 BB) nearly as many times as he has struck out (36 K) and has played a pretty solid centerfield. Anyone else getting Aaron Judge vibes?
Still in Low-A, Wood still has a long ways to go in his development, but has already posted a handful of exit velocities over 110 mph and has shown way more bat-to-ball than just about anyone expected. Wood has the upside of a superstar, but is the most raw prospect on this list.
2. George Valera – OF – Cleveland Guardians
One of the younger players at the Double-A level, Valera has been dynamite over the last couple months. The 21-year-old is an extremely patient hitter who is capable of doing a lot of damage thanks to his elite bat speed.
An OBP machine who is no stranger to the flashy bat flip, Valera has the sweet swing and flare that should make him a fan favorite in Cleveland.
After hitting 19 home runs between High-A and Double-A last season, Valera already has launched 13 homers this year, all in Double-A. The Guardians top offensive prospect has continued to get better as the year has gone on and looks to be a big part of what they are building in Cleveland.
It is safe to expect Valera to debut at in early 2023 and he could be a Rookie of the Year candidate next season.
1. Elly De La Cruz – SS – Cincinnati Reds
This kid is special. If you haven't heard of Elly De La Cruz yet, you soon will, because his card will be one of the more sought after in the hobby before long.
A switch-hitter with outrageous tools across the board, De La Cruz has one of the most exciting power/speed combinations in all of professional baseball. Still extremely raw and developing an approach at the plate, De La Cruz has been able to put up ridiculous numbers as a 20-year-old in High-A and recently earned a promotion to Double-A.
The Reds top prospect has launched 20 homers on the season to go with 28 stolen bases and is hitting .297/.354/.598 on the season. Entering this season, De La Cruz had only played 50 games above the Rookie level, but has had little problem adjusting to more advanced pitching.
Double-A will be a big test for the 20-year-old, but given his profile and expectations heading into the year, it is safe to say De La Cruz is ahead of schedule. There's a lot of similarities to Oneil Cruz of the Pittsburgh Pirates, though Elly De La Cruz is a switch-hitter.