Analysis
Ronald Acuna Jr. is the Best MVP Dark Horse to Bet On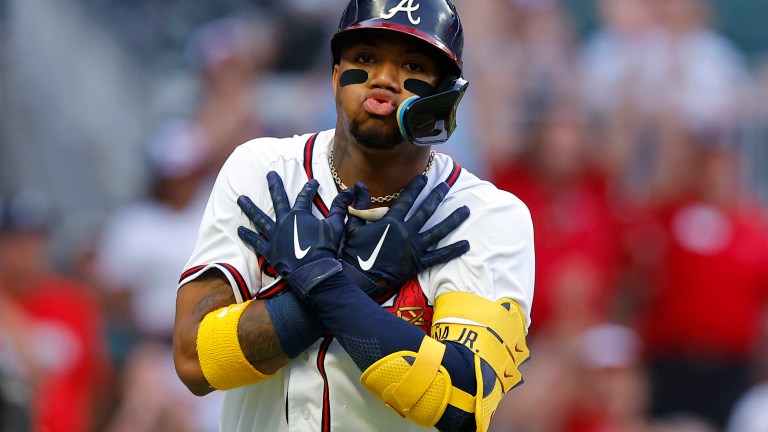 The Atlanta Braves are the hottest team in baseball right now. Winners of 11-straight games, the Braves are suddenly firing on all cylinders, reminding everyone that they are still the reigning champs. Not to mention, this team has something the championship team did not.
Ronald Acuna Jr.
The 24-year-old superstar is on a mission to make up for lost time, after he watched his team win it all while recovering from a torn ACL that cut his last season short. Acuna is running wild on that knee now, regularly stealing bases and scoring runs for an offense that is suddenly potent again.
Last week, I placed a future's MVP bet on Ronald Acuna Jr. at +3000 odds. Today, Vegas Insider has Acuna's MVP odds at +1400. This means a lot of money is coming in on Acuna right now as an MVP dark horse and for good reason.
As we have seen in just 32 games this year, Acuna can put up numbers in a hurry. He already has a strong case to start in his third All-Star Game and could still finish the season with numbers comparable to the best players in the National League.
But what really makes Acuna's potential MVP case stand out is the narrative that could unfold if he leads the Braves past a much-improved Mets team to a fifth-consecutive NL East division title.
If he does that while stealing 40 bases and hitting 30 bombs, don't you think he'd have a pretty strong case to win his first of what could be many MVPs?
The Narrative
I want to start this deep dive into why I love this future's bet with the narrative that could unfold, because I think it could be that instructive for voters come the end of the season.
First of all, if there is any book that has NL Comeback Player of the Year odds, Acuna is the absolute slam dunk of the century. Unless Jacob deGrom goes scorched Earth in the second half, Acuna is going to win that in a landslide, but that will only add to his MVP case.
It was just before the All-Star break last year that Acuna went down with a torn ACL on July 11th. The Braves caught lightening in a bottle at the trade deadline, replacing Acuna with an ensemble of Eddie Rosario, Jorge Soler and Joc Pederson and went on to win the World Series. Still, the Braves future is tied to Acuna and that is all the more promising.
Acuna is on the short list of about five to 10 players who could be the best player on the planet for any given season. There may not be a better embodiment of a five-tool player in the game than Acuna and he is starting to show that again now.
The Braves got off to a slow 8-11 start without Ronald Acuna Jr. this season. With each passing week since his return, Acuna has gotten hotter and hotter and with that the team has followed suit. The Braves went 11-11 in their first 22 games with Acuna, but have now reeled off 11-straight.
During this winning streak, the Braves have nearly dug themselves out of their early-season hole, cutting five games from the Mets lead in the NL East. With four more series left to play against New York, the Braves could absolutely still win this division and if they do, Acuna will be a beneficiary in the MVP voting.
Now this is not to say that Acuna should be the favorite to win the award. But when you look at Bryce Harper's +900 odds to repeat, there is a lot more value in taking Acuna considering the teams they play on and the fact that Harper could be relegated to a DH role all season.
The Numbers
While the narrative is there for Ronald Acuna Jr. to be voted the Most Valuable Player this season, the fact that he missed the first month could still come back to haunt him in counting stats. At the end of the day, numbers talk in award races and there are a lot of players who have put up big numbers so far this season.
Mookie Betts (+290), Manny Machado (+400) and Paul Goldschmidt (+400) are the three favorites to win the NL MVP right now, and rightfully so. Their numbers are clearly superior to Acuna's, but there is still plenty of time for the Braves superstar to catch up.
Since May 6th, Acuna is hitting .340/.444/.606, with six home runs, 24 runs scored, 14 RBIs and nine stolen bases. His 186 wRC+ is the third-best mark in the NL during that span, behind only Goldschmidt (220 wRC+) and Harper (218 wRC+).
One look at Acuna's Baseball Savant and it is clear these numbers are sustainable, as he has been producing some of the best contact in the game. He is currently ranked in the 95th percentile or better in average exit velocity, max exit velocity, HardHit%, xwOBA, xSLG and Barrel%.
Looking at Acuna's numbers over the last few years, it is pretty clear what this guy could do over a full season. Dating back to 2020, Acuna has played in exactly 160 games. During that span he has hit .280/.402/.578, with 44 home runs, 36 stolen bases, 142 runs scored, 97 RBIs and a 158 wRC+.
With about 100 more games left to play this season, Acuna has plenty of time to pad his numbers to make a real MVP case. In 2019, Acuna came up three steals short of a 40-40 season and finished fifth in the MVP race. If he can pull off a 40 stolen base, 30 home run season after missing a month and the Braves end up in the playoffs, Acuna will have a real MVP case.