Analysis
MLB Picks Today, Best Bets, Odds, Predictions for April 5, 2023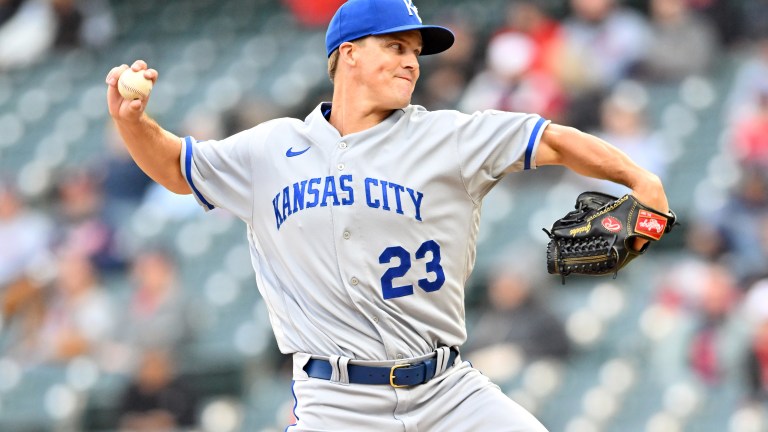 Yesterday marked our worst day of the season. Welcome to the ups and downs of baseball. We can't expect to win every day, but I'm confident we'll have more winning days than losing ones. We lost our system play on the Cardinals and our under on the Padres and Diamondbacks. If I could redo it, I would have been less aggressive on tailing Zac Gallen after his slight drop in velocity in his last start. That Cardianls bet, I make it ten times out of ten. It just didn't go our way yesterday.
We did smack our under in Red Sox vs. Pirates. That was an easy winner that saved us from a really poor day. Overall, we went down 1.6 units. We are still positive on the year, and I have more picks for you to get us back on track.
Just so we all know, I'm using BetMGM lines only this year. Here's a link to get started with a risk-free $1000 bet. You can also use code "JB200" if you're betting MLB. Wager $10 on any MLB game and receive $200 instantly.
All prop entries will be on PrizePicks: Here's a link to get a 100% deposit match.
2023 Straight Plays Record: 11-7 (+4.08 U)
2023 PrizePicks Entries: 0-2 (-1 U)
I will track both records separately so you can track how I'm doing on game picks and PrizePick entries!
Baltimore Orioles vs. Texas Rangers @ 2:05 PM EST
Pitching Matchup: Grayson Rodriguez vs. Jacob deGrom
System Play!
The system did not hit yesterday with Dylan Dodd, but it did against Jared Shuster. This is a system I fully believe in, fading a rookie pitcher in their first start on the road. Since I started tailing this system in 2021, it's been hitting above 67%.
Grayson Rodriguez is arguably baseball's best pitching prospect. The Orioles wanted to see him make one start in AAA ball before starting him in the major leagues. The Orioles General Manager Mike Elias said this about Grayson right before the season began.
Those five other guys are Kyle Gibson, Cole Irvin, Dean Kramer, Kyle Bradish, and Tyler Wells. The general manager didn't feel that the best pitching prospect in baseball was as good as those five. He made one start in triple-A, and now he's back up? It's pretty strange when you consider Grayson struggled in his first start in the minor leagues.
He threw four innings, allowed three runs, two of them earned, walked four, and struck out two. I'm sure Grayson will be an excellent pitcher one day, but I'm not sure it'll start against a Rangers team that's lost two straight. He has excellent stuff, touching triple digits with multiple breaking balls to work with. He was called up from Norfolk, Virginia, last night, so he hopped on a plane and will arrive for a day game against a formidable opponent.
That opponent is Jacob deGrom, who struggled in his first start of the year, but his stuff was there, as were the strikeouts. The physical velocity dropped about a half mile an hour across the board, but his slider and fastball spin rates ticked up.
Both offenses have been comparable to start the year. The Orioles out-rank the Rangers in wRC+, but the Rangers have the edge in Hard-Hit rate. I think the Rangers get out to a hot start against the young rookie, and Jacob deGrom shows us why he's still one of the best, if not the best, pitcher on the planet.
SIM Value: (Did not run with pitcher change)
The Pick: Rangers First 5 Innings -0.5 (-130) 1 U to win 0.77 U
Cleveland Guardians vs. Oakland A's @ 3:37 PM EST
Pitching Matchup: Hunter Gaddis vs. Kyle Muller
I had the under written down on this game before the last game even started. Hunter Gaddis is a solid young prospect. His major league stats may not show that (they don't), but I trust a larger sample of minor league success and the Guardians' pitching development. It's not an accident for the Guardians to continue to throw him, and by the numbers, he's due for some positive regression based on his last start.
Gaddis allowed four hard-hit balls in 3.2 innings against a much better lineup in the Mariners. He struck out four and only walked one, but he got unlucky. His 3.76 xERA and 2.68 FIP would back that up, and his fastball, curveball, and changeup velocity were up from last year.
He'll face an Oakland lineup that is rocking an 86 wRC+ against right-handers this season, ranking 20th in baseball. Last season, they put up an 83 wRC+ against righties, 27th in baseball. This is not an offense that hits for much power, and we should get some solid Cleveland arms to relieve Gaddis after he exits.
Kyle Muller is really starting to impress me. We took the under on his last start, and it easily cashed. He touched 96 MPH with his fastball, his command looked great, and he held a talented Angels lineup to one run in five innings. He'll face a Guardians lineup whose Achilles heel remains against left-handed pitchers. Last season, the Guardians ranked 27th in wRC+ against southpaws at 83. They've looked much better this season, but it's so early to tell, and the lineup isn't much different from last season. The two lefties they beat up, JP Sears and Robbie Ray, are pitchers they've already had success against in the past.
Both starters are plus money to go over 2.5 runs, similar to our bet on the Red Sox vs. Pirates yesterday. Oakland is also projected to be the second worst run environment of the day.
The A's should be able to deploy some of their solid arms after Muller departs, but I think he gives us 5-6 innings of 1-2 run ball. That should be enough for this game to fly under the total of 8 runs.
SIM Value: 5.5 (-106)
The Pick: Guardians vs. A's Under 8 Runs (-105) 1.05 U to win 1 U
Chicago Cubs vs. Cincinnati Reds @ 12:35 PM EST
Pitching Matchup: Marcus Stroman vs. Hunter Greene
We almost have to blindly bet the over in this game due to the weather report and how easy it is to hit at this stadium. Ballparkpal calls Great American Ballpark the highest run-scoring environment of the day by far, calling for an 11% increase in runs. The next highest is Nationals Park at 7%, and the third is Guaranteed Rate Field at 0%.
I'm worried about Hunter Greene today. This isn't his best matchup, and the Cubs' bats have caught fire. Last season, he was worse at home and worse during the day, and he put up a 6.00 ERA in April last season, and he's already off to a rough start. He put up a 4.80 ERA against the Cubs last season over three starts, and the lineup is better than last year. Following Greene will be a Reds bullpen overworked in this series.
Marcus Stroman is a big-game pitcher. He shows up for starts like Opening Day. Following Opening Day last season, he allowed five earned runs in four innings to the Rockies. He's not a pitcher you should rely on in starts that don't matter, like a day game on a Wednesday against the Reds.
My model likes the Reds to win, expecting them to score the third most runs of any team to win. I'm not playing the Reds due to my concerns about Greene, but they see something. I can see runs coming later against the Cubs bullpen that's also been worked this series, and they still have Stroman allowing 2-3 runs in five innings. I think it'll be 3-3 headed to the 6th, and we need to squeak a few more runs to go over.
SIM Value: 9 (-101)
The Pick: Cubs vs. Reds Over 8 (-105) 1.05 U to win 1 U
Toronto Blue Jays vs. Kansas City Royals @ 7:40 PM EST
Pitching Matchup: Zach Grienke vs. Alek Manoah
A play not meant for the faint at heart, but I will continue to fade Alek Manoah until further notice. He was a pitcher I ID'd at the beginning of the season, and he did not look good against the Cardinals.
The Royals aren't as good as the Cardinals on offense but don't be fooled; they can really hit. It hasn't resulted in gaudy run totals yet, but they are 16th in Hard-Hit rate against right-handed pitching this season and tenth in baseball against both lefties and righties. Continually hitting the ball hard will bode well for you, but the Royals have been baseball's unluckiest offense this season.
Manoah pitched exceptionally well against the Royals last season if you look at the counting stats. He threw 13 innings and allowed ten hits but only one earned run. In 48 PA against the Royals' current roster, his wOBA is .221, and the opponent's batting average is .217. That's great, but the expected stats are alarming, considering he allowed a 90.1 MPH average exit velocity in those innings. This resulted in a .322 xwOBA, a .293 xBA, and a .414 xSLG. I think the Royals smack him for three runs today.
All we need is Zach Greinke to weather the storm. I think he can, considering he looked excellent on Opening Day, and he's at his best in home day starts. He rocked a 1.91 ERA at home and showed out in his first home start. Toronto beat him up last season, but that was in Toronto, and the Blue Jays' offense hasn't looked quite as explosive as last season.
The Blue Jays rank 26th in Hard-Hit rate this season against right-handed pitchers out of 30 teams. Greinke's job is to produce soft contact, and he should do enough to keep the Royals in the ballgame.
My model shows value in the Royals winning the game outright, but I'd rather not mess with the whole game because the Royals' bullpen is suspect. I like this matchup, and if they are tied after five, it's a push. Give me the Royals at an inflated number, with most betting public riding the Blue Jays.
SIM Value: First 5 Innings: Royals (2.7 Runs), Blue Jays (2.4 Runs)
The Pick: Royals First 5 Innings ML (+165) 1 U to win 1.65 U
Atlanta Braves vs. St. Louis Cardinals @ 1:15 PM EST
Pitching Matchup: Bryce Elder vs. Miles Mikolas
The Cardinals got off to a scorching start offensively but have slowed down the past few games. They have scored five runs in the past two games, and even the Braves didn't look great offensively yesterday. Busch Stadium is also projected to be the fourth-lowest run-scoring environment of the day, a 7% drop from yesterday too -14% today.
Miles Mikolas has really solid advanced numbers against the Braves' current roster. Through 76 PA, Mikolas is rocking a .309 xwOBA and a .243 xBA. He was incredible at Busch Stadium last year, and after a rough start at home in his first outing, I think he will bounce back. Following Mikolas will be a bullpen with a rested Ryan Helsley, Giovanny Gallegos, and Andre Pallante, and I wouldn't be surprised to see Jordan Hicks. The Cardinals also don't play tomorrow, so they'll use their best to ensure a win.
The model likes Bryce Elder today, and I see why. Elder rocked a 50% ground-ball rate last season, which led to a 3.17 ERA, 3.78 FIP, and 4.25 xERA. Those numbers are pretty solid, but he will also have one of the best bullpens in baseball to relieve him. The Braves have Strider going tomorrow, so they should unload the bullpen in hopes of a sweep here.
The model projects this as one of the lowest scores of the day, predicting a 4-3 Braves win. 67% of the money is on the over as well.
SIM Value: 7 (-102)
The Pick: Braves vs. Cardinals Under 9 (-105) 1.05 U to Win 1 U
PrizePicks Entry 0.25 U to Win 0.5 U
1st Leg: Yandy Diaz O 1.5 Bases
A match made in heaven. He kills sinkers and sliders and left-handed pitchers. Patrick Corbin will be opposing him in Nationals Park, calling for offense. He is also -140 on BetMGM to go over 1.5 bases.
2nd Leg: Trea Turner U 7 Fantasy Score
Bad conditions to hit in, and the model likes the full game under. Turner is 3-14 in his career with no power against Cole, and I wouldn't say I like the rest of the lineup behind Turner to drive him in. Turner's xwOBA is a measly .243 against him. Turner is +145 to go over 1.5 bases, -290 to strike out, +950 to hit an HR, +155 to score a run, and +235 to record an RBI.