Analysis
MLB Best Bets: Predictions, Odds for Rays vs. Mariners, Tigers vs. Astros, Nationals vs. Rockies for May 5, 2022
Three MLB Best Bets for May 5, 2022.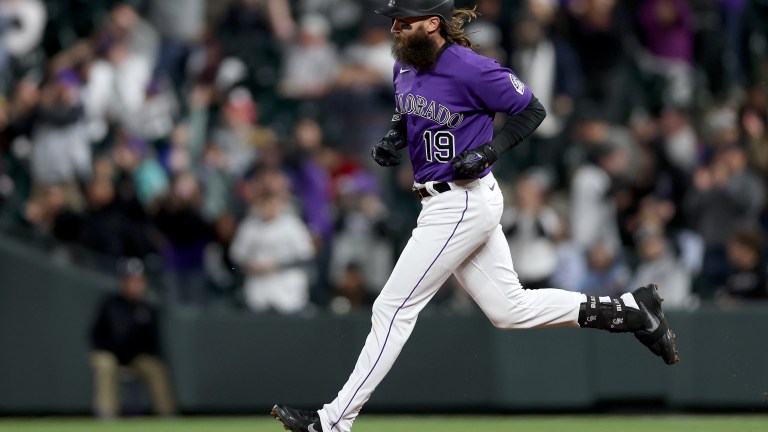 The city of Philadelphia owes us an apology. We took them with their best pitcher on the mound at home, and they lost 2-1. The game went to extra innings tied 0-0, after this so-called "great offense" was shut down by Martin Perez. Luckily, the Astros covered quickly through the first five innings, but we lost at the end of the day. Back-to-back-to-back 1-2 days will not cut it, but we're back with three picks to write the wrongs.
Peter's 2022 MLB Regular Season Record: 51-32 (61%) +17.34 units
Subscribe to my new Gambling/Fantasy Baseball Podcast: Not Gambling Advice.
Colorado Rockies First 5 Innings -0.5 (-105)
Aaron Sanchez (RHP, Nationals): [1-1, 6.75 ERA, 1.39 WHIP, 9.1 IP, 12 K, 1 BB]
Antonio Senzatela (RHP, Rockies): [2-1, 3.66 ERA, 1.83 WHIP, 19.2 IP, 6 K, 3 BB]
The Rockies are looking to finish their series with the Nationals on the right foot. After a 10-2 defeat on Tuesday, the Rockies responded with a 5-2 victory the next night. Antonio Senzatela will be taking the bump today, while journeyman Aaron Sanchez will counter him. I love this first five innings bet as a fade on Aaron Sanchez. Not only is Senzatela great at Coors Field, but the Rockies' offense should feast off Sanchez for a few reasons.
Sanchez comes into this game with a 1-1 record and an unimpressive 6.75 ERA to start the season. It's solid when you look at Sanchez's career against the Rockies' current roster. He's pitched to a 2.38 FIP, a .258 xwOBA, and a .214 opponent batting average. Once we dig deeper, we see that's a bunch of bologna. Three hitters on the Rockies are hitting over .300 against him, and his pitches do not match up at Coors Field.
In this article by Baseball Prospectus, we see an exciting trend. They track pitch movement at Coors Field and how each pitch does with the difference in altitude. They found that the most negatively affected pitches are sinkers, curveballs, and changeups. That's everything Sanchez throws, including a four-seam fastball. These three pitches won't get the same sinking, tumbling action, so expect some hangers from Sanchez today. When Sanchez pitched at Coors Field, he allowed four runs in four innings. He's already off to a rough start, and a visit to Colorado shouldn't do him any favors.
This Rockies offense has looked better in the last 11 innings after that 10-2 wake-up call on Tuesday. Despite losing that game, the Rockies are still 9-5 at home. Sanchez has only pitched 44.2 innings since the end of 2019. Senzatela, on the other hand, can slow down this Nationals offense, and he has pitched far above average in five of his six seasons in the hitter-friendly park. I also like the Rockies' ML, but the first five innings for the value is the better bet.
Tampa Bay Rays ML (-120)
Shane McClanahan (LHP, Rays): [1-2, 3.00 ERA, 1.00 WHIP, 27 IP, 42 K, 7 BB]
Robbie Ray (LHP, Mariners): [2-2, 4.15 ERA, 1.25 WHIP, 30.1 IP, 26 K, 12 BB]
The Tampa Bay Rays take on the Seattle Mariners in game one of a four-game set in Seattle. Both teams bring their aces to the mound, but one ace is better than the other.
My co-host on Not Gambling Advice wrote up why Shane McClanahan is the next Rays ace, and it's hard to argue. Robbie Ray won the AL CY Young award last year with Toronto, but he hasn't looked the same ever since he came over to the Mariners. Usually, I wouldn't want to tail a road team in their first game as they might suffer from some jet lag that slows the bats down. The Rays will have to travel from Oakland to Seattle, a very short flight. The Mariners have to travel without an off day from Houston to Seattle, a much longer flight.
The total of this game is set at 6.5, meaning we should see a low-scoring game. The Rays thrive in tight games like this, considering they have one of the best bullpen units. They are fifth in bullpen ERA and first in bullpen fWAR, while the Mariners rank 12th in bullpen ERA. They are one of the best defensive teams, ranking seventh in Outs Above Average compared to the Mariners at 18th. They rank similarly on offense, but the Rays are riding a three-game win streak, scoring 19 runs in those three games. The Mariners are riding a three-game losing streak where they've scored just two runs combined in those games.
Robbie Ray will get the ball for the Mariners today. His results haven't been bad so far, but I'm worried about him. His fastball velocity is down, and his spin rates and speed on his offspeed pitches are also down. He hasn't faced any exceptional lineups either. He's faced the Marlins, Royals, Rangers, White Sox, and Twins. Since his excellent Opening Day start, he has a 5.08 ERA. He faced the Rays six separate times last season, ranging from ideal to mediocre. He was a different pitcher last year, and after all those times seeing him, I think they get to him early.
The Mariners haven't been able to get anything going offensively lately. They'll face one of the best left-handers in the league, and although they've been solid against lefties this year, I don't see them breaking out of their shell against McClanahan. The Mariners have played great at home this year (7-2), but the Rays have also been solid on the road (6-3). Only home-field advantage favors the Mariners in this one, so I'll take the Rays to win on the road. I would take this ML up to -130.
Houston Astros -1.5 (+130)
Tarik Skubal (LHP, Tigers): [1-2, 3.05 ERA, 1.21 WHIP, 20.2 IP, 20 K, 3 BB]
Jose Urquidy (RHP, Astros): [2-1, 5.95 ERA, 1.42 WHIP, 19.2 IP, 13 K, 3 BB]
The Tigers take on the Astros at Minute Maid Park after going 1-1 in their doubleheader against the Pirates in Pittsburgh. They now have to travel without an off day to face a Houston team that just swept the Mariners by a combined score of 14-2. We have an inferior team on the road that played 14 innings yesterday and a bad matchup for Tarik Skubal. This should be all Astros once again.
Tarik Skubal will have a rough go of it today. Skubal was far worse on the road last year, posting an ERA over five while maintaining an ERA in the low threes at home. That matters, but what really matters is the righty/lefty matchups. Skubal has held left-handed hitters to a minuscule .353 OPS, while right-handers have a .703 OPS.
The Houston lineup is filled with right-handed bats. Jose Altuve is day-to-day after he fouled a ball off his mid-section. He was removed from the game, but they were up 4-0; it seemed precautionary. Even if he doesn't play, they have Alex Bregman, Yuli Gurriel, Chas McCormick, and Jeremy Pena, who are all currently mashing against left-handed pitching. Kyle Tucker and Yordan Alvarez are also hitting just as well against lefties as righties.
Jose Uriqudy is the opposite; he has the advantage. He's always been a better pitcher at Minute Maid Park, and he's much more effective against left-handed bats. If the Tigers had a dominant right-handed lineup, I would not be taking the Astros spread, and you'd probably see the money line much closer than -160. Urquidy has not been good this year, but he's still effective against lefties. Last year, lefties had an .574 OPS against him, and this year, it's .635. Last year against righties, he held them to a .727 OPS; now it's at .979.
Right-handed firepower is something the Tigers don't have. Javier Baez is the one in the lineup that scares me, but outside of him, I feel safe. Jonathan Schoop is hitting .136, and Spencer Torkelson is hitting .174. Candelario is a switch-hitter, but he's hitting .188 with a .504 OPS against righties. Grossman, and Meadows, are the lefties that generally do the most damage in the lineup, but they are a combined 1-for-12 with two strikeouts against Urquidy.
I wouldn't play the spread if the Tigers weren't coming off a doubleheader and a travel day. I expect the bats to be slow for Detroit while the Astros get to Skubal early. Detroit's bullpen is number one in ERA, but they'll be pretty tired after two games yesterday. I doubt Skubal goes longer than five innings, so I think the Astros can tack on a few more once he's out. I'm willing to play the spread as long as it's a plus value.
__________________________
I've written up a quick guide with critical terms and helpful advice if you choose to tail my daily picks. This daily column is updated every day between 9:00 AM – 12:00 PM EST.