MLB Best Bets, Odds, Predictions for Dodgers vs. Padres, Red Sox vs. Rays, Rockies vs. Tigers for April 22, 2022.
Three MLB Best Bets & Predictions for April 22nd, 2022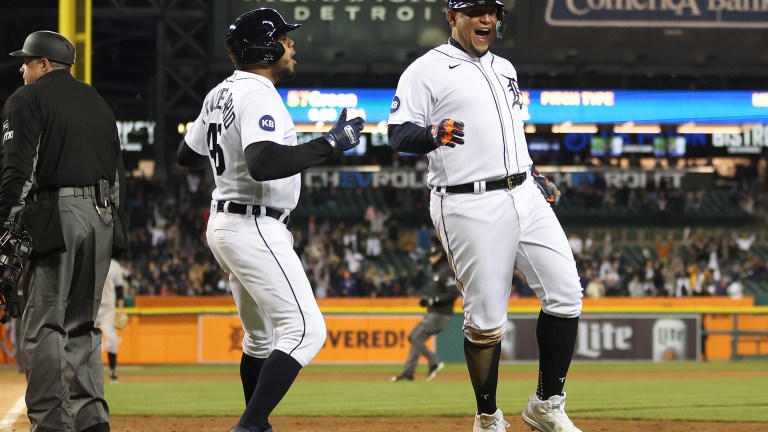 Yesterday, we went 1-1 after five straight winning days. Let's get back on track with three MLB Best Bets. I like to isolate starting pitching matchups, that's why you'll see all first five innings bets today.
Peter's 2022 MLB Regular Season Record: 28-17 (62%)

Subscribe to my new Gambling/Fantasy Baseball Podcast: Not Gambling Advice.
Detroit Tigers First 5 Innings -0.5 (+105)
Antonio Senzatela (RHP, Rockies): [1-0, 2.16 ERA, 2.04 WHIP, 8.1 IP, 2 K, 1 BB]
Tarik Skubal (LHP, Tigers): [0-1, 3.72 ERA, 1.24 WHIP, 9.2 IP, 10 K, 1 BB]
Today, the Tigers continue their homestand as the Rockies travel into town to start a three-game interleague series. The Rockies just took two of three from the Phillies and now sit with an 8-4 record. The Tigers have gotten to a rougher start at 5-7 and just lost two of three to the Yankees. The Tigers stay at home, while the Rockies have to travel to a completely different environment from Coors Field to Comerica Park. It should be cold and windy in Detroit today, limiting a lot of run-scoring.
Antonio Senzatela is a pitcher who won't light up the radar gun, but he throws a lot of strikes and limits the walks. The problem with Senzatela is he's far worse on the road than at Coors Field. Last season he pitched to a 5.05 ERA on the road compared to a 3.97 ERA at home. This off-season, the Rockies signed him to an extension due to his ability to pitch in Coors Field. That stops there, as he's far less effective in other ballparks. He has almost no experience against the Tigers, so we don't have much "hitter vs. pitcher" data. What we do know is Miguel Cabrera is currently sitting with 2,999 hits. Senzatela is the perfect pitcher to get that last hit off.
Conversely, Tarik Skubal showed promise at home last season. He pitched to a 3.56 ERA at home over a healthy 91 innings, and I expect that trend to carry over into 2022. Skubal was roughed up on the road last season, pitching to a 5.55 ERA. The great thing is, he's at home today facing an offense that will have to adjust after leaving Colorado.
Comerica Park should be jumping today to see Miguel Cabrera reach 3,000 hits. Antonio Senzatela has a WHIP of (2.04), and he is beyond fortunate to have his ERA sit where it is to begin the season (2.16). His luck will run out against an improved Tigers lineup that feels confident after a shutout victory against the Yankees last night. We are rolling with the Tigers F5 -0.5 at +105 to start the day right.
Tampa Bay Rays First 5 Innings -0.5 (+100)
Michael Wacha (RHP, Red Sox): [0-0, 0.96 ERA, 0.86 WHIP, 9.1 IP, 9 K, 5 BB]
Corey Kluber (RHP, Rays): [0-0, 1.86 ERA, 1.14 WHIP, 9.2 IP, 9 K, 4 BB]
In a battle of AL East rivals, we have an ageless pitching matchup with Michael Wacha taking the bump for the Sox against Corey Kluber and the Rays. The Red Sox sit at 6-7 after losing two of three to the Blue Jays. The Rays are at 7-6 and just took two of three from the Cubs. The Red Sox will have to travel from Boston to Tampa without an off day to play the Rays, who have had an off day to recover.
Michael Wacha had an unimpressive 5.05 ERA last year, and he now faces his 2021 ball club. I fully believe in the Rays' scouting department knowing exactly what Wacha has in his arsenal. Wacha last pitched against the Rays in 2020, throwing six innings and allowing four earned runs. Five starters in the Rays lineup have an average of over .333 against Wacha. All in all, Tampa's roster is hitting .290 against Wacha. Wacha has struggled the past few seasons, and his 0.96 ERA through his first two starts leads me to believe he's due for a blowup outing against his former team.
Corey Kluber takes the mound for the Rays today, and his numbers against the Sox are very encouraging. Through 109 PA against the Red Sox current roster, he's rocking a 4.62 FIP, a .218 opponent batting average, a .296 xWOBA, and a .410 xSLG. Boston Red Sox are all aboard the struggle bus on offense, and things aren't going to get any easier tonight on the road. The Red Sox have a team OPS at .644 against right-handed, compared to a .710 OPS for the Rays this season.
Corey Kluber is off to a tremendous start, and I don't think the Red Sox will be breaking out of their offensive funk against him. In his first two starts, Kluber has a 1.86 ERA, and if he stays healthy, he will be a real problem in this AL East division. The Rays always know how to get the most out of their investments. As I mentioned earlier, in three career starts versus the Rays, Wacha is 0-3 with an 8.16 ERA. Look for the Rays to jump on Wacha early as the Rays cover -0.5 in the first five innings at +100.
Los Angeles Dodgers First 5 Innings -0.5 (-110)
Julio Urias (LHP, Dodgers): [0-1, 3.86 ERA, 1.43 WHIP, 7 IP, 5 K, 3 BB]
Nick Martinez (RHP, Padres): [0-1, 4.50 ERA, 1.70 WHIP, 10 IP, 9 K, 5 BB]
By their standards, the Dodgers got off to a slow start to begin their 2022 season. They lost their first series of the year to the Rockies (we predicted they would exceed their projected total of 68.5 games), but they responded by winning seven games in a row, sweeping the Minnesota Twins and the Cincinnati Reds. Now they sit with a 9-3 record and face the Padres on the road. The Padres haven't gotten off to a fast start, winning four in a row to take them to 9-5. Both teams had the luxury of an off day, and both teams have been on the west coast for a while.
Julio Urias, who looked much sharper than his first outing of the 2022 season, gets the start today for the Dodgers. He started at Coors Field but then threw five shutout innings against the Reds while only allowing one hit. It's hard to pitch at Coors, but the Reds can't hit lefties. So we don't have a great idea of who Urias is yet. We know that we project him as a Top 10 arm, and he should pitch like that today.
Julio Urias was nails on the road last year. At home, he was 7-1 with a 3.27 ERA in 14 starts. In 18 starts on the road, he went 13-2 with a 2.71 ERA. In three starts against the Padres last year, he went 2-1 with a 3.38 ERA through 16 innings. In 88 PA against the Padres' current roster, Urias has a 4.43 FIP, .167 opponent batting average, a .349 xWOBA, and a .483 xSLG. Nobody on the Padres has a .300 batting average against him.
San Diego will start right-handed pitcher Nick Martinez who is returning to MLB after a four-year stint in Japan. He's given up 12 hits in two starts, and in his last start against the Braves, he gave up four runs, seven hits, and three home runs in five innings of work. The 31-year-old faces a Dodgers lineup that began the season with a projected wRC+ higher than the 1927 Yankees. Not only that, but the Dodgers have always been better against right-handed pitching. Two were started by left-handers of the Dodgers' three losses this year.
I'm glad Martinez is back in Major League Baseball, but he is going to get lit up like a Christmas tree tonight. I'm riding the Dodgers through the first five innings and would play up to -120.
________________________________________
I've written up a quick guide with critical terms and helpful advice if you choose to tail my daily picks. This daily column is updated every day between 9:00 AM – 12:00 PM EST.