Analysis
Gunnar Henderson is Back in the Rookie of the Year Conversation
After a slow start, Gunnar Henderson has once again found himself as a favorite to win the American League Rookie of the Year.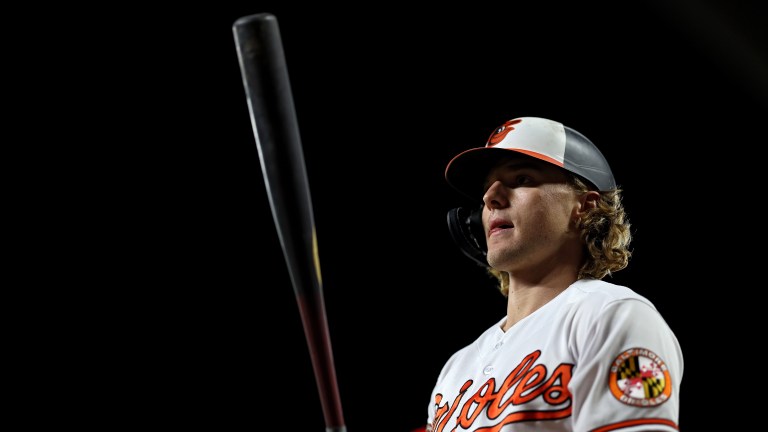 With hopes of not only winning Rookie of the Year but also being an impact player on a playoff team, Gunnar Henderson got off to a slow start. Despite his slow start the Orioles were still one of the best teams in baseball. The Orioles have now established themselves as a contender and Henderson has turned it up.
Slow Start
As many are aware, Henderson got off to a slow and disappointing start to the year. He was striking out a lot and hitting under the Mendoza Line through the first month and a half.
I wrote an article in May on how the Orioles can join the top contenders. In said article I highlight the fact that the Orioles needed Henderson to be more productive. I also talk about some of the things that Henderson was struggling with.
To recap, the biggest issue that I saw with Henderson was in his approach. He had one of the lowest swing rates in all of baseball. He coupled that with one of the lowest zone contact rates and one of the highest whiff rates in the league.
That combination led to Henderson not being as productive as he could be. While he did have a high walk rate, he also had a very high strike out rate. His incredibly high on-base percentage was the only thing keeping him from being a complete liability.
Henderson is most valuable when he is impacting the baseball. Walks are great but, the Orioles are much better off when he is putting the ball in play.
June
Gunnar Henderson had a June for the ages, which catapulted him into the Rookie of the Year conversation. In 20 games he hit .320/.354/.640, with six home runs and 16 RBIs. All of that is good for a wRC+ of 172, the top mark among all rookies.
Henderson has gone from a borderline liability in the lineup with an OPS right around .700 to one of the best hitters in baseball. Entering June he had a batting average of .201, an OPS of .702, and a 99 wRC+. Now on the season he is hitting .239, with an OPS of .794 and a wRC+ of 121. In just 20 games, he has significantly improved his season stats.
This has been an incredible turnaround and a welcome one. He went from the AL ROY favorite to falling out of the top five best odds, to now being back in the top three.
Henderson could not have turned it around at a better time either. With the regression of players like Adam Frazier and Jorge Mateo, as well as the loss of Cedric Mullins, the Orioles needed this. With a 13-11 record in June the Orioles have slowed down but not due to Henderson.
If the Orioles wish to really compete in the postseason they are going to need Henderson to continue to produce.
Approach Adjustments
When I wrote about Gunnar Henderson earlier this season, one thing that I thought he needed to do was swing more. He appeared to be watching too many pitches go by, getting behind in counts, and then striking out. Well since June he has started to swing more.
If you were to check Henderson's 15 game rolling averages for a couple of stats you can begin to see the changes. When checking his swing rate, zone swing rate, and OPS you will see an interesting trend. On May 3rd, he was averaging 63.1%, 37.8%, and .696 respectively in his previous 15 games. As of June 27th those same averages are now 71.7%, 48.7%, and 1.065 respectively.
Those are huge changes, a jump of over 10 percent in zone swing rate is an excellent sign. Some other trends to note are that the walk rate is down but so are the strike outs. He is also chasing just a little bit more than he was earlier in the season, but with a steady zone contact rate.
It appeared early in the season that Henderson was dealing with a combination of pitchers being more knowledgeable about him and his tendencies as well as pitchers challenging him. As pitchers begin to be more careful with him, the walks will climb back up.
His ability to adjust back and rebound, especially at just 22 years old, speaks volumes about the type of player he is and can be.
What Can We Expect?
Moving forward, just what type of player is Gunnar Henderson capable of being? When looking at his current season totals, I think that he has a little more left in the tank for this year.
Moving forward this season, I do not expect him to keep up this June pace. I do however expect him to finish with a batting average over .250, hit about 25 home runs, and have a wRC+ close to 140.
All three of those things are well within reach for Henderson this season. I also expect him to make a real run at the AL ROY. Josh Jung and Masataka Yoshida have had good seasons but Henderson still has a chance to put together something special.
High Ceiling
As far as what we can expect from Henderson beyond this year, I want to talk about his ceiling a bit. Now, I am not saying that this is what he is going to be and we should all expect this from him. He is just 22 years old and has a long career ahead of him. I am just saying that this is what he can do if his potential is maximized.
Gunnar Henderson's ceiling is a top-10 bat in the entire sport. He is a player with the potential to be in the MVP conversation year in and year out. His ceiling is a batting average somewhere around .260 – .280, with 35 home runs, high walk rate, and a .900 OPS.
A lot of people watched what Julio Rodriguez did last year and saw a lot of the same potential. A kid that could be one of the best bats in the entire game. Henderson has a lot of that same potential and has a very bright future.