Analysis
The Best Prospects Who Just Missed Our Top 100 List
When it comes to narrowing the field for the top 100 prospects in baseball, some great players are always sure to be left off the list.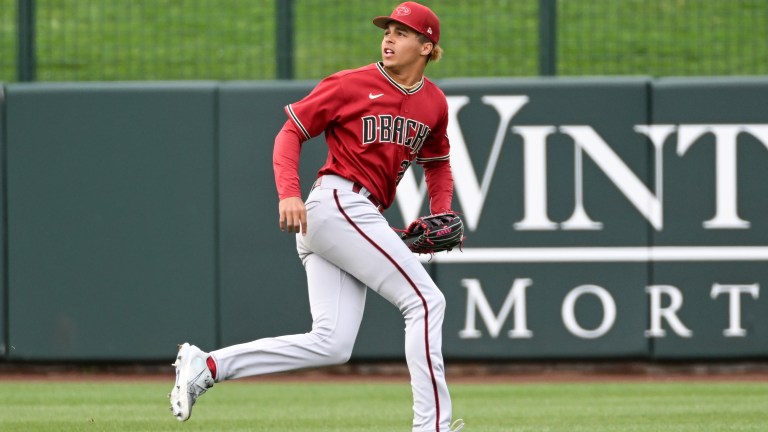 As is the case with every top 100 prospect list, there's countless players who didn't make the cut, but have a strong case to crack the list. Our top 100 midseason update is as hitter-heavy as ever, but there's several arms who were under serious consideration that I'll get to below.
The reality is, if a pitching and hitting prospect are "equal", the hitter will almost always get the edge as pitchers are far more volatile.
That said, the impressive arms fly up the ranks as rapidly as teams push them through the Minor Leagues and several of the names featured in this article will almost surely be included in the end of year update. On the hitting side, you may see some commonalities in terms of the profile of prospect who just missed. Defensive limitations that put more pressure on the bat or whiff concerns typically keep good candidates on the outside looking in unless they flat out rake.
There's more names who were close to making the cut who did not get mentioned in this piece, but these are the players I wanted to dive into with a bit more detail.
Dylan Lesko – RHP – Padres
Let's just get this one out of the way…Dylan Lesko is a top-100 talent. For transparency, I had not seen Lesko at all in high school and his Tommy John Surgery ahead of the 2022 draft delayed his pro debut until late June of this season.
His first full season appearance came in late July and at the time that the list and write-ups were finalized, Lesko had only had eight innings of work under his belt with seven earned runs and spotty fastball command. Was it concerning? Of course not. But I didn't feel comfortable arbitrarily ranking a prospect on draft status and putting together a half-hearted writeup on a handful of innings where Lesko was clearly shaking off some rust.
In his subsequent two outings, Lesko has looked much more like the top prep arm in the 2022 class, being stretched out to four innings in each start, while throwing a season-high 70 pitches on August 18th. His changeup looks plus plus and his mid 90s fastball boasts 19-20 inches of vert. He'll almost surely be on our end of season update.
Drew Thorpe – RHP – Yankees
Thorpe's elite changeup leads the way along with an assortment of quality secondaries that he commands well. It was his fringy fastball that left me wondering what a Double-A promotion would look like for the 2022 second round pick.
While he only sits in the low-90s with the pitch and it lacks some desired life, Thorpe's ability to pitch helps him masque his fastball, especially when he sets it up with his 70-grade changeup in the low 80s.
With a fastball, changeup, curveball, slider and cutter–all of which he commands extremely well–Thorpe keeps hitters off balance and is extremely difficult to game plan for. After out-classing High-A competition, Thorpe really made a statement by punching out 21 batters while walking just one in his first two Double-A outings.
His ceiling may be more limited than other top-100 caliber arms, but Thorpe is a high probability big league starter who has put up video game numbers this season. He's the type of prospect who has to prove it with results rather than the Rapsodo and he's doing just that.
Miguel Bleis – OF – Red Sox
A big-helium prospect ahead of the 2023 season, Bleis signed for $1.5 million in 2021 before turning heads at the complex with eye-catching bat speed and plenty of room for projection. After a slow start to his season, Bleis unfortunately injured his left shoulder, requiring season-ending surgery.
A healthy Bleis probably cracks the list even with his sub-par 30 game start to his full-season career. Though there is a wide-range of outcomes here, Bleis has as much upside as any prospect left off of the top 100 list and is still just 19 years old.
Ryan Clifford – OF – Mets
Traded along with Drew Gilbert from the Astros in exchange for Justin Verlander at the trade deadline, Clifford boasts thunderous power from the left side. Prior to the trade, Clifford had launched 16 homers in 58 High-A games, flashing exit velocities as high as 114 mph.
There's no debating the 70 grade pop, but between whiff concerns and a raw approach, it's fair to question whether Clifford will hit enough to consistently get into said power at the upper levels. Pair the offensive volatility with the fact that he is probably limited to first base and Clifford just misses the cut.
Carson Whisenhunt – LHP – Giants
Whisenhunt slipped to the second round of the 2022 draft due to a PED suspension that wiped out his junior season at East Carolina. A suspension that Whisenhunt and the Giants organization have said was a tainted supplement.
While I am eager to discuss Whisenhunt without referencing his suspension, it is important to note when discussing his prospect pedigree as he was essentially a slam-dunk first round pick had be been allowed to throw his junior season.
The southpaw made up for lost time by dominating in three short appearances at the Arizona Fall League before carrying that momentum into success in the early part of 2023. Whisenhunt's changeup is his bread and butter, throwing it 35% of the time this season, while holding opponents to a .120 batting average and 53% strikeout rate.
With an average fastball and a curveball that is a work in progress, there were some similar questions with Whisenhunt as Thorpe. Changeup-heavy arms tend to dominate the lower levels, but their gaps in their arsenal can be exposed against more challenging competition.
That said, his curveball continued to look like a viable third offering as the season progressed and he looked posed to grab a spot on the Top 100 list before going down with an elbow sprain in July. As a guy who was slated to slot into the back-end of the top 100, his unfortunate elbow injury pushed him out.
Justin Crawford – OF – Phillies
Son of MLB All -tar Carl Crawford, Justin hit the ground running (literally) in Low-A slashing .344/.399/.478 while stealing 40 bases in 69 games. A speed-demon like his father, Crawford has impressed with above average bat-to-ball skills, but he often looks rushed at the plate with a crowded swing that will likely need to be tweaked at the upper levels.
His 70% ground ball rate is simply not a sustainable figure for success, but Crawford has flashed above-average raw power and a good approach. With some swing tweaks and improvements to the batted ball data–which will go hand in hand–Crawford could find himself on the top 100 list soon.
Druw Jones – OF – Diamondbacks
The No. 2 overall pick in the 2022 draft, Jones came with a ridiculous amount of hype and understandably so. He is the son of MLB legend Andruw Jones with shades of the same defensive prowess, freaky athleticism and exciting power potential.
Even with the upside, Just Baseball seemed to be the low guys on Jones after the draft as he ranked towards the middle-of-the-pack in our Preseason Top 100. The honest truth is, I felt as though I was talking myself into Jones even at that spot ahead of the season.
Drafted so highly, bloodlines, ranked near the top of every list, it was hard to imagine that Jones could be considered anything-but a top prospect in the game, but the swing is just too far off. I had swing concerns with Jones out of high school, but figured he'd make the necessary tweaks in the early days with the D-backs and eventually get rolling.
Jones emerged with the same swing in Low-A and was frankly blown up. He was bailing out on most swings with almost no lower-half involvement. There was a fair amount of whiff and when Jones did make contact it was weak and on the ground.
The D-backs sent Jones down to the complex where things did not get much easier before pulling him from organized games for more than a month to likely overhaul his swing. Jones still seems to be considered a top 100 prospect by most and I can totally understand why. We have already seen special defensive ability in center and at just 19 years old, he has plenty of time to figure things out.
Still, I cannot put a player on our top 100 prospect list who presently has a swing that won't play at any professional level.
Ben Brown – RHP – Cubs
An electric right-hander who sits in the mid 90s with his lively heater and a pair of quality breaking balls working off of it, Brown rapidly ascended up the prospect ranks in 2022 thanks to an uptick in stuff and improved command.
Following his trade from the Phillies to the Cubs for David Robertson, Brown started to mow through Double-A hitters, earning a promotion to Triple-A where he has stalled a bit. While he has not been getting hit hard, he has battled command issues as more experienced hitters have shrunk the zone against him.
Brown's curveball has been far more consistent than his slider since heading to Triple-A, adding importance to his command of his fastball. When the fastball command is there, Brown can succeed with heavy usage because of the pitch quality, but with nearly 70% heater usage over his July/August starts, Brown seems to be in fight-or-flight mode in his starts of late. With improved secondary confidence and command, he could sneak into the top 100.
Jett Williams – SS/CF – Mets
One of the more patient hitters in the Minor Leagues, Williams has found success at the lower levels by drawing his walks and putting bat on ball. Despite his small frame, there's a bit more impact than he gets credit for with a 90th percentile exit velocity of 102.5 mph.
A candidate to move off of shortstop, Williams' contact/on base profile would be an easier sell if he had a bit more staying power at the position. That said, Williams has seen some action in center field which would provide a bit more intrigue than a move to second base. Plus wheels make center a viable option and Williams is a major factor on the base paths.
He has proven over time that he is more than just a patient hitter taking advantage of inexperienced competition. Williams has the looks of a plus hitter with plus speed, he just needs a defensive home. He's as likely as anyone mentioned in this piece to force his way onto the next top 100 list.