Analysis
Prospects That Can Reap the Rewards of Teammates in the WBC
With the game's best players set to take off for the World Baseball Classic, more playing time will be available to top prospects this spring.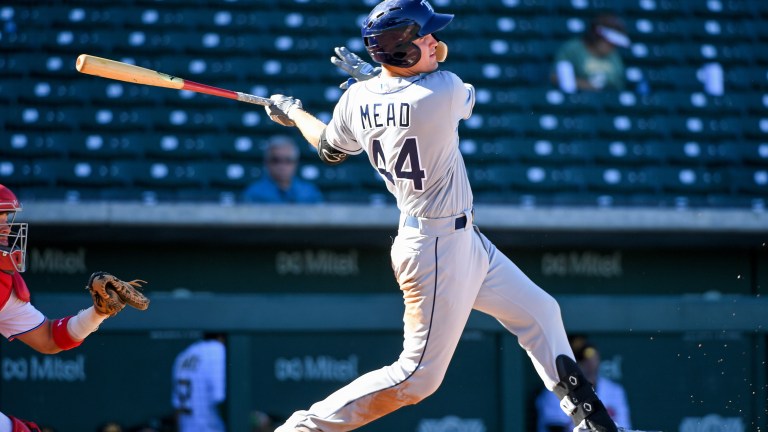 While we are all counting down the days until the start of the 2023 World Baseball Classic, spring training is underway and can prove to be even more important for some prospects looking to impact their Major League teams sooner rather than later.
With so many major league regulars getting ready to disperse to their respective countries' training sites, Major League clubs are giving those reps to their organization's top prospects that they hope could impact them in 2023. This is now the perfect time for these players to reap the rewards that will come with these extra reps with the big league team.
This article will highlight some of those prospects on their clubs that could debut sooner than initially thought if they can have a strong spring training.
Arizona Diamondbacks:
Brandon Pfaadt – RHP
Spring training might have just started, but Brandon Pfaadt is off to a roaring start after just his first appearance in the Cactus League. What makes this outing even more impressive is the fact that Merrill Kelly's absence due to the WBC will allow for Pfaadt to get the extra looks by the D-Backs brass.
Pfaadt is entering this spring with the chance to emerge as the Diamondbacks' fifth starter heading into Opening Day. Ranked as the 46th best prospect at seasons-end on Just Baseball's Top 100 Prospects list, Pfaadt ended last year with 218 strikeouts between Double-A Amarillo and Triple-A Reno. Look for Pfaadt to emerge as a member of the starting rotation once the season begins.
Baltimore Orioles:
Colton Cowser – OF
With all the hype surrounding his teammates Gunnar Henderson and Adley Rutschman, Colton Cowser has continued to fly under the radar in the Orioles system.
Playing through three different levels in 2022, Cowser is entering this Spring with a chance to really stand out in front of Orioles brass when Cedric Mullins heads to USA's training site for the WBC. The former fifth-overall pick has all of the tools necessary to be a productive major leaguer.
While he likely won't break camp with the team, a strong showing during the Spring could force the Orioles' front office to consider his debut to be sooner rather than later.
Chicago Cubs:
Brennen Davis – OF
Even with the signing of Cody Bellinger to play center field, the Cubs still have high hopes for Brennen Davis heading into 2023, and they should.
Prior to the recent injury to his teammate Seiya Suzuki, Davis was looking to take advantage of Seiya's WBC commitment to force the issue having the Cubs consider having him on their Opening Day roster. However, the injury sustained should only increase the chances that Davis gets the opportunity.
After a strong showing in the AFL, Davis looks to move far from his injury-riddled 2022 and regain the trust in himself to be an everyday contributor to the Cubs' future.
Caleb Killian – RHP
With the Stro-Show strutting his way to Team Puerto Rico, Caleb Killian will look to take his upper-90s fastball with him to Chicago when the Cubs toe the line on Opening Day.
The former eighth-round pick out of Texas Tech had a cup of coffee in the majors last season, but it did not go as well as he had hoped. Due to that, the leash on Killian might have been a little shorter should Stroman not be leaving the team shortly.
Like Davis, Caleb Killian is looking to showcase his full arsenal of pitches, all that grade average to above-average, during spring training in hopes of making the big league club when the season begins.
Chicago White Sox:
Oscar Colas – OF
If you went around asking White Sox fans who they're most excited to see, they'll all tell you it's Oscar Colas. With Luis Robert headed to the WBC, Colas could get a chance to make his highly-anticipated debut right at the beginning of the season.
Across three levels in 2022, Colas slashed .314/.371/.524 with 23 home runs and 79 RBIs. Colas is a well-rounded left-handed bat that can play an above-average outfield on top of the power he will inject into the ChiSox everyday lineup.
Assuming he is able to pick up right where he left off from last year, Colas should be a shoo-in to travel with the big league club for their Opening Day matchup against the Astros.
Cleveland Guardians:
Logan Allen – LHP
No, this is not the Logan Allen that has pitched in the big leagues with the Padres and this same Cleveland team before. It's the other Logan Allen.
Entering camp, Allen was already someone that a lot of baseball fans were keeping an eye on. Even with the gluttony of arms throughout the entire Cleveland organization, Logan T. Allen has the talent to jump the pecking order on the depth chart and take advantage of Cal Quantril pitching for Team Canada in the World Baseball Classic.
Prior to the underwhelming 2022 season, Allen was quickly progressing through the Guardians system and was popping up on the radar of prospectors around the league. He likely won't be on the Opening Day roster, but I could see him being the Xzavion Curry for this year's Guardians team later this season.
Houston Astros:
Yainer Diaz – C
Coming into camp, Yainer Diaz was already someone that Astros fans were paying attention to. Now, with Martin Maldonado leaving soon, Yainer will get the chance to catch the eyes of those who have yet to become familiar with his name.
At the beginning of last year, Korey Lee was the betting favorite to be the future starting backstop for the Astros organization. Now, after hitting .294/.343/.587 over 48 games in Triple-A, Diaz is the prospect that they're clamoring for and it is well deserved. Offensive output from the catcher's position is something that every team is searching for.
With the strides he has made defensively, along with what he is already capable of doing at the dish, Diaz will likely come out of camp victorious in the battle with Lee.
Justin Dirden – OF
Kyle Tucker will be representing Team USA this spring so that will be opening up more at-bats for some of the young guys looking to make an impact for Houston this year. Seeing that he had to make sure he stood out going into the shortened 2020 MLB draft, where he went undrafted, Justin Dirden's strong start to this spring will have new GM Dana Brown considering keeping him around come March 30th.
In four years of his college career, Dirden accumulated a .347 batting average with an OPS of 1.139. He has carried that over into his professional career without any issues. He has flown through the system with a .291 average and .939 OPS since he entered this organization.
Dirden rates as an above-average defender at a position that the Astros as looking to find an everyday option at in center field. That allows them the opportunity to keep Tucker in right and preserve him long-term. If his current success continues to carry into spring, I have no doubts he will start the year on the Astros roster.
Los Angeles Angels:
Zach Neto – SS
The Angels are no stranger to drafting players early in the Amateur Drafts and having them debut shortly after. If all goes right for Zach Neto this spring, he could be the next benefactor of this aggressiveness. He is also noted as one of the better college hitters coming out in recent years.
Both David Fletcher and Gio Urshela will be competing for their respective countries in March. After being selected 13th overall last draft, Neto slashed .320/.382/.492 in 30 games with the Angels Double-A affiliate. Even with the extra reps opening up with his teammates leaving, the Angels need for an everyday starting caliber middle-infielder is going to be something they're looking for throughout the year.
With Neto being given the ability to continue to show out, I can see him being an everyday contributor for this lineup from day one and not losing it once it is his.
Los Angeles Dodgers:
Michael Busch – 2B/OF
Losing Gavin Lux was a huge shot to the Dodgers roster. With Trea Turner leaving in free agency, Lux was looking to be the favorite to earn the starting role for this lineup in 2023. With the injury, this will now open the door for Michael Busch to show what he can provide for them.
After trading for Miguel Rojas, and him shortly leaving for the WBC, the Dodgers are still in need of another strong option if they plan to make it through the gauntlet that is a Major League season. Busch is a prospect in this system that has been able to produce since coming out of the COVID shutdown. He has also shown good defensive versatility in being able to play some outfield and first base outside of his home at second.
Michael Busch can look to make a name for himself now with a strong spring showing and can, in turn, show his organization that they do not need to go out and trade for more infield depth.
Gavin Stone – RHP
For the first time in what seams like forever, the Dodgers are entering a year with more questions on their roster than they are probably comfortable with. Even with the search for depth on offense, the starting rotation isn't a strong suit either.
After a dominant showing in the minors in 2022, Gavin Stone can prove himself to be the answer to the questions his organization is asking. Julio Urias is off to Team Mexico, leaving an opportunity for Stone to get more innings this spring training.
Heading into last year, Gavin Stone was one of my favorite pitching prospects to watch out for. Now, I am doubling down in predicting that he is going to end the year as the Dodgers' second-most productive starter.
Miami Marlins:
Jacob Amaya – SS
While being traded from a winning organization isn't what players are likely looking for, what it can provide is an opportunity to make a big league impact sooner than he thought. Now, with Jacob Amaya switching over to Florida for spring training, and Jean Segura and Luis Arraez participating in the tournament, Amaya could make his case to break camp with the team.
When this trade occurred, many saw it as the Marlins just re-rolling Miggy Ro with the younger player at the position. Amaya has a strong glove that will keep him in the Major Leagues for some time, even if it is in more of a utility role. While he has struggled to get acclimated quickly as he climbed through the minors, he has been able to hold his own. An above-average BB% does help him a lot.
Amaya isn't likely to be a difference-maker, but he does provide this organization with solid depth at a key position, and a chance to break out and become an everyday player at the major league level.
Dax Fulton – LHP
Miami Marlins 🤝 Pitchers
If there's one thing the Marlins can produce, it is starting pitcher talent. Dax Fulton is no exception to this.
Like Gavin Stone, Fulton was someone I was following closely heading into the 2022 season with all of the intangibles he provides on the mound. An imposing power left-handed pitcher is going to stand out even before he throws a pitch. His complete arsenal rates above-average, and looks to continue to improve as he spends more time in this organization.
Sandy and Cueto are headed to Team DR and Luzardo is on his way to pitch for Venezuela. We all know Eury was going to get his looks either way, but Fulton will now get a chance to showcase his ability, and make a case for a mid-season call-up should the Marlins need someone.
Milwaukee Brewers:
Joey Wiemer – OF
The Brewers have a couple of outfielders making their way to the tournament in a couple of weeks. Between that and the recent injury to Tyrone Taylor, Joey Wiemer is going to prove he's ready to take over a starting corner spot in the Brewers outfield come late March.
In an offseason where they traded away Hunter Renfroe, Wiemer was best-suited to take over the spot at some point this year. The extra at-bats now being thrown his way will just speed up that timeline to a point where he can start at the position on Opening Day if he can hold his own.
After breaking out in a big way in 2021, he continued to dominate in 2022 where he was able to break out of a slump that had him striking out at nearly 30% in Double-A. His ability to drive the ball hard to all fields, and the cannon connected to his shoulder, Joey Wiemer is going to be one of the leagues best right fielders in due time.
Minnesota Twins:
Austin Martin – INF/OF
Since being selected in the 2022 draft by the Blue Jays, it is safe to say that Austin Martin has left many disappointed. Yet, he is still one of the better bat-to-ball players in the minor leagues, and can now look to become a mainstay on the Twins Major League roster with a strong spring.
Outside of Alex Kirilloff and Carlos Correa, the Twins infield is heading their separate ways to represent their country. With Martin's ability to play multiple positions, he was already one step ahead of the curve of getting opportunities. Now, with all of the positions up for grabs, he could step in and get the extra ABs, allowing him the opportunity to win over those who may have soured on him.
At the end of the day, Martin is still a talented hitter that can be valuable to any Major League team he finds himself a part of. I think he takes that step and finds a way to impact this roster sooner than many think.
New York Mets:
Brett Baty and Mark Vientos – 3B/DH
The Mets are loaded from top to bottom. While it's going to be fairly difficult for someone to have a big-time impact from the beginning, the fact that they have so many players leaving for the WBC will give many players an extra opportunity to showcase their ability. Brett Bary and Mark Vientos are the two more notable names to watch for.
Both Baty and Vientos are third baseman by trait but have a hitting ability that will allow them extra opportunities to make the big league team on Opening Day.
Vientos had a small cameo in the big leagues last season that did not leave a good taste in his mouth. Since then, he took it upon himself to work on his defense with Joey Cora and stay in touch with his teammate Eduardo Escobar throughout the offseason. Even though the hit tool is graded below-average across a few scouting reports, his power ranks amongst the top of the scouting charts, around 70-grade, and leaves a lot to hope for this season.
Baty is coming in as a highly-touted prospect in the Mets organization and many have high hopes for the smooth-swinging lefty to be an impactful player for them early in 2023. The bat isn't in question. It is the defense that the Mets Front Office is hoping for decent growth as he prepares himself for his Major League debut.
There's a good chance that one of these could be on the Opening Day roster if they have strong showings this spring.
New York Yankees:
Anthony Volpe – SS
It's time Yankee fans.
I'm sorry but IKF isn't it. I know you are all sad reading that.
In all honesty, the starting shortstop position should be completely up for grabs this spring training, even if Gleybar wasn't leaving for the WBC. Oswald Peraza came up last year for this team and was able to hold his own, but Volpe is different.
Anthony Volpe has the skill-set to fill the void that the last great Yankee left at this position. With the combination of an above-average hit tool, steady power, good speed, and a slightly above-average glove, Volpe is going to prove to be a mainstay for this organization starting with this opportunity he is going to reap the rewards.
Philadelphia Phillies:
Andrew Painter – RHP
If you don't know who Andrew Painter is by now, I do not know what to tell you.
Painter vaulted up prospect rankings last season with the dominant 2022, to the point where he is already competing for a spot in the starting rotation at the young age of 19 years old.
With four above-average pitches, Painter will get all the extra looks we didn't even think was possible with Ranger Suarez leaving camp soon. He's already showing flashes of his elite arsenal from his very first outing in spring.
The Phillies are competing to make it back to the World Series and, if they are serious about it, holding back this talented right-hander because of his age would be a disservice.
San Diego Padres:
Jackson Merrill – SS
The Padres are another team where it is hard to find a spot for a young prospect to make an impact at some point in this season. However, if Jackson Merrill is able to have a strong spring training, and the Padres make good on the rumors surrounding trading Kim for starting pitching, Merril could make a case to be the player to get the chance to step into a role.
San Diego is not a stranger to aggressive promotions with their young players, as they showed last season with CJ Abrams making the Opening Day roster after Fernando Tatis Jr. went down with his injury. Merrill has all the tools that project for him to be an above-average everyday major leaguer when he does make his debut.
Last season was a struggle when it came to staying on the field, but that did not stop him from producing when he was penciled into the starting lineup. With many parts of the Padres infield departing soon, Merrill will get the chance to prove he can stay healthy and produce on the big stage.
San Francisco Giants:
Luis Matos – OF
Luis Matos is a prospect who has opened some eyes since he arrived at the Spring Training site, and that was definitely needed after 2022.
After making an adjustment to his stance from last year, Matos looks to take the opportunity presented by the departure of Joc Pederson and prove his prospect status once again. Prior to 2022, Matos was highly-regarded as one of the best outfield prospects in the game. After missing 2020 due to the COVID shutdown, but picked up where he left off, slashing .313/.358/.494 as a 19-year old in A ball.
Now at 21, Matos can look to take the new plate approach into Spring and provide an aging Giants roster with a nice injection of youth and give the Giant faithful some optimism for this team going forward.
St. Louis Cardinals:
Jordan Walker – OF
It took a whole half inning for Jordan Walker to showcase his immense upside.
The talent that Walker possesses speaks for itself. There's a slew of players bolting spring camp for the WBC on this Cardinals roster and, what may have seemed like a long shot with the logjam of players in this lineup, Walker could break camp with the Major League team in a starting role with the Cardinals.
He took the assignment of learning an outfield position without any fuss, knowing that playing third base wasn't likely going to happen anytime soon with Nolan Arenado locked into that spot. Look for Jordan Walker to play a significant role for this team from the early parts of this season.
Tampa Bay Rays:
Curtis Mead – 3B/2B
Am I saving the best for last? Possibly.
Like many here at Just Baseball, I cannot get enough of Curtis Mead. At this point, it should be a lock for him to make the Major League team, but the Rays are going to Ray.
Mead has been able to produce successfully at every level he has been at. All while playing multiple positions around the field at an above-average level. While he might not possess the flashy power that many fans hope for, Mead is a scrappy player that is going to give productive ABs every time he is at the plate.
With the way the Rays are able to produce talent through their minor leagues, it should come as no surprise that Mead will be just another success story. Isaac Parades should not prevent Tampa from allowing Mead to be their starting third baseman on Opening Day, but his leaving for the WBC should make the decision even easier.
The start of spring training gets everyone excited for the start of baseball. Combine that with the WBC and baseball fans are in heaven. However, that shouldn't deter you from paying attention to the young players that are going to highlight Major League rosters in the near future. Be sure to keep your eyes on these players as they get their chance to prove themselves across the league.