Feature
Owen Caissie Is Blossoming Into An Elite Power-Hitting Prospect
Producing massive pop at an incredibly young age, Caissie is catapulting himself into the Cubs' future plans.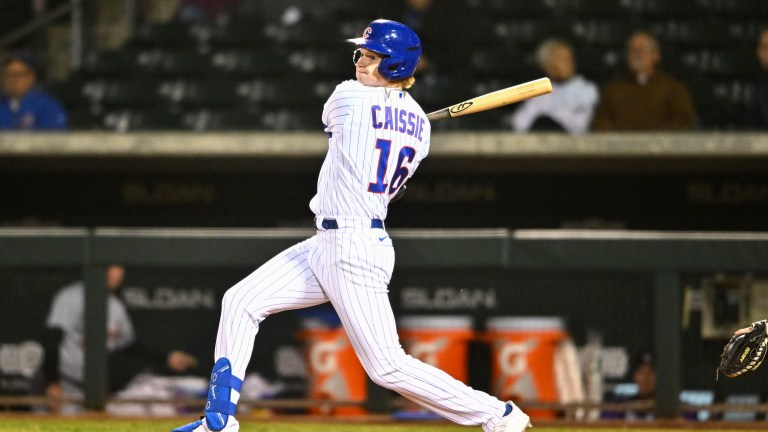 When Owen Caissie was traded to the Cubs from the Padres as part of the Yu Darvish deal in 2020, Chicago picked up an extremely raw teenage prospect who had yet to even make his professional debut. Scouts were well aware of his power potential from showcases prior to the 2020 MLB Draft–part of the reason why the Padres selected him 45th overall–but the risk that came with Caissie's profile was not lost on evaluators either.
Caissie made his pro debut in 2021 as an 18-year-old at the complex and put up a 1.074 OPS in 32 games, albeit with a 29% strikeout rate. His strong performance earned him a cameo in Low-A, where he held his own (101 wRC+) while punching out at a 31% clip.
The Cubs saw enough from Caissie to give him an aggressive assignment to High-A at 19 years old at the start of 2022. Not only was Caissie more than three years younger than his competition on average, but he entered High-A with the majority of his game reps having come at the complex. For reference, fellow teenage outfield prospect Kevin Alcantara had similarly lit up the rookie level, but played the entirety of the 2022 season in Low-A.
While Caissie's numbers may not have jumped off the page in High-A, it was his performance at that level which really sold me on him being a top 100 prospect at the end of last season, and the No. 76 overall prospect ahead of this season. Caissie responded to an aggressive challenge with a 113 wRC+ while maintaining a palatable strikeout rate of 28.6%, considering the level of competition he was facing.
Beyond the surface level stats (11 HR and 33 extra-base hits), Caissie had consistently posted plus exit velocities, even flashing 70-grade power. Like many young hitters with long levers, Caissie was still working to consistently tap into his power in-game. Inconsistent timing and an elevated ground ball rate held him back a bit, but again, his 107 MPH 90th percentile exit velocity in 2022 put him in plus territory power wise.
At season's end, Caissie headed to the Arizona Fall League, where he was able to spend plenty of time with Cubs coaching while continuing to work in a more laid-back game setting. Caissie would stay out in Arizona working out at the Cubs' Spring Training complex for most of the offseason, with a focus on working on his explosiveness and speed in the weight room.
Now 20 years old, Caissie showed the Cubs brass enough through his 2022 campaign and offseason work to earn another aggressive promotion to Double-A, where he is nearly four years younger on average than his counterparts. It only took Caissie 39 games in Double-A to match last season's home run total of 11, which paces the Southern League.
The left-handed slugger without a doubt looks more explosive, boasting by far the highest 90th percentile exit velocity in the organization (113 MPH) while already producing 25 batted balls over 105 MPH and 18 above 110 MPH. Caissie's max exit velocity of 117 MPH (a homer off of Rays prospect Cole Wilcox) is the hardest hit ball in the organization this year and would be the fifth highest exit velocity in the big leagues so far this year, according to Statcast.
Caissie displays low effort power thanks to the leverage he is able to create. While Caissie's levers may be long, he has no issue turning around hard stuff inside.
Hitting the ball harder always helps, but Caissie is also hitting the ball in the air with more consistency as well. He has trimmed his ground ball rate by 10% this season, allowing his big time exit velocities to translate into more home runs and extra-base hits.
But What About the Whiff?
This seems to be the immediate question that follows any time I highlight Caissie, which is understandable given the fact that he is punching out at a 38% clip. While it's fair to acknowledge that strikeouts will likely be something that comes with the territory for Caissie, I don't think it's fair to write off Caissie as some 30-grade hitter.
High-A to Double-A is a big jump for any prospect, but making the leap to specifically the Southern League, with the tacked ball experiment currently going on, makes for even more of a nightmarish transition for a young power hitter.
The experimental tacked baseballs have given pitchers several more inches of carry on their fastball, as well as more movement on their off speed pitches. Cubs President Jed Hoyer cited the tacked baseballs during an in-game interview as one of the reasons for right-hander Ben Brown's quick promotion to Triple-A, in order to get more accurate data on one of their top pitching prospects. The Braves recently followed suit with their quick promotion of meteoric riser AJ Smith-Shawver.
Now, that doesn't totally excuse Caissie for whiffing more than you'd like to see, but it can explain the egregious K-rate a bit. After all, the average strikeout rate in the Southern League is a whopping 29%; or reference, the average strikeout rate in the Double-A Eastern League is 24%.
Hard stuff has been little issue for Caissie. He's mashed fastballs to an OPS around 1.150 while posting similar numbers against sliders. It's been changeups and curveballs–softer stuff–that has given him some fits. Though he has made improvements with his lower half overall, Caissie struggles at times to hold his backside on the lower velocity changeups and curveballs.
Drifting onto the front side and/or pulling off of secondary stuff is extremely common for young, tall, long limbed hitters, but unlike most players, Caissie can produce elite exit velocities even with his "B" swings–like the 114 MPH liner on a changeup on the pitch below.
Changeups in general have played up in the Southern League because hitters have to be so weary of high-spin heaters. As Baseball America's Kyle Glaser detailed in his dive into the Southern League baseballs, "10 out of the 63 qualifying pitchers in the Southern League are averaging more than 21 inches of carry on their four-seam fastballs this season. No pitcher in the major leagues is averaging more than 20.8, according to Baseball Savant."
It's a tall task for hitters to prepare for fastballs with elite carry as well as changeups at the bottom of the zone. Again, Caissie could clean up his lower half to allow his bat to live in the zone a bit longer regardless of what kind of baseballs are being used, but he posted much more palatable contact rates against changeups last year.
Caissie's zone contact rate hovered around 80% last year and has sat around 75% for most of this season. There are plenty of examples of power hitters who had success in the big leagues last season with a zone contact rate in the mid 70% range, including some of the game's best hitters like: Mike Trout, Shohei Ohtani, Matt Olson, and Adolis Garcia, to name a few.
Approach wise, Caissie has always been ahead of his years, dating back to when he was a high school prospect. His chase rates have remained relatively low, helping him to a 13% walk rate as a pro.
Ultimately, the 20-year-old will have to find some more consistency to reach his ceiling, but even a fringy hit tool would put Caissie on track to be an exciting big league power bat from the left side. So far, Caissie has yet to provide much reason to believe he will not continue to improve as a hitter. In fact, he's actually doing that right now by picking up 26 hits (7 HR) in his last 25 games while cutting his strikeout rate to 31.8%.
Defense and Long-Term Outlook
A shaky defender when he first entered professional baseball, Caissie has improved his reads and routes while showcasing a rifle for an arm in right. In a conversation I had with him on "The Call Up" during the Arizona Fall League season, Caissie highlighted quickness as a point of emphasis, and the improvements can be seen in his closing speed as well as his jumps in the outfield.
As for the arm, it's always been there for Caissie, given he was a decent pitching prospect as well. He has become more accurate with his easy plus rifle in right, and now has the goods to be an above-average defender in a corner with the power profile to match.
With the extension of Ian Happ, long-term commitment to Seiya Suzuki, and the presence of top prospect Pete Crow-Armstrong, the outfield situation will likely be a fun conversation for Cubs fans by early next year.
I can't speak for the Cubs, but in terms of where Caissie stacks up organizationally, I'd imagine that it is going to be extremely difficult for anyone to stand in his way if he continues to hit like this. The fact that he can potentially provide some defensive value in either corner helps his outlook as well.
Though a volatile profile, Caissie is proving to be consistently productive even in the midst of his development as a hitter. There's still some room for improvement, but it would be hard to imagine that the Cubs expected much more than what they have seen from their 20-year-old prospect thus far after giving him the ambitious assignment to Double-A.