Analysis
MLB Rule 5 Draft Recap
A Rule 5 Draft with a huge pool of talented prospects to pick from resulted in some intriguing selections on both the pitching and hitting side.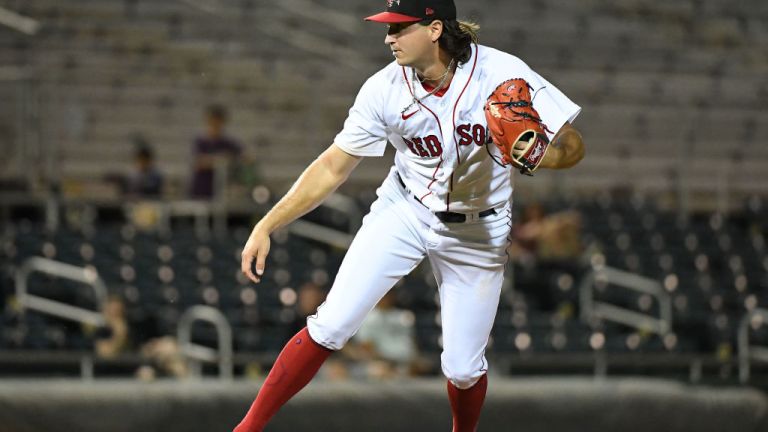 Last Wednesday marked Major League Baseball's first Rule 5 Draft since 2020, creating a little bit of extra buzz for the event than years prior. The fact that there was more unprotected prospect talent than we've maybe ever seen helps generate some excitement as well.
1. Nationals — RHP Thad Ward (BOS)
2022 Stats (A/A+/AA): 13 GS, 51.1 IP, 2.28 ERA, 1.15 WHIP, 11.6 K/9, 3.3 BB/9
Once Ward was left off of Boston's 40-man roster, it seemed like a foregone conclusion that he would be snatched away in the Rule 5 Draft. Ward finished his 2022 season with 32 strikeouts over his last four starts–including two 10 K performances–and kept the momentum rolling into a solid Arizona Fall League showing.
Ward's calling card is his plus slider, which held opponents to a .130 batting average this season. He can manipulate his low 80s slider to an upper 80s cutter which is a difficult pitch for left-handed hitters. The 25-year-old returned from Tommy John surgery this season, limiting him to just 51 1/3 innings, but he was nearly completely stretched back out from a pitch count perspective by the end of the season.
The quality of Ward's sinker will be something to monitor. It was a ground ball machine this season and could really help his chances to stick as a back end starter. Ward's devastating slider gives him a strong fall back as a bullpen arm.
2. A's — 1B/OF Ryan Noda (LAD)
2022 Stats (AAA): 135 G, .259/.396/.474, 23 2B, 25 HR, 90 RBI, 20-24 SB
Noda has done nothing but hit since entering professional baseball as made evident by his 145 wRC+ in 555 pro games. A's GM David Frost mentioned Noda as a longtime target of theirs and after another impressive season at MLB's doorstep, the 27-year-old should get plenty of opportunities with the rebuilding A's next season.
Noda struggled with velocity last season, posting just a .641 OPS against pitches 94 mph and above which may have been one of the driving forces to him being left off of the Dodgers loaded 40-man roster. On the other side of the coin, Noda boasts an extremely patient approach, impressive left-on-left splits and simply hits the ball hard (105.8 mph 90th% EV). The fact that he can play a little bit of outfield helps his case too.
3. Pirates — LHP Jose Hernandez (LAD)
2022 Stats (A+/AA): 51 G, 59.2 IP, 3.32 ERA, 1.21 WHIP, 10.41 K/9, 3.77 BB/9
A bit of a surprise pick at No. 3, the Pirates opted for the exciting upside of Hernandez over other prospect arms with a bit more experience and success at the upper levels. When diving into the data, it's easy to see why the Pirates wanted to roll the dice.
Hernandez is a 6-foot-3, 205 pound southpaw who sits 96 mph with his fastball and can touch triple digits. The 25-year-old features a pair of breaking balls that show plenty of potential when he commands them with his upper 80s slider flashing plus. Hernandez would go through stretches of impressive command and then really struggled to find the zone for consecutive games so consistency will be something to monitor.
4. Reds — OF/C Blake Sabol (PIT)
*Traded to Giants for PTBNL
2022 Stats (AA/AAA): 123 G, .284/.363/.497, 26 2B, 19 HR, 75 RBI, 10-12 SB
Another surprising omission from the 40-man, Sabol was expected to be selected after his strong season in the upper levels while playing decent defense in the outfield when he was not catching. A left-handed bat with a good approach and decent thump, Sabol could fit the corner profile if he can hit enough, but will probably still see some action behind the dish where he is a decent defender as well.
5. Royals — N/A
6. Tigers — RHP Mason Englert (TEX)
2022 Stats (A+/AA): 24 GS, 118.2 IP, 3.64 ERA, 0.99 WHIP, 10.31 K/9, 2.35 BB/9
The Tigers opted to try to find a starter with their Rule 5 selection which usually means an even bigger role of the dice. Englert was impressive last season exclusively as a starting pitcher, but pitched just 15 innings above High-A.
The more I dove into this selection, the more I like it for the Tigers. One of the younger players in the Rule 5 Draft, Englert just turned 23 years old and at 6-foot-4, 220 pounds there's some hope that his stuff could tick up as he progresses.
Englert boasts above average command and a solid four pitch arsenal. The right-hander's best pitch is his plus changeup with late fade. He has an excellent feel for the pitch and limited hitters to just a .158 average against it last season. Englert's curveball has a chance to give him a second pitch that is at least above average along with his average fastball in the low 90s and slider.
It will be interesting to see how the Tigers plan to use Englert next season as he will be making a massive leap, but it seems like the team's goal is to eventually develop him into a starter at the highest level.
7. Rangers — N/A
8. Rockies — RHP Kevin Kelly (CLE)
*Traded to Rays for cash considerations
2022 Stats (AA/AAA): 48 G, 77.1 IP, 2.04 ERA, 1.12 WHIP, 11.77 K/9, 3.45 BB/9
It is no surprise that the Rays jumped in and traded for Kelly from the Rockies. Kelly has a funky delivery from a sidearm-slot where he will throw a frisbee slider that can be a strikeout machine. Kelly struggles to command the slider at times because of the amount of sweep that it has, but he commands his sinker well highlighted by his impressive 61% ground ball rate. Kelly will be another Rays reliever with a fun arm angle and nasty stuff.
9. Marlins — RHP Nic Enright (CLE)
2022 Stats (AA/AAA): 48 G, 19 GF, 11 SV, 65.2 IP, 2.88 ERA, 0.96 WHIP, 11.9 K/9, 1.9 BB/9
One of the safest picks in this Rule 5 Draft, Enright may not light up the radar gun, but his fastball shape is as impressive as any. Averaging more than 22 inches of induced vertical break on his low 90s heater from a funky release point, the pitch has elite ride and floats over barrels. Despite going to his fastball 60% of the time, upper level hitters slashed just .154/.201/.289 against the pitch with a 36% strikeout rate.
He will also mix in an average slider that plays up thanks to his deception and elite command. The 25-year-old walked just 5% of hitters last season, pitching in mostly high leverage between Double-A and Triple-A. Enright should plug right into the Marlins bullpen and add value immediately as long as he can miss enough bats.
10. Angels — N/A
11. D-Backs — N/A
12. Cubs — N/A
13. Twins — N/A
14. Red Sox — N/A
15. White Sox — RHP Nick Avila (SF)
2022 Stats (A+/AA): 47 G, 16 SV, 55.1 IP, 1.14 ERA, 0.98 WHIP, 9.43 K/9, 2.28 BB/9
Avila worked as a reliever and closer last season, but was also very effective in multi-inning appearances including three perfect innings with six strikeouts in his final game of the season. The 25-year-old pounds the strike zone with four different offerings–all of which were effective for him during the season.
The right-hander's mid 90s plus fastball sets the tone for him, with his pair of impressive breaking balls serving as nasty put away pitches. Avila will also mix in a solid cutter. The 25-year-old could be an intriguing Swiss-Army knife for the White Sox next season.
16. Giants — N/A
17. Orioles — RHP Andrew Politi (BOS)
2022 Stats (AA/AAA): 50 G, 8 SV, 79.1 IP, 2.34 ERA, 0.97 WHIP, 10.77 K/9, 2.86 BB/9
Politi made 38 of his 50 appearances in Triple-A, missing bats with his plus slider and mid 90s fastball. The 26-year-old leaned on his slider more as the year went on and continued to see good results. If his fastball command can come along a bit, Politi could be a nice bullpen arm.
18. Brewers — RHP Gus Varland (LAD)
2022 Stats (AA): 41 G/7 GS, 70.2 IP, 6.11 ERA, 1.64 WHIP, 10.83 K/9, 4.71 BB/9
Varland's numbers aren't pretty, but they are a bit inflated by major struggles as a starter. The 26-year-old sported an 8.54 ERA in his seven starts while pitching to a 4.67 ERA as a reliever. Out of the bullpen, Varland's strikeout percentage jumped to 31% while nearly halving his walk rate.
With a mid 90s heater that sits more in the upper 90s in short spurts and a sharp slider, the Brewers were likely sold on what they saw from Varland as a reliever and are hoping he can continue to trend in the right direction in that role.
19. Rays — N/A
20. Phillies — RHP Noah Song (BOS)
Remember this guy? Noah Song was one of the most impressive arms in the 2019 Draft after dominating at Navy and wowing scouts on the Cape and at Team USA. Concerns in regards to Song's baseball future caused him to fall to the fourth round in 2019. In limited professional action, the Red Sox were teased by Song's frontline potential before spending the last three years in active military service.
There's a lot of questions that need to be answered before Song can take the field for the Phillies, the most important being the status of his waiver to defer his military service.
21. Padres — LHP Jose Lopez
2022 Stats (A+/AA/AAA): 42 G, 30 GF, 10 SV, 59.1 IP, 2.43 ERA, 1.23 WHIP, 14.4 K/9, 5.8 BB/9
Lopez is a nightmare for left-handed hitters and saw his fringy command improve as the season went on. His fastball/slider combination is ready for a big league bullpen tomorrow and he will even mix in a changeup. Lopez will sit 94-96 mph with his fastball, touching 98 with a devastating low 80s slider. Opponents hit just .101/.184/.112 with 63 strikeouts in 98 plate appearances against the slider. Lopez should be a nice southpaw strikeout-getter if he can hover around the strike zone.
22. Mariners — RHP Chris Clarke (CHC)
2022 Stats (A+/AA): 26 G/21 GS, 120.1 IP, 4.64 ERA, 1.43 WHIP, 8.23 K/9, 1.87 BB/9
Clarke doesn't have the stuff that some of the other arms in the Rule 5 Draft may offer, but he pounds the strike zone and is a ground ball machine. Clarke's arsenal is led by a low 90s sinker and low 80s curve that he locates well at the bottom of the zone, helping him rack up a 57.6% ground ball rate. Walking less that 5% of hitters last year, Clarke is a safe bet to eat innings and pitch to contact.
23. Guardians — N/A
24. Blue Jays — N/A
25. Cardinals — RHP Wilking Rodriguez (NYY)
2022 Stats (MEX): 46 G, 17 SV, 44.2 IP, 2.01 ERA, 0.89 WHIP, 14.7 K/9, 2.6 BB/9
If Noah Song wasn't selected, this easily would have been the most fascinating pick of the draft. Rodriguez has not pitched in affiliated baseball since 2015, spending parts of the last seven seasons in the Venezuelan and Mexican Leagues. Rodriguez's stuff ticked up last season in the Mexican League, dominating to a 2.01 ERA while striking out 73 batters in 44 2/3 innings.
Rodriguez was sitting in the upper 90s with ease, often hitting triple digits which garnered the attention of MLB teams. The Yankees signed the 32-year-old in August, but he did not appear in a game for them at any level. The Cardinals saw enough from Rodriguez in the Mexican League last year to use their Rule 5 selection and I have a feeling that we could be talking about this guy as the latest pop-up reliever for the Cardinals next year.
26. Yankees — N/A
27. Mets — RHP Zach Greene (NYY)
2022 Stats (AAA): 48 G/4 GS, 68.1 IP, 3.42 ERA, 1.22 WHIP, 12.6 K/9, 4.2 BB/9
Similar to Enright, Greene sits in the low 90s with his fastball but generates more whiffs than you'd expect thanks to pitch shape and life. Greene also features an decent slider and changeup and has a chance to be a nice middle relief option for the Mets.
28. Braves — N/A
29. Astros — N/A
30. Dodgers — N/A