Analysis
Marlins Low-A Scouting Report
Teenage prospect Victor Mesa Jr. stood out with his sweet swing.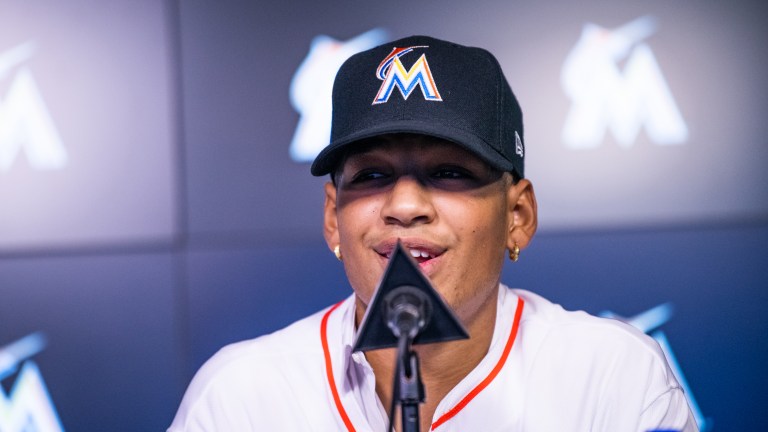 I took in a ballgame between the Jupiter Hammerheads (MIA) and Tampa Tarpons (NYY) on Thursday night in a Low-A match-up which featured plenty of intriguing prospects. Of course, a lot of eyes were on 18-year-old Yankees super prospect Jasson Dominguez, and you can read my write-up on him and the other Tarpons. This article is going to focus on the Marlins side and the young Hammerheads.
Luis Palacios – LHP – Age: 21
Palacios has received a little bit of buzz in the niche Marlins prospect community thanks to his video game numbers in the Dominican Summer League and Gulf Coast League the last three seasons. The southpaw's pinpoint command allowed him to dominate at the lower levels despite soft stuff. In 2019, Palacios boasted 42 K's against just two walks.
The hope was that Palacios' stuff would trend upwards as he aged, but it just hasn't happened. At 6-foot-2, 160 pounds, Palacios has some room to fill out, which doesn't totally shut the door on an eventual uptick in velocity. The 21-year-old sat 86-88 MPH, topping out at 89.2. He also mixed in a slurvy breaking ball in the upper 70s and a changeup in the low 80s.
Palacios is able to succeed thanks to his incredible command, but is left with a razor thin margin for error. His changeup allows the heater to sneak by hitters in the upper part of the zone at times, including Jasson Dominguez twice.
After cruising through four innings mostly untouched, Palacios fell behind Dominguez 2-0 and left an 86 MPH belt-high, which The Martian sent over the left center wall. That at-bat was a microcosm of my concerns around Palacios. Even with phenomenal command, he will really struggle to climb out of hitters counts with his current stuff. His pitchability will keep him on my radar, but until the stuff improves, he won't be a major prospect of interest.
Victor Mesa Jr. – OF – Age: 19
This kid can hit. A quick look at the numbers and you may be skeptical, but I am willing to bet on the 19-year-old getting things going statistically. Put simply, Mesa's swing stood out the most of players from either team. A really quick bat from the left side, Mesa has the potential for above average raw power and hit-tool.
In his first at-bat, Mesa sat back on a 1-0 changeup and crushed it 107 MPH for a base hit into right field. This was important, because he struggled with the very same thing as the game went on. Mesa is inconsistent with his lower half, often shifting his weight forward too early on off-speed stuff. The forward movement causes a hitter to lose the barrel or be out and around the ball. It wasn't a surprise for me when I checked the batted ball data after the game to see that Mesa has an infield fly ball rate of 30% and a pull rate around 50%.
Finding consistency with the lower half is one of the most common hurdles around young hitters, but Mesa's bat speed is impressive and his swing is silky smooth. When he stays back, we got a taste of the exit velocities he can produce, like the 107 MPH single.
More so than with breaking balls, Mesa's lower half issues are exploited even more in left on left match-ups. After looking rather comfortable against right-handed starter Blas Castano, Mesa really struggled to stay back against southpaw Clay Aguilar. The drifting was more pronounced and Mesa was caught waving at a couple tough sliders. Again, was not surprised to see Mesa hitting nearly 100 batting average points higher against righties.
All in all, Mesa really impressed me with his raw skills and feel for the barrel. I didn't get to see too much action for him in center field, but by all accounts he was moving well and looked the part. Mesa has a lot of important traits you cannot teach and is deficient in areas where most teenage prospects struggle. I'd expect Victor Mesa Jr. to have some major prospect helium over the next calendar year.
Javeon Cody – LF – Age: 22
A 15th-round pick out of Alvin Community College in 2019, Cody has been an under the radar guy in the Marlins system since. Cody stands out as a physical athlete at 6-foot-3, 205 pounds, but has yet to hit a professional home run in 63 games.
Cody's limited power output is not due to a lack of strength or bat speed. He hit two balls over 100 MPH, including a 109 MPH single in the fifth inning. The exit velocities Cody puts up provide a taste of his power potential, but his 60% ground ball rate can clue you in to why he has yet to homer. Right now, Cody is a project with exciting physical tools. There's some stiffness to his swing and I think he will be held back by swing and miss issues, but Cody is the type of guy where something can click and he just explodes.
Bennett Hostetler – SS – Age: 23
Hostetler received a nice ovation when he stepped into the batters box for his first professional at-bat. Selected in the 18th-round of this year's draft out of North Dakota State, Hostetler put up absurd numbers in his final season. In 61 games, Hostetler slashed .394/.513/.606 with 10 homers and 19 SB.
What stood out to me with Hostetler is that he is a grinder. He is a tough guy to strike out and is comfortable hitting the ball where it's pitched. A great athlete, Hostetler flashed his above average speed when he doubled the other way in his first plate appearance.
Hostetler does not particularly excel at one single thing, but does not have a hole in his game either. He can play all over the infield and even some outfield, paired with some sneaky power and present speed. Hostetler reminds me a bit of Bubba Hollins who has been raking in High-A Beloit for the Marlins. Both are guys that are tough to strike out, know the situation, and do the little things to maximize their value.
Jerar Encarnacion – OF – Age: 23
After a month lay-off due to injury, Jerar Encarnacion made his return in a rehab assignment with the Hammerheads on Thursday night. It would be unfair to be overly critical of Encarnacion after not having played since July 6th, but it was a rough year for the 23-year-old in Double-A before the injury.
Encarnacion was striking out nearly 40% of the time, hitting just .226/.318/.400 in 52 games. I'm sure Encarnacion was far from his peak form after the missed time, but similar to Cody, there was a lot of stiffness to the big right-handed hitter's swing. At 6-foot-5, 240 pounds, he his big with long levers. That length makes its way into Encarnacion's swing, leaving a hole for some swing and miss.
I am going to give Encarnacion the benefit of the doubt given the time off, but the length to his swing is what really stood out to me.