Analysis
2023 MLB Prospect Breakouts To Keep Your Eye On
Every year there are prospects who put it all together and make a name for themselves. Here are a few that could make that leap in 2023.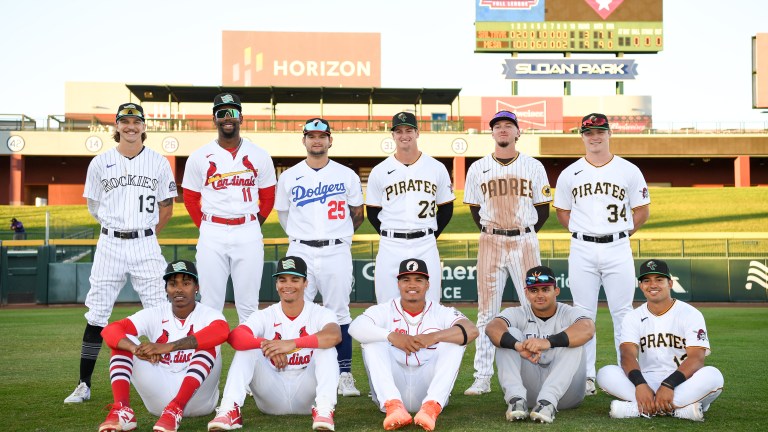 As we prepare to turn the calendar over to 2023, we begin looking forward to what is to come in the next baseball season.
Each year we are astonished by the amount of big-time prospects that seem to come out of nowhere and dominate throughout the minors. This past season, we saw gargantuan jumps from Jackson Chourio, Gavin Stone, Ricky Tiedemann, and Andrew Painter.
While many didn't know who these players were heading into the season, there are certain things you could've paid attention to that hinted towards the major steps forward.
Now ahead of the 2023 season, things are no different. In this article, we will look into a few names that you should keep your eye on as the next prospects to take that leap this season.
Emmet Sheehan, RHP – Los Angeles Dodgers
2022 Stats: 68.0 IP, 2.91 ERA, 1.09 WHIP, 106 K, 31 BB
Like his organization-mate Gavin Stone, Emmet Sheehan impressed in the Dodger minor leagues this season. You probably weren't paying attention to it because of Stone's dominance.
As we head into 2023, Sheehan will no longer be cast off in the shadows of anyone in that organization. The 2021 sixth-round pick has done nothing but shine since he was taken by the Dodgers. Sheehan possesses a fastball labeled as "invisible" mostly due to the above-average extension he has on the release.
Even when Sheehan wasn't on his game, many scouts were still impressed by his stuff on the mound. His change-up is the most intriguing pitch in his arsenal. While it still needs some polish, the potential that it possesses is what leaves a lot of members of the Dodgers Front Office lauding the arrival of Sheehan in the big-league rotation.
Many scouts have it graded as an above-average pitch already.
The issue Sheehan currently battles with is his control, and that dates back to him coming out of the draft. He had a 4.1 BB/9 this season amongst two levels. While it is a significant improvement from what he did dating back to 2019, he will need to continue working on that in order to truly establish himself as a piece of the Dodgers future starting rotation.
He will still need to figure out a third pitch, but this Dodgers starter is poised for a big season in 2023.
Will Wagner, 2B – Houston Astros
2022 Stats: 117 G, .261/.374/.394, 10 HR, 53 RBI, 22 XBH
Son of former Major League closer Billy Wagner, Will continued to build off of a strong minor league season in the Arizona Fall League this year.
After being taken in the 18th round of the 2021 draft, Wagner quickly rose and even surpassed, many of his org-mates that were taken far before him. He ended his first full season of professional baseball in Double-A.
As seen in the tweet above, Wagner is a very smart hitter. His selective approach at the plate allows him to be able to drive the baseball with authority when he does swing. The fact that he is easily able to refrain from chasing out of the strike zone makes him a pest for opposing pitchers.
He has an innate ability to find the barrel with ease and has great control of the strike zone. The biggest addition he has made to his game was power.
Through 14 games in the AFL, he had six doubles, two triples, and three home runs. He referenced the boost in power to some of the tweaks he made to his swing throughout the year, especially in the AFL after overcoming an illness. Shortening up his stance with a toe tap, and then spreading out with two strikes, allowed him to make easier adjustments at the plate.
Shane Sasaki, OF – Tampa Bay Rays
2022 Stats: 89 G, .324/.410/.497, 9 HR, 57 RBI, 30 XBH
Sasaki was referenced multiple times when Charleston was giving reasons why they were able to hoist the championship trophy at the end of the Carolina League championship.
Within the ranks of his own organization, Sasaki ranked second in OBP and stolen bases. He also led the Carolina League in average, OBP, slugging percentage, and OPS. He played the entire year at A-ball for the Rays and ended the season with a 151 wRC+. Sasaki fits the mold of the prototypical Rays hitting prospect where he keeps the K% low and grinds out all of his at-bats.
As of now, Sasaki is mainly known for his "elite" speed. However, that should not deter you from his ability to put the bat on the ball and get on base as well as anyone around him. Drawing comparisons to fellow-Hawaiian Shane Victorino, Sasaki has the potential to be a good leadoff hitter at the Major League level should he continue to trend in his current direction.
Lucky for him, he finds himself in a great organization for player development.
Damon Keith, OF – Los Angeles Dodgers
2022 Stats: 119 G, .277/.411/.478, 17 HR, 79 RBI, 32 XBH
Like Emmet Sheehan and Gavin Stone, Keith's successful 2022 season flew under-the-radar even within his own organization.
Ending the year with a 137 wRC+, Keith continued to dominate his way through the minor leagues with Rancho Cucamonga, which then led to his promotion to Great Lakes in August. He's advanced defensively as well. His athletic ability allows for him to play all three outfield spots and has a strong and accurate arm.
One thing that really stood out to me was his walk rate this past season. With a BB% of 16.7%, you can see why he has the potential to be an OBP threat as he continues to develop. He has a great feel for the strike zone and has the power to hit the ball out anywhere on the field. He will have to make an adjustment with his attack angle on the baseball in order to improve the over 50% GB%, but his ability to make consistent contact should help make that adjustment easier as he progresses through the minor league system.
The Dodgers are always producing top-caliber players in their minor league system. Coming out of California Baptist, he was known as a bat-first prospect, and it has shown, but his ability to produce on both sides of the ball is going to fair him very well in a quick ascension throughout this minor league system.
Carson Seymour, RHP – San Francisco Giants
2022 Stats: 111.0 IP, 3.08 ERA, 1.12 WHIP, 135 K, 31 BB
The Giants acquired Seymour at the deadline from the Mets when they traded Darin Ruff over to New York. Prior to being dealt, Seymour was ranked within the top 20 of a few team prospect rankings.
Listed at 6-foot-6, he is an imposing figure on the mound. Heading into the draft, he was already recorded throwing in the upper 90s, with the potential to possess a plus slider. The trade over to the Giants is going to fair him well in terms of development.
Although his last season at Kansas State didn't fair too well with an ERA above six, and a BB/9 rate of 5.1, he made a ton of strides as he progressed throughout the year. Seymour was one of 24 pitchers in all of the minor leagues to pitch more than 100 innings and produce 10+ strikeouts, and fewer than three walks, per nine innings.
With the success that the Giants have had in developing pitching throughout the years, both at the major and minor league levels, there is not much to doubt when it comes to Seymour being the next pitcher jumping on everyone's radar in 2023.