Analysis
The Cincinnati Reds Pitching Prospects Are Showing Promise
The Reds are winning right now thanks to some hot young bats, but don't let that distract you from the exciting young arms in their system.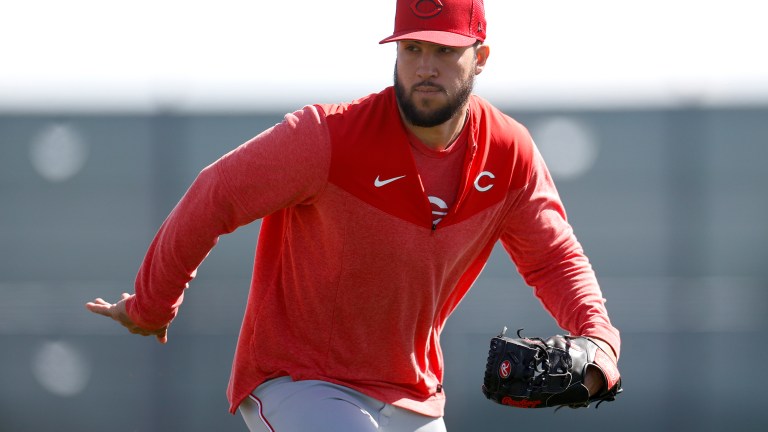 The Cincinnati Reds are one of the hottest teams in baseball, and much of their success is due to their young bats. Matt McLain, Elly De La Cruz, Spencer Steer, and Will Benson have brought life to this team and fanbase once again. Yet with so much focus on the young bats, attention has been turned away from the Reds' pitching prospects.
We are here today to talk about some of the exciting arms in the Reds system. I wanted to check in with Rhys White, another prospect guru here at Just Baseball.
---
Clay: Rhys, the Reds are good?!? Or at least fun? I think it's obvious that their starting pitching is lacking, but their farm has several talented arms that could help in the future. Connor Phillips, Lyon Richardson, Chase Petty, Julian Aguiar, and Jose Acuna all look like legit prospects.
Let's start with Phillips. He's cut the walks down while still striking everyone out. Is it that Double-A ball, or has he made substantial adjustments? Could we see him debut this year?
Rhys: Unlike Skyline Chili, the Reds are good! The scary proposition for the NL Central is they can only get better with some reinforcements that could be coming to their pitching staff, such as Connor Phillips.
Phillips has been absolutely electric this season and could very well receive a late-season call-up with the way he has been pitching. I am hesitant to trust any Southern League pitcher due to Major League Baseball's decision to alter the baseball at that level.
The stuff is undeniably awesome, and his cutting down on the walks has really helped him. He is currently striking out 39.2% of the batters who have the grave misfortune of facing him, while only issuing a free-pass 8.6% of the time. He looks to have gotten more consistent with his delivery, and more importantly, his release point has led to him almost cutting his walk rate in half.
With the way he is pitching, I don't doubt that he could be in line to make the jump up to the majors at any moment. It is interesting to note that the Reds were quick to get Abbott out of the Southern League but have allowed Phillips to remain there all season. If I were to make a prediction, I think Phillips will be promoted to Triple-A soon and will be called up in late July or early August.
Clay: I am also surprised Phillips has stayed in Chattanooga as long as he has. I figured they would want to see several starts in Louisville before considering him for the Reds' rotation this season. Phillips is my favorite of the prospect arms, but his teammate Lyon Richardson has made a hard push.
Richardson was a former second-round pick and is starting to blossom. Where do you see his ceiling?
Rhys: Richardson has been awesome, and he has really been through the wringer in his professional career. Like all minor leaguers, he lost the 2020 season. In addition, he had to sit out the entire 2022 season as he recovered from Tommy John surgery.
Richardson is an impressive player, boasting a fastball in the high 90s and a changeup that can induce swing-and-miss. He also demonstrates strong command of his breaking pitches.
The ultimate potential benefit is somewhat unclear because he has had limited experience pitching as a professional. And while I don't ever envision him being a No. 3 or higher in a rotation, I do believe there is a chance that he could be a high-leverage reliever. Still, given his solid command, I think he should remain in the rotation and serve as a reliable back-end 4/5 starter.
Clay: Richardson was not a guy I gave enough thought to entering Spring Training. Honestly, I think most Reds fans just kind of forgot about him because he had not pitched. I think Richardson and Phillips are up within a calendar year.
Some of these arms will eventually have to move to the bullpen, and I think Joe Boyle is the first to do so. Although that sounds like a bad thing, it really isn't. He could be a terrific bullpen option….if he can limit the walks. We'll see where Richardson ends up, but either way, I think he contributes in 2024 in some capacity.
Even with Phillips and Richardson in the fold, I still think a veteran on a one-year deal makes sense. We are seeing how injuries have derailed the rotation this season. Cincinnati can get away with avoiding a multi-year deal if they wish.
Rhys, they have MORE arms on the way! The Dayton rotation has three guys who I am personally high on: Chase Petty, Julian Aguiar, and Jose Acuna, in that particular order. Am I crazy for thinking at least two of the three are projecting toward being legit big league starters? Educate the people!
Rhys: This is such a good problem for the Reds to have.
The rational part of me acknowledges that the chances of any of these prospects becoming successful major league players are low, but that is not fun.
Petty is the one I would trust the most. He has a killer fastball-slider combination. He has premium stuff and is demonstrating solid command and control. I was worried when he was drafted that he might have to be put in the bullpen, but his command and control have been better than I expected at this point. I would like to see a bit more whiff in his game, but that is just me being nitpicky.
I am quite impressed with what I have seen from one of Petty's teammates in the High-A rotation. Aguiar, like all Reds prospects, possesses a blazing fastball that can reach the upper 90s, complemented by two distinct breaking balls in his curveball and slider. And even a feel for a solid changeup.
I wish there was a bit more swing-and-miss to Aguiar's game. I think he has the potential to be a back-end type starter. I don't think the upside is as high as Petty's, but his floor is quite similar.
Then there is Jose Acuna, who, like the other two, doesn't strike out as many batters as one would want, but that should improve over time. His command is not as sharp as Petty's or Aguilar's, which makes me wonder if he might be better suited as a reliever.
His arm action is a bit lengthy, which can affect his command at times. His slider might be the best of the three, which will allow him to excel as a relief pitcher. It's amazing to think that the Reds acquired both Acuna and Hector Rodriguez, who is a DUDE, all for Tyler Naquin.
Clay: We'll talk Hector Rodriguez another day because that guy looks legit. It's obvious that the Reds are doing something right with identifying talent, whether it be via draft or trades.
Before we let you get back to hiking the beautiful terrain of California, I have two questions. One, how would you rank these arms, one to five? Two, are there any other "under the radar" pitchers in this organization to keep an eye on?
Rhys: I need to get back to taking pictures of various animals and pondering their thoughts on obscure prospects. Here is how I would rank the five pitchers:
Chase Petty
Connor Phillips
Julian Aguiar
Lyon Richardson
Jose Acuna.
If you were to ask me to rank who I am most confident remains a starter, I believe that would be my ranking of them.
Although Christian Roa has not had the greatest season, I still believe in him. He is striking out 35.2% of the batters he is facing, although his 17.6% walk rate is alarming. He is playing with the Southern League ball though, so I can deceive myself into believing that it's the ball's fault rather than his lack of command.
The situation is quite challenging, and given the Reds' upcoming 40-man decision in December, perhaps it would be best to utilize him in the bullpen.
I believe that Bryce Hubbart is not receiving enough love, especially considering his status as a well-known college pitcher. The former Florida State pitcher may not have a blazing fastball, but he can effectively maneuver his low-90s to high-80s fastball around the zone.
He also displays a good feel for a changeup and a plus slider. I do think that if his stuff improves, he could be in the conversation with the Julian Aguiars and Lyon Richardsons of this system.
I look forward to discussing Hector Rodriguez, who, once again, is a DUDE!
Clay: That's exactly how I would rank them as well! A really exciting group of arms, without a doubt. Everyone go follow Rhys (@RhysBWhite) for prospect content and random thoughts.