Rankings
Cincinnati Reds Top Prospects For 2023
Boasting Minor League Baseball's "unicorn," Cincinnati has one of the best farm systems in the game.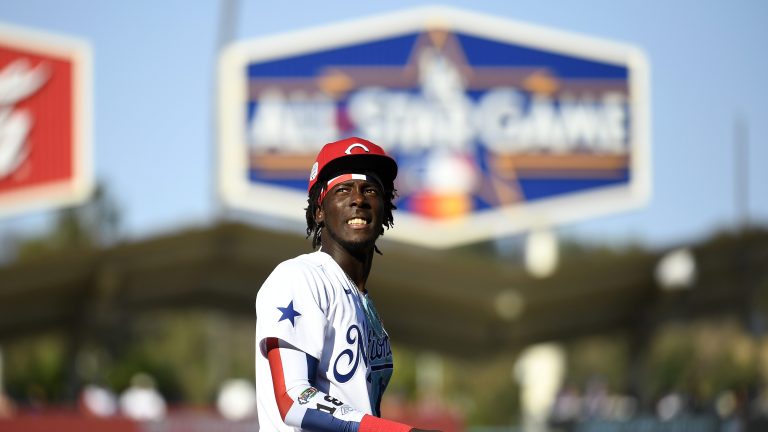 The past few seasons of Cincinnati Reds baseball have been tough to take in for their incredibly loyal fanbase. However, Reds Vice President and General Manager Nick Krall has done an exceptional job flipping veteran pieces for meteoric prospects, complementing great draft picks and international signing gems to create one of the strongest farm systems in all of baseball.
1. Elly De La Cruz – SS – (Double-A)
Offense
Of his two swings, De La Cruz packs more of a punch from the left side with a smoother swing that allows him to attack the entire field a bit better. His right-handed swing is a bit flatter and his lower half is not as effectively involved, but he is still a productive hitter from that side. The uneven at-bats could likely play a part in his left side being ahead of the other this early in his career.
Considering his present ability to impact the baseball with more room to fill out in his frame, it would not be extreme to project 80 grade power for the shortstop. The larger question in regards to De La Cruz's ceiling is around how much he is going to hit, but his ridiculously high slugging on contact and improved body control in the box bode well, even if he is a fringy hitter.
His 80% zone contact rate is strong enough to provide optimism that De La Cruz can be an average hitter–especially from the left-handed batter's box. His 31% strikeout rate seems to be more of a byproduct his high chase rates and overall iffy swing decisions; at 6-foot-5, he also has to deal with a larger strike zone than most hitters. He is quick enough to get to tough pitches and displays impressive plate coverage.
With more maturity, he should be able to get his strikeout rates to a more palatable level, but his ridiculous power output should help with that too. De La Cruz has a chance to be one of the most powerful switch-hitters we've ever seen.
Defense/Speed
Outlook
Just 21 years old with Double-A success under his belt, the extreme risk around De La Cruz has been hedged ever-so-slightly. For De La Cruz to push towards his superstar ceiling, he will need to continue to refine his approach and make some tweaks to his right-handed swing.
Having only played just over 200 professional games, De La Cruz is ahead of the curve. If he continues to mature as a hitter, we could be looking at one of the best all-around players in baseball in a couple years.
2. Noelvi Marte – 3B – (High-A)
The centerpiece in the Luis Castillo swap with the Mariners, Marte may not project as a shortstop longterm, but he has immense offensive upside with a strong track record of production despite just being 21 years old.
Offense
Initially viewed as a high-risk, high-reward power bat, Marte has a higher offensive floor than some may give him credit for. Marte has a pretty simple swing and doesn't require much effort to generate his above-average bat speed. As a result, the 21-year-old has put up above-average contact rates and solid K-BB figures.
His pull side power is impressive with the vast majority of his long balls sailing over the left field wall. Perhaps in an effort to get into that power, Marte has the tendency to pull off of the baseball with his front side, resulting in some struggles with breaking balls and too many rollovers to the left side of the infield.
When Marte is at his best, he is staying back and using the whole field. He is twitchy and athletic enough to turn on pitches middle-in, but sometimes struggles to let secondary stuff travel and drive it up the middle or the other way, usually fighting his body to keep his front side on the ball. Being too "spinny" with his lower half leaves little power left in his swing on anything that is not driven pull side. He rarely missed mistakes, but it was too easy for pitchers to get him out in front on non-fastballs.
Marte's ability to control the barrel paired with a decent approach have helped him put up pretty consistent numbers at each level despite being younger than his competition. His 85% zone contact rate last season was an impressive mark that got better as the year went on.
Marte has already produced exit velocities as high as 111 mph last season, reinforcing the potential plus power the young infielder has in the tank. He could be a small tweak away from exploding offensively, but he has produced pretty good results thus far on natural ability and athleticism. If Marte can smooth his lower half out, it's easy to see 25 homers in the tank, but he didn't show a ton of progress in that regard in the Arizona Fall League. His strong bat-to-ball skills and ability to draw walks help his offensive profile even if he doesn't tap into all of his raw power.
Defense/Speed
Marte has a thick build and okay footwork making third base look like his more likely longterm home (he played every game in the AFL at third). His arm is at least average and his actions have continued to get smoother. He has a good chance to develop into an average or better defender at third as he continues to improve his arm accuracy.
An average runner, Marte is not the biggest threat on the base paths, but he does add some value in that department. He stole 23 bags on 32 tries last season.
Outlook
Known for the shows that he can put on in batting practice, Marte needs to figure out how to get his body in a position to consistently get his best swing off in games. When Marte sticks to his approach, he's a tough hitter to strikeout. He can manipulate the barrel to get to tough pitches and will get to elevated high spin fastballs as well as anyone in the org.
Marte has the potential for plus raw power and an above-average hit-tool, which puts him on a relatively short list of prospects in that regard. While his Fall League performance was disappointing, it was an extremely small sample and the newly-turned 21-year-old ended last season on a torrid pace against similar-to-slightly more advanced pitching in High-A.
With the the upside of a middle-of-the-order masher, Reds fans can dream on 25+ homers and a decent on-base clip. Marte is impressive in the areas that are far more difficult to teach (barrel control, bat speed, raw power). Athletic enough to make the necessary adjustments easier than many other hitters, Marte has both the ability and time to get his swing where it needs to be to reach his ceiling.
3. Cam Collier – 3B – (CPX)
Age: 18 | Height/Weight: 6'2', 210 | Bat/Throw: L/R | 1st Round (18), 2022 (CIN) | ETA: 2026
| | | | | | |
| --- | --- | --- | --- | --- | --- |
| HIT | RAW POWER | GAME POWER | RUN | FIELD | FV |
| 45/60 | 50/60 | 40/60 | 40/40 | 45/55 | 55 |
Collier fell into the laps of the Reds at pick No. 16 the 2022 Draft and they were happy to sign the the talented teenager to a well-overslot $5 million bonus. The son of former big leaguer Lou Collier, Cam is a natural in the batter's box with potential for a rare blend of hit and power.
Offense
Collier has always been ahead of his years as a baseball player. So much so that the 17-year-old decided to get his GED and play Junior College Baseball at Chipola College which has produced players like Jose Bautista, Russell Martin, Patrick Corbin, Adam Duvall and others.
The youngest player in his conference, Collier raked to a .956 OPS against pitchers who were multiple years older than him. Collier has an elite feel to hit with pitch recognition skills that you just don't see often from player's of his age and experience.
A sweet left-handed swing that is a bit reminiscent of the Royals' M.J. Melendez, Collier uses the whole field really well and rarely strays from his approach. At times, Collier tends get on his front foot a bit too early, leading to some rollovers and weaker contact. His hands and ability to manipulate the barrel allow him to get to pitches even when he loses his lower half, but he has shown plus power potential when he stays on his back side.
Collier's elite swing decisions should continue to help him stay ahead of the curve and as he continues to develop consistency with his swing, there is a plus hit tool to dream on here with at least above-average power. He has the goods to be an offensive force.
Defense/Speed
An average runner at best, Collier still moves his feet well at third base and is pretty mobile. He has a plus arm with plenty of carry on his throws, which should help him project as an above-average defender at the position.
Outlook
The youngest player selected in last year's draft, Collier's advanced offensive skill-set should allow him to keep up with his fellow teenage first-rounders. Collier has hit the ground running at the complex already showcasing his exciting power potential with a 450-foot bomb.
All teenage prospects are risky, but Collier's bloodlines, polish at the plate and elite makeup should have the Reds feeling good about the chances of converting their first round pick into an MLB piece. With impressive bat-to-ball skills, and even better pitch recognition skills, Collier has a chance to be an OBP machine with 30-homer pop.
4. Edwin Arroyo – SS – (Low-A)
Arroyo was taken in the second round of 2021's Draft as more of a glove-first shortstop, but has shown more offensive upside than many evaluators anticipated. He was a key piece in the Luis Castillo return alongside Noelvi Marte.
Offense
A compact build with some wiry strength, Arroyo really gets into his lower half with a wide, crouched stance in order to get his entire body into his swing. Despite registering slightly below-average exit velocities, Arroyo's swing generates easy lift and carry, helping him to a respectable 14 home runs and an 11% HR/FB rate.
Arroyo displays strong bat-to-ball skills from both sides of the plate. While he has a bit more juice from the right side, Arroyo's contact rates are better from the left side. That said, Arroyo has hit a maximum exit velocity of 106 mph from both sides.
A pretty aggressive hitter, Arroyo can find himself expanding the zone a bit too frequently like many young hitters who are confident in their ability to make consistent contact. Arroyo hits fastballs well and sprays the ball all over the field, but he will need to learn to lay off of pitcher's pitches–especially breaking balls–if he is going to reach his offensive ceiling.
Still just 19 years old, Arroyo is ahead of his peers and could tap into average power while generating plenty of contact.
Defense/Speed
For a player in his first full pro season, Arroyo's instincts at short were impressive and he could easily be the best defensive infielder in the Reds system before long. Arroyo is a natural up the middle with clean actions, impressive footwork and a rocket for an arm. Aside from the occasional mental mistake Arroyo looks ahead of his years defensively and should be a lot of fun to watch up the middle as he matures.
An above-average runner, Arroyo has had success swiping bags through the lower levels and should be a threat for 15 or more stolen bases annually. He stole 25 bags on 31 tries last season.
Outlook
Seemingly a sure thing to stick at shortstop with a good chance to be a plus defender at the position, Arroyo's perceived floor would've already been pretty high. Combine the impressive defense with fact that he is a athletic switch-hitter who has put up impressive numbers as an 18-year-old in Low-A and you have a relatively safe profile with enough upside to dream on.
5. Matt McLain – SS – (Double-A)
Age: 23 | Height/Weight: 5'10', 185 | Bat/Throw: R/R | 1st Round (17), 2021 (CIN) | ETA: 2023
| | | | | | |
| --- | --- | --- | --- | --- | --- |
| HIT | RAW POWER | GAME POWER | RUN | FIELD | FV |
| 40/50 | 50/55 | 45/50 | 60/60 | 45/50 | 50+ |
A polished college bat, the Reds have been aggressive with their assignments of McLain since selecting him in the first round of the 2021 Draft. McLain has responded well to each assignment and has tapped into more power in Double-A, but it has also come with more whiff.
Offense
McLain has as simple of a swing and set up as you're going to find. He starts upright and takes a short stride before just letting his bat speed and elite hand eye coordination kick in. The simplicity of McLain's swing helps him control his body well and repeat his moves.
When he was drafted, McLain was seen more as a line drive hitter who splits the gaps and can tap into above-average pop to his pull side. While that all mostly holds true, McLain started to hit the ball in the air more frequently last year and reaped the rewards in the form of 17 home runs. However, the focus on tapping into more power may be hindering his swing decisions a bit.
Though he is a patient hitter overall–his 2022 chase rate was just above 20%–McLain struggled to lay off of fastballs at the top of the zone. Though the pitches may not be marked as a "chase" McLain's swing decisions seemed to play a part in his higher strikeout rate (28%). There'd be times where he would take a hanging breaking ball, then swing through a well-located fastball at the top of the zone, for example.
I expect McLain to iron this out and despite his diminished contact rates, it is important to note that he made a palpable jump in power output both statistically and in the batted ball data department in what was his first full pro season.
McLain's improved ability to slug and consistent walk rate have hedged some of the unexpected pressure on his hit tool. There's plenty of similarities between Jonathan India and McLain's offensive profile is somewhat similar to the former Rookie of the Year for the Reds. McLain's power could play up to above-average in Great American Ballpark.
Defense/Speed
Despite the system being loaded with shortstops, McLain has seen the majority of his playing time at short. McLain relies on his athleticism and good arm to play solid defense at shortstop, even though he is not the most natural looking at the position.
He still makes all of the plays he needs to and should have little problem sticking at the position as an average defender if the Reds wanted to keep him at shortstop. A plus runner who played all over the field in his collegiate career at UCLA, McLain could be the best candidate to see more action at another position. McLain has seen some action at second base this season, but could also be a centerfield option for the Reds with his speed and arm.
McLain has made a concerted effort to be a more aggressive base stealer in the pros. He stole 27 bases on 30 tries last season.
Outlook
His offensive profile might not quite be as safe as initially thought. But with his speed, ability to get on base, added impact and positional versatility, McLain hedges much of the added risk from his uptick in whiff. The 23-year-old is a gamer who plays at full speed all of the time and can help his team win in many different ways.
While he may not have the superstar upside of Elly De La Cruz, McLain has a really good chance to be an above-average regular wherever the Reds want to stick him in the field as a flat out gamer who can set the tone for your lineup. Yet another Reds prospect with 20/20 upside, McLain has the ingredients to be a fan favorite as a consistent top of the order threat.
6. Spencer Steer – UTIL – (MLB)
Age: 25 | Height/Weight: 5'10', 190 | Bat/Throw: R/R | 3rd Round (90), 2019 (MIN) | ETA: 2023
| | | | | | |
| --- | --- | --- | --- | --- | --- |
| HIT | RAW POWER | GAME POWER | RUN | FIELD | FV |
| 55/60 | 50/50 | 40/45 | 50/50 | 45/50 | 50+ |
Steer was a consistent, reliable bat through his collegiate career thanks to a his natural feel to hit. After a pedestrian first professional season, Steer made some tweaks to tap into above-average power, while still making plenty of contact.
Offense
Throughout his collegiate career and his first pro season, Steer deployed an upright stance with a minimal load. His swing lacked violence, but Steer posted phenomenal contact rates–albeit with limited impact.
Steer emerged in 2021 with a more athletic, lower-half driven stance and added a bit more of a leg kick to generate some more impact. As a result, Steer's 90th percentile exit velocity jumped more than three miles per hour with little effect on his ability to make consistent contact. After hitting 12 homers in his 162 collegiate games, Steer launched 24 homers in his 110 games during the 2021 season. He followed that up with 23 more homers last season while boasting an impressive zone contact rate around 85%.
A proven above-average hit-tool prospect, who taps into more power without wagering his contact, is almost always a safe profile. While Steer's pop is closer to average than plus, he hits enough to maximize his slugging output. The 24-year-old is also a savvy hitter who rarely expands the zone and picks his spots to get off his "A+ swing" in hitter's counts.
Defense/Speed
Drafted as a shortstop, Steer is capable of holding down the position if needed, but he projects more as a second or third baseman. Steer would be an above-average defender at second base and his arm is good enough to play a solid third base.
Steer's strong baseball instincts allow him to move all over the infield with relative ease. The same can be said about his ability on the base paths were, despite being an average runner, he adds value.
Outlook
Since his 2019 breakout in High-A, Steer has not really blinked at any level. Consistent numbers in Triple-A earned Steer a plate promotion to the big leagues and he should get everyday reps in 2023. His defensive versatility and offensive consistency should help his case as an everyday player and his added power gives him the upside of an above-average regular.
7. Chase Petty – RHP – (High-A)
Age: 19 | Height/Weight: 6'1, 190 | Bat/Throw: R/R | 1st Round (26), 2021 (MIN) | ETA: 2025
| | | | | |
| --- | --- | --- | --- | --- |
| FASTBALL | SLIDER | CHANGEUP | COMMAND | FV |
| 50/60 | 60/70 | 40/55 | 40/50 | 50 |
Traded to the Reds for Sonny Gray prior to the 2022 season, Petty has looked like a more polished pitcher than many expected. Petty has gotten away from the high-effort radar gun chasing that helped him go viral as a high schooler and has pitched to weak contact while flashing four viable pitches.
Arsenal
When he was drafted last year, Petty had the look of a stuff-over-command pitcher with a good deal of reliever risk. Instead, Petty emerged in 2022 utilizing a 94-96 mph two-seamer that has helped him rack up ground balls in bunches and limit hard contact thanks to the late arm side run it features.
Petty racked up a near 60% ground ball rate on his fastball while still picking up a 10% swinging strike rate and above average whiff figures. Though he lands the fastball for a strike at a solid clip, he could stand to improve at hitting his spots within the zone.
Petty's best pitch is his plus slider in the mid-80s with sweeping two-plane break. The pitch can be wipeout from his three-quarters release point and Petty is comfortable throwing it to both right-handed hitters or back-legging left-handed hitters. He racked up a 44% strikeout rate on the pitch with an opponent batting average of .150.
The 19-year-old has also mixed in a changeup that has flashed above-average. He continued to gain confidence in the pitch as the season went on, using it more than his fastball against lefties. The pitch is hard to differentiate from Petty's sinker and has about eight miles per hour in separation with similar arm speed.
With all of his offerings being most effective at the bottom of the zone, Petty could benefit from developing a four seam fastball that he can buzz at the top of the zone, but his two-seamer still missed bats when elevated.
Outlook
While the strikeouts were not quite off of the charts for Petty in 2022, he has looked much more like a pitcher than a thrower which was much of the concern around him during the 2021 MLB Draft. He also saw his strikeout rate rise as the year went on.
Petty is an elite athlete with impressive arm speed and despite some effort in his mechanics, he repeats them well and throws strikes. Though he may not be hitting triple digits with his fastball like he was coming out of the draft, this version of Petty has a much higher chance of sticking as a starter.
Petty's sinker is already an above-average pitch and if he can adjust his four-seamer to be a more effective pitch at the top of the zone, the right-hander will have several different looks that could stifle hitters.
Already possessing a plus slider that has racked up whiffs in bunches, Petty has an out pitch that should play at any level. The teenager's development of a changeup that he almost never used in high school is extremely encouraging and with potentially three above-average pitches, exciting athleticism and solid command, Petty is looking a lot safer as a pitching prospect than many had anticipated.
8. Christian Encarnacion-Strand – 1B/3B – (Double-A)
Age: 22 | Height/Weight: 6'1', 225 | Bat/Throw: R/R | 4th Round (128), 2021 (MIN) | ETA: 2024
| | | | | | |
| --- | --- | --- | --- | --- | --- |
| HIT | RAW POWER | GAME POWER | RUN | FIELD | FV |
| 35/40 | 70/70 | 55/60 | 30/30 | 40/45 | 50 |
Part of the return from the Twins for Tyler Mahle, Encarnacion-Strand broke out in a big way last season, launching 32 homers in 122 games in what was his first full pro season.
Offense
Encarnacion-Strand is an extremely aggressive hitter, but produces impressive exit velocities and a surprisingly high amount of contact. He starts slightly open with a bit of a hand pump for a load that he times up consistently and helps him get into a powerful launch position. For how aggressive he is, Encarnacion-Strand puts good swings on secondary stuff and goes the other way with authority. He is also adept to lifting the ball and generates a ton of backspin and carry. 13 of his home runs traveled at least 420 feet last year.
The 23-year-old has the tendency to get a bit long to the baseball, resulting in some struggles with higher velocity and being tied up by fastballs with run. Every hitter has their "blue zones" and improved swing decisions can help hedge this issue. CES also rarely missed a hanger, launching 13 homers against breaking balls and five more off of changeups. Between his 106 mph 90th percentile exit velocity and impressive ability to generate carry (25% HR/FB rate) it is easy to envision the 70 grade raw power translating into plus game power at the highest level if he can rein in his aggressiveness a bit.
Defense/Speed
Initially viewed as a candidate to move to first base, CES has really improved his footwork and range at third bas; his strong arm helps his case of sticking at the hot corner as well. He made the majority of his starts at third last season while mixing in a dozen starts at first. A below average runner, CES will not provide much on the base paths.
Outlook
It's all about the power for CES, but there's a lot of it. The fact that he has vastly improved his defensive ability at third also helps the overall outlook a bit. There will need to be some improvements with his approach to be able to make the leap to the big leagues, but in terms of his swing and game power, the 23-year-old is right there. There will likely always be a decent amount of whiff for him, but with foul pole to foul pole power, CES should be able to mishit balls that get out of GABP. He has 30+ home run upside if the hit tool can be closer to 40 grade than 30 grade.
9. Connor Phillips – RHP – (Double-A)
Age: 21 | Height/Weight: 6'2, 190 | Bat/Throw: R/R | 2nd Round (64), 2020 (SEA) | ETA: 2025
| | | | | | |
| --- | --- | --- | --- | --- | --- |
| FASTBALL | SLIDER | CURVEBALL | Changeup | COMMAND | FV |
| 50/60 | 55/60 | 50/55 | 30/40 | 30/45 | 50 |
Traded along with Brandon Williamson in the Jesse Winker/Eugenio Suarez deal, Phillips got off to a hot start in the Reds organization, striking out 35% of batters in High-A before battling command issues in Double-A.
Arsenal
Phillips has as good of stuff as you're going to see in this system. His fastball sits 95-97 mph, topping out at 99 along with a plus slider and above average curveball.
The mid-80s slider averages 16 inches of horizontal break and is a wipeout pitch to righties while his upper-70s curveball is of better use to lefties with good depth. Phillips landed his slider for a strike more frequently, but both breaking balls were inconsistent last season. When he's around the zone with his breaking balls they are difficult to hit, opponents hit around .170 against his two benders last year. He also mixed in a changeup that is far behind the rest of his arsenal at this point.
Phillips really hit a wall in the command department after his Double-A promotion, walking 16% of hitters, but he mixed in a couple fantastic starts.
Outlook
There's a ton of reliever risk with Phillips due to his command issues, but it is also important to note that he was pitching in Double-A as a young 21-year-old in a new organization last season. Phillips is far from erratic in his delivery and just seems to struggle with his timing as well as a tendency to fall off glove side. There's still plenty of reason to believe that he can develop average command as he irons out some of the small kinks in his mechanics. Even if he doesn't, Phillips could be an elite back end bullpen arm with is kind of stuff.
10. Sal Stewart – 3B – (CPX)
Age: 18 | Height/Weight: 6'3', 215 | Bat/Throw: R/R | 1st Round (32), 2022 (CIN) | ETA: 2026
| | | | | | |
| --- | --- | --- | --- | --- | --- |
| HIT | RAW POWER | GAME POWER | RUN | FIELD | FV |
| 40/50 | 55/60 | 40/60 | 30/30 | 35/45 | 45+ |
Stewart lit up tough competition in South Florida showcasing impressive power along with a sound approach. Considered one of the most exciting prep bats in the 2022 class, the Reds shelled out $2.1 million to sign him away from Vanderbilt.
Offense
Already standing at a physical 6-foot-3, 215 pounds, Stewart does not require much effort to generate big time impact. Starting with relaxed hands and a gathering leg kick, Stewart is extremely whippy with the barrel with explosive rotational power.
For the violence Stewart is able to create, he is very under control and repeats his swing really well. Stewart's lower-half consistency is impressive. The 18-year-old hits off of his backside well, generating easy lift and carry.
While the plus power potential is the calling card for Stewart, there is a chance for an above-average hitter here thanks to his athletic swing and repeatability.
Defense/Speed
Stewart is not a good runner, but moves his feet pretty well as a former high school basketball player. His hands work well at the hot corner and he has an above-average arm. There's a chance Stewart moves off of third if his feet continue to get heavier with age, though his decent actions, footwork and arm should help him stick at the position.
Outlook
Strong showings against high-quality pitching in the summer circuit and high school lend belief that Stewart could make a pretty smooth transition into pro ball. The 18-year-old has a pretty advanced swing and a good feel for the strike zone.
Likely limited to average defensive third base or a move across the diamond, there is more pressure on Stewart's bat, but he provides plenty to like in that department. There's an extremely exciting power/hit combination here if Stewart continues to develop the way we think he can.
The Next Five Prospects
Andrew Abbott – LHP – (Double-A): Drafted as more of a pitchability lefty out of UVA in 2021, Abbott's stuff ticked up, but his command took a step back. Abbott sits around 92-94 mph with his fastball, occasionally touching 95, but it gets on the hitter quick thanks to his ability to hide the baseball and the sneaky ride to it. He struggled to consistently locate his fastball though.
Abbott's best pitch is his sweeping curveball which frequently flashed plus last season. He actually landed it for a strike more frequently than his fastball while holding opponents to an OPS below .600. His ability to command it and even manipulate it to a sharper and harder sweeper helped him throw the pitch with equal success to both righties and lefties. The 23-year-old will mix in a changeup that flashes average, but is inconsistent. He has a chance to develop into a back end of the rotation starter if he can improve his fastball command and feel for his changeup.
Brandon Williamson – LHP – (Triple-A): After a dominant 2021 season, Williamson saw his stuff back up big time in 2022 following his trade to the Reds. Williamson saw his strikeout rate drop by 11% while his walk rate escalated by nearly 6%. The 24-year-old seemed to maintain his velocity, however he lost more than three inches of induced vertical break on his fastball and his spin rates were down more than 100 RPMs across the board.
When the fastball is a bit flatter and the breaking stuff is not as tight, it's easy to lose zone confidence as a pitcher. As a result the 24-year-old has found himself nibbling at the strike zone more, leading to the ballooning walk rate. Williamson's slider still looked like a well above average pitch last season, but that was about it. He somehow navigated his ugly peripherals to pitch to a 4.11 ERA, but if his stuff is closer to the 2022 version than the 2021 version, he will not be able to get by at the big league level. Williamson is too talented to give up on, but this season should be a defining one for him. The good news is, at 6-foot-6 with a good slider, there's a world where he can salvage his value as a lefty reliever.
Michael Siani – OF – (MLB): Fringy power and a lot of ground balls hamper Siani's offensive profile, but he is one of the better defensive center fielders in the minors as well as a menace on the base paths. His pull side power is fringe-average which could help him sneak out 10-15 homers at Great American Ball Park. Siani stole 52 bags on 64 tries last season and should be competing with Elly De La Cruz as the best base stealer on the Reds 40-Man roster. With his ability to draw walks, Siani could just offer enough offensive value to handle every day reps on a second division team, but he should be a nice fourth outfield option.
Carlos Jorge – 2B – (CPX): A compact build with a short, quick left-handed swing Jorge packs a punch for his 5-foot-9 frame and has already flashed above average power. Jorge's bat speed should help him handle velocity and make good swing decisions as he faces more advanced competition.
A good athlete, Jorge is an above average runner, but you can really see his athleticism in the batter's box. His arm is below average, but he could improve in that department as he matures. The bat-first second baseman profile seems to be a viable profile, especially with his limited arm strength. Jorge launched seven homers in 42 complex games last year.
Yerlin Confidan – OF – (Low-A): Signed for $200K in 2019, Confidan is still working to translate his big raw power into games. He has an advanced left-handed swing with plenty of home run potential to dream on. The newly-turned 20-year-old mashed 11 homers at the complex in 2021, earning him MVP honors for that league. Confidan is still learning to sync up his moves and timing more frequently, but when everything is on time, you can see flashes of what is a potential corner outfield masher. Confidan has already produced exit velocities as high as 111 mph and with some more room to add strength, plus plus raw power is not out of the question.
Other Names to Watch
Steve Hajjar – LHP – (High-A): Sent over to the Reds along with Encarnacion-Strand in the Tyler Mahle trade, Hajjar has a chance at four average or better pitches if his fastball can progress and if he can stay healthy.
The fastball velocity has fluctuated for Hajjar this season, as he battled a shoulder strain in June. Hajjar's fastball has reached as high as 95 mph but he has also seen his velocity as low as 89 mph. The 22-year-old is long and lanky and hides the ball pretty well with some sneaky life on his fastball. Hajjar's above-average changeup is difficult to differentiate out of his hand and generates a lot of swings and misses in the zone. The southpaw also mixes in an above-average slider in the low 80s and an average curve in the upper 70s.
If Hajjar can find his fastball velocity more in the 92-94 mph range, he could be a solid No. 4 starter as he continues to improve his command. There is a lot of projectibility with the big lefty and his feel for four pitches adds to the intrigue.
Jay Allen – OF – (High-A): A three sport athlete in high school, Allen is an extremely raw baseball prospect who has held his own in the early going of his professional career. A projectable build at 6-foot-3, 190 pounds, Allen has a chance to tap into plus raw power. A twitchy athlete with natural bat speed, Allen has shown flashes of above average exit velocities but has struggled a bit to sync up his upper body and his lower half.
A comfortably above average runner, Allen gets to his top speed quickly and has shown to be an impressive base stealer at the lower levels. While his reads and jumps could improve a bit, Allen covers ground well in the outfield and has a solid arm.
As Allen fills out a bit and develops as a hitter, there's potential for above average tools across the board and he has a good chance to stick in center.
Lyon Richardson – RHP – (High-A): Another right-hander with big stuff and injury issues, Richardson could be the biggest breakout prospect in this system in 2023. Richardson has the potential to boast five viable offerings and according to Fangraphs, Richardson's stuff seemed to tick up in rehab outings. Still just 23 years old with some success already under his belt at the lower levels, Richardson has the goods to potentially stick as a four starter.
Joe Boyle – RHP – (Double-A): Standing at a towering 6-foot-7, Boyle has a fastball that can reach triple digits and a pair of devastating breaking balls. If it weren't for his 20 grade command, Boyle would likely be a top 100 prospect, but an inability to throw strikes is quite the obstacle. Boyle could be a dynamite closer, but for now he's a starter who walks more than 20% of the hitters he faces.
Bryce Hubbart – LHP – (CPX): A third-round pick who showed flashes of impressive stuff at both Florida State and in the Cape Cod League, Hubbart is an athletic pitcher with some intriguing pitch data despite lower velocities. He showed well in his pro cameo last season.
Levi Stoudt – RHP – (Triple-A): Though he's been a starter in the minors, Stoudt will likely transition into a bullpen/multi-inning relief role at the highest level and he's ready for that. Stoudt's slider is plus and he commands it well. His 93-95 mph fastball is a bit flat, but should play up in shorter spurts.
Bryce Bonnin – RHP – (High-A): Another data darling, Bonnin was off to a great start in High-A, but injury issues put an end to his season in June. A lively fastball and plus slider give Bonnin a reliever's floor and that might be the best option for him with his shoulder issues.
Austin Hendrick – OF – (High-A): The 12th overall selection in the 2020 MLB Draft, Hendrick has been a major disappointment thus far. Major swing and miss issues have hampered Hendrick, but he has showed glimmers of hope during the 2022 season, launching 21 homers and marginally cutting his whiff rates as the year went on. It's been ugly overall for Hendrick, but at just 21 years old with his plus raw power and bat speed, it's too early to give up on him.
Victor Acosta – SS – (CPX): Acquired from the Padres for Brandon Drury, Acosta was one of the top free agents in the 2020-21 international class, signing for $1.8 million. Acosta is far off, but has five-tool potential.
Andrew Moore – RHP – (Low-A): An overlooked part of of the Luis Castillo package, Moore could turn into a nice relief option thanks to his upper 90s fastball and breaking ball that flashes above average. Moore has a power pitcher's build and overpowered Low-A hitters last season.
Logan Tanner – C – (Low-A): A well-rounded catcher with above average power, Tanner took a step back offensively in his draft year which allowed the Reds to snag him in the second round. Likely an average hitter at best, Tanner's value will come down to his defense and how much power he can tap into.
Christian Roa – RHP – (Double-A): Roa has battled injuries and has not shown the quality stuff the Reds may have hoped to see him develop after selecting him in the second round of the 2020 MLB Draft. That said, he pitched to a 3.56 ERA last season and struck out 26% of batters thanks to his above average slider and ability to at least show three other pitches. Lack of fastball quality and command challenges limit Roa's ceiling, but he could be a nice depth starter.
Allan Cerda – OF – (Double-A): Huge power and huge K numbers have been the story for Cerda. After getting non-tendered by the Reds, they brought him back on a new contract this offseason. Cerda flashed signs of improvement in the bat-to-ball department at the end of 2021, then the outfielder regressed back to his all-or-nothing approach in Double-A. Cerda has elite power potential and walks at a high clip, but he will need to make more contact to be considered a relevant prospect in this system.