Interview
Getting to Know Canadian-Born Padres Prospect Carter Loewen
Canadian Carter Loewen talks about his time at the University of Hawaii, signing with San Diego, and his rehab from Tommy John surgery.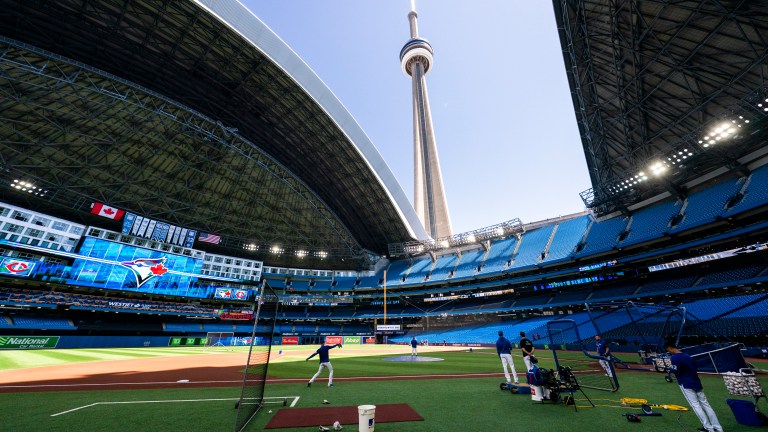 After spending 2016 with the Canadian Junior National Team, as well as being a member of the Abbotsford Cardinals for numerous seasons (including their 2016 championship team), right-hander Carter Loewen was sitting at home in Abbotsford when he heard some interesting news from his father.
"I had some shoulder problems in high school and I wasn't actually watching the MLB Draft at the time, but my dad came downstairs and said, 'hey, you just got selected by the Blue Jays in the 40th round', which is pretty cool."
At the time, the righty-pitcher already had his mind made up even before he heard his name selected by the Blue Jays, "I had Hawaii already lined up and I think back to if I did take up the offer (from the Jays) to turn pro, I would have gotten eaten alive."
Collegiate Career for Hawaii
While Loewen was pretty set on heading out across the Pacific Ocean to further his education at the time of the draft, he did receive interest from other programs before deciding on the Rainbow Warriors.
"I had interest from a school in the MAAC Conference and I was able to tour the program when I was in Toronto for T12 but I couldn't pass up spending four years with the University of Hawaii."
"It's sunny and warm pretty much every day and I just couldn't pass up this opportunity to play baseball in such a great program. I wanted to get a degree (Communications) and the program/coaching staff was terrific. Looking back, I wouldn't have done it any other way. I am really grateful."
With the Rainbow Warriors, the Canadian-born Loewen posted a 6.27 ERA through 18.2 innings of work, striking out 11 batters in the process while also having to battle COVID-19 restrictions during his final season with the program, with the right-hander only making seven starts before the season was shut down. He also earned one save during his time with Hawaii, coming against No. 2 ranked Vanderbilt.
Off the field, Loewen earned multiple awards for his time in the classroom, earning academic all-Big West Honours (2019) and the UH-Scholar Athlete Award (2020), as well as his degree in Communications. Loewen also spent some time in the West Coast League after the college season was over, spending the 2018 season with the Victoria HarbourCats and the 2019 campaign with the Port Angeles Lefties.
Following the shortened 2020 MLB Draft, Loewen signed a deal with the San Diego Padres as an undrafted free agent, with the relief pitcher later making his debut in 2021 with the High-A Fort Wayne TinCaps.
Loewen Signs with the Padres
"In the fall of 2019, I trained as hard as I could with no regrets, and the season came and COVID happened, so I shifted my mindset from 'woe is me and I am not going to get drafted' to 'I can still train and this is no different then what I was doing earlier' even though I couldn't be at the facility (due to COVID restrictions)."
With the TinCaps, Loewen made 21 appearances, pitching to a 4.84 ERA through 22.1 innings while amassing a 12.5 K/9 and allowing zero home runs on the year. Armed with a mid-90s fastball that can touch 97 mph, the 6'4″ righty led the team with seven saves, even though he missed the end of the campaign after undergoing Tommy John surgery.
"I passed physical, I got to Fort Wayne and it was July 10th, I threw a pitch high and outside and I felt my elbow go. My mentality has always been 'I am going to get through this', and my next pitch, a cutter, was one of the best I threw all year and I eventually got out of the inning."
"I remembered asking some teammates back in Hawaii what that type of pain feels like (UCL injury) and they mentioned a stabbing pain when you bend your elbow. After that outing (with the Tincaps), I remember going through the high fives following the game and going, 'this really hurts'. I went home and did some research and mentally prepared before the MRI, got the diagnosis, and underwent surgery on August 4th."
An injury that typically sidelines most pitchers for a year or more, Loewen went through the rehab process and started throwing again in mid-January, starting to get back into throwing shape and continuing to go through the rehab process. He would return to game action in mid-August, roughly a year after his surgery, and would make four appearances evenly split between Rookie Ball and Low-A to finish out the 2022 season.
Looking Ahead to 2023
"This offseason, I finally feel like pre-Tommy John Carter. Going through rehab and getting healthy, throwing again, I still didn't feel like myself and even with Lake Elsinore, I noticed mechanical differences and differences in my mentality, and it just took a long time to feel like myself again, and that's an incredibly peaceful feeling."
After battling multiple injury adversities, Loewen spent this offseason working on getting healthy and plans to stay that way through the upcoming campaign, "I want to come back to the complex this Spring Training and have everyone say, 'holy crap, what did he do this offseason,' and I want to make an impression. I revamped my diet and really pushed myself this winter and my body is in the best shape it has ever been."
"I am incredibly proud of myself for what I did this offseason and my goal is to stay healthy for the entire campaign. I know if I can stay on the field, I will have a good year."
The road to becoming a professional baseball player has not been easy for Carter Loewen but he continues to prove that his work ethic and ability to handle high-pressure situations make him one Padres pitching prospect to watch this year.