Analysis
Breaking Down the Matt Chapman Trade Return For the Oakland A's
As the Oakland A's fire sale continues, lets take a look at the return for Matt Chapman.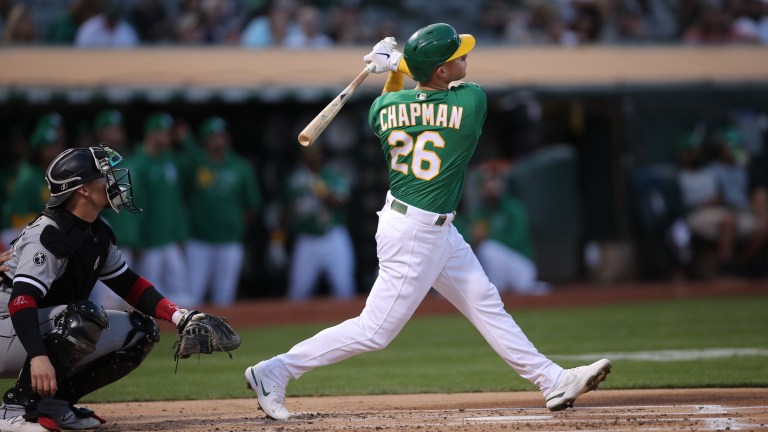 Two teams headed in opposite directions synced up for a trade Wednesday morning as the Oakland A's sent Matt Chapman across the boarder in exchange for four prospects.
For the Blue Jays, they add another powerful bat to a lineup that comfortably led baseball in home runs with 261 long balls last season. Even in a down year, Chapman launched 27 homers of his own while playing his usual elite defense at the hot corner.
The A's continued their expected fire sale now adding right-hander Gunnar Hoglund, infielder Kevin Smith, left-hander Zach Logue and left-hander Kirby Snead on top of the four acquired from the Braves in the Matt Olson deal on Monday.
Hoglund is the best prospect of the bunch, but also is the furthest from big league action. The Jays took Hoglund 19th overall in last year's draft out of Ole Miss despite the pitcher announcing that he would be undergoing Tommy John surgery prior to the draft.
Hoglund boasts a good fastball with life in the 92-94 mph range along with a pair of secondaries that already flash above-average. The 22-year-old has a big frame at 6-foot-4, 220 pounds but is athletic and repeats his mechanics exceptionally well. Three above-average pitches and strong command bode well for Hoglund's floor, but many evaluators believe that there is more room in the tank velocity wise for the right-hander.
While a timetable has not been set on Hoglund's return, he is likely to throw his first professional pitch sometime this summer. While he is the furthest away from big league action, Hoglund will slot in as our top pitching prospect in the A's system.
Infield prospect Kevin Smith enjoyed a career-year in Triple-A last season and is poised to take over Matt Chapman's job at the hot corner next year. Originally drafted as a shortstop, Smith profiles as more of a third baseman nowadays. Smith is a good athlete with above-average raw power. He put both tools on display last year, hitting .285/.370/.561 with 21 homers and 18 stolen bases.
Called up in a pinch last season, Smith struggled in his 18-game MLB debut for Toronto, however his improved plate discipline and above-average tools give him the potential of an above-average regular. Smith's athleticism still allows him to play shortstop in a pinch and he also has seen some innings in the outfield.
At 25 years old, Smith is a higher floor piece for the A's while still providing some intriguing upside. The big question for Smith over the last couple years has been around his hit tool, but his improved plate discipline and decent contact rates last season paint a rosier picture for his future.
As for the third piece in the deal, Zach Logue is another big league ready option with success in the upper minors. The 25-year-old southpaw has excellent command and mixes his four pitches well from a funky high three-quarters arm slot. Despite his fastball sitting in the low 90s, Logue was able to punch out more than 28% of batters against a walk rate of just 5%.
Logue is a fly ball pitcher who is not afraid to elevate his low 90s heater because of his deception and unique profile on the pitch. If Logue had one weakness last year, it was the long ball, surrendering 15 homers in 125 innings. The former ninth round pick in 2017 will now call the Coliseum home, which is one of baseball's most pitcher-friendly parks. I expect Logue to make a relatively smooth transition to the big leagues and anchor the back-end of what could be a very new-looked A's rotation.
Perhaps a bit of a forgotten piece in the deal, Kirby Snead has all the goods to be a solid bullpen arm right away. The left-hander sits in the mid-90s with his fastball along with a wipeout slider and a good changeup. Snead's fastball has plenty of arm-side run from his low release point combining with a sweeping slider that make at-bats miserable for left-handed hitters.
Snead also has an above-average changeup with impressive fade that allows him to keep righties honest. Already 27 years old with multiple seasons in Triple-A, it is probably safe to assume that Snead will be up with the big league team on Opening Day. Snead could be a bit of a Swiss army knife for the A's, getting lefties out while also doing the dirty work in multiple inning middle relief.
The obvious takeaway from this trade is that Oakland prioritized getting guys that could help them in 2022, over prospects who were further away. There is a great chance all of these players contribute at the big league level this season, where they will only be making MLB's new collectively bargained $700,000 minimum salary.
Looking back at the history of the Athletics, it is not surprising to see them do this type of reshuffling of their roster once players get close to free agency.
If these prospects pan out the way Oakland thinks they will, the Athletics could end up extending their window yet again, allowing themselves to remain competitive despite their restrictive payroll.