Analysis
Baseball's Most Underrated Prospects
Six underrated MLB prospects who should be on everyone's radar in 2022.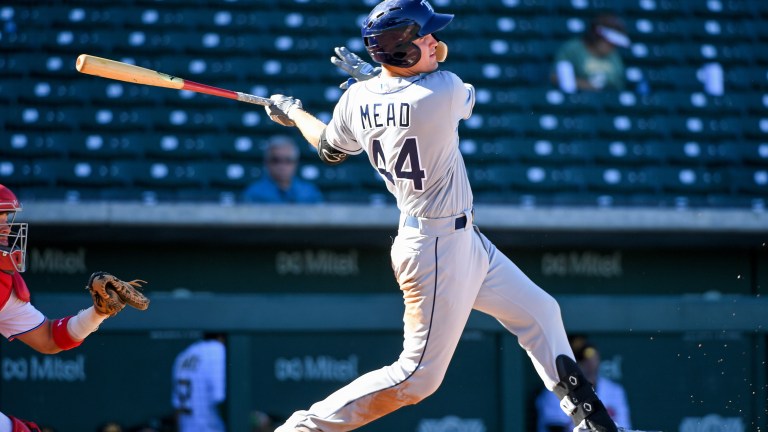 There are a lot of prospects who are worthy of the underrated designation. So many, that this will likely become a series. After 2020's cancellation of the MiLB season, tons of players emerged last season with physical improvements, swing adjustments, or arsenal tweaks that helped them take their game to the next level.
Frankly, 2021 was a lot for the industry to keep up with in general as it also was our first look at a lot of 2020 draftees and international free agents. In the first episode of our new prospect podcast, The Call Up, I dove into some of the prospects I feel have been lost in the shuffle a little bit when it comes to fanfare and rankings.
Jhonkensy Noel – 3B/1B – Cleveland Guardians (High-A)
2021 Stats (A/A+): .340/.390/.615, 19 HR, 161 wRC+, 21 K%, 5.9 BB%
Noel put on a show this season between Low-A and High-A, launching one jaw dropping homer after another. 8 of Noel's 19 homers left the bat at 110+ mph, including consecutive 112 mph shots in the same game.
The 20-year-old controls his body exceptionally well, starting very stacked on his back side and allowing his natural strength to do the work. Noel's swing is very simple, direct and reminiscent of Eloy Jimenez. To be producing exit velocities above 116 mph with such little effort is unteachable and Noel boasts strong bat to ball skills to go with it.
While Noel kept the strikeouts in check for the most part, he did see his K-rate rise after his High-A promotion as pitchers took advantage of his extremely aggressive approach. Noel is a tough guy to get out, posting phenomenal numbers against fastballs and breaking balls, so more experienced pitchers attacked him with elevated fastballs that he struggled to lay off of. This is nothing unusual for a supremely confident player who is used to barreling almost everything that comes his way, however Noel will need to be a bit more disciplined as he rises through the Minor Leagues.
Noel is a bat first prospect who boasts 70-grade raw power and a strong feel to hit. As long as the 20-year-old can tame his approach a bit, he will be a quick riser through the Minors.
Endy Rodriguez – C – Pittsburgh Pirates (Low-A)
2021 Stats: .294/.380/.512, 15 HR, 140 wRC+, 17.7 K%, 11.5 BB%
So underrated that he actually slipped under my radar a bit this season, the more I have gone back and watched Rodriguez the more he has grown on me. A switch hitting catcher with exceptional contact skills and burgeoning power, Rodriguez hit 15 homers in 98 games.
Rodriguez deploys a floating leg kick similar to Luke Voit, controlling and repeating it really well. The switch hitter has consistent swing mechanics from both sides of the plate and stays on his back hip with ease. Posting elite contact rates along with power that continues to grow each time I see him, Rodriguez is a guy to watch.
Defensively, Rodriguez could benefit from some improvement in the receiving department, but he has a rocket for an arm; I saw the 21-year-old make some absurd throws down to second from his knees to gun runners down.
Rodriguez has all the makings to crack the Top 100 List with a strong start in High-A next year. It is hard not to like a switch hitting catcher with a potentially plus hit tool, developing power and defensive tools.
Curtis Mead – INF – Tampa Bay Rays (Triple-A)
2021 Stats (A/A+/AAA): .321/.378/.533, 15 HR, 38 2B, 141 wRC+, 15.5 K%, 7.4 BB%
When it comes to Just Baseball, Mead is far from underrated. In fact, he is or No. 58 prospect in baseball and our 4th ranked prospect in a loaded Rays system. Mead was a low profile international free agent signed out of Australia by the Phillies before being sent to the Rays in a meaningless Minor League swap that the Phillies undoubtedly have to regret.
Mead is comfortably a plus hit tool guy who has also seen his power develop of late. The 21-year-old has hit at every level, even making a jump from High-A to Triple-A for a cup of coffee where he seamlessly transitioned. Mead uses the whole field really well and knows his swing really well.
After tearing up High-A and compiling six hits in his four Triple-A games, Mead went over to the Arizona Fall League where he set the league's record for consecutive games with a hit (18). Mead offers sneaky athleticism and defensive versatility which should make him incredibly desirable to the Rays. Mead could fill in for the role that Joey Wendle provided at the MLB level very soon with potentially even more offensive upside.
Graham Ashcraft – RHP – Cincinnati Reds (Double-A)
2021 Stats (A+/AA): 111 IP, 3.00 ERA, 2.86 FIP, 1.11 WHIP, 28.4 K%, 8.1 BB%
Ashcraft has some incredibly unique stuff which allowed him to get an absurd amount of ground balls along with plenty of whiffs. Ashcraft has a fastball that profiles more like a gyro cutter with similar movement and spin to Emmanuel Clase. The right-hander can also straighten the fastball out and have it play more like a four seamer for whiffs up in the zone.
The gyro cutter has late downward bite to it, missing under barrels and playing well down in the zone. Ashcraft also has a power slurve that is pushing plus plus territory. There is a need for a distinguishable third pitch as Ashcraft's changeup and curveball are currently lagging behind, however if one of those two offerings are even just average, he will be in good shape.
Ashcraft could probably settle into the back of a big league bullpen tomorrow, though his improved command and ability to get ground balls make his potential as a starter just too intriguing in my opinion.
Xzavion Curry – RHP – Cleveland Guardians (Double-A)
2021 Stats (A+/AA): 97.2 IP, 2.30 ERA, 3.64 FIP, 0.89 WHIP, 32 K%, 4.2 BB%
Another Guardians arm that has developed well, Curry boasts a high spin fastball with a ton of riding life and a pair of nasty breaking balls. Curry's curveball tunnels well off of his fastball which plays well up in the zone thanks to its nasty 12-6 break. The pitch truly drops off of the table and is effective to both lefties and righties in the upper 70s.
Curry also has a mid 80s slider that he would yield a ton of ugly one handed swings on from righties while showing comfort back legging lefties. Both breaking balls are comfortably above average, flashing plus.
The fourth pitch for Curry is his changeup, which is still a work in progress but has flashed above average. Curry was a shortstop in high school and in his early going at Georgia Tech and his athleticism can be seen on the mound. The right-hander repeats his mechanics really well and pounds the zone, as made evident by his minuscule 4.2% walk rate. Curry should be a nice rotation piece for the Guardians in the next year or so.
Brandon Williamson – LHP – Seattle Mariners (Double-A)
2021 Stats (A+/AA): 98.1 IP, 3.39 ERA, 3.20 FIP, 1.18 WHIP, 37.4 K%, 8.1 BB%
A bit overshadowed by the litany of high-end arms in the Mariners system, Williamson is every bit a Top 100 caliber prospect. Standing at 6-foot-6, 210 pounds, Williamson has surprisingly smooth mechanics and throws plenty of strikes with his four pitch arsenal.
Williamson's fastball has a ton of ride and life to it in the 92-94 range and gets in on hitters quickly. Williamson has an upper 70s downer curveball which he will use to either handed hitters and a sharp mid 80s slider. Both pitches held opponents to a sub .600 OPS.
Similar to Curry, Williamson's breaking balls are ahead of his changeup, however his willingness to throw the pitch is encouraging and it has flashed above average. Thanks to long limbs and life on the fastball, Williamson gets a lot of swing and miss on the pitch, giving him a strong baseline for the rest of his arsenal.
With Williamson's improvements command wise, he could be MLB ready by midseason next year. He has a breach chance to be a middle of the rotation arm with potential for a bit more if his changeup can develop or his fastball can tick up a hair.