List
AFL Hitters Temperature Check: Who Was Hot? Who Was Not?
A check of the heat sheet after baseball's top offseason league wrapped up in early November.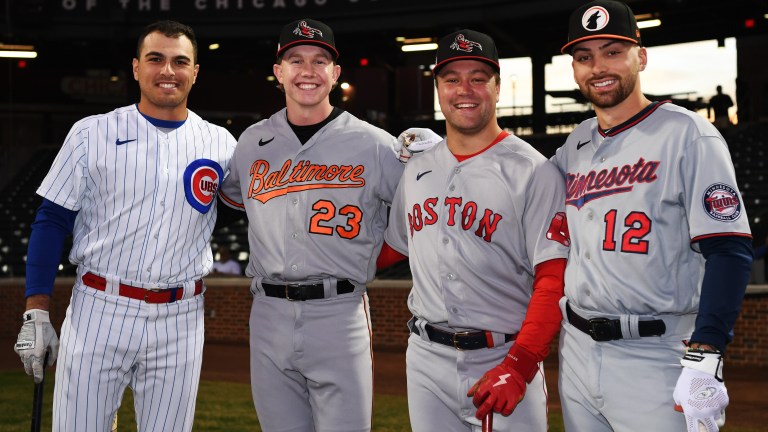 Now that the Arizona Fall League has concluded, it's the perfect time to look at it as a whole and check in on those who saw their stocks rise, and those who might have disappointed us heading into the offseason.
These rosters were chock-full of the game's best prospects. While a couple of them did not live up to the expectations that were put on them heading into the 2022 Minor League season, the AFL provided them with a chance to boost their stock back up in, what should be, an exciting offseason full of action. Who knows, maybe one of these players will be a key piece in a blockbuster trade, and this was their audition for their new ballclub.
Stock Risers
Matt Mervis – 1B – Chicago Cubs
2022 Stats: A+/AA/AAA – .309/.379/.606 36 HR/119 RBI/42 XBH
By now, this is a name that you have surely seen pop up on your Twitter feed about 10 times a day. If not on Twitter, you'll see his name mentioned in almost every prospect article that has been put out on JustBaseball.com.
Mervis was one of–if not the biggest breakout stars in all of Minor League Baseball this season. Yet, even with his meteoric rise this season, his stock continued to go up with his AFL performance.
After catapulting through the Cubs system this past season, he has already made his case to be the starting first baseman in Chicago come Opening Day 2023.
Edouard Julien – 2B – Minnesota Twins
2022 Stats: AA – .300/.441/.490 17 HR/67 RBI/22 XBH
Just like Mervis, Edouard Julien was a riser throughout this past season and saw that continue to carry out through the Minor League season.
With an innate ability to put a consistent bat on the ball, Julien is going to be a thorn in the side of opposing pitchers throughout his career. He is also no slouch on the base path either. While he doesn't possess standout speed, he was able to swipe 19 bags in 113 games this year. It is an addition to an already stout profile that will make Julien a staple in the Twins lineup when he makes his debut.
Oh, he also led all of the AFL in OPS with a 1.218 in 19 games played.
Tyler Hardman – 1B/3B – New York Yankees
2022 Stats: A+/AA – .255/.320/.464 22 HR/81 RBI/18 XBH
By the numbers, Tyler Hardman had an "okay" 2022 season. However, the AFL served him well this fall and was someone I went into the season looking forward to seeing what he would be able to do amongst the games best prospects.
When the Yankees decided to send Hardman over to Arizona, it was clear that they see the talent in the player. After bypassing the minors when he was first drafted out of High School by the Rockies in the 37th round of the 2017 draft, the Yankees nabbed him in the fifth round in 2021 out of the University of Oklahoma.
Tied for second in the AFL, with five home runs, Hardman's reputation for putting hard contact on the ball showed out. When you hear someone say that a ball "sounds different" off of a hitter's bat, you can refer to Tyler Hardman as the name proceeds the phrase.
As a four-year college player, it will be interesting to see the approach the Yankees take with him as he progresses through the system. Either way, he is a name you should be paying attention to heading into 2023.
Heston Kjerstad – OF – Baltimore Orioles
2022 Stats: A/A+ – .309/.394/.457 5 HR/37 RBI/19 XBH
If there is one player in all of the AFL that needed to have a strong showing to boost his stock, it was Kjerstad.
The necessary boost wasn't really performance-based. Since being drafted, Heston had been dealing with his fair share of unlucky-ness. Between a bout with COVID and the development of myocarditis from it, the start of his career was delayed.
After nearly two seasons away from baseball, Kjestad was able to showcase the talent that had him taken second overall in the 2020 draft. His in-zone bat control was something that a lot of scouts would marvel at leading up to his selection and he was able to prove he still had it once he officially returned to the game.
Slashing .371/.400/.663 in 20 games in the AFL, was truly a sight for sore eyes.
Nick Yorke – 2B – Boston Red Sox
2022 Stats: A+ – .232/.303/.365 11 HR/45 RBI/11 XBH
Lofty expectations were set on Nick Yorke heading into 2022 after the big-time breakout he had in 2021. When he was initially taken in the first round by the Red Sox, many questioned whether it was the right pick. He put all that to bed with the breakout year he had across A and A+ that season.
He did not fare well in 2022.
Yorke was only on the field for 80 games this season and, when he was, the production just wasn't there. His swing-and-miss was prevalent, the power output did not come forth, and the questions as to whether he would revert back to the 2021 form were mentioned often. He was in desperate need of a strong showing in the AFL.
He did just that.
In 19 games, he hit .342 with a .950 OPS. He was able to minimize the swing a miss a little bit, striking out 16 times in 76 ABs, but the biggest plus was the 12 walks he was able to accrue over that span.
Yorke gave the Red Sox what they were looking for when they decided to send him out to Arizona. While the stock hasn't returned to the previous level, it has definitely increased since the end of the Minor League season.
Stock Down
Jasson Dominguez – OF – New York Yankees
2022 Stats: A/A+/AA – .273/.376/.461 16 HR/59 RBI/30 XBH
"The Martian" looked as if he was starting to live up to some of the hype surrounding his name as he made his way into the United States.
After struggling in his first-year state-side, Dominguez was able to showcase his talent across three levels in the Yankees system. A nice combination of power and speed left all Yankee fans salivating at the potential impact he could provide them in New York in a couple of seasons.
The AFL was supposed to be another opportunity for Dominguez to show out.
Unfortunately, he did not.
Sporting a lowly .441 OPS in 18 games, Jasson was never able to find his groove during his time in Arizona. the 2:1 K/BB ratio was encouraging, but it was just further proof of him being too selective at the plate. The lack of aggression was taken advantage of and we now wait to see if the 2022 season was just a mirage, or if he can still be a productive everyday regular at the big league level.
Deyvison De Los Santos – 1B/3B – Arizona Diamondbacks
2022 Stats: A/A+/AA – .306/.348/.499 22 HR/106 RBI/31 XBH
The slugging third baseman in the D-Backs organization really made a name for himself this season. At 19 years old, he continued to progress all the way up to AA and hold his own throughout the aggressive approach from the organization. His prospect pedigree gets a little lost in an organization that features so many other difference-makers.
Getting sent to Arizona was inevitable but, like Dominguez, De Los Santos was not able to continue building off the regular season success he was able to produce in 2022. Like many other power hitters, De Los Santos struggles with strikeouts. In only 54 ABs, he struck out 20 times.
If he is going to want to continue building off of his incredible 2022 season, his bat-to-ball skills are going to need to improve. Cutting down on the chase rate will be immensely beneficial to his development.
Luis Matos – OF – San Francisco Giants
2022 Stats: RK/A+ – .215/.280/.356 12 HR/47 RBI/16 XBH
You take a look at his 2022 stat line and wonder how much further his stock could drop after the AFL. The reason Luis Matos is on this list is that his assignment to the AFL was supposed to be the beginning of his redemption tour to the high-profile prospect he was labeled heading into the season.
2022 did not fare him well. However, considering he is coming off almost two years of no baseball action, maybe Matos was just focusing on knocking the rust off.
While this is us looking at the bright side, we all hoped to see flashes of the talent while he was in the AFL.
Luis Matos has seen his stock drop to the lowest it will probably ever be. Seeing that he is only 20 years old, and in an organization that fares well in the development of their prospects, Matos' talent will hopefully prevail come 2023.