List
2022 All-Minor League Baseball Team: Carroll, Henderson Highlight First Team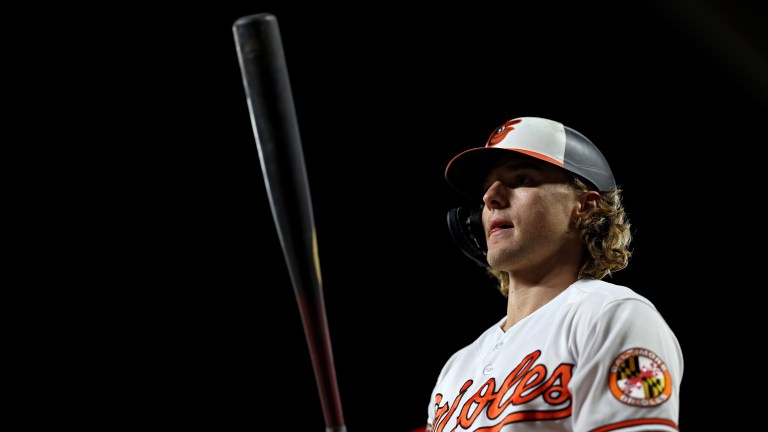 The 2022 Minor League Baseball season has now come to a close, and several prospects in all 30 organizations took leaps forward in their progression as players, some of which even reaching the big leagues for the very first time.
Just Baseball introduces the "All-MiLB Team", compiling the greatest individual performances at any level of Minor League Baseball this year. This list features a combination of some of the game's top prospects and minor leaguers who were not on any sort of prospect radar coming in; the only criteria was on-field production.
Three of our writers have compiled the first, second, and third teams. All those marked "CC" were written by Cristian Crespo, "AL" by Aram Leighton, and "JM" by Jack McMullen.
First Team
Catcher – Endy Rodriguez (Pittsburgh Pirates)
2022 Stats (A+/AA/AAA): 125 G, .323/.407/.590, 39 2B, 25 HR, 95 RBI, 31 CS%
Seemingly an afterthought in the complex and layered deal that sent Joe Musgrove from Pittsburgh to San Diego, Just Baseball's No. 40 prospect had an unforgettable minor league season en route to being named Just Baseball's Minor League Hitter of the Year. Rodriguez proved his worth behind the plate by chopping down nearly one-third of would-be base stealers, and showed tremendous versatility by getting time at second base and in the corner outfield spots. His true stamp on the season came offensively in Double-A, where he hit .356 with an 1.120 OPS in 31 games with Altoona. – JM
First Base – Matt Mervis (Chicago Cubs)
2022 Stats (A+/AA/AAA): 137 G, .309/.379/.606, 40 2B, 36 HR, 119 RBI, 18.5 K%
What a story Mervis was this season. Likely a 5th-7th round pick who wound up an undrafted free agent in 2020, Mervis made swing adjustments after his first pro season which really helped him not only tap into his big raw power, but also find consistency.
Mervis joined us early in the season on "The Call Up" where he detailed his improvements that had allowed him to put up big numbers in High-A at the time. The slugger proceeded to mash in Double-A then later Triple-A, seeing his strikeout rate drop while his walk rate continued to rise despite reaching more challenging levels. The 24-year-old led all of Minor League Baseball with 78 extra base hits and looks like he could be the Cubs future at first base. –AL
Second Base – Edouard Julien (Minnesota Twins)
2022 Stats (AA): 113 G, .300/.441/.490, 19 2B, 17 HR, 67 RBI, 19-26 SB, 19.3 BB%
The .434 on-base percentage that Julien put up last year was said to be a fluke by some. How did he answer those doubters? Oh, he only bested it by posting a .441 OPB this season. While he possesses an average hit tool, his elite plate discipline, and pitch recognition, are going to make him a thorn in pitchers' sides as he climbs through the minors.
The near 20% walk rate this season was remarkable and has been a sustainable number in his two seasons in professional baseball. Even after trading from allotment of prospect, the Twins continue to find a way to produce hidden gems like Julien. Plate discipline like this should make him a fast riser in that organization. – CC
Third Base – Christian Encarnacion-Strand (Cincinnati Reds)
2022 Stats (A+/AA): 122 G, .304/.368/.587, 31 2B, 32 HR, 114 RBI, 8-10 SB
Since being drafted last year, Encarnacion-Strand has continued to defy the odds attached to the below-average hit tool he was given during the draft process. Even after being moved to Cincinnati in the trade shipping Tyler Mahle to the Twins, "CES" was able to remain consistent at the plate, especially with his power numbers. With an average of .289 ISO across the two levels, between two teams, Encarnacion-Strand finds himself in a great organization full of opportunities to break into the Major Leagues. – CC
Shortstop – Gunnar Henderson (Baltimore Orioles)
2022 Stats (AA/AAA): 112 G, .297/.416/.531, 24 2B, 7 3B, 19 HR, 76 RBI, 22-25 SB
Our No. 2 overall prospect, Henderson put it all together this season finding the lower half consistency to tap into his plus raw power while continuing to make strides in every other facet of his game. Henderson dismantled Double-A pitching before becoming the youngest player at the Triple-A level. He hardly blinked in Triple-A, crushing 11 homers in 65 games while continuing to walk at a high clip. Henderson is a potential superstar and showed us plenty of flashes this Minor League season. – AL
Outfielder – Vaun Brown (San Francisco Giants)
2022 Stats (A/A+/AA): 103 G, .346/.437/.623, 24 2B, 7 3B, 23 HR, 75 RBI, 44-50 SB
The best season in all of Minor League Baseball may have also been the most unexpected. 24-year-old Vaun Brown spent five seasons at Division-II Florida Southern College before being drafted in the 10th round of last year's MLB Draft. In his first full season of professional baseball, Brown did literally everything well, hitting for immense power and showcasing smart speed at the lower levels of the Giants system. – JM
Outfielder – Esteury Ruiz (Milwaukee Brewers)
2022 Stats (AA/AAA): 114 G, .332/.447/.526, 33 2B, 16 HR, 65 RBI, 85-99 SB, 17.4 K%
Whenever you flirt with history, you should be at least garnering serious consideration for yearly honors (see Aaron Judge). Through the first couple months of the season, Ruiz did just that. Getting on base at a ridiculous clip, it seemed that Ruiz was on pace to be the first minor leaguer to swipe 100 bases in a season since Billy Hamilton and Delino DeShields Jr. both did it in 2012. Possibly hindered by his first taste of big league ball, Ruiz' 85 stolen bases were the most since Mallex Smith stole 88 in 2014. What caught everyone off guard, however, was his ability to impact the ball, slugging .526 across Double-A and Triple-A. – JM
Outfielder – Corbin Carroll (Arizona Diamondbacks)
2022 Stats (AA/AAA/Rk): 93 G, .307/.425/.611, 22 2B, 8 3B, 24 HR, 62 RBI, 31-36 SB
It's probably not much of a surprise that our top overall prospect earned a spot on this team, but he had a ridiculous year even by blue chip prospect standards. A true 30-30 threat, Carroll launched 24 home runs and 54 extra base hits in 93 games all while being the fastest runner in all of baseball.
While it is fair to point out that Carroll played in hitter-friendly environments, he posted some of the most impressive exit velocities in the entire organization (MLB included) all year long. You can expect the frame-defying power numbers to continue from the compact Carroll. – AL
Designated Hitter – Elly De La Cruz (Cincinnati Reds)
2022 Stats (A+/AA): 120 G, .304/.359/.586, 31 2B, 9 3B, 28 HR, 86 RBI, 47-53 SB
500 foot homers, epic bat flips and nearly a half century's worth of stolen bases, Elly De La Cruz is baseball's most dynamic prospect. An alien in the most endearing way possible, De La Cruz wowed everybody who had the chance to see him play this season. You can just let your imagination run in regards to the 20-year-old's upside, but what he did this season makes dreaming unnecessary. – AL
Pitcher – Brandon Pfaadt (Arizona Diamondbacks)
2022 Stats (AA/AAA): 29 GS, 167.0 IP, 3.83 ERA, 218 K (11.7 K/9), 33 BB (1.8 BB/9), 1.16 WHIP
Nobody ate more innings at the Minor League level than Brandon Pfaadt did this year en route to the first 200+ strikeout season in the Minors since three pitchers did it in 2011. Taken at the tail end of the 2020 draft by Arizona out of Bellarmine University in Louisville, Just Baseball's No. 45 prospect should be given every opportunity to break camp with the Diamondbacks next spring. – JM
Pitcher – Andrew Painter (Philadelphia Phillies)
2022 Stats (A/A+/AA): 22 GS, 103.2 IP, 1.56 ERA, 155 K (13.5 K/9), 25 BB (2.2 BB/9), 0.89 WHIP
Our Minor League Pitcher of the Year, Painter climbed three levels and maintained dominance all season long. The 19-year-old racked up strikeouts in droves while continuously seeing his walk rate diminish. By the time Painter reached Double-A, he was almost walking nobody. Top notch stuff along with 37 strikeouts against just two walks in his final 26 1/3 innings paint the picture of a potential ace. And that might be an undersell. – AL
Pitcher – Ricky Tiedemann (Toronto Blue Jays)
2022 Stats (A/A+/AA): 18 GS, 78.2 IP, 2.17 ERA, 117 K (13.4 K/9), 29 BB (3.3 BB/9), 0.86 WHIP
If it weren't for Andrew Painter, Ricky Tiedemann would have easily had the most impressive teenage pitching campaign. The southpaw climbed three levels in his first pro season, dominating with an impressive three pitch mix (fastball, change, curve). As a 6-foot-4 JuCo arm, few were expecting this kind of polish from Tiedemann, but he kept the walks in check for most of the season and did not surrender more than four hits in an outing all year long.
His feel for both the changeup and curve helped his splits remain consistent, holding lefties to a .468 OPS and righties to a .480 OPS. He will likely start next season in Double-A with a chance to break into the big leagues by the end of next year. The Jays will need to build up his workload first though. – AL
Pitcher – Kyle Harrison (San Francisco Giants)
2022 Stats (A+/AA): 25 GS, 113.0 IP, 2.71 ERA, 186 K (14.8 K/9), 49 BB (3.9 BB/9), 1.13 WHIP
Since being drafted 85th overall in 2020, Kyle Harrison's name has been showing up on many prospectors' radars. With a fastball touching the mid-90s, a slider that he is able to manipulate into two different pitches, and a new change-up he began throwing this season, Harrison has developed into one of the top left-handed pitching prospects in all of baseball. Let alone of the best overall. The Giants have a knack for getting the most out of each of their starters through their development, all the way into the big leagues. The talent that Harrison possesses will make him just another success story once he takes the mound in San Francisco. -CC
Pitcher – Gavin Stone (Los Angeles Dodgers)
2022 Stats (A+/AA/AAA): 26 G, 25 GS, 121.2 IP, 1.48 ERA, 168 K (12.4 K/9), 44 BB (3.3 BB/9), 1.12 WHIP
Besides being known as an organization that limits their starter's innings in the minor leagues, the Dodgers decided not to do so with Stone. He took that opportunity and ran with it. The 2020 Fifth-Round draft pick was named the organization's Minor League Pitcher of the Year sporting a 1.48 ERA, and 12.4 K/9, across three levels in 2022. – CC
Second Team
Catcher – Logan O'Hoppe (Los Angeles Angels)
2022 Stats (AA): 104 G, .283/.416/.544, 14 2B, 26 HR, 78 RBI, 15.7 BB%, 16.6 K%
One of the safest bets to be an everyday catcher at the Major League level, O'Hoppe used a breakout campaign this season to debut in Just Baseball's Top-100 at No. 27. Not only has O'Hoppe grown mightily defensively since being selected by the Phillies in the 23rd round in 2018 out of high school in New York, but his power has blossomed while staying incredibly disciplined and walking nearly as much as he strikes out. O'Hoppe debuted with the Angels at the end of the season after being acquired in a one-for-one deal for outfielder Brandon Marsh, and he'll immediately contest Max Stassi for the catching job in Anaheim. – JM
First Base – Kyle Manzardo (Tampa Bay Rays)
2022 Stats (A+/AA): 93 G, .327/.426/.617, 26 2B, 22 HR, 81 RBI, 14.9 BB%, 16.4 K%
Sometimes, dudes just hit. This Manzardo dude just hits. After being selected in the second round of last year's draft out of Washington State, Manzardo's first full season of professional baseball saw him finish as one of four qualified hitters in Minor League Baseball to finish the year with an OPS over 1.000. Thriving in Double-A at just 21 years old, don't be shocked to see Manzardo knock on the door of Tropicana field next season. – JM
Second Base – Connor Norby (Baltimore Orioles)
2022 Stats (A+/AA/AAA): 121 G, .279/.360/.526, 33 2B, 29 HR, 73 RBI, 16-22 SB
A natural hitter, Norby shook off a slow start in High-A by exploding in Double and Triple-A. Nothing jumps off of the page tools wise, but Norby boasts 50 grades or better across the board and gets the most out of his above average power. Norby pairs great bat to ball skills with a great feel to lift the baseball and leverage his hitter's counts. Much like his teammate at East Carolina Alec Burleson, Norby has the goods to make a big league impact sooner than most of his peers. – AL
Third Base – Brett Baty (New York Mets)
2022 Stats (AA/AAA): 95 G, .315/.410/.533, 22 2B, 19 HR, 60 RBI
It felt like it was only a matter of time before it truly clicked for Baty, and it happened for him in 2022. The 12th overall pick in the 2019 MLB Draft, Baty rode a fantastic 89-game stretch with Double-A Binghamton to a cameo in Triple-A before getting the nod for 11 games with the Mets. Though his season was cut short due to a thumb injury, Baty's masterful year sees him finish the year in the top 20 of Just Baseball's Top 100. – JM
Shortstop – Jordan Lawlar (Arizona Diamondbacks)
2022 Stats (A/A+/AA/Rk): 100 G, .303/.401/.509, 18 2B, 7 3B, 16 HR, 62 RBI, 39-45 SB
The lauded shortstop class of the 2021 draft has not disappointed. Lawler is a perfect example of this. Many thought that the Class-A assignment at the beginning of the year, for a then 19-year-old, was extremely aggressive. Yet, not only did Lawler dominate there, he proceeded to be successful all the way up to AA. The slash line in AA wasn't pretty, he slashed .212/.299/.353 with a 28.9% K%, but what else could you ask for from the young shortstop? He has the ceiling to be the best shortstop taken in that very talented class. -CC
Outfielder – Jackson Chourio (Milwaukee Brewers)
2022 Stats (A/A+/AA): 99 G, .288/.342/.538, 30 2B, 5 3B, 20 HR, 75 RBI, 16-20 SB
There were few prospects with more helium than Jackson Chourio this season. 17 years old at season's start, Chourio dismantled Low-A pitching while showcasing his elite defensive ability in center. The teenager earned a promotion to High-A where he continued to put up impressive numbers, especially in the power department. Though Double-A was expectedly a struggle, it speaks volumes that the Brewers wanted their top prospect to get a taste of the upper levels for the final week of the season. – AL
Outfielder – Moises Gomez (St. Louis Cardinals)
2022 Stats (AA/AAA): 120 G, .294/.371/.624, 25 2B, 39 HR, 94 RBI, 10-13 SB
At the beginning of the season, it simply seemed as if it was just an anomaly. Yet, here we are putting Moises Gomez on the 2022 Prospect Second Team. The long-term sustainability is still going to be a question going forward, especially with his high K-rates in his career. However, with a power output like this, he could force the Cardinals' hand this off-season with him being Rule-5 eligible. There will be a team willing to give this bat an opportunity in the big leagues should they decide not to protect him. – CC
Outfielder – Will Brennan (Cleveland Guardians)
2022 Stats (AA/AAA): 129 G, .314/.371/.479, 40 2B, 13 HR, 107 RBI, 20-23 SB, 11.7 K%
While the name might sound similar to his organization-mate Will Benson, Brennan is his own unique ballplayer. With above-average contact skills, comparable to those of Steven Kwan, and the ability to provide some pop, Brennan is putting the Guardian's Front Office in a tough spot when it comes to trying to fill only three spots in their Major League outfield going forward. He will be a Major League regular in no time. – CC
Designated Hitter – Jordan Walker (St. Louis Cardinals)
2022 Stats (AA): 119 G, .306/.388/.510, 31 2B, 19 HR, 68 RBI, 22-27 SB
Walker has hit since the day he stepped foot in professional baseball. 19 years old at season's start, Walker was one of the youngest players in Double-A yet was one of the best hitters at the level. Despite his massive build and power, he kept the strikeout rate low and even added 22 stolen bases all while getting acclimated to the outfield. Walker has continued to impress with how advanced he is and has quickly become one of baseball's best prospects. – AL
Pitcher – Taj Bradley (Tampa Bay Rays)
2022 Stats (AA/AAA): 28 GS, 133.1 IP, 2.57 ERA, 141 K (9.5 K/9), 33 BB (2.2 BB/9), 1.04 WHIP
Good stuff and great command helped Bradley fly through the minors reaching Triple-A at age 21. His mid-90s fastball lead the way while his plus slider complied strikeouts at a 41.5% mark. Bradley is one of the most athletic pitchers you'll see and keeps getting better each time we watch him. The former fifth round pick looks like another Rays success story. – AL
Pitcher – Tink Hence (St. Louis Cardinals)
2022 Stats (A): 16 GS, 52.1 IP, 1.38 ERA, 81 K (13.9 K/9), 15 BB (2.6 BB/9), 0.88 WHIP
With only 60.1 professional innings under his belt, the 2020 draftee has been turning heads in each of his starts in the Cardinals farm system. Hence has been consistent…ly held to four innings an outing but he is sure making the most of it. Hence, he has made his way to the Arizona Fall League as the highest-rated pitcher, by some platforms. It will be interesting to see if he can continue to translate his above-average ratios against some of the league's best prospects. -CC
Pitcher – Gavin Williams (Cleveland Guardians)
2022 Stats (A+/AA): 25 GS, 115.0 IP, 1.96 ERA, 149 K (11.7 K/9), 40 BB (3.1 BB/9), 0.95 WHIP
A 1st round pick of the Guardians in last year's draft after a fantastic junior season at East Carolina, Williams parlayed a sub-2.00 college ERA in 2021 into a sub-2.00 professional ERA across High-A and Double-A in 2022. Williams proved he was too good for the High-A level in nine starts, and his 2.31 ERA in 16 starts in Double-A didn't knock him too far back down to earth. Allowing just 69 hits in 115 innings certainly earns you a spot on Just Baseball's Top 100, with Williams checking in at No. 28. – JM
Pitcher – Tanner Bibee (Cleveland Guardians)
2022 Stats (A+/AA): 25 GS, 132.2 IP, 2.17 ERA, 167 K (11.3 K/9), 27 BB (1.8 BB/9), 0.97 WHIP
A four-year arm at Cal State Fullerton, Bibee went to Cleveland in the 5th round in last year's draft as part of a Guardians draft class absolutely loaded with college arms. Bibee followed a similar progression to organization-mat Gavin Williams in his first full professional season, starting in High-A and making the jump to Double-A when he made the Midwest League look like light work. Bibee got better when he made the jump to Akron, posting a 1.83 ERA in 73.2 innings. Bibee's breakout season has him land on the back-end of Just Baseball's Top 100. – JM
Pitcher – Bryce Miller (Seattle Mariners)
2022 Stats (A+/AA/A): 26 GS, 133.2 IP, 3.16 ERA, 163 K (11.0 K/9), 46 BB (3.1 BB/9), 1.04 WHIP
Miller has one of the best fastballs you're going to find in the minors. Averaging nearly 20 inches of induced vertical break, at 95-97 mph, Miller's fastball takes off out of his hand. The secondaries are not quite on par with Miller's plus plus fastball, but when you hold opponents to a .516 OPS on your heater, secondaries become a bit less important. He will need to find a feel for his curveball or change to reach his ceiling, but it was really fun to watch Miller carve through Double-A hitters with his electric fastball. – AL
Third Team
Catcher – Bo Naylor (Cleveland Guardians)
2022 Stats (AA/AAA): 118 G, .263/.392/.496, 26 2B, 21 HR, 68 RBI, 20-24 SB
Bo might not be the most famous Naylor, but he will be. Bo Naylor was always known as a good defender behind the dish and, after struggling mighty in 2019 and 2021, he is now showing the ability to handle the bat. In an organization that has been looking for its franchise catcher to handle their top-flight arms in the organization, Bo Naylor looks to have all the intangibles to fill that void. -CC
First Base – Hunter Goodman (Colorado Rockies)
2022 Stats (A/A+/AA): 134 G, .295/.354/.572, 33 2B, 36 HR, 106 RBI, 6-8 SB
A relative unknown in the prospect world, Goodman was taken by the Rockies in the 4th round of last year's draft out of the University of Memphis. Goodman impressed in an ACL cameo last year, hitting .300 with a .936 OPS in 22 games at the complex. In his first full pro season, he thrived. Goodman split his time behind the dish and at first base between both levels of A-ball and Double-A, and finished tied for ninth in all of Minor League Baseball in RBIs. If Goodman continues on this path, he could serve as both the heir to the Cron throne at first and a stop-gap to catching prospect Drew Romo for the Rockies. – JM
Second Base – Jonathan Aranda (Tampa Bay Rays)
2022 Stats (AAA): 104 G, .318/.394/.521, 26 2B, 18 HR, 85 RBI
We went back and forth a lot about Aranda on this list. Not about his placement on it, but the position to put him at. In any other organization, Aranda would have found himself as a Major League regular far earlier than when he got called up by Tampa. Aranda is just a hitter. Throughout his career in the minors, he has always been able to get on base at a high clip and will continue to do so at the big-league level. With the Rays always mixing and matching their lineup, it will be tough to gauge whether he will be in the lineup everyday but, if he is, he will be more than capable of holding his own. -CC
Third Base – Casey Schmitt (San Francisco Giants)
2022 Stats (A+/AA/AAA): 126 G, .293/.365/.489, 25 2B, 21 HR, 78 RBI
Every organization has one player in their minor league system that flies underneath the radar, yet continues to produce above-average numbers. Casey Schmitt is that player for the Giants. Even after being put in a situation where he had to learn a new position, that did not affect that 2020 2nd round pick out of San Diego State. He even sustained that success in an Eastern League that is known for being a pitcher-friendly environment. With no long-term option at third base at the big league level, Schmitt is in a perfect situation to make an impact sooner, rather than later. – CC
Shortstop – Addison Barger (Toronto Blue Jays)
2022 Stats (A+/AA/AAA): 124 G, .308/.378/.555, 33 2B, 26 HR, 91 RBI, 9-14 SB
There didn't seem to be a pitcher in the Minor Leagues that could slow down the development of Addison Barger this season. He was able to sustain all of his success through three different levels and was doing it easily. The Blue Jays were right in being willing to deal almost every other infield prospect in their system without having to mention Barger's name. While he doesn't profile as a shortstop long-term, that works out even better for a team that already looks to have their cornerstone at the position in Bo Bichette. Barger would fit in seamlessly at second base for the Major League club once he is ready to make his debut. – CC
Outfielder – Sal Frelick (Milwaukee Brewers)
2022 Stats (A+/AA/AAA): 119 G, .331/.403/.480, 28 2B, 11 HR, 59 RBI, 24-32 SB, 11.2% K%
The Brewers have a great problem on their hands. What are they going to do with Christian Yelich? Sal Frelick is part of a trio of outfielders blossoming in their system. With his teammates Garrett Mitchell and Joey Wiemer each finding their own success in their ascension through the minors, Frelick has the highest ceiling by far. A unique ability to put contact on the ball at an elite level, his hit tool projects to be above-average once he makes his debut. Oh, he's also an above-average runner and plays a plus outfield when he's not at the plate. – CC
Outfielder – Ceddanne Rafaela (Boston Red Sox)
2022 Stats (A+/AA): 116 G, .299/.342/.539, 32 2B, 10 3B, 21 HR, 86 RBI, 28-35 SB
A name that many had never even heard before he was selected to participate in the All-Star Futures Game, Rafaela had as strong of a breakout campaign as anyone in the minor leagues this season en route to landing on Just Baseball's Top 100 at No. 81. Rafaela showed incredible defensive ability at multiple spots, including some jaw-dropping plays in the outfield. At the plate, 63 extra-base hits and 28 stolen bases is a blend that few could dream of replicating in baseball. – JM
Outfielder – Alec Burleson (St. Louis Cardinals)
2022 Stats (AAA): 109 G, .331/.372/.532, 25 2B, 20 HR, 87 RBI, 14.3 K%
The man just hits. After climbing three levels in his first pro season, Burleson started this year in Triple-A, pacing the level in many offensive categories for most of the year before being pulled up to the big leagues to help the Cardinals in their playoff push.
Burleson detailed his impressive approach in a July conversation with Just Baseball and continues to impress with his balance of bat to ball skills and game power. – AL
Designated Hitter – Kerry Carpenter (Detroit Tigers)
2022 Stats (AA/AAA): 98 G, .313/.380/.645, 27 2B, 30 HR, 75 RBI
We'd be remiss if we did not mention the hitter who led all of Minor League baseball in home runs, throughout the majority of the season, before his call-up to Detroit. Prior to this year, Carpenter was known more for his ability to put bat-on-ball, and his low K-rate, than for the power he portrayed this year across the two levels. Carpenter has made huge strides at the plate and should be a reliable Major Leaguer player throughout his career. Think Jake Fraley-esque. -CC
Pitcher – Jared Shuster (Atlanta Braves)
2022 Stats (AA/AAA): 25 GS, 139.1 IP, 3.29 ERA, 145 K (9.4 K/9), 38 BB (2.5 BB/9), 1.05 WHIP
One of the quickest workers on the mound that you'll ever seen, Shuster was Atlanta's 1st round pick in 2020's COVID-shortened MLB Draft. 2021 was a mixed bag for the southpaw, throwing to a 4.44 ERA in 73.0 innings. This season, Shuster cut his ERA by nearly a run while also nearly doubling his innings output. 2022 Shuster was a different version of himself, sacrificing elevated strikeout numbers for a 10% jump in ground ball rate and holding an identical walk rate. – JM
Pitcher – Will Dion (Cleveland Guardians)
2022 Stats (A/A+): 25 GS, 128.0 IP, 2.11 ERA, 157 K (11.0 K/9), 34 BB (2.4 BB/9), 1.01 WHIP
Credit to the Guardians, who landed three college pitchers from their 2021 draft class on this All-MiLB Team. Dion had as freaky of numbers as Williams and Bibee, pounding the strike zone at will while throwing to a minuscule ERA. The majority of Dion's season came in Low-A, but his two starts with Lake County were excellent to end the season. Expect Dion to open next year in the Midwest League, but with a quick bump to Double-A on the horizon if he continues to impress. – JM
Pitcher – Luis Devers (Chicago Cubs)
2022 Stats (A/A+): 22 GS, 13-3, 117.2 IP, 1.91 ERA, 122 K (9.3 K/9), 26 BB (2/0 BB/9), 0.95 WHIP
Devers makes up for what he lacks in velocity with one of the dirtiest changeups you'll see. Throwing it 36% of the time, Devers recorded a comical 24.5% swinging strike rate on the pitch while holding opponents to a slash line of: .126/.194/.174. The rest of his arsenal is lagging behind a bit, but Devers just outclassed lower level hitters with his elite changeup. – AL
Pitcher – Gordon Graceffo (St. Louis Cardinals)
2022 Stats (A+/AA): 26 GS, 139.1 IP, 2.97 ERA, 139 K (9.0 K/9), 28 BB (1.8 BB/9), 0.94 WHIP
Graceffo was more of a wait-and-see option for the Cardinals after being taken in the 5th round of last year's draft. After a great junior season at Villanova, Graceffo strung together three tremendous starts on the Cape before debuting with Low-A Palm Beach last year with 10 of his 11 appearances coming out of the bullpen. This year, Graceffo made his return to the starting rotation and thrived in High-A before getting the bump to Springfield for the majority of the year. What seems to be the biggest development for Graceffo has been the stuff itself; he struck out under 7.5 hitters per nine innings in just under 180 innings at Villanova, compared to 9.6 K/9 in 165.1 IP in the minors. – JM
Pitcher – Taylor Dollard (Seattle Mariners)
2022 Stats (AA): 27 GS, 16-2, 144.0 IP, 2.25 ERA, 131 K (8.2 K/9), 31 BB (1.9 BB/9), 0.95 WHIP
A surprise prospect, Dollard bounced back from a 5.14 ERA in the lower levels last season by shoving in Double-A to the tune of a 2.25 ERA in 144 IP. Dollard's fastball just sits in the low 90s, but has exceptional life and his slider is a swing and miss pitch that he lands for a strike frequently. Dollard only walked 4% of batters this year and should ride his polish and decent stuff to a big league role next year. – AL