Analysis
You've Never Heard of the Guy With MLB's Lowest ERA
The Detroit Tigers identified a diamond in the rough for their bullpen this season, as Tyler Holton has been most effective left-hander in MLB.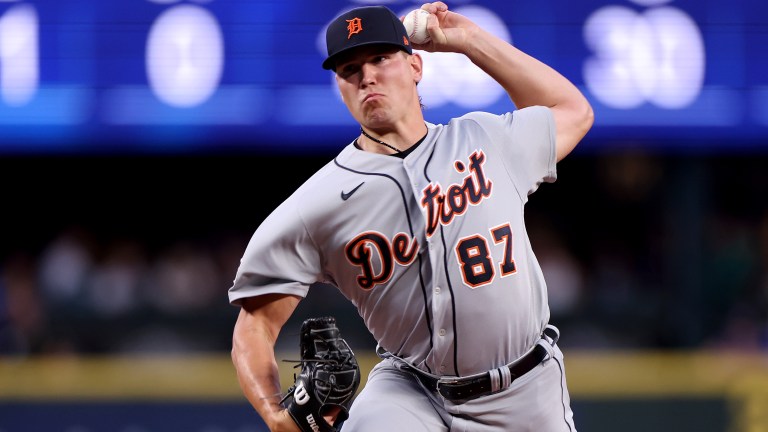 Baseball trivia is rarely straightforward. No one wants to ask the layup question with Barry Bonds, Ricky Henderson, or Roger Clemens as the answer. How will your friends think you are unique, smart, or justified by doing that? You want the obscure answer no one knows. The one that makes people questions the legitimacy. So hit them with this:
Who has the lowest ERA in baseball?
While they guess Kershaw, Valdez, Cole, and other household names, get ready to slam them with a name they are unfamiliar with: Tyler Holton.
That's right, the 27 year-old, former 9th round pick out of Florida State currently holds a 1.70 ERA, the best amongst pitchers with at least 50 innings.
The southpaw spent 2016-2018 as a starter for Florida State, before an injury led to Tommy John surgery in 2018. He joined the Diamondbacks organization in 2019, pitched in a few games, and then Covid hit. When minor league ball started back, he started his transition to reliver.
Holton debuted in 2022 with Arizona, pitching in 10 games across four months. A depth, AAAA option, Arizona placed him on waivers in February when Scott Harris and the Tigers scooped him up. Another lefty option out of the bullpen to compete for a roster spot or provide depth in the organization. Well, Holton has become more than just that.
Unlike many bullpen arms, Holton doesn't come in throwing high velocity, relying on two or so pitches to get guys out. In fact, he's the opposite.
Holton has six pitches – four-seam, Changeup, Cutter, Slider, Sinker, and curveball – that he crafts in a way to keep batters unbalanced. His four-seamer only comes in around 92 mph, but works off his breaking and off-speed pitches to keep batters from squaring it up.
Holton's 22.5% strikeout rate is rather pedestrian. What he excels at is limiting hard contact. The average exit velocity against him is 85.9 mph (93rd percentile) and a barrel rate of 6.3% (75th percentile). When batters are used to seeing fastball/slider, high velocity arms out of the 'pen, Holton's pitch mix from the a lefty has been different enough to keep batters uncomfortable. And it's not just lefties. Holton has held lefties to a .190 average and righties to .214.
The pitch that has really helped Holton against righties is his changeup. Batters are hitting .186 off the pitch with a 38.2% whiff rate. He's been able to work off his fastball and cutter and pull the string on his changeup to catch righties out in front. Although he's given up three home runs on the pitch, he's limiting batters to a 32.3% hard hit rate and 83.5 mph average exit velocity. This pitch has made him into more than a lefty specialist.
You'll see the changeup fool a few hitters in the video above, and you might also notice his slider against lefties. A pitch he pretty much only throws against lefties, batters are hitting a mere .080 with one extra base hit and 10 strikeouts, thanks to a 42.2% whiff rate.
The horizontal movement on his slider averages 11 inches of break, moving away from lefties and often out of the zone. You see 92 mph up in the zone followed by an 82 mph slider low and moving away is enough for betters to have difficultly adjusting.
The more experienced he becomes, the more we can see Holton improve. Over the past month, Holton has seen a tick up in his strikeout numbers and has held batters to a .171 average, while walking only one in 12 innings. The rookie has not appeared on the famous Pitching Ninja twitter page, and that's ok. He's found a way to be productive without having overwhelming stuff.
A tip of the cap to both Scott Harris and pitching coach Chris Fetter. Detroit has shown time and time again they can find undervalued arms and tap into their potential. Holton is just another example of the great work Fetter has done to get the most out of pitchers. Tigers fans should feel comfortable if the front office moves some bullpen pieces at the deadline because they have shown the ability to identify and develop talent at a high rate.