Analysis
Who's the Better Shortstop For 2023, Jeremy Peña or Tommy Edman?
One player posted the better statistical regular season. The other became a star in October. Who's going to be better during the 2023 season?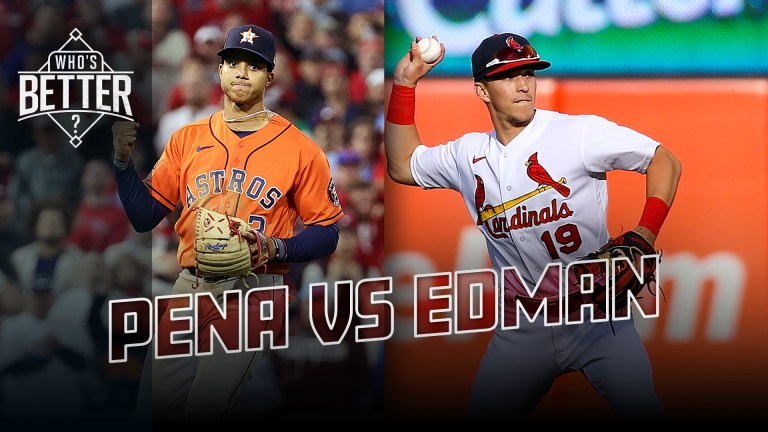 This week, Just Baseball released our top 10 shortstops in MLB heading into the 2023 season. It was a list that I myself wrote, breaking down who we believe to be the best players at baseball's most premium position. Yet I don't agree with one thing in our list. I don't believe Tommy Edman should be considered a top 10 shortstop in baseball.
To take you behind the curtain, when we met as a staff to decide on our top 10 positional rankings, there was five of us on a Zoom call that spanned over four hours. It was myself, the Just Baseball Show hosts Peter Appel, Aram Leighton and Jack McMullen and our analytics expert Colby Olson on the call.
As the managing editor, I organized a list of my own top 10s and a few honorable mentions, then the five us hashed it out to come to some form of a consensus at each position. I ranked Carlos Correa ahead of Xander Bogaerts initially, but when the rest of the guys said we should put Xander third coming off the better year, I relented quickly.
When Colby Olson said Tommy Edman should be in the top 10 instead of Jeremy Peña though, I was quick to fight him back on it. I felt Edman should be an honorable mention.
A guy who started last season as a second baseman, before earning the starting shortstop job for the Cardinals with a 5.6 fWAR season. Meanwhile I viewed Peña as an up-and-coming star at the position. A guy who replaced a Platinum Glover and won a Gold Glove as a rookie, before going on to lead his team to a championship as the ALCS and World Series MVP.
I believed despite stats, that were admittedly inferior to those in our top 10, Peña showed enough in year one and racked up enough accolades to bet on his upside moving forward and acknowledge him as a top 10 shortstop in the game.
Ultimately the reason we had five people on that Zoom call was so it didn't become the 20-hour long debate Peter Appel has been waiting his whole life to have and we could take a vote on things. If memory serves, Jack and Peter agreed with Colby, while Aram lied somewhere in the middle and his vote didn't count anyway when they had majority. I was forced to go with consensus and Peña became an honorable mention, while Edman grabbed the 10th spot.
Now though, I get to revisit this debate with Colby Olson on my new show, Who's Better Baseball, a debate-oriented podcast where we get to bring all of our behind the scenes arguments to the surface.
The following is the argument I plan to take into battle against Colby, as I explain my reasoning for putting Peña over Edman in my top 10.
Case Against Tommy Edman Being in the Top 10
Now before we get into tearing down Tommy Edman, let me acknowledge something. He is very good at baseball. One of the best defenders in the sport, Edman has a floor of a three-win player, regardless of what he does with the bat. We know this because he was basically that in 2021.
Edman posted a 2.8 fWAR in 2021, in a season where he hit .262/.308/.387, with 11 home runs, 30 stolen bases and a 90 wRC+. It was his second-consecutive year with a 90 wRC+, with his 2020 campaign looking awfully similar across 55 games.
Things changed for Edman though in 2022, when he had a career year offensively.
The 27-year-old hit .265/.324/.400, with 13 home runs and a 108 wRC+. Splitting time between second base and shortstop (while also playing some outfield and third base), Edman's immense defensive value resulted in a 5.6 fWAR that was fifth among shortstops.
Edman did create a lot of that value playing second base, but the metrics are close enough between the two positions that we can simply conclude that he is a fantastic defender wherever you put him on the diamond. Still, considering him a top-10 shortstop in the game feels like a stretch to me.
In 2022, Edman started the first 37 games of the year at second base., hitting .269/.368/.433, with four home runs and a 132 wRC+. Paul DeJong began the year as the Cardinals starting shortstop, but he was demoted on May 11th.
It was not until May 20th that Edman made his first start at shortstop, as the Cardinals were concerned about ruining the flow from his hot start with the bat. Brendon Donovan and Edmundo Sosa made some starts in the meantime, but eventually the Cardinals decided Edman was the answer.
Across the following 61 games played, Edman hit .250/.296/.337, with three home runs and a 81 wRC+ as the Cardinals starting shortstop. On July 30th, DeJong was promoted back from Triple-A and reclaimed his position starting at shortstop.
The DeJong experience lasted about a month, with Edman playing 23 games primarily at second base between July 30th and August 25th, posting a 100 wRC+ over that span.
To Edman's credit, the Cardinals went back to him as the starting shortstop and he delivered across the last 31 games. Edman finished the year hitting .286/.339/.473, as he posted yet another stretch where his wRC+ was 132.
When you put it all together, Edman's .265/.324/.400 slash line is right in line with what he has done in his career as a .269/.322/.410 hitter across his first four campaigns. The thing is, that career slash line is inflated by his rookie season, the same way his 2022 numbers are inflated by the two hot streaks that book-ended his season.
Edman was great as a rookie, hitting .304/.350/.500 with 11 home runs, 15 stolen bases and a 124 wRC+ over 92 games. He then went on to post those identical 90 wRC+ campaigns in 2020 and 2021. The 2022 season was closer to what he did as a rookie in 2019, but only in spurts.
When we look at the 84 games Edman played from when he first took over as the Cardinals shortstop, to when he reclaimed the position for a second time before September, there were four months of Edman being slightly below average with the bat.
Between May 20th and August 25th, Edman hit .251/.295/.355, with five home runs, 16 stolen bases and a 85 wRC+. Now of course, everyone goes through hot and cold streaks in baseball, so isolating his struggles in not fair to Edman. In totality he was a 108 wRC+ hitter, who's exceptional defense and baserunning made him worth nearly six wins in 2022.
I just don't believe there is much more in the tank for Edman than what we saw last year. A peak Edman season is clearly fantastic and extremely valuable. But when we really look at all the counting stats between Edman 2021 and 2022 seasons, we could project his future value falling somewhere in the middle.
| | | | | | | | | |
| --- | --- | --- | --- | --- | --- | --- | --- | --- |
| Edman Season Stats | Slash Line | HR | R | RBI | SB | OPS | wRC+ | fWAR |
| 2021 | .262/.308/.387 | 11 | 91 | 56 | 30 | .695 | 90 | 2.8 |
| 2022 | .265/.324/.400 | 13 | 95 | 57 | 32 | .725 | 108 | 5.6 |
Edman literally doubled his value last year when it comes to fWAR, so I found it a bit surprising how close the offensive numbers really were. Clearly his defense was just that off the charts, but we have to remember we are comparing him to a Gold Glove shortstop on the other side with Peña.
Why Jeremy Peña is a Top 10 Shortstop in Baseball
When ranking the top 10 players at any position, there was a lot we had to weigh as a staff. Do we simply rank the top 10 players based on their fWAR last season? Do we look at their careers in totality, or project forward to what we think they will be?
Ultimately it ends up being a blend of everything, and that is why these lists are subjective. If it was based entirely in statistical facts, Wander Franco would not have come in ahead of both of these guys on our list after playing just 83 games in 2022.
Yes, Tommy Edman was more valuable than Jeremy Peña in 2022, but I don't think he had a more successful season.
Last year, Peña was really playing just his second complete season of professional baseball and was tasked with replacing Carlos Correa off a season where he won the Platinum Glove. Peña was drafted in the third round back in 2018 and played his first full season in 2019, when he spent 109 games between Low-A and High-A, posting an .825 OPS between the two stops.
He was then sidelined in 2020 due to the minor league season getting cancelled, then for a majority of 2021 with a wrist injury. Without having ever played in Double-A, Peña was assigned to Triple-A at the end of 2021, where he hit .287/.346/.598, with four home runs and a 126 wRC+ in 30 games.
The Astros believed in him enough to let Correa walk and give him the keys to become the starting shortstop to open the 2022 campaign. Since getting drafted, Peña had logged 789 plate appearances in the minor leagues. Last year, Peña eclipsed 550 PAs at the big league level.
It was a giant learning experience for Peña, but he ultimately finished as an above-average hitter with a 102 wRC+ and 22 home runs. The biggest thing he did however was play defense, leading all MLB shortstops with 16 Defensive Runs Saved.
Peña was at his best offensively at the end of the season, winning two MVP awards for his play in October. While Fangraphs doesn't track fWAR during the postseason, we can look at the final 13 games of the regular season and get a sense of how valuable he was altogether in 2022.
Across his final 13 games of the regular season, Pena hit .313/.327/.646, with four home runs, nine runs scored, 13 RBIs and 174 wRC+. In 13 playoff games, Peña hit .345/.367/.638, with four home runs, 12 runs scored, 8 RBIs and a 186 wRC+.
Since he was worth 0.7 fWAR in the final 13 games of the season, it is safe to say he was worth at least that much in the playoffs. If we add that to his regular season fWAR, his 2022 total across 149 games played (regular season and playoffs) would be a 4.1 fWAR.
To Edman's credit he posted a 3.8 fWAR in 92 games as a rookie. But his play at second base for the Cardinals was not nearly as pressure-packed as that of Peña starting at shortstop for the Houston Astros and leading them to a championship.
Peña rose to the challenge and then exceeded it when it mattered most. There is every chance he builds off that and becomes an All-Star this season in Houston.
Peña never walks, but would it be that crazy to think he could hit .275 instead of .253?
Add 22 points to his OBP and it climbs to .311. If his slugging percentage made a similar jump thanks to the additional hits, suddenly you are looking at a .760 OPS hitter, giving you Gold Glove defense at shortstop.
Peña's floor moving forward could be slightly better than last year and his ceiling stretches beyond anything the Cardinals could dream on for Tommy Edman. Throw in all the accolades he just took home and I think we really dropped the ball in allowing Edman to crack our list of the top 10 shortstops in the game right now.
Edman is a great defensive player who is a solid hitter, but finished the year batting ninth for the Cardinals. Peña is a great defensive shortstop who can literally carry you to a championship when he gets hot. That's the difference that led me to want to rank Peña in our top 10 over Edman.
If you want to watch how this argument fared in my debate with Colby Olson, check out the latest episode of Who's Better Baseball!