Analysis
Who Are the Best Number Five Starters in Baseball?
Number five starters don't have the most glamorous role, but a deep starting rotation is often what sets the very best teams apart.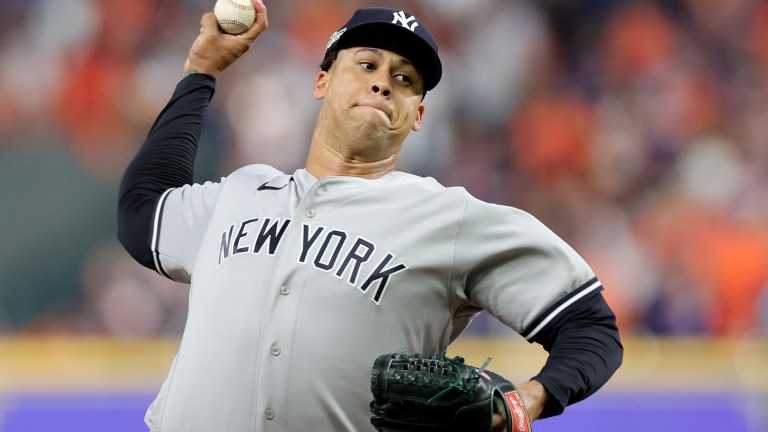 As the hot stove winds down and spring training inches closer, we've reached the point in the offseason when media outlets start to release positional player rankings for the upcoming year. Earlier this week, MLB Network came out with their "Top 10 Players Right Now" at every position, and we at Just Baseball just might have something similar in the works.
In that spirit, I thought I'd take a look at a group of players you won't see in any typical position-by-position ranking. These aren't the best pitchers in baseball, but they're best of the back-end. Without further ado, I present the top five number fives heading into the 2023 season.
1. Frankie Montas, New York Yankees
2022 Stats: 27 GS, 144.1 IP, 4.05 ERA, 3.78 FIP, 3.61 xFIP, 2.0 WAR
2023 Steamer Projections: 3.78 ERA, 1.9 WAR
Projected Yankees Rotation: Gerrit Cole, Carlos Rodón, Nestor Cortes, Luis Severino, Frankie Montas
At this time last year, Frankie Montas was the number one starter for the Athletics. He was coming off a 4-fWAR season and a sixth-place finish for the AL Cy Young. He would've been the number two starter on the Yankees had he joined the team ahead of the season.
Now, however, he heads into 2023 as a number five. Gerrit Cole, of course, is the ace of the Yankees' staff, while new addition Carlos Rodón slots in at number two and breakout star Nestor Cortes is number three. I'd argue Luis Severino is the number four after his solid performance last season, leaving Montas in the fifth and final spot.
Montas had trouble after the trade deadline last year, posting a 6.35 ERA and 4.93 FIP in eight starts. He ultimately landed on the injured list with shoulder soreness, which may have been the cause of his struggles. That shoulder inflammation came back this winter, and Montas is going to miss the first month of the season.
If his injury worsens, I'll have to reconsider his place on this list, but as long he's back by May, he's still the obvious choice. He has a history of success, and he was excellent as recently as the 2021 season. That combination of track record and potential makes Frankie Montas the best number five starter in baseball.
2. Andrew Heaney, Texas Rangers
2022 Stats: 14 GS (16 G), 72.2 IP, 3.10 ERA, 3.75 FIP, 2.83 xFIP, 1.1 fWAR
2023 Steamer Projections: 3.57 ERA, 2.5 WAR
Projected Rangers Rotation: Jacob deGrom, Nathan Eovaldi, Martín Pérez, Jon Gray, Andrew Heaney
If there were an offseason award for most improved rotation, it would have to go to the Rangers, who re-upped with Martín Pérez and added Jacob deGrom, Nathan Eovaldi, and Andrew Heaney this winter. Their rotation is now so deep that it's hard to say who the number five even is; I think you could make an argument for anyone not named deGrom.
I landed on Andrew Heaney, who is wickedly talented but the least proven of the bunch. I briefly hesitated, because if Heaney lives up to the potential he flashed last season, he'll quickly rise through the ranks of the Rangers' rotation. In other words, he might not be a number five for long. At the end of the day, however, I decided it didn't matter – whoever ends up as the fifth-best starter in Texas will still be a pretty great pitcher.
Heaney spent nearly all of the first half on the IL in 2022, but he wowed in the second half with a 13.66 K/9 in 57.1 IP. He doesn't throw very fast, but his four-seam has a ton of movement and he catches hitters off guard with a newly effective slider. His walk rate is surprisingly low for a pitcher who generates so many strikeouts, and had he qualified last season, he would have ranked second in the NL in strikeout-to-walk ratio.
The last time Heaney pitched a full season, he put up 2.9 fWAR in 30 starts. His repertoire is better now than it was back then, so a healthy Heaney could be downright dangerous in 2023.
3. Carlos Carrasco, New York Mets
2022 Stats: 29 GS, 152 IP, 3.97 ERA, 3.52 FIP, 3.45 xFIP, 2.4 fWAR
2023 Steamer Projections: 3.95 ERA, 1.7 WAR
Projected Mets Rotation: Justin Verlander, Max Scherzer, Kodai Senga, José Quintana, Carlos Carrasco
The Mets' rotation will look very different but just as potent in 2023, after Billy Eppler signed Justin Verlander, Kodai Senga, and José Quintana to replace Jacob deGrom, Chris Bassitt, and Taijuan Walker. One of the lone holdovers will be Carlos Carrasco, who made 29 starts last season and proved he still has his menacing slider and deadly changeup. Now in his mid-thirties, he remains a force to be reckoned with.
Carrasco was one of the most consistent and reliable pitchers in the game from 2014 to 2018, and after an injury-ravaged 2021 season, he looks like he can be that pitcher once again. Given his age, I don't think he has the upside of Montas or Heaney, but his long track record of success speaks for itself.
4. Alex Wood, San Francisco Giants
2022 Stats: 26 GS, 130.2 IP, 5.10 ERA, 3.76 FIP, 3.41 xFIP, 1.7 fWAR
2023 Steamer Projections: 3.64 ERA, 1.8 WAR
Projected Giants Rotation: Logan Webb, Alex Cobb, Ross Stripling, Sean Manaea, Alex Wood
The Giants have put together a deep rotation, and they have a trio of number three starters behind Logan Webb and Alex Cobb. Any one of Sean Manaea, Ross Stripling, or Alex Wood could be considered the number five starter, and no matter which one I picked, he would have made this list.
Ultimately, I went with Wood because he had the highest ERA and fewest innings pitched last year, so he has the most to prove in 2023. However, I don't think he'll have any trouble proving he's much better than his 5.12 ERA and 8-12 record suggests.
With a 3.73 ERA in 190 career starts, Wood has shown himself to be an above-average starting pitcher, and at 32 years old, he isn't showing any signs of decline. Despite his high ERA, he posted the best strikeout-to-walk ratio of his career last season, and his average fastball velocity was the fastest it's been since his rookie campaign.
The Giants' offense doesn't inspire much confidence, but their starting rotation should be a strength in 2023.
5. Zach Eflin, Tampa Bay Rays
2022 Stats: 13 GS (20 G), 75.2 IP, 4.04 ERA, 3.56 FIP, 3.81 xFIP, 1.4 fWAR
2023 Steamer Projections: 4.05 ERA, 1.4 WAR
Projected Rays Rotation: Shane McClanahan, Tyler Glasnow, Drew Rasmussen, Jeffrey Springs, Zach Eflin
If you could give me a guarantee that Zach Eflin would stay healthy and make 32 starts this season, I'd put him at the top of the list. In 240.1 IP over the last three years, he's been worth 5.0 fWAR – that's 3.38 fWAR per 162 innings, significantly better than anyone else I've named.
Eflin has the fourth-lowest walk rate in the sport since 2020 and above-average numbers in almost every other statistical category. Still just 28 years old, he has time to blossom into a great mid-rotation starter.
Unfortunately, Eflin has dealt with more than his fair share of injuries over the years, and chronic knee problems have kept him off the mound for large chunks of the past two seasons. He's qualified for the ERA title only once in his career, and four years have gone by since then. His injury history is more than a minor concern.
On a positive note, the Rays are a smart organization, and they wouldn't have signed Eflin to the largest free-agent deal in franchise history (3 years, $40 million) if they weren't confident they could help him stay on the mound. He finished the 2022 season on a high note, and 2023 could be the year Eflin finally puts it all together.