Analysis
Where Did This Version of Cristopher Sánchez Come From?
It turns out the Philadelphia Phillies had another reliable starting pitcher right under their noses all along.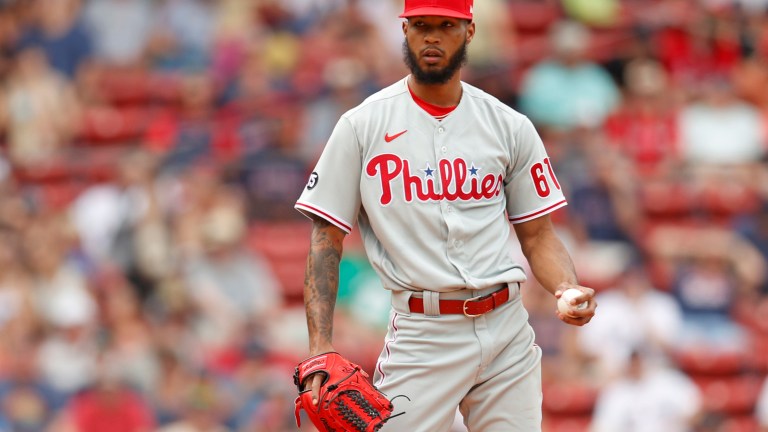 Cristopher Sánchez made the Phillies Opening Day roster in 2022, although he didn't make much of an impact. The Phillies used him sporadically, and he gave up runs in all five of his outings over the first two months of the season.
The lefty had a great year at Triple-A Lehigh Valley (3.14 ERA, 2.97 FIP), but unfortunately, his success didn't translate to the big leagues. He was recalled and subsequently optioned on six separate occasions, and he failed to earn a spot on the postseason roster.
Thus, Sánchez came into the 2023 campaign at the back end of Philadelphia's starting pitching depth chart. The favorites for the fifth-starter job in spring training were Bailey Falter and top prospect Andrew Painter. Matt Strahm entered the conversation too, pushing Sánchez further back.
A hamstring injury at the end of spring was the nail in the coffin, and the 26-year-old was left off the Opening Day roster, instead forced to open the season at Triple-A. Sánchez didn't get off to a great start there either, pitching to a 5.97 ERA and 5.67 FIP in his first seven starts. He walked 22 batters across 31.2 innings, a rate of 6.25 BB/9. Those aren't the numbers you'd expect from a starter vying for a big league job.
A Fresh Start(er)
Nevertheless, Sánchez was recalled to join the rotation in June. The Phillies had been relying on the bullpen to fill the fifth-starter slot for about a month, and… well… it wasn't working. They lost three of four bullpen games from mid-May to mid-June. The team needed a real fifth starter, and they hoped Sánchez would be up for the task.
Lo and behold, he certainly was.
Sánchez threw four scoreless innings on June 17, striking out five and walking only one. He has since pitched to a 3.31 ERA in 70.2 IP. He has shown excellent command, walking only 3.6% of the batters he has faced.
No one would call Sánchez an ace, but he has been an above-average starting pitcher by any metric you can think of. That's more than the Phillies could have asked.
Cristopher Sánchez Has Taken a Big Step Forward
Since his first start in June, he has averaged over 5.1 IP per start. The Phillies are the only NL team with four qualified starting pitchers in that time. Among 29 qualified NL pitchers (since June 17), Sánchez ranks second in groundball rate, third in walk rate, fourth in strikeout-to-walk ratio, sixth in xFIP and SIERA, ninth in opponents' batting average, and 10th in ERA.
On the season, his 3.66 xERA ranks in the 66th percentile among all pitchers. His DRA, per Baseball Prospectus, is 17% better than league average. Stuff+ rates him as an average-quality starter, while PitchingBot thinks he's been significantly better than that.
He's throwing more pitches in the strike zone and he's generating more whiffs on pitches outside the zone. As a result, his 30.1% called strike plus whiff percentage (CSW%) ranks fifth among qualified NL pitchers since mid-June.
Whether you look at traditional stats, underlying numbers, or the most cutting-edge advanced metrics, it's clear that Sánchez has taken an incredible step forward this season. He has surpassed all expectations and projections, providing the Phillies with the reliable fifth starter they so badly needed over the first 12 weeks of the season.
Better Pitches Make for a Better Pitcher
So, how is Sánchez pulling this off? Funnily enough, his velocity is actually down on all three of his pitches. However, it has dropped more significantly on his changeup and slider than on his sinker, thereby giving him a bigger velocity gap between his fastball and offspeed offerings. He has also added more vertical movement to both his changeup and his slider. What's more, he has upped the spin rate on his slider, despite throwing it with less velocity.
The pitch modeling system Stuff+ loves the new stuff on his slider, while PitchingBot loves what he's done with his changeup. Sánchez is inducing more groundballs with his change and more whiffs with both weapons. His slider has become his best putaway pitch, while his changeup has been one of the best in the game for generating weak contact.
Meanwhile, the best thing he has done with his sinker is throw more strikes. His zone rate on the pitch is way up, meaning he can rely more heavily on his fastball when he gets behind in the count. His sinker has been the final pitch in a walk only six times since June; last year, it led to twice as many free passes.
In just 13 games, Sánchez has generated a +7 run value on his sinker – tenth-most among all MLB pitchers since June 17.
A Future in Philadelphia
Make no mistake, 13 starts is still a small sample. At the same time, this kind of performance is more than a fluke. Sánchez might not be quite this consistent going forward, but he has proven himself to be a capable big league starter.
Indeed, Sánchez has outperformed Taijuan Walker as of late. One could make the case he's been more reliable than Michael Lorenzen too, who has a 7.80 ERA and 7.46 FIP in three starts since his no-hitter.
That being the case, it's looking more and more likely that Sánchez could make a postseason start. In fact, he might even start Game One of the NLDS, if Zack Wheeler, Aaron Nola, and Ranger Suárez all pitch for the Phillies in the Wild Card series.
It will depend on how he performs down the stretch (and on Philadelphia winning the Wild Card series), but the fact that it's even a possibility speaks to how far Sánchez has come. Even if he doesn't end up starting in the playoffs, he has likely earned himself a spot on next year's Opening Day roster.
From a pitcher who was left off the postseason roster to a key cog in the Phillies rotation, Sánchez has truly changed the course of his career.
This version of Cristopher Sánchez may have come out of nowhere, but it looks like he's here to stay.