Analysis
What Will Brandon Woodruff's Free Agent Contract Look Like?
Last year, Chad Green provided a blueprint that Brandon Woodruff can now follow for how an injured top pitcher can still get a new contract.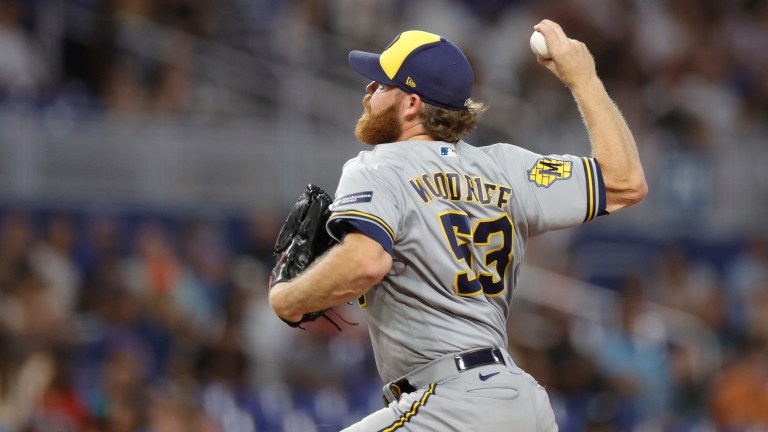 Last year, the MLB non-tender deadline brought some really exciting free agents to the market. Cody Bellinger was the biggest name non-tendered, and Jeimer Candelario proved to be another really solid one as well, bringing two starting level players to the open market.
This year, the non-tender deadline did not quite bring the same level of intrigue, with few clear impact players being added to the free agent pool. Over 60 players were non-tendered on Friday, and while some may turn things around in a big way next season, none seem to be real sure-things to produce. Really, the most intriguing non-tender was a guy who likely won't play a game in 2024.
Brandon Woodruff.
Woodruff has been one of the best pitchers in baseball across his time with the Milwaukee Brewers. The 30-year-old right-hander has a 2.76 ERA across his last 81 starts since 2020. He was in line to get paid ace dollars when he was supposed to hit free agency, after the 2024 season.
Unfortunately for Woodruff, his health became a problem this past season when a shoulder injury limited him to just 11 starts. He fared extremely well in those outings, pitching to a 2.28 ERA, but after the season, it was reported that he would need shoulder surgery that would likely sideline him for the entirety of the 2024 campaign.
Just a year away from his free agency, this put the Brewers in a really tough situation.
They tried to trade him to someone before the non-tender deadline but ultimately were faced with the decision of whether to tender him a contract when he was due to make over $11 million via arbitration.
According to MLB Trade Rumors, the Brewers could have submitted a number to arbitration that was 40% less than last year's salary, which would've been approximately $6.5 million. While this would "preserve the asset," the most they really could have gotten out of Woodruff at this point would have been by extending him the qualifying offer next offseason to get a draft pick if he left in free agency.
The reward was not worth the cost to a small market team, so the Brewers cut ties with Woodruff, non-tendering him at the deadline. Now the question is, what team will be the one that takes the risk to sign him now?
Someone can get a top-flight pitcher for the 2025 season if they take accept the risk on Woodruff this winter. We saw a similar situation play out last season with relief ace Chad Green, who ultimately signed a complicated deal with the Toronto Blue Jays.
We can learn a lot from the structure of Green's deal about how an injured pitcher like Woodruff can set himself up to get paid, even with so much doubt surrounding what will come following his rehab from shoulder surgery.
The Chad Green Precedent
Last offseason, Chad Green became a free agent for the first time in his career. The only problem was that he had undergone Tommy John surgery during the 2022 season and was expected to miss most of the 2024 campaign rehabbing.
Green had been one of the best relievers in baseball during his time with the New York Yankees, having pitched to a 3.23 ERA across 383 2/3 innings pitched out of their bullpen. Over his last full season in 2021, Green won 10 games and saved six while pitching to a 3.12 ERA in over 80 innings.
There was no question how good Green had been prior to free agency, but it was a big question as to how good he would be coming off Tommy John surgery. Still, the Blue Jays saw an opportunity.
They signed Green to a two-year, $8.5 million deal, with a creative option structure that both protected the player and presented the team with an opportunity to keep him if he looked healthy upon his return to the mound.
Of the guaranteed $8.5 million, Green received $2.25 million during the 2023 season, while he was primarily still rehabbing from Tommy John. The remaining $6.25 million of guaranteed money came in the form of a player option for 2024.
If Green did not make a healthy return to the mound, or if he looked awful when he did, this gave him the security to still have a year to rebuild his value following Tommy John. Instead, Green returned to pitch 12 innings down the stretch.
While his 5.25 ERA wasn't great, he finished things up strong and looked like his old self. Over his last six appearances, Green allowed just one run and struck out 10 batters in seven innings pitched.
Following the season, Green knew that he could eclipse that $6.25 million player option if he were to become a free agent. First though, the Blue Jays had their options.
Before Green even got the chance to decline his player option, the Blue Jays had first right to keep Green on a three-year, $27 million deal. This would have paid him $9 million per season, which is certainly a significant salary for a set-up man. Toronto declined that option with knowledge that they would still have their chance to keep Green.
Next came Green's $6.25 million player option, which again, he was always going to turn down knowing he could get at least that on the open market.
This finally brings us to one last option. The Blue Jays got the chance to exercise a two-year, $21 million option to keep Green in the fold, and they did just that.
A structure similar to this one is exactly the type of deal that Brandon Woodruff's representation should be shopping for now. One that protects Woodruff against future injury by getting him a new contract but presents enough upside to the team that they guarantee a significant amount of money to an injured pitcher.
What Kind of Contract Does an Injured Ace Get?
While he likely won't help in 2024, multiple teams are going to be willing to pay Woodruff to rehab this year, in hopes of getting a discount ace the following season.
The fact that he could still get a lot of money is a testament to how good Woodruff has been. The question at this point is how much money does an injured ace get?
Since Green laid the blueprint for what these types of contracts can look like, we can duplicate it for Woodruff. The only difference is that Woodruff should earn more as a starting pitcher. I have found that by simply multiplying Green's contract by two, we can get to a pretty nice figure for what to expect if Woodruff were to sign a similar deal.
Again, we begin with the guaranteed money. Green got two years and $8.5 million guaranteed. If we multiply that by two, Woodruff would be getting two years and $17 million.
For the sake of round numbers, let's say Woodruff gets $5 million of that in 2024.
While it is a far cry from what he should have made through arbitration, $5 million is not bad for a pitcher who isn't expected to see the mound at all this season. Especially when he knows that he has at least $12 million coming his way beyond the 2024 campaign.
Now we get to the fun part – the option structure.
Like in Green's deal, we are giving the team who signs Woodruff the first opportunity to trigger an option. This will be for three years, and since we are multiplying Green's contract by two, his three-year, $27 million option would become a three-year, $54 million option for Woodruff.
This is where there is a lot of incentive for teams to take this risk. If Woodruff shows himself to be healthy by the end of the year, whether through his rehab or actually getting back on the mound in a big league game, a team would have the chance to lock Woodruff up to a steal of a contract.
If he can return to ace form in 2025, 2026 and 2027, Woodruff would suddenly be on one of the best contracts in baseball. You might think he would never agree to giving up that much in future earnings, but remember, there is no guarantee he returns to form or stays healthy with that shoulder.
Getting $59 million over four years would still be a win for a pitcher who is currently rehabbing from a shoulder surgery, even if he ends up vastly overperforming that contract. And while a three-year deal at that number seems great for the team, there is a lot of risk in committing to a pitcher for that long coming off an injury.
Look no further than our Chad Green example for why a team could turn down that option. The Blue Jays could have spent $6 million more on Green and gotten a third year of team control but instead chose the two-year option to preserve future flexibility.
If the team declined Woodruff's three-year, $54 million option, it would then be up to Woodruff to decide on his $12 million player option. Like Green, if he proved to be healthy, then the move would be to decline that option because he would get at least that much in free agency.
Finally, that brings us to the last option.
The Blue Jays ended up exercising their two-year, $21 million option to retain Green for the upcoming season. For Woodruff, we multiply that by two and get to a two-year, $42 million option.
Although that might seem like a lot of money to give an injured ace, look back at Justin Verlander's deal with the Astros coming off Tommy John surgery and you can see the price is not that crazy.
After not having thrown a pitch in 2021, Verlander signed a two-year, $50 million deal with the Houston Astros in which the second year was a player option that vested if he pitched over 130 innings. Verlander triggered his option, but he would decline it after winning the AL Cy Young.
For Woodruff, a two-year, $42 million option is more risky for the team because they wouldn't be able to get out of the deal if he got hurt again. Whereas the Astros had the second year as a vesting option to protect themselves in case Verlander was re-injured.
On the other hand, if Woodruff pitched like an ace in 2024, the two-year deal would delay his free agency by a year and he would not be able to test the market the same way Verlander did. This is ultimately what makes it fair for both sides.
With all of that said, this deal could get even better for both sides with one final layer. If we combine the Green and Verlander contracts, there really is an interesting middle ground to be found that benefits both the team and the player.
Imagine the last option that the team could trigger is a one-year, $21 million deal, with an additional $21 million player option that vests with 130 innings pitched. This would mitigate the risk for the team who signs him but also the upside of keeping him beyond 2025.
All of this is to say that Brandon Woodruff's contract is going to be very complicated, but a new deal will be hammered out this offseason (he likely won't go unsigned). This is a great opportunity for some team to get a real jump on the 2025 free agent class.
Woodruff's now-former teammate Corbin Burnes is projected to headline that class, where he will be joined by Zack Wheeler, Max Fried, Tyler Glasnow, Walker Buehler, Shane Bieber and maybe even Gerrit Cole if he opts out of his deal with the Yankees.
While a lot of great pitchers will be available, all of them are going to be expensive. Because of this injury, Woodruff could be the most affordable arm in the long run.
Creativity is going to win out in all of these talks this offseason. We will see which team gets the most creative and pounces on this opportunity to sign one of the best starting pitchers in the game.