News
Blue Jays Take a Chance on Chad Green's Upside
The Toronto Blue Jays have reportedly signed relief pitcher Chad Green to a multi-year deal with various team and player options.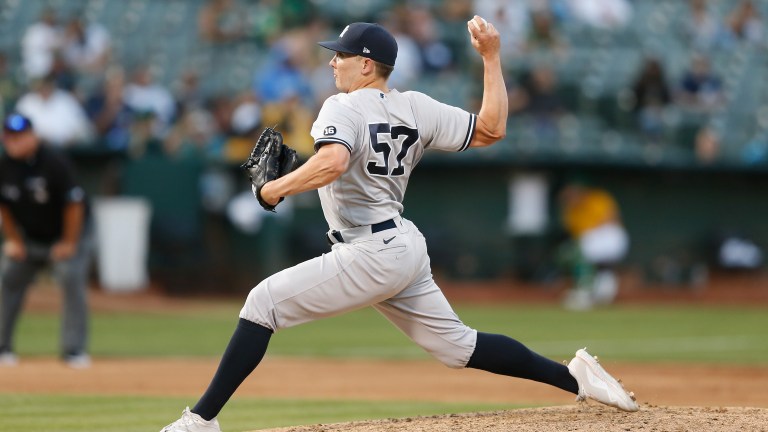 The Toronto Blue Jays made another addition to the bullpen this week, reportedly signing long-time New York Yankees right-hander Chad Green to a two-year contract worth $8.5 million guaranteed. The deal includes multiple options.
Green appeared in 14 games last season, pitching to a 3.00 ERA through 15.0 innings. The reliever's season came to a close in June when he was forced to undergo Tommy John surgery. The South Carolina product is likely to make a return this season, but when remains unclear, given his current rehab timeline.
A former 11th-round pick of the Detroit Tigers back in 2013, Green made his MLB debut with the Yankees in 2016 and has spent the past seven seasons in New York, amassing a 3.17 ERA and a 1.022 WHIP with an 11.6 K/9 through 272 games (24 starts). With the Bronx Bombers, Green racked up 11 saves and limited batters to 2.3 walks per nine.
The Blue Jays Sign Green to a Multi-Year Deal
In 2021, when he last pitched a full season, Green sat in the 90th percentile in K% and also sat in the 94th percentile in fastball spin according to Statcast. His fastball velocity sat in the mid-90s. At the Rogers Centre, Green owns a 2.33 ERA through 19.1 innings, allowing five earned runs and one home run compared to 31 strikeouts.
His contract is elaborate following the 2023 season. Green will make a minimum of $2.25 million this year, and after this season, the Blue Jays hold a club option worth $27 million from 2024 to 2026. Should the Jays' front office decline that option, Green has a player option for the following season worth $6.25 million.
Should Green decline his player option, the Blue Jays will then have an additional club option worth $21 million through the 2024 and 2025 seasons. Green also has incentives based on games pitched, making either $1 or $2 million extra depending on which option gets picked up (assuming either the Jays or Green do accept one of the available options).
The deal itself has multiple layers to it, which really will be shaped by how Green performs when he returns from Tommy John surgery. If he comes back midway through the year and returns to form, the $27 million option over the next three seasons could be an absolute steal for the Jays. However, different options are in place should Green hit a setback in his rehab this season or if he struggles upon his return.
Adding Green to an already deep relief corps will only help to shore up an area where the Blue Jays struggled at times in 2022. Considering his experience in the AL East and ability to limit walks (plus his strikeout numbers when healthy), the Jays have improved their bullpen, even if Green doesn't debut until later in the year.