Analysis
Vladimir Guerrero Jr. Has Some Curious Home/Road Splits
Vladimir Guerrero Jr. is having a strong season for the Blue Jays, but most of his production so far has come on the road.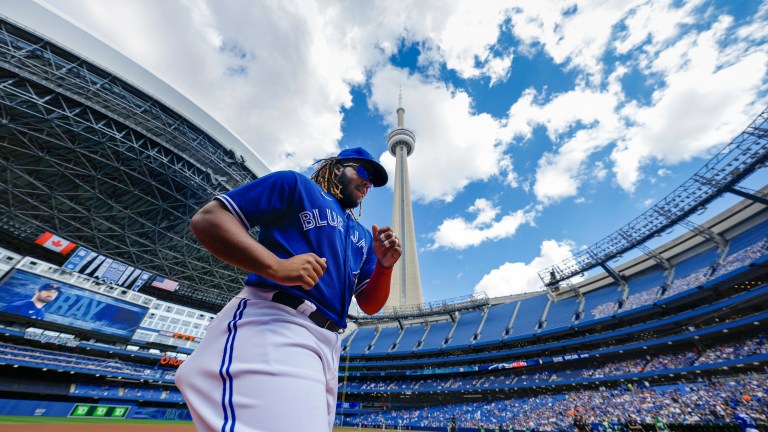 The Toronto Blue Jays have one of the deepest starting lineups in the American League, led at the top of the order by George Springer, with Bo Bichette, Matt Chapman, Alejandro Kirk, and Daulton Varsho in the mix as well throughout the lineup. In the third spot is 24-year-old Vladimir Guerrero Jr., who has emerged as one of the most dangerous bats on the squad ever since his debut in 2019.
One of the top prospects in baseball just four years ago, Guerrero has been a force at the plate, highlighted by his MVP-caliber campaign back in 2021, in which he posted a .311 batting average with an AL-leading .401 OBP, .601 SLG, 1.002 OPS, and a 167 OPS+, while also tying Salvador Perez at 48 home runs. Had it not been for Shohei Ohtani and his two-way superstar abilities, Guerrero would have likely taken home the AL MVP honors.
This season, the Jays were projected to be one of the top teams in the league, and so far, they have fallen short of those expectations. Heading into Tuesday night's contest, they were last in a tough AL East division with a 25-23 record, sitting 9.5 games back of the Tampa Bay Rays. With a solid mix of veteran talent and a young core on both sides of the ball, the Jays have one of the strongest teams on paper.
The Jays also entered the 2023 campaign with a new-look ballpark; the outfield dimensions have changed, as have the bullpens, drastically transforming how the Rogers Centre looks on the field.
With a revamped ballpark, it's interesting to see that Guerrero has struggled somewhat at the Rogers Centre to begin the season. The righty-batter owns a .231/.303/.308 slash line through 89 plate appearances, mustering just 18 hits, six of which are doubles, to the tune of a .611 OPS.
The Montreal-born slugger has yet to hit a home run in Toronto this season and has 10 RBIs on the year while grounding into four double plays and striking out 18 times north of the border. Of his 21 games played at home, Guerrero has just four multi-hit games and owns a .290 BABIP with a 47 tOPS+, which is reflective of his split in relation to his total OPS.
In comparison, through 25 games on the road, Guerrero owns a .353/.417/.647 slash line with eight home runs, 23 RBIs, and eight walks compared to 15 strikeouts with a 1.064 OPS. The first baseman also has six doubles through 102 at-bats and has 17 runs on record, eight more than at the Rogers Centre. Last night against the Rays, Guerrero went 3-for-6 at the plate with six RBIs, including a grand slam off of position player Luke Raley late in the game.
Overall, Guerrero is having a solid campaign at the plate, although he did struggle through the team's last homestand and was battling a knee injury that kept him out of one contest against the Yankees and limited him to pinch-hitting in another. The injury could have played a factor in his diminished output last week at home, as he likely wasn't 100%.
On the season, the three-hole hitter owns a .300 batting average with an .868 OPS while sitting above the 90th percentile in xSLG (95th), xwOBA (96th), xBA (97th), average exit velocity (98th), and hard-hit rate (98th).
He has opened his stance up a bit and is chasing more this year (34th percentile), but compared to last season, he has improved most of his numbers, including his average exit velocity (+1.9 MPH), launch angle (+7.3), barrel rate (+3.3), hard-hit rate (+6.8), and sweet spot percentage (+8.7).
Guerrero's Early Splits Stats at Home Are Nothing New
At this point last season (through May 23), the righty batter owned a .211 average through 76 at-bats with two doubles, three home runs, and 12 RBIs, along with a .658 OPS and a .302 OBP at the Rogers Centre.
Essentially through the same amount of games, Guerrero has posted an OPS that is .047 points lower this year with three fewer home runs, although he has more hits (18 vs. 16) with four more doubles compared to last season through April/May. The OBP is only off by 0.001, while his slugging is almost 50 points down, sitting at .308 compared to last season's .355. Another interesting comparison is the BABIP, as his 2022 total through the 21 games at home was .80 points lower than it is right now.
Interestingly enough, Guerrero's early-season split stats are nothing new in 2023 and range back to last season as well. Whatever the case may be, Guerrero currently owns a 1.2 bWAR on the year and sits 11th in AVG (.298), 15th in OBP (.365), and 18th in OPS (.849) within the AL with over 113 games to go left in the season for the Blue Jays.