MLB's One-Hit Wonders
These players snuck their way onto one MLB All Star game then never made it back.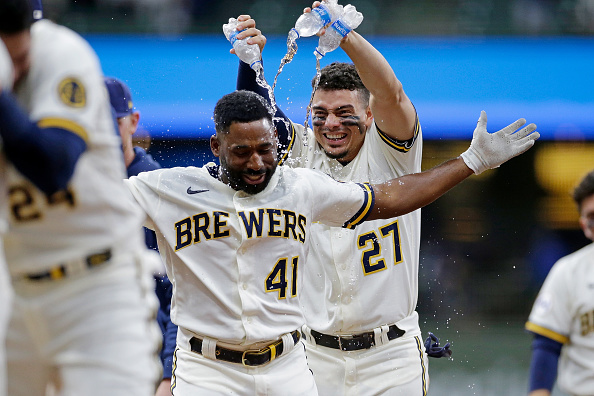 "Hey, what's that one song by Vanilla Ice?"
Within a split second, most people would respond in a cadence of Ice Ice Baby, followed by the famous beat.
Now name another Vanilla Ice song.
Crickets.
"One-hit wonders" happen every year in the music industry. I have always been fascinated with the story of a one-hit wonder artist. How do you create a song that rises to the top of the charts and becomes known to all but can never catch the magic again? Which lead me to thinking, who are the one-hit wonders of baseball?
I decided to take a look at the players who appeared in only one All-Star game (since 2010). Players who reached the point of "top player at their position" for at least half of a season and were voted in. In this exercise, I will construct a team for the National League and the American League with the following rules:
1. Must have appeared in no more or no less than one all-star game
2. Must have four full seasons of MLB service time
I wanted to resurface some old memories. Players that we might not remember. Players that outperformed their career numbers so drastically they got a taste at the top, to never return again.
Catcher
National League: Devin Mesoraco (Reds, 2014)
Devin Mesoraco put together a 2014 season that Reds fans won't soon forget. The Reds thought they had found their next great catcher. In 2014, Mesoraco slashed .273/.359/.534 with 25 home runs and a 147 wRC+, the last time he would reach a wRC+ of 100. Injuries played a big factor in his career fading and never recapturing what he found in 2014.

American League: James McCann (White Sox, 2019)
Starting his career in Detroit, McCann never really proved he was much more than an average catcher. A depth option at times. In 2019, McCann left for the south side of Chicago and joined the White Sox, where he earned an All-Star bid in year one. McCann racked up career-high's in almost every category and his success carried over into the shortened Covid season in 2020. The New York Mets gave him a four year, 40 million dollar contract and his play returned back to his career averages.
First Base
National League: Allen Craig (Cardinals, 2013)
Craig had a strong 2013 in St. Louis where he slashed .315/.373/.457 which was actually slightly worse overall production than his previous two years. In 2014, Craig's average dropped 100 points and he never was able to get back to his All-Star form. What looked like a promising start to his career ended rather quickly, as he last played with Boston in 2015.
American League: Justin Smoak (Blue Jays, 2017)
Once considered a top prospect, it took seven seasons before Smoak broke out with 38 home runs and an All-Star appearance in 2017. The power surge wasn't exactly a flash in a pan, as he had 20 or more home runs four times in his career. However, Smoak's numbers continued to free-fall and he was out of the league after 2020.
Second Base
National League: Joe Panik (Giants, 2015)
Joe Panik has been around or well-below league average every year in his career besides one: his All-Star year. His .312/.378/.455 2015 season was drastically better than his career .239/.304/.325 slash line. While he has not been able to get back to this level of play, Panik is still sticking around the league. He might be one of the more random players to have a Gold Glove, World Series ring, and All-Star appearance.
American League: Brock Holt (Red Sox, 2015)
The Red Sox super-utility man was beloved in Boston, and for good reason. He played everywhere but catcher and pitcher in 2015 and was more of a throw back player. You don't usually see a player with only two home runs make the Mid-Summer Classic, but Holt did just that while grading as a below average hitter.
Third Base
National League: Jake Lamb (Diamondbacks, 2017)
Lamb put together two seasons from 2016-2017 that still earn him opportunities to this day. In 2017, the Diamondbacks third basemen hit 30 home runs, topping his 2016 total of 29. Lamb has never hit more than seven in any other season.
American League: Eduardo Núñez (Twins, 2016)
Núñez is a name you probably know, but can't tell me much about. A fine backup utility-type, Núñez has never had a stand out year. Even during his All-Star season, he had a 101 wRC+. His main contribution was his speed where he stole 40 bases, almost double his previous career-high.
Shortstop
National League: Aledmys Díaz (Cardinals, 2016)
Díaz is a rare case of a rookie making an All-Star game but never making it back. His career isn't over, but as a utility guy for the Astros, the chances of a return to the Mid-Summer classic seem slim. In 2016, Díaz put up a .300/.369/.510 line with 17 home runs in 111 games. As I dug into this one, I was left shrugging my shoulders.
American League: Alcides Escobar (Royals, 2015)
This might go down as the worst offensive season an All-Star selection has ever had. Escobar was known for his defense, but a 66 wRC+ and .257/.293/.320 slash usually sends players to Triple-A, not to the Midsummer Classic. In 2021, after two years away from The Show, Escobar finally put up a league average wRC+ at exactly 100 for the Nationals.
Outfield
National League:
Dominic Brown (Phillies, 2013)
If you are struggling to remember Dominic Brown, that's because most of his career was pretty forgettable. However, 2013 was by far the best season for the 25-year-old outfielder. Brown hit 27 home runs while the rest of his stats were about average. Of the 27 home runs, 23 came in the first half, catching the eyes of the voters.
Ender Inciarte (Braves, 2017)
Another glove first All-Star, Inciarte has never been much of an offensive player. In 2017, he hit just enough (.302 batting average) and stole 22 bags. I guess the Braves needed someone to represent their team.
David Dahl (Rockies, 2019)
A classic example of an okay player riding a good first half and sneaking in. Dahl slashed .308/.352/.530 with 39 extra base hits in 2019. Dahl's career is already leaning towards a fringe player and his 0.6 career WAR is one of the lowest of any All-Star player.
American League:
Jackie Bradley Jr. (Red Sox, 2016)
Jackie Bradley Jr. is a great athlete and a top-tier defensive outfielder. Playing in a market like Boston with plenty of viewers, all Bradley needed to do was show a glimpse of his potential and the fans would vote him in. In the first half of 2016, Bradley slashed .296/.378/.548 with 14 home runs and the fan favorite was headed to the All-Star game.
Michael Saunders (Blue Jays, 2016)
WHO?! I can't blame you for forgetting about Saunders; a mostly pedestrian career will do that to you. In 2016, Saunders hit 16 first-half home runs and put up a .923 OPS. He was out of the league just one year later.
Avisaíl Garcia (White Sox, 2017)
García is only 30 years old, but began his career in 2012 with Detroit. In 2017 as a member of the White Sox, he posted career-highs across the board, slashing .330/.380/.506 with a 138 wRC+. While he remains a productive player, he has yet to get close to that All-Star level.
Pitchers
National League: Mike Foltynewicz (Braves, 2018)
Foltynewicz has a 4.0 career WAR. In 2018, his WAR was also 4.0, which tells you how his career has gone. His 2.85 ERA in 2018 is the only time he's pitched below a 4.00 ERA. After experiencing career-bests across the board in 2018, Foltynewicz is battling to stick in the league just a few short years after his All-Star season.
American League: Ricky Romero (Blue Jays, 2011)
Ricky Romero was filthy when he was on his game. In 2011, he pitched 225 innings to a tune of a 2.92 ERA and a 146 ERA+. The very next season, he lead the league in walks and was out of the league in 2013 at the age of 28.
Other One-Time All-Stars Since 2010
Catcher: John Buck, Alex Avila, Carlos Ruiz, Mike Napoli, Jason Castro, Derek Norris, Kurt Suzuki, Yan Gomes, Mike Zunino, Omar Narvaez
First Base: Gaby Sanchez, Bryan LaHair, Billy Butler, Chris Davis, Brandon Moss, Brandon Belt, Eric Hosmer, Justin Smoak, Yonder Alonso, Mitch Moreland, Jesus Aguilar, Josh Bell, Carlos Santana, Daniel Vogelbach, Matt Olson
Second Base: Martin Prado, Omar Infante, Howie Hendrick, Rickie Weeks, Brina Dozier, Brock Holt, Joe Panik, Jonathan Scoop, Jed Lowrie, Scooter Gennett, Jeff McNeil, Tommy La Stella, Adam Frazier
Third Base: Ty Wiggington, David Freese, Pedro Alvarez, Kyle Seager, Miguel Sano, Anthony Rendon, Rafael Devers, Joey Wendle, Eduardo Escobar
Shortstop: Everth Cabrera, Erick Aybar, Alcides Escobar, Jose Iglesias, Addison Russell, Zack Cozart, Paul DeJong, Jore Polanco, Tim Anderson, Trea Turner
Outfield: Nick Swisher, Marlon Byrd, Chris Young, Jacoby Ellsbury, Matt Joyce, Melky Cabrerra, Yasiel Puig, Brett Gardner, Joc Pederson, AJ Pollock, Wil Myers, Dexter Fowler, Odubel Herrera, Adam Duvall, Corey Dickerson, Shin-Soo Choo, Mitch Haniger, Nick Markakis, Austin /meadows, Teoscar Hernandez, Kyle Schwarber, Chris Taylor, Juan Soto
Starting Pitchers: Trevor Cahill, Roberto Hernandez (Fausto Carmona), Ubaldo Jimmenez, Yovani Gallardo, Alexi Ogando, Kevin Correia, Jair Jurrjens, Ryan Vogelsong, R.A. Dickey, Wade Miley, Matt Harrison, Hisashi Iwakuma, Justin Masterson, Matt Moore, Chris Tillman, Matt Harvey, Jeff Locke, Travis Wood, Henderson Alverez, Tyson Ross, Jeff Samardzija, Alfredo Simon, Hector Santiago, A.J. Burnett, Shelby Miller, Michael Wacha, Jake Arrieta, Drew Pomeranz, Noah Syndegaard, Marco Estrada, Jose Quintana, Danny Salazar, Aaron Sanchez, Steven Wright, Michael Fulmer, Lance McCullers Jr., Jason Vargas, Alex Wood, Trevor Bauer, Robbie Ray, J.A. Happ, Blake Snell, Aaron Nola, Ross Stripling, Luis Castillo, Lucas Giolito, Mike Minor, Jake Odorizzi, Marcus Stroman, Chris Bassitt, Nathan Eovaldi, Kyle Gibson, Carlos Rodon, Corbin Burnes, Kevin Gausman, German Marquez, Freddy Peralta, Taijuan Walker, Zack Wheeler
Relief Pitchers: Neftali Feliz, Rafael Soriano, Matt Thorton, Matt Capps, Hung-Chih Kuo, Evan Meek, Arthur Rhodes, Aaron Crow, Brandon LEague, David Robertson, Jorden Walden, Johnny Venters, Ryan Cook, Jim Johnson, Grant Baulfour, Brett Ceicil, Jessie Crain, Steve Delabar, Jason Grilli, Edward Mujica, Sergio Romo , Tony Watson, Koji Uehara, Brad Boxberger, Darren O'Day, Trevor Familia, Jeurys Familia, AJ Ramos, Brad Brach, Alex Colome, Will Harris, Chris Devenski, Brandon Kintzler, Roberto Osuna, Corey Knedel, Joe Jimenez, Edwin Diaz, Blake Treinen, Jeremy Jefferies, Kirby Yates, Shane Greene, Matt Barnes, Andrew Kittredge, Taylor Rogers