Analysis
Tyler Mahle's Pitch Count and Home Struggles
Tyler Mahle has been great this season, but his splits are jaw-dropping.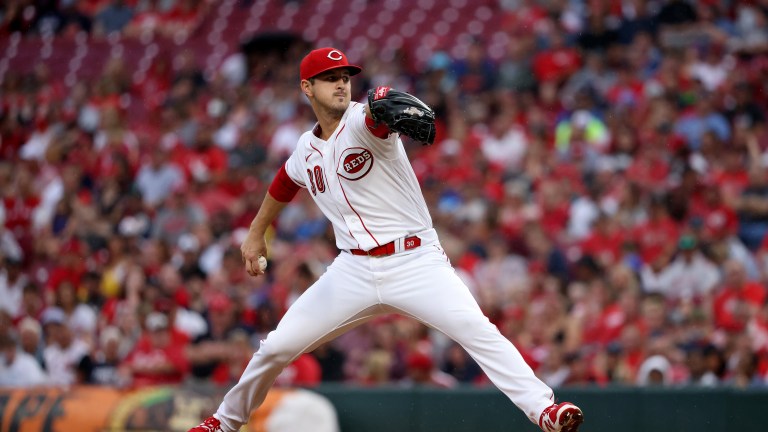 The Cincinnati Reds' starting pitching has been a rollercoaster all season. Wade Miley has put together a fantastic year thriving off of weak contact and working quickly. Luis Castillo struggled mightily to begin the season, but has settled in since. Sonny Gray has pitched well in spurts, but has dealt with injuries on and off. While the fifth spot hasn't been consistent, Gutierrez has flashed potential at times. Tyler Mahle has looked great during some games and struggled to get out of the fourth inning in others. No one questions his talent, but pitch count, first inning woes, and home road splits have held him back from reaching his full potential.
The common critique of Tyler Mahle is that the right-hander struggles in the first inning and can't work deep into games due to elevated pitch counts. While at times, the stereotype can be true, but that is not always the case. The first two months of the season, Mahle pitched six or more innings just twice in eleven starts while only throwing 100 or more pitches once. That could be construed as two poor starts combined with David Bell easing him into the season. You don't see many starters reaching the century mark for pitches in their first several starts of the year. Mahle has hit triple digits eleven times since then while working six or more innings nine times in 18 starts. In only three of those starts, he was effective and then pulled due to pitch count. If you look at his ERA by inning, the first inning isn't drastically different from the second or fifth inning. 
ERA 1st inning: 3.72
ERA 2nd inning: 3.72
ERA 3rd inning: 5.14
ERA 4th inning: 1.93
ERA 5th inning: 3.46
ERA 6th inning (13.2 in): 6.59 
ERA 7th inning (5.2 in): 0.00
These stats show there's not a lot of reason to be concerned about Mahle giving up runs in the first inning in particular. However, his first inning pitch count is slightly more concerning and something to monitor as his career continues. Too often, Mahle has thrown 28 pitches in the first inning. The reason isn't that he's getting teed off on, it's that he's not one to pitch to contact. Obviously, with a pitcher that relies more heavily on strikeouts, each at bat will likely have a few extra pitches. Mahle likes to throw on the edges or just outside of the zone instead of attacking hitters.
As of September 9th, he was second in the MLB with pitches "on the black". His style and pitching game plan more times than not will result in higher pitch totals and deeper counts.  While it can be frustrating to watch, it's one of the reasons he is successful. Moving forward, the hope is he can become even slightly more efficient, allowing him to get into the seventh inning of games where he's pitching with his best stuff. 
1st Inning Struggles/High Pitch Count Concern: Low 
While I'm not losing sleep over Mahle's pitch count, thinking of his home/road splits causes insomnia. Great American Ballpark is a hitter's dream and a pitcher's nightmare. Reds starters often have a higher home than road era, but Mahle's 6.09 home era compared to 1.97 road era is quite concerning. Cincinnati's other starters haven't struggled at home nearly as much as Mahle.
Mahle has surrendered 18 home runs in Great American Ballpark and only five home runs away from Cincinnati, while logging more road innings. It's increasingly concerning when adding an increased number of hits and more than double the runs at home to that list. Simply put, Mahle's home statistics are drastically worse across the board. A bunch of playoff caliber teams must have faced him in GABP right? Mahle has faced subpar teams at home such as the Twins, Cubs, Tigers, Pirates, Rockies, and Diamondbacks and produced one dominating start (Ahh, the good 'ol Diamondbacks). It's extremely difficult to speculate what the issue could be, and it could be any reason. Good luck figuring it out.
Level of Concern with Mahle's Home Stats: High 
The Reds are fighting for the final Wild Card spot and Tyler Mahle will be a critical pitcher if they wish to make a deep run. He might not put it all together this season, but at 26-year-old, there's room to develop and reach another level. Derek Johnson has plenty of success stories and helping Mahle reach that next level is near the top of the offseason to do list.