Analysis
Trea Turner Is Reminding Us Why the Season Is 162 Games Long
The Phillies shortstop has turned his season around over the past six weeks, going from huge disappointment back to superstar status.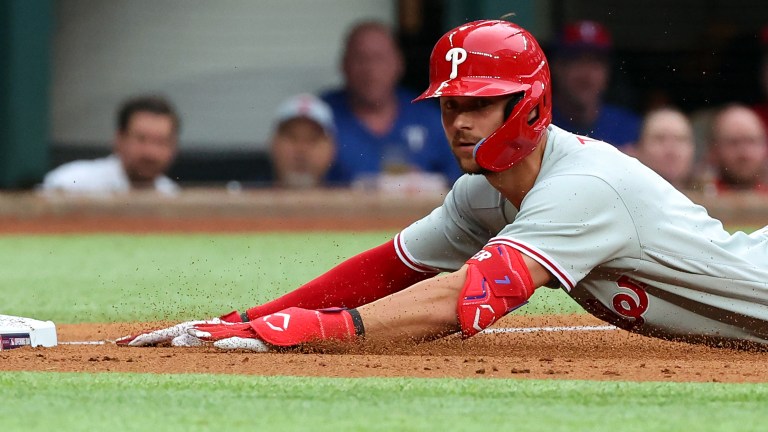 On August 3, Trea Turner was batting .236/.289/.367, good for a .656 OPS. More than 100 games into his mega-contract with Philadelphia, he looked nothing like the perennial MVP contender the Phillies thought they were getting.
Never before had he had so much as a 50-game stretch with an OPS so low. Fans, coaches, and the man himself couldn't help but wonder what was going on.
Up to that point, only ten qualified batters had a lower wRC+ than Turner. That stood in stark contrast to the previous three seasons, when only ten qualified batters had a higher wRC+ than the All-Star shortstop.
If that doesn't sound bleak enough, consider it this way: No player in baseball made more outs at the plate through the first four months of the season. In case you're brand new to the sport, making outs is, you know, literally the one thing hitters don't want to do.
Turner was supposed to be a linchpin of the Phillies offense. Instead, he was actively losing them games at the plate. No NL hitter had contributed less Win Probability Added (WPA) to his team.
Then, all of a sudden, seemingly overnight, Trea turned things around.
In the week leading up to August 4, he slashed .143/.226/.179 with just four hits and one RBI. Over the following seven days, he slashed .429/.448/.857 with six doubles and two home runs, driving in nine. And he was just getting started.
Since August 5, Turner has hit 16 home runs with a league-leading 1.148 OPS and 3.0 FanGraphs WAR. He ranks among the top ten NL batters in hits, runs, RBI, extra-base hits, wRC+, and all three triple-slash categories. Only Kyle Schwarber has hit more home runs, and only Bryce Harper has a higher WPA.
With an unbelievable showing over these past 40 games, Turner has raised his full-season numbers into much more respectable territory. His 109 wRC+ is 9% better than the league-average hitter and 14% better than that of the league-average shortstop. His .785 OPS is only 24 ticks behind his .809 OPS from his Silver Slugger-winning performance in 2022.
With 26 home runs and 63 extra-base hits, he is just two shy of his career-high in both categories.
Most impressive, thanks to his elite baserunning and capable defense, Turner has bumped his fWAR up to 3.7, putting him on pace for yet another 4-WAR season. That's the benchmark for an All-Star campaign. Currently, only 21 NL hitters have been worth more Wins Above Replacement.
While there isn't a simple way to calculate dollars-per-WAR value, there's no denying that Turner has more than earned his $27MM salary in 2023.
Nobody expected it to play out quite like this, but at the end of the day, the Phillies got their star shortstop. The stats don't lie, and the numbers say Turner has been one of the better players in the National League.
Some will credit Trea's turnaround to the standing ovation he received from the Philadelphia faithful on August 4. Indeed, the meaningful gesture coincided perfectly with the end of his cold stretch. Others will call it a mere coincidence; the superstar was bound to break out of his slump eventually.
Either way, his recent performance serves as a valuable reminder that the MLB season is long. Six months; 162 games; 1458 innings, give or take. Teams can change, players can change, and narratives can change.
Even after four months of dismal production – that's two-thirds of the season – Turner is preparing to finish as one of the top 50 position players in the game for the sixth year in a row.
It's easy to get caught up in small sample sizes. It's even easier to read into not-so-small sample sizes. As a baseball writer, that's practically my job. Ultimately, however, the sample size will always be small until all 162 games are up.
Trea Turner was having a terrible season – until he wasn't. It ain't over till it's over, as the great Yogi Berra said. We've all heard the saying time and time again, but sometimes, it's nice to have a reminder.
Stats and rankings as of September 20.