Analysis
Potential Trade Targets for the Padres
The Padres still have plenty of talent on paper, but with A.J. Preller at the helm anything is on the table.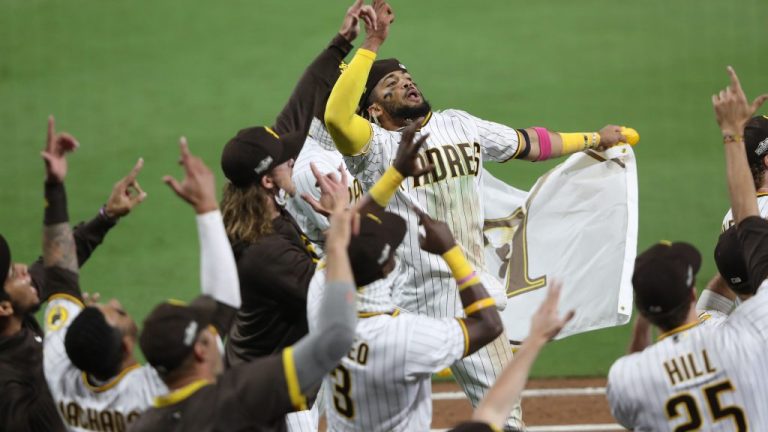 The MLB trade deadline is on the horizon and, thanks to a litany of injuries and underperforming players, there is great potential for a significant number of interesting moves to be made. And while that's certainly the most cliche sentence one could possibly use to start off an article about the trade deadline, it doesn't make it any less true. It's also true that the no-longer-Slam-Diego Padres, a team that was the story of the offseason and projected for glory, has been greatly disappointing as of late. So, naturally, there's a lot of intrigue surrounding whether or not the team will make a big move.
Considering that the team's general manager, Sir A.J. Preller the Wise, is a master in all forms of the mystic arts it's unlikely that the Padres will park the car in neutral for the entirety of the deadline. Since I don't actually know the specific moves Preller will attempt to make, I will instead opine about a few potential trade targets the Padres should go after as well as a few popular names the team really should abstain from pursuing. Let's get into it!
Mitch Haniger – Outfielder, Seattle Mariners
To start things off I'll go with, perhaps, the second-greatest Mitch I've ever laid eyes on (Mitch Kramer in Dazed and Confused obviously holds the top spot). Mitch Haniger, an all-star and finished 11th in MVP voting in 2018, has been a slugging monster in 2021. He's currently tied for 5th in HRs (16) amongst AL qualified hitters, has an impressive ISO mark of .255, and is wasting away in the dark depths of Seattle, the latter fact being the most important. Unlike, for instance, the trade for Mitch Moreland last season, which felt as if Preller got a bit too trigger happy, there's real reason to believe what Haniger's doing this season is legitimate. And, with the Mariners in rebuild mode, this is a perfect time to make a move for the right fielder.
Granted, there are some concerns to be had with Haniger's health, as he missed most of 2019 and the entirety of 2020 while recovering from a herniated disk in his back. He also has a troublingly low walk rate (6.8%). However, with regards to the latter, his previous marks of 10.6 in 2019 and 10.2 in 2018 could suggest some positive regression is to come. Plus, he's not nearly as likely to cost as much to acquire as some other big names out there. Free Haniger!
Josh Harrison – Infielder, Washington Nationals
Harrison's iconic base-running magic should alone justify his appearance on this list. He's been a consistent player for years and is currently batting .274/.350/.389 on the season, which is solid. Those numbers aren't remarkable by any means, but they are a whole lot better than a number of the Padres hitters this season. Furthermore, his positional versatility is a definite plus, and makes him all the more valuable. On top of that, similar to Seattle above, the Nationals are in rebuild mode and the price for Harrison could be the baseball equivalent of an order of baconator fries and a chocolate frosty.
Being cheap has certainly never been A.J. Preller's game, but that doesn't mean it should be dismissed outright.
Whit Merrifield – Infielder, Kansas City Royals
It feels like his name has been in trade rumors for years, most likely due to the fact that the team he plays on has been irrelevant for years. Merrifield is one of the game's premier second-basemen, having led the American League in hits twice and is in possession of elite speed and base-running skills. Yes, his start to this season was slow, but he's made up for it this month June by producing a .328/.343/.453 slash line.
In addition to his incredible numbers as of late, he's only missed 4 (!) games since 2018, which should be impossible given the type of player he is. It'll certainly be a pricier move than Josh Harrison, and he's not going to light up Petco Park with 3-run bombs, but the versatility and hitting skills could be a major plus for a struggling Padres lineup. Don't let the slow start fool you, and instead hope that your favorite team swoops in and grabs him before it's too late.
Robbie Grossman – Outfielder, Detroit Tigers
Grossman has great discipline at the plate (his 20.1% outside the zone swing percentage ranks 5th in the majors) as well as some quality power that could see a boost when taken out of Comerica Park. Additionally, he's a lefty bat that could help the Padres mix-and-match better when facing some of the tougher pitching staffs in the league.
And I don't mean help in the mild sense of the word, but in the ghost-chilly-pepper sense because Grossman is absolutely eviscerating lefties this season. So far he's slashing an otherworldly .313/.422/.567 against them, which is good for an OPS of .989 and a 167 WRC+. If that's not enough for you, he's even batting an impressive .366/.415/.634 with men in scoring position, which is an area the Padres are amongst the worst in baseball.
Starling Marte – Outfielder, Miami Marlins
Starling Javier Marte is one of the most consistent outfielders in all of baseball! He's never had incredible power numbers nor has he ever been an OBP warlock, but I enjoy the prospect of adding a consistent hitter to a Padres lineup that has been anything but. Plus, the chance of furthering their lead in stolen bases (67, with the next closest team, the Texas Rangers, having 48) could potentially make this team a lot of fun.
Unfortunately, this will likely be the last article I write, as the sheer mention of trading Marte most likely means that Just Baseball's editor-in-chief and Marlins superfan Aram Leighton is guaranteed to fire me. I'll see you all on the flip-side.
Richard Rodriguez – Relief Pitcher, Pittsburgh Pirates
Why does no one talk about this guy? Actually, don't answer that, we all know the answer; it's simply because he's on the Pirates, who have been the definition of — and I can't emphasize this enough — a dumpster fire. I know I'm not the only one who thinks that Rodriguez, aside from young stud Ke'Bryan Hayes, is one of the few lone bright spots on the team and, unlike Hayes, he's available!
While the Padres bullpen has been elite in the early going, it's fair to expect some regression from guys like Mark Melancon and Tim Hill. Additionally, with Drew Pomeranz being injured Rodriguez is a guy the team should at least take a look at. Thanks to an improved spin rate on his fastball and slider, Rodriguez has quietly become one of the more reliable relievers in baseball. He's currently rocking a minuscule 1.71 ERA and WHIP of 0.68. Furthermore, if you count his 3.2% rate this season, Rodriguez has had a walk rate of less than 7% in 3 of his 4 last seasons.
Now, let's quickly run through some players I'd be less than excited for the Padres to trade for.
Josh Hader – Relief Pitcher, Milwaukee Brewers
Wait! Hold on! Don't send that tweet roasting me! I know Josh Hader has been the best reliever in baseball for quite some time, but the price for Hader is going to be extremely high, especially given the fact that the Brewers are a contending team. I don't have any real reason to think Hader's actual performance is going to dip (aside from my general uneasiness about relievers given how volatile the position can be), but at his current price point I would prefer it if the Padres passed.
If anything, I expect the Brewers to be major buyers, but unless there's a temporary lapse in sanity in their front office — or Preller is able to pull off another Jedi mind Trick and acquire him for, like, the team's 23rd ranked prospect — then this is a stayaway.
Max Scherzer – Starting Pitcher, Washington Nationals
After stumbling a bit in 2020 (definitely just to spite me the one year I managed to get him on my fantasy team), Scherzer has returned to the S-tier status of starting pitchers he's been in his whole career. An ERA of 2.21, a WHIP of 0.81, and having lowered his uncharacteristically high walk rate from last season (7.8%) to 5.2%, Mad Max is easily the top starting pitcher on the trade market. Sure, the Nationals claim they aren't listening to offers, but they should, and most likely will, as the season progresses and the team's hopelessness becomes more apparent.
Having said that, I do not believe that the Padres should be looking in this direction. It's true that you can never have too many ace pitchers — and that Blake Snell looks very pedestrian to this point — but, like Hader, the price may be a bit high, which is totally understandable. Also, given that Scherzer is a free agent after this season, and the Padres pitching is still some of the best in baseball (2nd in ERA, 5th in WHIP, 3rd in OBA), I don't think another rotation arm should be a top priority. They're still in good shape, and there are cheaper options (e.g. Kyle Gibson, German Marquez, Danny Duffy) if they feel inclined to go down that route.
Joey Gallo – Outfielder, Texas Rangers
Joey Gallo is fairly cut-and-dry as a player: he hits dingers, strikes out at a very high clip, and walks a ton. While, admittedly, there's not overwhelming evidence to support this, Gallo's strikeout tendencies make me anxious that he could become another Chris Davis if things broke the wrong way for him. His surprisingly adequate defense would be a plus for the Padres outfield, but [insert Bernie Sanders meme] I am once again asking everyone to think about the price it would take for a player of his caliber.
The Rangers were reportedly asking for Luis Patino and C.J. Abrams the last time the two teams were in trade talks — both of whom are elite prospects — and one of which was sent away in the Blake Snell trade. I'm doubtful that the asking price has changed, especially given the fact he won't be a free agent until 2023. Plus, given that the Padres have essentially purchased the state of Texas over the last year, I doubt the team's front office would be inclined to play nice. I'm only partially kidding, and while trading for Joey Gallo wouldn't exactly be a move to receive harsh dissent from yours truly, it shouldn't be viewed as the only move.