Analysis
Toronto Blue Jays Offseason Outlook for 2023-2024 Free Agency
The Toronto Blue Jays fell short of expectations in 2023. Can they seize the opportunity this offseason to contend again in 2024?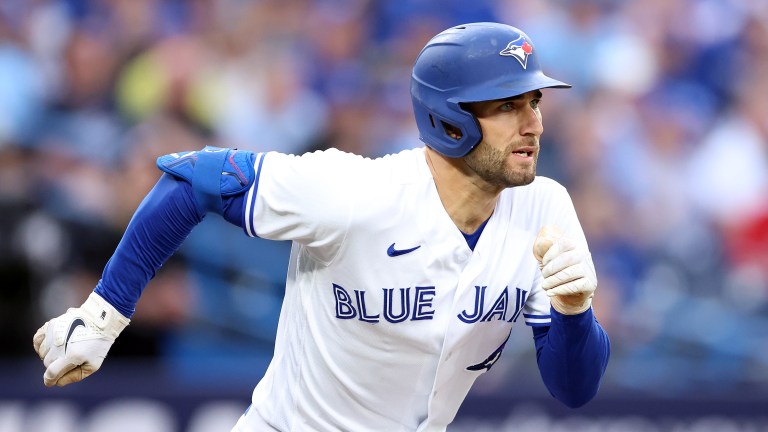 The Toronto Blue Jays 2023 campaign was disappointing at best, as the club entered the year as a postseason contender but couldn't shake the playoff demons that have haunted them since the 2016 ALCS. Seven years later and with a full tear-down rebuild in the rearview mirror, the Jays still have yet to win a playoff game, let alone an October series since coming up short against Cleveland.
It's not for lack of trying, as the club retooled with a young core in tow that was bolstered by free-agent signings and trades over the years (Hyun Jin Ryu, Kevin Gausman, Matt Chapman, George Springer, and many more), but the results just haven't come their way when it mattered the most.
The postseason window is currently at its peak but the team has yet to reach the summit with only a few years left to bring it home with the group on the field. With the 2023-2024 offseason quickly coming into focus, all eyes will be on general manager Ross Atkins and the front office.
Internal decisions for the Blue Jays are already in motion
After losing in dramatic fashion in the AL Wild Card, Atkins and manager John Schneider will return to the fold next season but likely with a shorter leash than what fans are used to seeing.
Their return was not met with positive fanfare from the Blue Jays faithful but it appears Mark Shapiro and Blue Jays ownership still have faith in the duo moving forward. However, that could be put to the test if the Jays struggle to secure some form of success next year, especially if they have another quick exit in the postseason.
Shapiro also noted that he believes the Jays' front office will be able to play with a similar budget to what the team utilized this year, passing the Collective Bargaining Tax threshold for the first time in franchise history. Doing so again this year will bring a tax increase should they surpass this mark but Rogers can afford it should they choose to do so.
Fielding a competitive team will benefit both the club and ownership, as the second phase of renovations to the Rogers Centre is currently underway and fans in social spaces are a benefit to the bottom line.
Players heading to free agency
Position Players:
| Pos | Name | Age | G | AB | HR | RBI | SB | BA | OBP | SLG | OPS | OPS+ |
| --- | --- | --- | --- | --- | --- | --- | --- | --- | --- | --- | --- | --- |
| 2B | Whit Merrifield* | 34 | 145 | 547 | 11 | 67 | 26 | .272 | .318 | .382 | .700 | 94 |
| 3B | Matt Chapman | 30 | 140 | 509 | 17 | 54 | 4 | .240 | .330 | .424 | .755 | 108 |
| CF | Kevin Kiermaier | 33 | 129 | 370 | 8 | 36 | 14 | .265 | .322 | .419 | .741 | 104 |
| DH | Brandon Belt | 35 | 103 | 339 | 19 | 43 | 0 | .254 | .369 | .490 | .858 | 136 |
Provided by Baseball-Reference.com: View Original Table (* denotes mutual option)
Pitchers:
| Name | Age | ERA | G | IP | BB | SO | ERA+ | FIP | WHIP | H9 | HR9 | BB9 | SO9 |
| --- | --- | --- | --- | --- | --- | --- | --- | --- | --- | --- | --- | --- | --- |
| Hyun Jin Ryu | 36 | 3.46 | 11 | 52.0 | 14 | 38 | 123 | 4.91 | 1.288 | 9.2 | 1.6 | 2.4 | 6.6 |
| Jay Jackson | 35 | 2.12 | 25 | 29.2 | 9 | 27 | 202 | 4.20 | 0.910 | 5.5 | 1.2 | 2.7 | 8.2 |
| Jordan Hicks | 26 | 2.63 | 25 | 24.0 | 8 | 22 | 164 | 3.63 | 1.083 | 6.8 | 0.8 | 3.0 | 8.3 |
| Chad Green | 32 | 5.25 | 12 | 12.0 | 4 | 16 | 83 | 2.67 | 1.333 | 9.0 | 0.8 | 3.0 | 12.0 |
Provided by Baseball-Reference.com: View Original Table (* denotes club/player option)
The most prominent player heading to free agency from the Blue Jays roster is third baseman Matt Chapman, who is a potential qualifying offer candidate as the Scott Boras client heads to the open market for the first time in his career. He started the year hot but struggled to stay consistent the rest of the way, posting respectable numbers at the plate while still excelling on defense, evident by his 5 Outs Above Average.
He will be due for a significant raise and is one of the premier free agents on the market not named Ohtani, so the Jays may be in tough water should they want to bring him back in a weak third base market. The good news for Jays fans who want to see the California product return is that he is open to coming back to Toronto should the right deal fall into place.
Joining him in free agency are Kevin Kiermaier and Brandon Belt, both of whom signed one-year deals with the Blue Jays this past offseason. Whit Merrifield has a mutual option valued at $18 million and many predict the Jays will buy him out, sending him to free agency this winter as well.
There is a reasonable case to be made for each player to return considering all four contributed in some shape or form for the Jays in 2023.
Belt led the team in OPS (.858) but had some IL stints throughout the year while Kiermaier had a bounce-back campaign after missing a good chunk of the 2022 season with the Rays but has noted he prefers playing on grass, something the Jays cannot offer.
Merrifield did everything the Jays asked of him and more and at one point was boasting an average above the .300 mark before seeing a dip in production later in the year.
With Kiermaier and Merrifield heading to free agency the Blue Jays will lose some significant speed on the base paths as well, but again, there is a chance one or more could return in some capacity next year (and potentially beyond).
On the pitching side, Hyun Jin Ryu's four-year deal is over and the Jays' first high-profile free agent signing in the Ross Atkins era is heading out the door.
After spending a good chunk of last year and this past season on the IL recovering from Tommy John surgery, a strong second half showed that the 'Korean Monster' does have some gas left in the tank and he should secure a deal somewhere, whether that is in the MLB or in the KBO (a promise he made to finish his career with the Hanwha Eagles).
Joining Ryu in free agency this winter are relievers Jordan Hicks and Jay Jackson. Hicks was picked up at the trade deadline and did well for the Jays the rest of the way, posting a 2.63 ERA through 25 outings. Right-hander Jackson was the Jays feel-good story of the season, as the veteran arm split his time between the big leagues and Triple-A and was clutch when called upon, finishing with a 2.12 ERA through 25 outings with 27 strikeouts.
A potential free agent candidate is Chad Green, who has a complex layer of options available depending on the route both the Jays and he want to take should it get to that point. After missing most of this season recovering from Tommy John as well, he struggled at times to find his old form but is likely returning to the club next year. It just isn't known under what contract/deal at this time.
What the Blue Jays need
This offseason, if the likes of Chapman, Kiermaier, Belt, and Merrifield depart and don't return, the Blue Jays front office will need to add some additional bats if they want to avoid repeating an early playoff exit in 2024.
Even if one or two of these players do return, the Jays will still need another bat or two (maybe even three) after struggling to get plate production this year. The pitching staff was left hung out to dry numerous times this season and considering a majority of the rotation and the bullpen is returning next year, this area is not necessarily a priority heading into the offseason.
Shohei Ohtani will be the biggest target on the market and it's yet to be seen whether the Jays will be major players for the two-way superstar. The team doesn't need him to pitch in 2024 (and he won't do so after undergoing elbow surgery) and having his left-handed bat would bode well with Springer, Bo Bichette, and Vladimir Guerrero Jr. at the top of the lineup.
He won't come cheap, and nor should he, but the Jays could technically afford a big contract of his nature if Shapiro is correct in his budget analysis although it would be surprising if they can outbid their way to the top.
After Ohtani, there are a number of solid bats that are free agent eligible this winter that could benefit the Blue Jays. Notable names include Joc Pederson, Cody Bellinger (mutual option), Josh Bell (player option), Michael Brantley, Jorge Soler (player option), Joey Gallo, and Teoscar Hernández amongst many others.
All the names mentioned above have their strengths and weaknesses but the Jays need some additional power in the batter's box and each player mentioned above ticks that box and can play in the outfield (except for Bell), which makes sense given the Jays will likely see Kiermaier in a different uniform next year.
Should the Jays not re-sign Hicks, the front office will likely look for a veteran arm to fill the spot but they won't necessarily be looking for a top reliever like Josh Hader or Craig Kimbrel (although velocity will be a priority). The club could add a starter considering Yusei Kikuchi is free-agent eligible after next year and the uncertainty surrounding Alek Manoah returning to form, but this seems less imperative compared to adding offensive weapons.
Internal options that are still to be decided
The Jays have 13 arbitration-eligible players this winter and most will likely receive a contract offer outside of Trevor Richards and Adam Cimber, who shouldn't be considered locks just yet.
Looking at the roster holes, the front office could choose to fill Chapman's vacancy internally with Davis Schneider, Orelvis Martinez, or Addison Barger, who will all be looking to crack the Opening Day roster out of Spring Training next year.
Spencer Horwitz will look to take Belt's spot on the team while other players/prospects such as Ernie Clement, Nathan Lukes, Leonardo Jimenez, and Damiano Palmegiani will be in the mix alongside mainstays Santiago Espinal and Cavan Biggio.
Any offseason additions will throw a wrinkle into these plans but there will likely be a spot or two available should any of these players rise to the occasion early in spring.
Pitching-wise, the Jays have a few internal options that will be looking to crack (or return to) the big league squad in Bowden Francis, Mitch White, Hayden Juenger, Yosver Zulueta, Brandon Eisert, Zach Pop, Nate Pearson, and Hagen Danner, so the competition should be at an all-time high next year.
Waiting in the wings is top prospect Ricky Tiedemann as well, who is more primed for a mid-season debut compared to an Opening Day roster spot in the rotation. Add to the mystery that is Alek Manoah, who struggled mightily this past season, and the Jays' pitching staff really doesn't have a lot of spots for internal options but no defined front-runner at this time (at least in the bullpen).
Roster-wise for the 40-man, the Jays have three players on the 60-day IL who require a roster spot once the season is over (as long as Cimber and Otto Lopez are brought back) and a few bubble players who may need protection from the Rule 5 Draft in Rainer Nunez, Gabriel Martinez, and CJ Van Eyk (amongst others) which will only add to the intrigue of the 40-man roster.
The club does have a few DFA candidates should they need the space in Lopez and Wes Parsons but that all depends on how the offseason shakes up in terms of free agent signings.
Blue Jays and the need to improve this offseason
After falling short of expectations in 2023, the Toronto Blue Jays need to keep their foot on the gas if they want to contend with their current squad. Guerrero Jr. and Bichette inch closer to their 2025-2026 free agency window and the Jays veteran pitching staff will not be around forever, so the urgency to win is at an all-time high.
It won't be easy to do in the AL East but Ross Atkins and co. will do themselves no favors if they come up short this winter.
Toronto has signed a high-profile free agent four years in a row. Could a fifth year be in the cards?
If the Blue Jays fall short again in 2024, is another rebuild potentially on the horizon?
Only time will tell.