Analysis
Top Five Remaining Free Agents
With the season rapidly approaching and the free agent market thinning out, who are the difference makers still looking for a new team?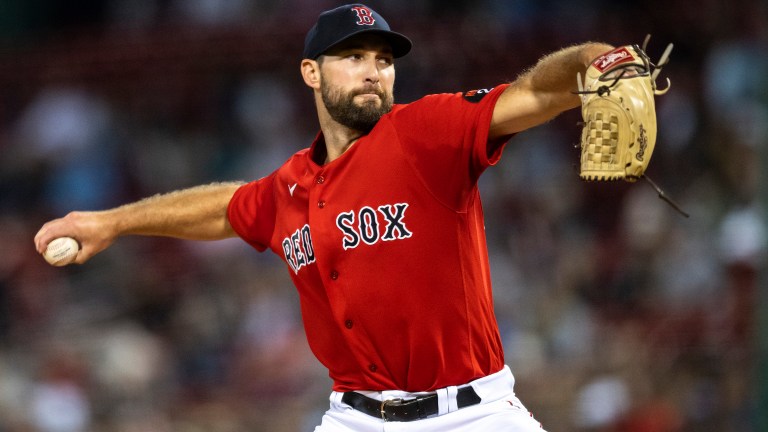 As spring training draws closer, teams already have most of their rosters locked in for the 2023 season.
After an offseason filled with drama and a ton of moves, just three of our top 50 free agents are still on the board, but that doesn't mean there aren't some talented players still available.
You can never have too much depth or talent on your roster, so let's take a look at five remaining free agents that could prove to be difference-makers this year.
Michael Wacha
2022 Stats: 23 G, 127.1 IP, 3.32 ERA, 4.14 FIP, 1.11 WHIP, 20.2 K%, 6.0 BB%, 1.5 fWAR
2023 Steamer Projections: 28 G, 159.0 IP, 4.44 ERA, 4.37 FIP, 1.31 WHIP, 19.6 K%, 6.5 BB%, 1.6 fWAR
The 31-year-old righty is the best remaining starter on the open market. With the Boston Red Sox in 2022, Wacha looked more like the pitcher we saw early in his career — a guy that limits hard contact and gives his team a chance to win while eating up innings.
His changeup was outstanding in '22, with a -9 run value (per Baseball Savant), 34.9% whiff rate and a .170 batting average against.
With the pitching market moving so quickly, it's surprising to see Wacha still hanging around, but he certainly would be a solid back-of-the-rotation arm for any team to add.
Wacha is comparable to San Francisco Giants signing Ross Stripling in that they both put together solid 2022 seasons and have good changeups. Stripling was a little bit better last year, but his two-year, $25 million deal is probably close to what Wacha will demand.
Potential landing spots: Chicago White Sox, Boston Red Sox, St. Louis Cardinals
Jurickson Profar
2022 Stats: 658 PA, .243/.331/.391, .320 wOBA, 15 HR, 58 RBI, 110 wRC+, 2.5 fWAR
2023 Steamer Projections: 475 PA, .241/.326/.389, .316 wOBA, 12 HR, 48 RBI, 105 wRC+, 1.2 fWAR
Coming off a season where he served as the starting left fielder on a playoff team and was an above-average hitter, Profar may be the top outfield option remaining.
While he doesn't hit the ball all that hard and is a poor defensive option, Profar has a solid approach, posting an 11.1% walk rate, 15.7% strikeout rate and 27% chase rate, putting him in the 84th percentile or better in each category.
Profar has proven he can be a starter on a playoff team, and after turning down an $8.33 million option to become a free agent, it's unlikely he would accept a deal that slots him in as a fourth outfielder.
As a switch-hitter with tangible offensive value, Profar could be of service to a team that needs help around the edges.
Potential landing spots: Texas Rangers, New York Yankees, San Diego Padres
Elvis Andrus
2022 Stats: 577 PA, .249/.303/.404, .310 wOBA, 17 HR, 58 RBI, 105 wRC+, 3.5 fWAR
2023 Steamer Projections: 484 PA, .251/.302/.372, .296 wOBA, 10 HR, 48 RBI, 91 wRC+, 1.8 fWAR
With so many shortstops finding new homes this offseason, it's surprising that no one has taken a chance on Andrus — the 12th most valuable shortstop by fWAR last year.
A two-time All-Star with 14 years of big-league experience, Andrus was released by the Oakland A's and signed with the White Sox last season once Tim Anderson went down with injury. He played a big role in Chicago's second-half surge.
After joining the Southsiders, he posted a 119 wRC+, hit nine home runs and was once again a solid defender.
As the shortstop market has dried up, Andrus might fit best in a spot where he can provide depth behind or even split time with a young shortstop. The 34-year-old could also be a candidate to move to second base back with the White Sox, who also lost Josh Harrison.
Potential landing spots: Chicago White Sox, Atlanta Braves, Los Angeles Angels.
Matt Moore/Andrew Chafin
I'm going to cheat and group these two together. They profile similarly as lefty arms that put together solid 2022 seasons and are in their early-to-mid 30s.
Moore 2022 Stats: 63 G, 74.0 IP, 1.95 ERA, 2.98 FIP, 1.18 WHIP, 27.3 K%, 12.5 BB%, 1.3 fWAR
Moore 2023 Steamer Projections: 66 G, 66.0 IP, 3.98 ERA, 4.15 FIP, 1.36 WHIP, 23.5 K%, 10.5 BB%, 0.1 fWAR
Chafin 2022 Stats: 64 G, 57.1 IP, 2.83 ERA, 3.06 FIP, 1.17 WHIP, 27.6 K%, 7.8 BB%, 0.9 fWAR
Chafin 2023 Steamer Projections: 64 G, 64.0 IP, 3.65 ERA, 3.67 FIP, 1.27 WHIP, 23.8 K%, 8.3 BB%, 0.4 fWAR
Both Moore and Chafin project to be worse in 2023 than they were last season. Neither throws extremely hard, but both seemed to find a different gear in 2022.
Both throw three pitches and had the peripherals to back up their success last year. So why aren't they signed yet?
The Athletic's Ken Rosenthal reported that Matt Strahm's two-year, $15 million deal "destroyed the market" for lefty relievers. While Moore and Chafin were better than Strahm last year, they are also both older with much more MLB mileage.
Of course, there are many suitors for left-handed relief pitching, and with the shift ban expected to affect lefty hitters more, there will be a market for the two veterans. Both would likely fit best with a contender that needs to add depth to its bullpen.
Potential landing spots: Toronto Blue Jays, Boston Red Sox, Chicago Cubs, New York Mets, St. Louis Cardinals
David Peralta
2022 Stats: 490 PA, .251/.316/.415, .315 wOBA, 12 HR, 59 RBI, 104 wRC+, 1.7 fWAR
2023 Steamer Projections: 452 PA, .250/.315/.401, .296 wOBA, 12 HR, 51 RBI, 101 wRC+, 0.8 fWAR
We are only half a season removed from Peralta looking like he might make the All-Star Game with the Arizona Diamondbacks.
Of course, he struggled after being sent to the Tampa Bays Rays and, as a result, finds himself unsigned with February just days away.
So what is Peralta now and what may be the best role for him in 2023?
He has always had pretty extreme splits, but in 2022 it reached a new level. He posted a 38 wRC+ against lefties and a 116 against righties. So it might be safe to say that Peralta is a strong defender and a strong-side platoon starter at this point in his career.
While Peralta may not accept that as his role just yet, there is a likelihood that whatever role he plays, his at-bats against left-handed pitching will be limited.
Potential landing spots: New York Yankees, Philadelphia Phillies, Texas Rangers
Honorable Mentions (2023 Steamer Projected fWAR)
Gary Sanchez (0.9), Zack Greinke (0.9), Josh Harrison (0.9), Jose Iglesias (1.3), Michael Fulmer (0.2), Luke Voit (0.4),
Coming back from injury, but interesting
Chad Green (0.2), Zack Britton (0.1), Alex Reyes (0.1)