List
The Top-10 Moments of the 2021 Padres Season
While their season ultimately proved to be a disappointment, the San Diego Padres still produced some thrilling moments during 2021.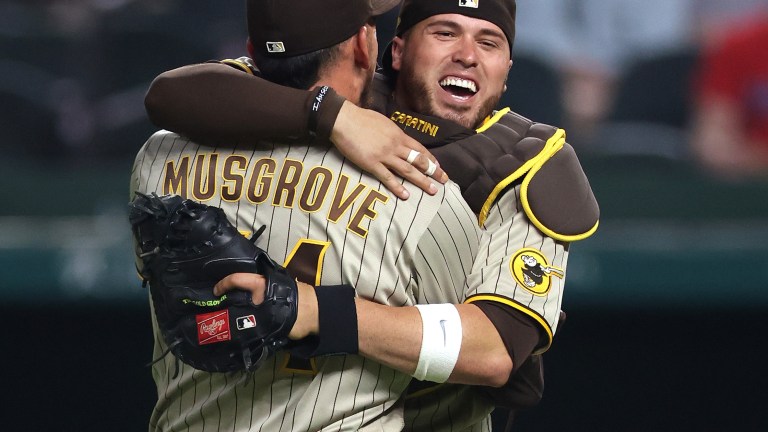 Hold on there, Comrad Creativity, I already know what smug little comment you're about to make: "But the Padres were terrible this year! Why on earth should we be celebrating them?"
I know that's what you're thinking; don't try to hide, because I will find you. But you know what? It's a new year! And with a new year comes with, albeit possibly misplaced, optimism. And with newfound optimism comes an admiration for what did go well in 2021.
The 2021 Padres were a disaster, but it's still worth celebrating the moments — most of which occurred in the first half of the season, before The Collapse — that were a reminder of why the team was so hyped-up, to begin with. Let's get to it!
Honorable Mention: Yu Darvish's First Start Against the Dodgers
It's unfortunate that Darvish, who was at one point one of the most exciting pitchers in the game, has instead become one of the poster boys for the Sticky Stuff controversy. His ERA after the substance ban was closer to the title of that one David Fincher movie about the serial killer than All-Star level, which Darvish had been performing at for the last couple of years.
But even still, looking back before The Collapse, it was nice to see Darvish turn in an outstanding performance in his first start against the rival Los Angeles Dodgers (7 IP, 1 H, 1 ER, 9 K's). It was especially satisfying, considering not just how hotly-anticipated the rivalry was at the time, but also because of how poorly Darvish's tenure went as a Dodger in 2017 — particularly in his infamous implosion in the World Series.
The fans like to pretend Darvish, and 2017 alone, were the only time their team managed to implode the same way I like to pretend the one day my internet went out is why I was late on an article I had two weeks to finish.
10. Manny Machado's 3-Steal Game
Admittedly, this is a bit of a piddling addition on my part. I've been on a crusade of vengeance against those that seek to slander Manny Machado's reputation as a player that doesn't hustle. So, anytime there's evidence to the contrary, I'm constitutionally obligated to speak on it.
But there was one moment this year — a game against the Dodgers — that particularly stood out. It wasn't a playoff game, or even a vitally crucial game considering it was early on, but Machado's three steals in an intense matchup with the Dodgers was simply fantastic.
The Padres ended up losing the game — although if you look at Javier Reyes headcanon, the Padres actually won this game and he'll hear no words otherwise — it was an inspired moment for the leader of the team, especially since he looked to have been playing through some pain.
9. Don Orsillo Trying to Instigate Nuclear War
One of the only things that didn't collapse from the 2021 Padres was their broadcast announcer, Don Orsillo the Wise. In the first game of their relatively nascent rivalry, there was trash-talking, fans losing their minds, clutch plays, and a long-as-hell-runtime to top it all off. But it was Don Orsillo exaggerating a confrontation between Padres outfielder Jorge Matteo and Dodgers pitcher Dennis Santana.
Along with Mario Party being the greatest invention in recorded human history, my most firm belief is that every single broadcast announcer should be acting this way.
8. Jake Cronenworth's Double Play Gem
I'm going to let you in on a little bit of a secret: Jake Cronenworth is good. Crazy, right?
The prospect that was sent over by the Rays — a team that has allegedly never made a bad move — is third in fWAR (5.9) among second basemen since 2020, with only Marcus Semien (7.8) and Brandon Lowe (7.6) being better. On top of that, he's a versatile defender capable of immaculate moments like this:
Any sleuths will have noticed that, again, a top moment of the Padres season came against the Dodgers. At one point, every single one of their games was must-watch TV. Clutch plays like this were exactly why.
7. Fernando Tatis Jr.'s Home Run in First Game Back
You knew he was going to show up at some point. While his top-3 MVP finish may distract you from the fact, there was a time when the biggest story surrounding Fernando Tatis Jr. was whether or not he'd even play in 2021. His shoulder injury (one that he's still dealing with, and reports saying that he doesn't plan to get surgery) was a scary moment not just for the Padres, but for the sport. Thankfully, he came back after a stint on the IL.
And it was glorious. Complete with Don Orsillo's great call, Tatis launched a bomb off of Walker Buehler and sent San Diego Padres fans into a frenzy. It was basically the Padres fan equivalent of Klay Thompson's return from injury this past Sunday.
6. Victor Caratini's Walk-Off Against Cincinatti
Speaking of being in a frenzy, Padres fans certainly needed this one. During a period in which the Padres had been losing to mediocre teams (foreshadowing, it turned out), the team desperately needed to regain the momentum they'd accrued for much of the season. In a hotly-contested game against their competition for the second wild-card spot, the Cincinnati Reds, backup catcher Victor Caratini delivered.
The icing on the cake was the game being the unofficial Padres home opener, since it was the first game that had a maximum capacity for fans since the pandemic sent the world into a tailspin. It gave Padres fans hope, and hope is a good thing, and no good thing ever dies.
5. Jake Cronenworth Hits for the Cycle
Entering the Crone-Zone again! I already illustrated — admittedly, at a surface level, leave me alone — why Jake Cronenworth has been so awesome for the Padres. Going from last-second roster addition, to breakout second basemen, to All-Star second basemen, and to making franchise history.
On a wonderful Friday evening — one in which I may or may not have been significantly inebriated and shouting "NONE OF YOU ARE CRONEONWORTHY!" at folks that didn't even know the Padres were playing — Jake Cronenworth hit for the cycle in a 28-run game for the Padres.
It was the third cycle in franchise history, with Matt Kemp in 2015 and Wil Myers in 2017 completing the trio that has managed to do so.
4. Daniel Camarena Shoves Max Scherzer into a Locker
Conspiracy theorists would say that this moment jilted Scherzer's opinion of San Diego, which in effect caused him to take his talents to Los Angeles at the trade deadline. That belief won't receive any sort of scathing dissent from me, but it still doesn't take away from one of the more insane things to happen for the Padres in 2021: Slamarena.
Daniel Camerena, a pitcher the Padres brought up just that week, managed to launch a grand slam off of Scherzer in a game that the Padres seemed like they were destined to lose early on. It was the first home run Scherzer had surrendered to a pitcher; if you dig deeper, like in this piece by Kevin Reynolds for the Del Mar Times, it's about as statistically unlikely a home run you'll ever see.
Camarena described the moment the way I described to my friends what it was like when a girl I liked in college actually wanted to talk to me. "I blacked out. I was like, 'Oh my God I just hit a home run. Not even that, a grand slam.' "
3. Tatis Hits Two Home Runs Off of Trevor Bauer
Baseball needs more rivalries. And not just in terms of teams; they need good old fashion, mono y mono, face-offs. In this case, it was the savior of baseball (Fernando Tatis Jr.) versus Trevor Bauer, who is very much the opposite. Tatis hitting two home runs off of Bauer, both accompanied by some trolling (hand over the eye, and a mimic of Bauer's McGregor strut) was about as enjoyable a moment you could get.
Here's hoping more players, both pitcher and batter, are encouraged to showcase this level of pettiness at every conceivable moment in the future.
2. Tatis Game-Tying Homer in Houston
Back in May, I hung out with my friends in person for the first real time since the beginning of the pandemic in the lovely land of DC. We visited places, some with good food and some with good vibes, and just enjoyed each other's company for an entire weekend of tom-foolery.
There was a true freedom to it all. But one of the main ventures we had involved going to Nationals Park, out in the fresh air, eating overpriced chicken sandwiches, indulging in various adult beverages, and paying close attention to the stream of the Padres game on my phone. That game? It just so happened to feature a moment that can only be described as Art:
You know the part in Armageddon when one of the shuttles goes down and the crew starts absolutely losing their minds in the most over-the-top acting ever?
That's the level of bananas that Don Orsillo went on this call ("It is headed onto the TRACKS!!!!"), and it makes the clutch moment by Fernando Tatis Jr. even more memorable. Through the good and bad times of 2021, I've continued to watch this clip. I've watched it more times than I've seen people post their Wordle scores on Twitter. It reminds me of why I love baseball.
1. Joe Musgrove Throws the First No-Hitter in Padres History
Despite my personal anecdote and clear affinity for the Houston home run, there's really no doubting what has to come at number one. Joe Musgrove, San Diego native, throwing the first no-hitter in the history of the San Diego Padres franchise was the best moment of the 2021 Padres season. I freaked out. You probably freaked out.
It was a sign that the Padres were on their way. In an offseason that featured the Padres making blockbuster trades for Blake Snell and Yu Darvish, it was the third guy that ended up making the biggest impact.
Do I have to say anything else? Or can I go back to re-watching Arcane and tweeting about how much the lockout stinks? I'm good? Great! Party on, ladies and gentlemen, and as always: Go Padres.